A very busy summer continues at Walt Disney World with lots more opening at the newly expanded Disney Springs including the latest celebrity chef offering and the launch of the Grand Opening Summer Celebration. There have been several amazing new special events announced, holiday events and packages are now available, and a bunch of attraction rumors swirling as well. Information on all this and more below.
1 – Disney Springs Grand Opening Summer Celebration
Now that most of the construction is complete, Disney is offering a Disney Springs Grand Opening Summer Celebration that will run through Labor Day. The celebration features even more live entertainment just for the summer, special décor, sales at many retailers and warm weather-inspired enhancements. In short, Disney wants you to visit the brand new Disney Springs. Here are some of the details for the summer celebration from Disney writer Darcy Clark:
Entertainment: Did you know that on any given night, there are more than 20 different entertainment acts performing throughout the four Disney Springs neighborhoods? This free entertainment includes a variety of live musicians, improvisational rappers, DJs, Living Statues and, depending on the night you visit, maybe even a roaming illusionist (my favorite!). We're amping up the Florida factor with some additional local talent including Sleeping Sunset (Pop), The I-4 Band (Top 40), Chaz Robinson (Pop), Casey Conroy (Contemporary/Pop), Plus 1 (Country), Vintage Vinyl (Contemporary with a vintage sound), Dayve Stewart (Jazz), CeCe Teneal (R&B), The Gerry Williams Band (Funk), and The Liam Duncan Trio (Current Acoustic) mixing it up all summer long.
Beat the Heat DJ Party: Every afternoon, the Marketplace Fountain will be flowing, giving guests young and old the chance to splash the day away. With a combination of chill summer tunes and a variety of ice-cold, frosty beverages (with options for adults and kids) nearby, this will be THE spot to cool down.
Retail Offers and Promotions: An ever-changing array of sales and specials makes summer shopping during the Disney Springs Grand Opening Celebration a must! A quick walk around Town Center, our newest neighborhood, reveals that many locations are offering some hard-to-pass-up deals. Below, a few that I'm especially excited about, happening now (keep in mind that offers are subject to change):
Columbia Sportswear – 25% off entire store
Lucky Brand – 40% off entire store
Sperry – 50% off select items
Kipling – 25% off the entire store, with 40% off select colors
Alex and Ani – 30% off select styles
UNOde50 – 30% off select accessories and jewelry
francesca's – buy one, get one 50% off accessories
Erwin Pearl – 10% off Maya Collection
Melissa Shoes – 40-60% off select styles when you buy 2 or more pairs
JOHNNY WAS – 20% off in-store
ZARA – summer sale happening now
LACOSTE – up to 50% off select items
Johnston & Murphy – buy one, get one 50% off apparel
American Threads – buy one, get one 50% off regular priced apparel, exclusions apply
And More:
Keep an eye out for roaming PhotoPass photographers who will have Disney Springs Grand Opening themed frames and props for you to pose with.
In select locations, limited-edition "Grand Opening" treats will be available – I hear the culinary teams at The Ganachery and Amorette's Patisserie have something sweet in store.
Finally, with festive Grand Opening décor throughout property, you'll feel that there's something special in the air.
2 – Two Amazing D23 Events on October 5
D23 Gold Members have two very unique and amazing event opportunities on Wednesday, October 5 at Disney World. First up, D23's Sip and Scream event allows guests to attend a special taping of ABC's Emmy Award-winning Series The Chew! Guests will enjoy a taping of the show, time to enjoy the Food & Wine Festival, an exclusive presentation in World Showcase, reserved seating at the Eat to the Beat concert, and a Halloween spooktacular-themed dessert reception at the Isle de France, followed by VIP viewing of Epcot's IllumiNations: Reflections of Earth! Guest will also receive a copy of The Chew cookbook, a $25 Disney Gift Card all for just $125 per person!
If that's not enough, D23 Gold Members also have the opportunity to experience a Behind the Scenes Experience: A Midnight Soiree at the Tower of Terror also on Wednesday, October 5. Guest will drop by The Twilight Zone Tower of Terror for an after-hours, behind-the-scenes discussion of the park attraction, followed by a private midnight soirée with themed food, beverages, and entertainment recalling the legendary night in 1939. This Behind-the-Scenes Experience wouldn't be complete without an exclusive photo opportunity inside the Hollywood Tower Hotel with a special guest directly from the Twilight Zone! This event is $245 per person.
Details for both events can be found on the D23 events website. Tickets for both events go on sale Monday, July 11, 2016, 12 pm PST.
3 – Changes for Galactic Spectacular Dessert Party at Hollywood Studios
Beginning July 10 the Galactic Spectacular Dessert Party will now be held inside the Star Wars Launch Bay. Because of the additions of projections and light effects to the fireworks, it has become more necessary to view the show in front of the Chinese Theater. The current set-up devotes a lot of premium space to the dessert party. Moving the party inside will allow more people to get prime viewing locations. Those in the party will be escorted to a VIP viewing area outside 15 minutes prior to the show. The Dessert Party is $69 per adult and $39 for children. Reservations can be made here.
4 – Are the Muppets Coming to Liberty Square at Magic Kingdom?
The rumor mill has been busy with talk that the Muppets are coming to Liberty Square at Magic Kingdom. The façade refurbishment of the Heritage House may have been for this new attraction. Muppet characters, which are rumored to have been built in a collaboration between the Muppet Studio and Walt Disney Imagineering, will be high above guests in the second story windows of Liberty Square and will teach and interact guests concerning U.S. history. According WDW News Today, testing will begin any day. As this has not been confirmed by Disney, please treat this as a rumor! However, a lot of signs point to yes and we feel the likelihood of it happening is high enough that it's worth mentioning.
5 – Frontera Cocina Opens at Disney Springs
The Town Center, Disney's Springs newest neighborhood, added another restaurant this week with the opening of Frontera Cocina. This Mexican restaurant was developed by celebrity chef Rick Bayless. This restaurant is a higher priced table service restaurant with an excellent location and nice theming. We were very excited to have another restaurant opening at Disney Springs, especially a Mexican restaurant, but this one does not hit the mark. Our full review will be coming soon, but overall we were disappointed with our dining experience. The portions were surprisingly skimpy and the flavors were underwhelming which made the price point way too high. At this time reservations can only made through Open Table. Eventually, this will be added to the Disney dining website for advanced reservations.
6 – Homecoming Florida Kitchen Menu
The last table service restaurant due to open in the Town Center of Disney Springs is Homecoming-Florida Kitchen and Southern Shine. Celebrity chef, Art Smith, has prepared this Florida-inspired restaurant. This 6000 square-foot, 200 seat restaurant with both indoor and outdoor-screened seating is nearing its opening date, which is expected to be around mid-July. We have high hopes for this restaurant. The signature dish is buttermilk brined fried chicken served with mash potatoes and drop biscuits. Other highlights include the Florida shrimp, deviled eggs, hush puppies, and fried catfish chopped pork. 75% of the menu is Florida grown and raised and will change with the seasons. Starters range in price from $10-$15, sandwiches from $15-$18, sides range from $6-$8, salads from $16-$22, and main plates from $22-$41. These prices put it in price range with Frontera Cocina and Morimoto Asia. The drink menu also has Florida inspired drinks. The Miami Vice is a blend of a rum runner with a pina colada.

7 – Coca-Cola Store Orlando and More Retail Stores Open at Disney Springs
Along with restaurant openings, Disney Springs continues to open more retail locations in the Town Center neighborhood. The Coco-Cola Store opened its doors this past week. It's a very cool structure with a unique ramp along the sides of the building that allows you to move from one floor to another. The ramp to the upper floors is on the "exterior" of the building and encased in glass similar to an atrium. Be prepared for back-ups and bottle necks on the ramp as it is narrow and very crowded around doors and the corners. Also be prepared from things to be pretty warm and stuffy getting from the second floor to the third. The airflow in the atrium isn't sufficient to compete with the July heat and sun beating down on what is essentially a cramped greenhouse.
The first and second stores have Coke clothing and accessories, including exclusive Coca-Cola Orlando merchandise. Unfortunately, the third floor, where you may purchase Coca-Cola products and enjoy tastings of Coke products from around the world, is open air with an overhead structure covering only part of the seating area. For at least four months of the year, the sweltering Florida heat and humidity is going to make this a less than comfortable experience. Not only that, but it faces west, so the sun will be directly hitting the roof-top seating area for the hottest part of the day.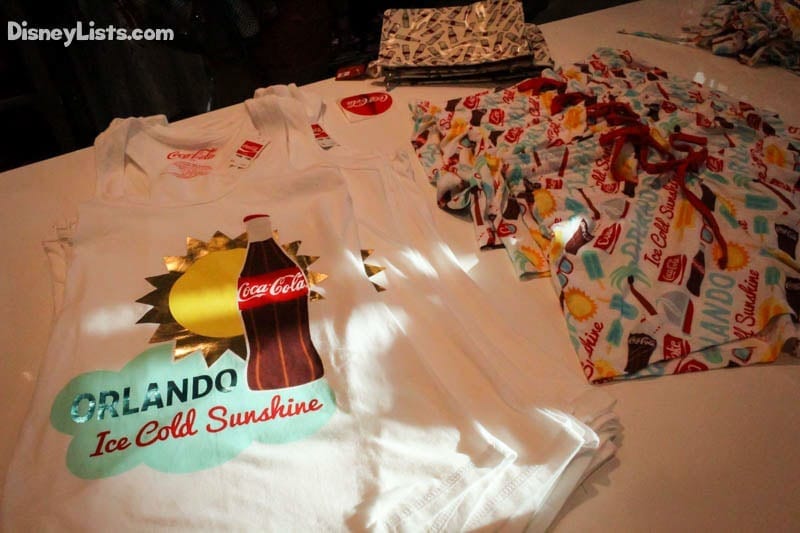 We visited the roof top around 7:00 pm on a Sunday evening. With temperatures still in the 90s at that time and the sun hitting our eyes directly, it made for a rather unpleasant experience. We did not wait to purchase drinks. This area will also be problematic in rainy or stormy conditions. Florida may be the Sunshine State, but afternoon monsoons are a daily fact of life for a good portion of the year. With the open air deck facing west, not only will you bake in the afternoon sun, but the afternoon storms that generally move west to east will be blowing rain directly into the seating area. While it's a very cool looking building, the greenhouse ramp and the open air third floor are not very practical in our tropical climate. We left wondering if the group designing the building had ever actually spent time here.
Also opening its doors this week was Sugarboo & Co. and Columbia Sportswear. Other recent additions include LACOSTE, Free People and JOHNNY WAS. Two retailers that will be open soon are Superdry and Shore.
8 – 2016 Candlelight Processional at Epcot Details Announced
It's Christmas in July! Disney has announced the celebrity line-up for the annual Candlelight Processional at Epcot as part of the Holidays Around the World celebration taking place from November 25-December 30, 2016. The Candlelight Processional is a Holiday favorite at Walt Disney World. Each evening a celebrity narrator tells the Christmas Story and is accompanied by the Walt Disney World Orchestra and a mass choir. Celebrity narrators this year include some returning favorites like contemporary Christian music singer Steven Curtis Chapman, actors Whoopi Goldberg and Neil Patrick Harris and newcomers like legendary baseball player Cal Ripken, Jr. Because these performances are very popular you may wish to book a Candlelight Dining Package. These packages allow you to dine for lunch or dinner at one of Epcot's many restaurants and then gives you reserved seating for a specific show time. Read all the details about the Processional and dining packages here.
9 – New Year's Eve Celebration at Contemporary Resort
If you'll be visiting the Disney World Resort over New Year's Eve, then you don't want to miss the new "Disney Countdown to Midnight" New Year's Eve Celebration being offered at Disney's Contemporary Resort. This ticketed event will take place December 31, 2016 at 8:00 p.m. at the hotel's Convention Center. Guests will ring in the new year in the Fantasia Ballroom with music, dancing, and food and drinks from California Grill, Flying Fish, Citricos, and Narcoossee's. The highlight of the evening will be the Magic Kingdom Park fireworks viewing and a champagne toast. Tickets are extremely limited and will be $225 per guest with taxes and gratuity included. Call 407-939-3463 to book this package.
10 – New More Affordable Lunch Menu at Tiffins
Disney's Animal Kingdom's newest signature restaurant, Tiffins, opened Memorial Day Weekend to rave reviews. We absolutely loved our dining experience and thought it was worth every penny. However, it is one of the most expensive meals on Disney property. To help, Disney has released a revised lunch menu which offers a new "Light Bites" and "Taste of Tiffins" options that have lower prices. The Light Bites range from $10-$14 and the "Taste of Tiffins" are $28—you choose two items served with rice. The regular Tiffins menu continues to be available for lunch and dinner. Please note that lunch at Tiffins still uses 2 table service entitlements, so if you are on the Dining Plan, be sure to order from the regular menu to receive the greatest value for your entitlements. The lunch menu at Tiffins is available from 11:30 am – 3:30 pm.
11 – Brand New Pay to Play Scavenger Hunt at Magic Kingdom for the Summer
A brand new pin trading scavenger hunt has debuted at the Magic Kingdom Park for the remainder of the summer. Here are all the details from Disney writer Steven Miller:
The first step for this PinQuest is to purchase an adventure kit at $14.99, which contains a lanyard to showcase your pins; a decoder medal for use with PinQuest pins; and a lanyard pouch to hold the map included in the adventure kit. The lanyard pouch also holds PinQuest clue cards which are sold separately at $9.99.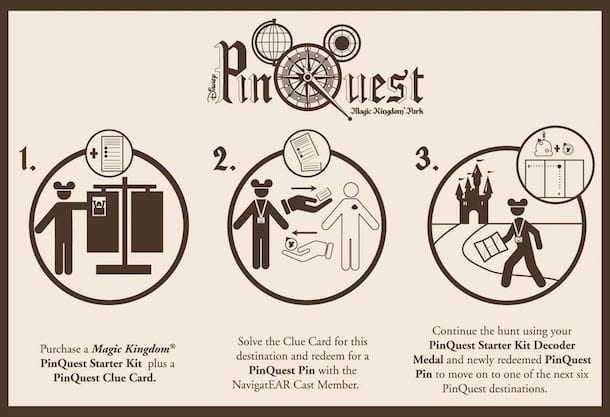 There are six different PinQuest clue cards. Each clue card has a question that needs answered and shared with a NavigatEAR Cast Member in a particular location. Once solved, you can redeem the clue card for a PinQuest pin using the perforated ticket on the bottom of the clue card.
Continue the hunt by using the decoder medal from the adventure kit. Line up the arrows for each pin to determine your next destination within Magic Kingdom Park.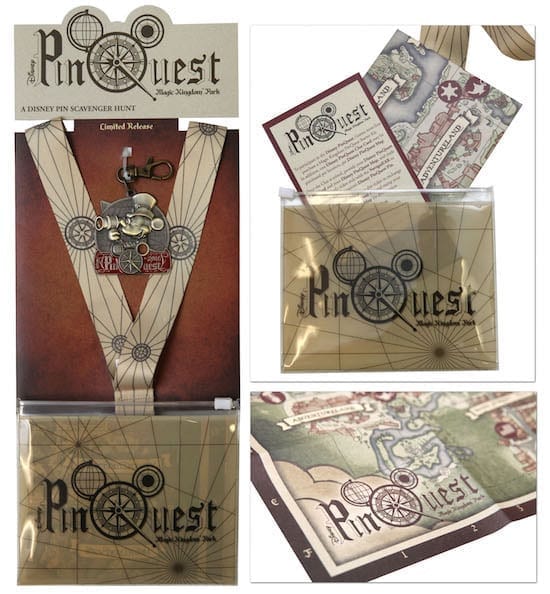 After purchasing all six clue cards and receiving stamps and pins from each location, guests should return to either Frontier Trading Post in Frontierland or Curtain Call Collectibles on Main Street, U.S.A. At those designated locations, guests who have completed the entire Magic Kingdom PinQuest are eligible to purchase a QuestEAR pin completer pin for $4.99.
In total it costs $80 to complete the quest. Note that park admission is separate and is required to complete the scavenger hunt.
12 – One Man's Dream Previewing Pete's Dragon through mid-August
Over at Disney's Hollywood Studios, One Man's Dream continues to make use of its theater for previewing upcoming Disney films. Now through mid-August, the attraction will present a sneak peek preview of the upcoming "Pete's Dragon" movie. Pete's Dragon opens in theaters on August 12, 2016.