Disney has officially announced the dates to the 2017 Epcot International Food & Wine Festival! The festival will run a record 75 days and will begin August 31 and run through November 13, 2017. This means more culinary creations, celebrity chefs, premium events, Eat to the Beat concerts, and more.
With the addition of the new Epcot International Festival of the Arts that will run from January 13 – February 20, 2017 and the Epcot International Flower and Garden Festival that will run from March 1 – May 29, 2017, only the summer months be festival free at Epcot. Festival are a big draw for many people, particularly locals, and from what we've seen, it certainly brings in the crowds!
RELATED ARTICLE: 8 Facts and Secrets About Epcot's International Food and Wine Festival
by Christy Caby
Epcot's International Food and Wine Festival is an extremely popular event. The event is popular among all guests, and especially locals who can visit regularly throughout the duration of the event for the different shows, bands and demonstrations.  There is so much to see, do and taste at the event and it just keeps growing.  Here are 8 great facts and secrets that you will definitely want to know about this event:
8 – 2016 is the 21st year for the event.
The first food and wine festival took place in 1996.  It was actually an idea that was created by the now President of Walt Disney World, George Kalogridis. It was obviously a big hit, and is definitely one of the amazing contributions he has made.  It's a pet project for him and one that I am sure he holds near and dear to his heart each and every year that guests get to see the return of the event.
7 – The festival continues to grow.
The festival grows in numbers every year.  There are more vendors, more celebrities, more performances, more events, etc.  Not only that, there are now more days to enjoy the event.  When the event first debuted, it only lasted for 30 days.  Now for 2016, we will see the event last for 62 days.  This more than double where it started and the event remains increasingly popular each and every year with all the new additions and experience during the festival.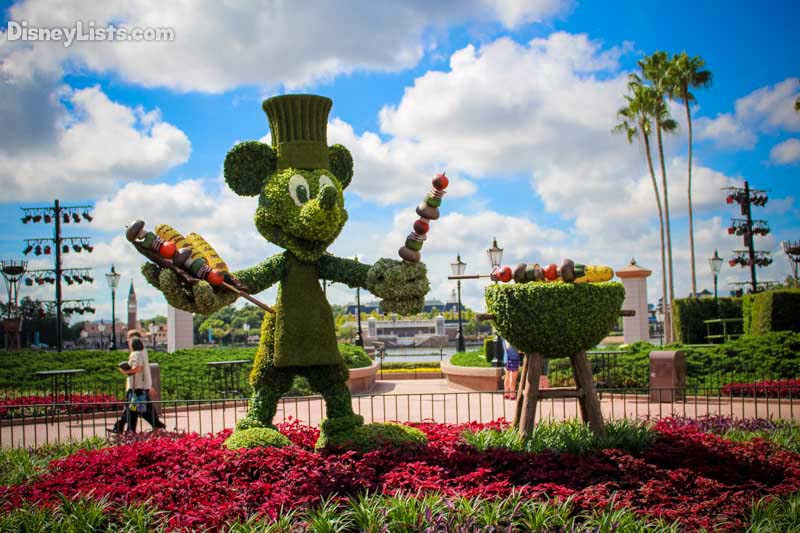 6 – That is a lot of wine!
Back almost decades ago in 1998, there were around 200 different wines (domestic and international) that were available at the event.  For this year's event, they are expected to serve 300 different wines (domestic and international).  That is a lot of different wine, and it would be extremely expensive to try all of the different wines for the wine enthusiasts out there.  I definitely don't recommend that you attempt this feat in a single day.
5 – Chase is the sponsor. 
For the 5th year and counting, Chase is the festival for the 21st International Food and Wine Festival at Epcot.  There is a lounge at the American Adventure that will be open only to Chase cardholders during each day of the event.  So have your Chase card ready to show as proof so that you can enjoy the perks of the lounge.
4 – It started in Walt Disney World and moved to Disneyland.
This festival has a birth place at Walt Disney World, but 2016 was the first year the Disneyland also saw a Food and Wine Festival at Disney's California Adventure park.  The festival took place in the spring and was only on weekends as opposed to a couple straight months like the format of Walt Disney World's festival.  We may expect to see the festival spread to other Disney parks around the globe, too!
3 – Check out the miniature train display at the Germany pavilion. 
This miniature train set is on display year round, but there is something extra special about it.  It was created for the opening of the very first food and wine festival in 1996.  It was a special addition to be on display for the opening event and has remained at the pavilion ever since. That train set is also 21 years old this fall!
2 – There are tons of parties and exclusive experiences.
If you enjoy the food and wine festival, you can definitely take it to the next level.  There are culinary demonstrations, private tastings, tasting parties, dessert parties and so much more. Check out some great activities for 2016 here! These all come with an extra price tag in addition to the cost of admission into Epcot.  For some of these events the price tag is quite hefty, but they still book up extremely fast. It is so much fun and the limited experiences experience continue to enhance the festival each year for so many guests.
1 – Quick numbers expected for this year's festival.
100,000+ desserts will be served
225,000,000+ festival dishes served last year, and expected to grow this year
186 Eat to the Beat concerts
375 hours of seminars
5 episodes of "The Chew" recorded
30 global marketplaces
Heading to the Food & Wine festival this year? Have a plan! Read our 9 Strategies for Making the Most of the Food and Wine Festival and enjoy your time!