Planning
When to Go
Survival Guide: 10 Tips & Tricks to Visiting Disney World during Christmas Break
Ready for a magical Christmas at Disney World? Well, we're sure you've heard that Christmas break is one of the most crowded times to visit. The parks are packed, the resorts are full, and trying to get a dining reservation is as challenge as convincing Gaston that he needs to move on from Belle! So, to make your Disney Christmas break experience the best possible – check out this survival guide with 10 tips and tricks to visiting Disney World during Christmas break.
1 – Study the Parks
When thinking of a vacation, the last thing you want to hear is to "study"! But, to make the most out of the crowded Christmas break, our top tip is to know the parks inside and out. Don't wait to arrive at the park to look at a map for the first time. The most current maps are available on Disney's website, just ready for you to explore! The better you know the park, the easier it will be to dodge crowds, find the easiest route to an attraction or restaurant, and easily change plans when needed. You'll be a Disney park pro!
2 – Make a Must-Do Attraction List
Attractions are some of the best parts of visiting Disney. During Christmas break, the lines and wait times are longer than Rapunzel's hair! So, first and foremost – make those FastPass selections in advance. We repeat – FastPass selections in advance! Besides attractions you have a FastPass for, you will want to make a must-do attraction list (including character meet and greets). These are the handful of attractions that you and your family merely must-do. Make the list simple, and hopefully, you'll have time to hit them all. If you get in any extra attractions, you can count them as icing on the cake!
3 – Be Smart About Dining
Of course, we first must recommend advanced dining reservations – 180 days in advance. If you don't have an advanced dining reservation, chances are you'll be unable to walk up to one of Disney's table service restaurants in the park to dine. It is very likely restaurants will not be accepting walk-ins due to the volume of advanced reservations. Quick service will be your best option, which can be tricky with the Christmas break crowds. Be smart about dining and do your best to dine during off-hours – such as 10am for lunch or 3pm for dinner. Plus, don't forget about Disney's many snack kiosks that might be a great option to tide you over until the next meal. Mickey pretzels – here we come!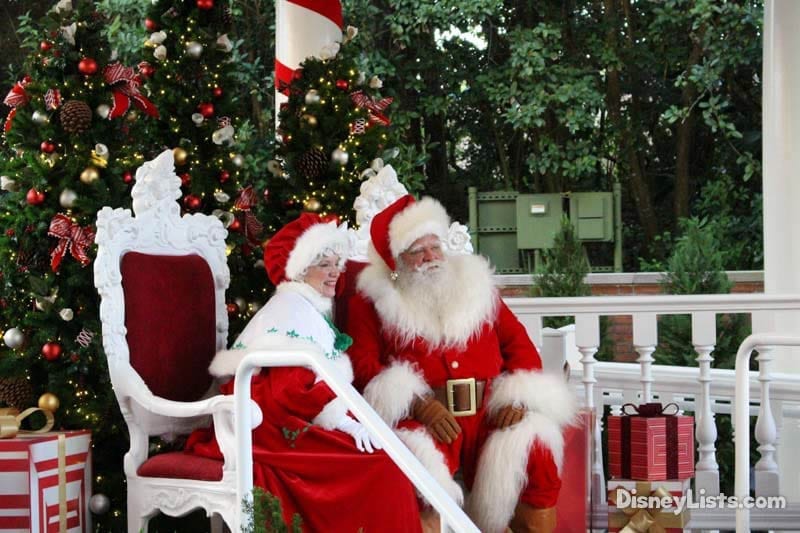 4 – Make a FULL Day of It
If a theme park fills to capacity due to the volume of guests, Disney will close the entrance, and no one else will be allowed in. This means that if you leave the park for a mid-day break, you might not be able to get back in. We always say no to park hopping during this busy time! If you are a resort guest, be sure you take advantage of any Extra Magic Hours. Keep in mind by coming and going, you will also have to fight the transportation crowds, which will forfeit much time. Arrive early and plan to stay late. In other words – get some rest the day before.
5 – Arrive Early for Parades, Fireworks, Shows
Some of the most popular activities are the parades, fireworks, and/or stage shows, probably because they feel like the most magical moments! During Christmas break, you will need to plan to be at a viewing spot likely an hour to 45 minutes early. We recommend that you watch the crowds and see if they are gathering even earlier in some cases. It will be crowded, but getting to your spot early enough will at least provide you with a spot to see. Another tip – after the fireworks are over and the park is closing, you'll want to let the crowd rush out. Go shopping or hold tight for a little bit in your spot, then you'll be able to exit the park without the great push!
6 – Prepare for Transportation Time
Whether you are staying at a Disney Resort or driving in from offsite, be sure to allow yourself plenty of transportation time. Traffic will be heavy on all forms of transportation, from cars on the road to long lines to get on a Disney's buses, boats, monorail, or Skyliner. Just a courtesy tip – if you are in standing room only transportation and are healthy and able to stand, you might want to think about offering your seat to an elderly person, child, or someone pregnant. You will make their day even more magical!
7 – Prepare for Children in Tow
If you have a child cruising through the park with you during Christmas break, the very best thing you can do to survive the crowds is be ready for their inevitable meltdowns. Pack a backpack with simple new toys (Dollar Store!), plenty of snacks, and lots of water to keep them hydrated. Prepare for the weather being warm or cold with sunscreen and jackets. And most importantly, let them rest when needed. This means someone might have to sit with them in a quiet space to let them nap in the stroller or in your arms – but it will be worth it when they wake up refreshed.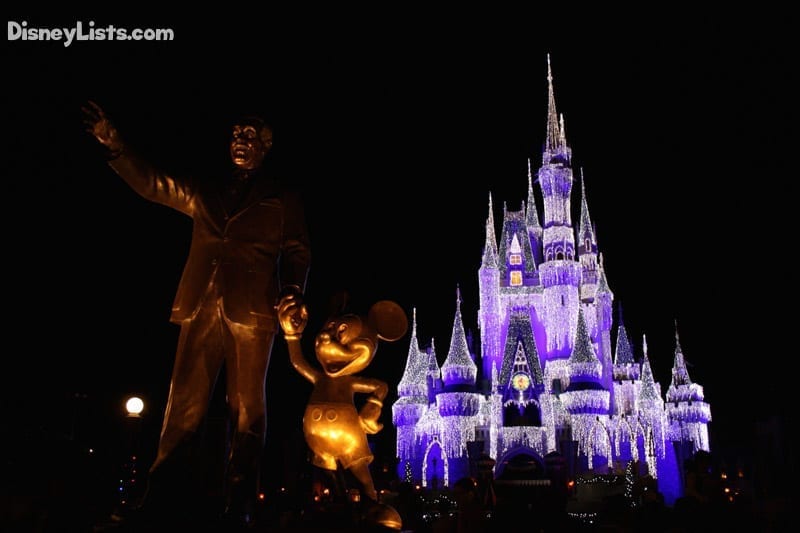 8 – Avoid Iconic Spots
We understand that you'll want to capture that magical family photo in front of iconic spots such as the Cinderella Castle. Snap a photo early if possible and move on from these popular areas. If you are traveling with a large family or group, you'll want to arrange meet-up spots that are not considered the popular areas. For example, instead of meeting up in front of the Cinderella Castle, meet up in front of Country Bear Jamboree. Love those cute bears!
9 – Enjoy a Resort Day
One of the best things about Disney Resorts is that they are full of activities and entertainment over Christmas break! Not only are the resorts decorated beautifully, but Cast Members make fun experiences for their guests. We suggest planning a resort day if it works in the plans to rest and relax for a day during your Christmas break vacation. If a resort day isn't in the plans, prepare for a time to rest while in the park by finding a quiet corner or somewhere to tuck yourself away for a little break.
10 – Prepare for the Unexpected
Unfortunately, the unexpected will happen. By this, we mean you will have a grand plan (Plan A) and a back-up plan (Plan B) – but suddenly, you'll find yourself needing a Plan C! A heavy dose of patience is key to any kink in the plans. If you go in expecting that your day will most likely have some hiccups and moments of not so merry feelings, you'll be able to handle the unexpected with a deep breath and quickly adjust as needed.
We hope you have the most magical Christmas possible at Disney World!
For a no obligation, FREE Quote on a Disney vacation package, please contact our travel partner Magical Vacation Planner at 407-442-0227 (407-442-0215 for Spanish). You can also request a FREE quote online by Clicking HERE.