The Parks
10 Best Interactive Queues at Walt Disney World
While no guest enjoys waiting in line before boarding an attraction, Disney Imagineers have gone to incredible lengths to fill the queues with little details that feel like the story begins as soon as you enter the line. Some of the queues in Walt Disney World have even been designed to be interactive, so not only are you distracted as you wait in line, you will also find that you enjoy the time in the queue. While everyone has their favorite attraction, based on the ride or its theme, there are a few of the queues that stand out above the rest. To pay homage, here is a list of the 10 best interactive queues at Walt Disney World.
10 – Toy Story Midway Mania
Having shrunk down to the size of the other toys, guests walk through this incredibly detailed and colorful queue with classic board games and other toys scattered throughout. The most notable part of the queue arrives when Mr. Potato Head is within earshot. Dressed up in a carnival barkers outfit, Mr. Potato Head welcomes guests to the midway and entertains them with his own whimsical musings. While many of his bits are pre-recorded, there are several times throughout the day where he will begin to interact with guests in line, identifying them typically by what they're wearing. He'll ask questions and respond to answers, adding a whole heap of Disney magic to your time spent waiting in line.
9 – Big Thunder Mountain 
The queue for this Frontierland icon has undergone several changes throughout the years. The current interactive queue includes things like looking through the "subterrascopes" to see numerous workers in the mines and everyone's favorite and the cranks that charge explosions triggered by pressing down on plungers. The "explosions" send bursts of steam out on the mountain – time it right, and you can give the train riders an extra thrill.
8 – Soarin' Around the World
Waiting in a long queue can be tiring if there's nothing that captures your attention, but Disney Imagineers have added games to the queues Soarin'. Exclusive to Epcot, a brand-new game, Soarin' Challenge, is a travel trivia-related game that gives guests the chance to play against other players. Trivia questions include questions on culture, cuisine, history, landmarks, and more. You'll need a mobile device to play. You'll earn points and help bring your team to victory. It's a great way to pass the time in line!
7 – Test Track 
When guests first enter the queue for Test Track, they are greeted with a number of concept cars from Chevrolet as well as videos describing the design process. Further, into the queue, the real fun begins as you get the opportunity to design your own concept car, including the body, the wheels, and the engine. All of the design elements are tested using the Test Track simulation car, where scores are given for capability, responsiveness, efficiency, and power.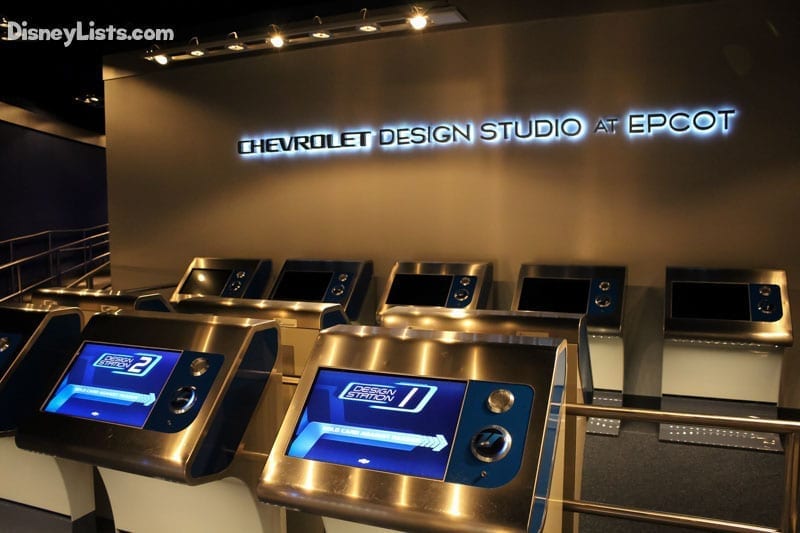 6 – Dumbo
With the popularity of Dumbo being so high among families, Disney Imagineers created a second ride when re-designing Fantasyland. One of the new elements they added to the classic attraction was a paging queue, where guests wanting to wait in the standby line are given pagers that will buzz when it's their turn to ride. In the meantime, guests are invited to go under the big top circus tent, where kids can play in the air-conditioned playground featuring slides, climbing nets, and more.
5 – Under The Sea ~ Journey of The Little Mermaid 
While the average wait time for Under the Sea isn't usually extraordinarily long, guests who find themselves waiting in the queue are in for a treat. Amid the rocks, a friendly blue crab can be seen with items found for Ariel's collection of thingamabobs. Pointing to the object instructs the crab to sort the object, which amazes guests both young and old as they try to figure out how it knows which object you're pointing to. Add to that Scuttle's jokes and tales, and it makes for one of the best new queues to explore.
4 – Peter Pan's Flight
The queue for Peter Pan's Flight has been revamped to invite guests through an incredibly innovative display. Walking through the bedrooms of Wendy, Michael, and John, guests can see Peter Pan's shadow on the wall, as well as their own. Once their shadows are displayed, guests can ring shadow bells that hang overhead, allow butterflies to land on their outstretched fingers, and even wear shadow costumes that appear magically. Beyond the wall of shadows, Tinker Bell can be seen flying around the room, interacting with various objects, making the move and leaving a trail of pixie dust as she flies. Further along in the queue, guests get sprinkled with that magical dust as it is projected onto them when they walk through a corridor with Tink flying overhead.
3 – Seven Dwarfs Mine Train 
Guests of all ages enjoy the queue for the Seven Dwarfs Mine Train as it combines interactive digital games with physical objects to play with. The interactive part of the queue starts out with a series of tables displaying gems floating past, where guests can press and drag the gems to complete combinations laid out in front of them. Further along, are a series of musical fountains that release a stream of water and play a tone when someone's hand moves underneath it. Finally, there are a series of gem-filled barrels to spin, casting beautiful projections on the ceiling as well as making characters appear above you.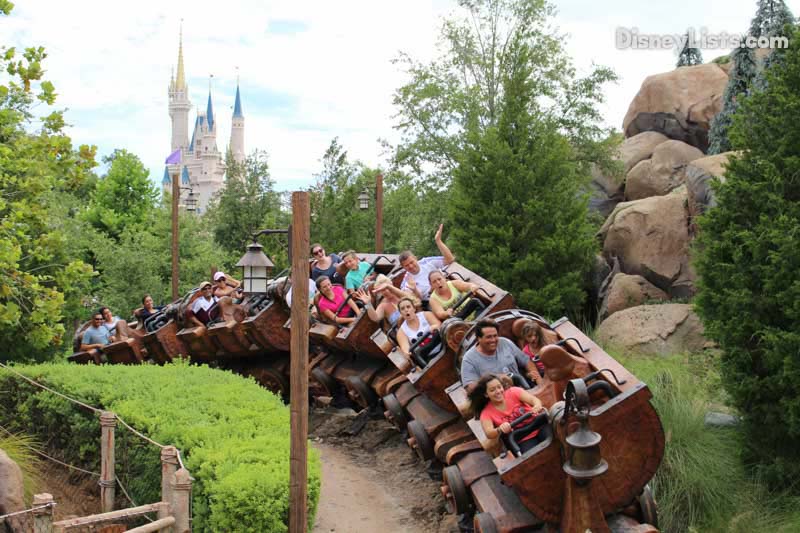 2 – Winnie the Pooh
As one of the most popular attractions for families, Winnie the Pooh's queue had several elements added to appeal to groups looking to make the most of their time spent waiting in line. An incredibly detailed play area opens up off of the line, allowing a parent to stay in line while the kids go off to play with one of the many stations set up. Kids can spin sunflowers, climb through wooden crates, and bang away on drums made of melons. Stepping on an animal track near the cabbage patch causes gophers to pop out of their holes, who then say hi, poke fun at the signs stating "no gophers allowed" before popping back down again. By far, the most popular interactive display here is the digital wall of hunny, where guests can drag their fingers along to create their own designs in the slow-flowing treat.
1 – Haunted Mansion 
As arguably the most iconic queue in Walt Disney World, each element of the line leading up to the Haunted Mansion is memorable. From ghostly musical instruments that play an eerie tune when guests touch them on the side of a crypt, to books that refuse to stay on bookshelves, there are so many things to explore. Some of the secrets in the queue are obvious and in-your-face, while others require a good deal of thinking to solve the puzzles. A series of 5 busts line the queue with descriptions of how each met their demise. Your task, as a guest, is to put together the clues and discover who the murderer is. Of course, if that's too much thinking, you can keep an eye on Madame Leota's tombstone, where you just might swear that she is watching you back from time to time.
For a no obligation, FREE Quote on a Disney vacation package, please contact our travel partner Magical Vacation Planner at 407-442-0227 (407-442-0215 for Spanish). You can also request a FREE quote online by Clicking HERE.