News
NEWS: Disney Reveals Details on Multiple Disney World Projects at D23 Japan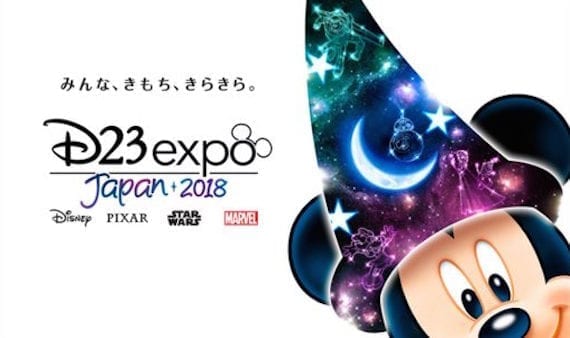 "We are hard at work creating even more ways to experience Disney magic at our parks and resorts around the world," said Bob Chapek, Chairman, Walt Disney Parks and Resorts.  "And with our incredible library of beloved stories and characters, we know exciting adventures and magical memories are in store for all our guests."
Today at D23 Expo Japan 2018, Walt Disney Parks and Resorts Chairman Bob Chapek shared exciting new details about the many ambitious projects underway around the world, from reimagined favorites to entirely new ways that guests can encounter Super Heroes, Jedi, classic characters and life-long Pixar pals. We've got details on all of the announcement that will impact Walt Disney World. Catch the details below.
1 – Guardians of the Galaxy Coming to Epcot – More Details
Disney Announced last summer that a new Guardians of the Galaxy attraction would be replacing Ellen's Energy Adventure in Epcot's Future World. Larger-than-life Super Heroes will descend upon Epcot with the opening of a Guardians of the Galaxy attraction. Based on the rockin', action-packed "Guardians of the Galaxy" movies, this one-of-a-kind family attraction will feature a brand-new, innovative ride system – and will be one of the longest enclosed roller coasters in the world! Coming to Epcot Future World, the new attraction will open in time for the 50th anniversary of Walt Disney World Resort in 2021.
2 – Star Wars Galaxy's Edge – More Details
This highly anticipated new land is set to open in 2019, both at Disney's Hollywood Studios and Disneyland Park – on a grand scale. Fans at D23 Japan caught a glimpse of the Millennium Falcon and an impressive fleet of life-size X-wing star fighters, which are being created for the opening of these jaw-dropping new lands. Imagineers are pushing the boundaries of what's possible as they prepare to place fans in the middle of the action where they can live their own Star Wars stories next year.
The totally immersive land will include two jaw-dropping attractions that allow guests to have control of their experiences. One attraction will put guests in the middle of a battle between the First Order and the Resistance—inside a Star Destroyer. In the second attraction, guests will have the chance to fly the Millennium Falcon – the most famous ship in the galaxy. Throughout the land, guests will also have the chance to interact with Chewie, the lovable BB8 and members of the First Order, plus wander through a toy shop in the street market run by a Toydarian, one of the creatures from Star Wars: The Phantom Menace.
3 – Star Wars Themed Hotel – Location & More Details
After a groundbreaking Star Wars-themed hotel concept was announced last year, fans have been eager to hear more. It will combine a luxury resort with complete immersion into an authentic Star Wars story at Walt Disney World Resort. From the moment guests arrive, their journey through space will begin as everyone boards a starship and departs together for a multi-day Star Wars adventure by boarding a starship alive with characters and stories that unfold all around them during a voyage through the galaxy. At the resort, Guests immediately become active citizens of the galaxy and can dress up in the proper attire. Every resort window will also have a view into space.
Today, Chapek announced it will be seamlessly connected to Star Wars: Galaxy's Edge at Disney's Hollywood Studios. This means we can expect the hotel to have a direct entrance to the new Star Wars land. An opening date for the new hotel has not been announced.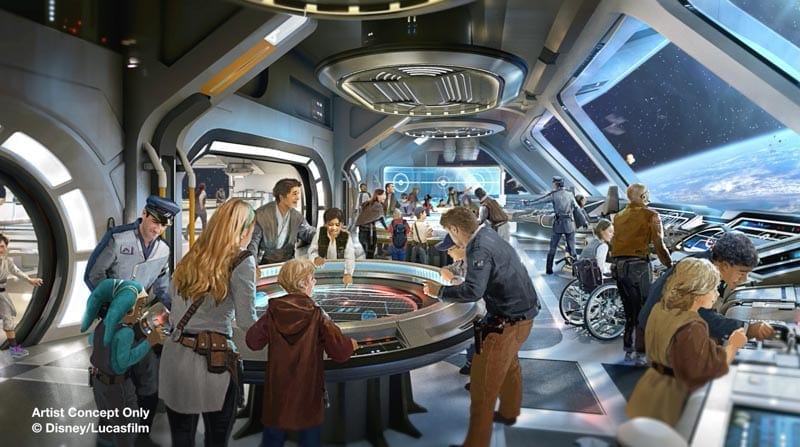 4 – Russel and Dug from Up in New Show at Animal Kingdom – Opening Confirmed
Earlier this year it was announced that a brand new show featuring Russel and Dug from Up would be coming to Disney's Animal Kingdom. Guests will get a chance to see their favorite Senior Wilderness Explorer and his furry friend as they discover bird species from around the world. Today it was announced the show will debut on April 22 – the park's 20th Anniversary!
5 – Mickey & Minnie's Runaway Railway at Disney's Hollywood Studios – Opening Confirmed
Also announced last summer was the news that a new ride featuring Mickey Mouse would be replacing the Great Movie Ride at Disney's Hollywood Studios. Today it was announced that Mickey & Minnie's Runaway Railway opens in 2019 at Disney's Hollywood Studios. The first-ever ride-through attraction themed to Mickey Mouse will feature a new original story and lovable theme song as it takes guests on a journey inside the wacky and unpredictable world of Disney Channel's Emmy Award-winning "Mickey Mouse" cartoon shorts using new technologies that transform the two-dimensional cartoon world into an incredible multi-dimensional experience.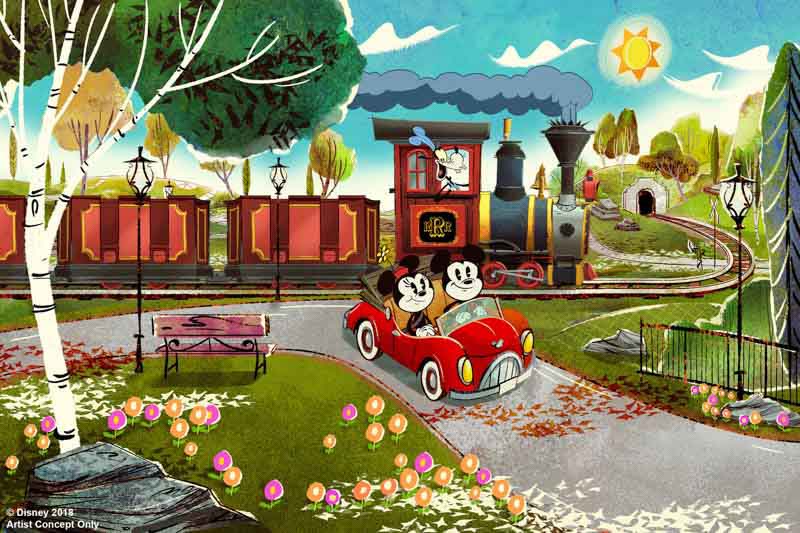 Here are more details from Disney Cast Member Thomas Smith:
Mickey & Minnie's Runaway Railway will feature a new experience that defies logic that we're calling 2 ½-D. No glasses required. On the attraction, the fun begins when you see the premiere of a new cartoon short with Mickey and Minnie getting ready for a picnic. As they head out, they drive alongside a train and find out that the engineer is Goofy. Then, one magical moment lets you step into the movie and on Goofy's train for a wacky, wild ride.
Mickey & Minnie's Runaway Railway will put you inside the wacky and unpredictable world of a Mickey Mouse Cartoon Short where you're the star and anything can happen. And for the first time, we shared a preview of what the cars will look like when you board the attraction for a zany, out-of-control adventure filled with surprising twists and turns. The teams helping create the attraction are currently working with partners at Disney Television Animation—the people who create the popular and award-winning Mickey Shorts – to keep the characters and story authentic and to make sure you're able to step through the movie screen and join Mickey and his friends like never before.
Stay tuned for more information and news from D23 Japan.
RELATED ARTICLE: How to Deal With…Construction, Refurbishments and Closings-Oh, My! on Your Disney World Vacation
by Christy Caby
You may have heard that there is a ton of construction and closures going on around Walt Disney World.  That is somewhat true.  There are tons of amazing new things coming and that means that other attractions may have to be closed in order to make room for the great things to come.  All of the attractions also periodically have maintenance and go down for refurbishments and enhancements so that guests get the most enjoyment out of them each and every time.  It can get frustrating and seem like there is too much going on, but don't fret.  You can still have an amazing vacation and still have so many things to do while on property.  Here are tips for how to deal with all of the construction, refurbishments and closings:
6 – Review the closing/refurbishment schedule before you go.
If you do a couple google searches, you can easily find various closing and refurbishment schedules for Walt Disney World.  You should definitely take time to review these so that you can plan your trip accordingly.  If certain attractions are the most important to you, you may need to adjust your dates so that you don't miss them, or minimally have your expectation set so that you or other members of the family aren't disappointed when you learn of the closures.  It is also a good tool to use to plan out you FastPass+ selections in advance so there are no surprises when you actually go to make the FastPass+ selections online.
5 – Consider all activities and entertainment, not just the rides.
There is so much to do at each of the parks.  Many guests are so focused on the rides that they forget about the shows and character interactions.  Be sure to review the Times Guide when you get to the park and look for the other events that occur in each park.  There are characters that come out throughout the day at various spots that you may not even realize.  There is also other street entertainment and personalities that come out regularly to perform, including singing and dancing, with the crowd.  The Times Guide will be your resource to make sure you don't miss any of the magic and that you have tons of entertainment all day long, even if there are attractions that are closed.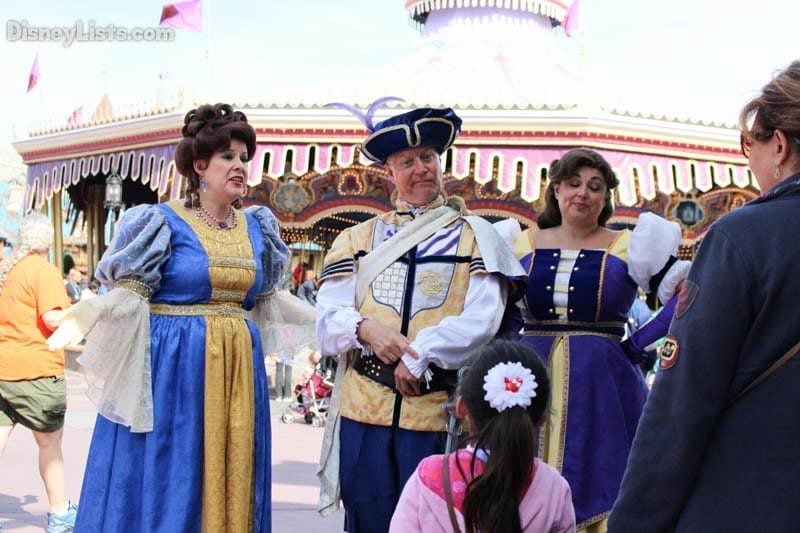 4 – Visit water parks, golf and more.
Don't get stuck on just the 4 major theme parks.  There are also 2 water parks, Typhoon Lagoon and Blizzard Beach.  There are 2 different miniature golf courses, ESPN Wide World of Sports and Disney Springs.  Between all of these locations you have so much more to do than just what is going on in the parks.  There could definitely be construction occurring at some of these places when you visit, but it feels less impactful than complete rides being shut down.  It is also a great way to get to experience a different aspect of Disney World while still enjoying a lot of magic and fun with your family.  We try to always plan a water park day during the week so that we can just focus on fun in the water and relaxation.  It is great to get that break and mix up the type of fun we have during our stay.
3 – Plan a resort day.
I know you may think that you need to spend every single day of your vacation in the parks in order to get the most out of your vacation.  It is always a great idea to plan a day to just enjoy the resort, especially if you are staying at a Disney Resort.  The parks can be grueling and a ton of walking.  Having a lower key day to recuperate and see the sights is also a great way to get away from the construction for a bit and not worry about it.  You can even go and visit other resorts, too.  Take a self-guided tour all over property and visit other resorts to experience all of the different themes, snacks and entertainment that you can find at each resort.  (Just remember that you can't pool hop.  You are restricted to the pool at your own resort due to the popularity of Disney pools.)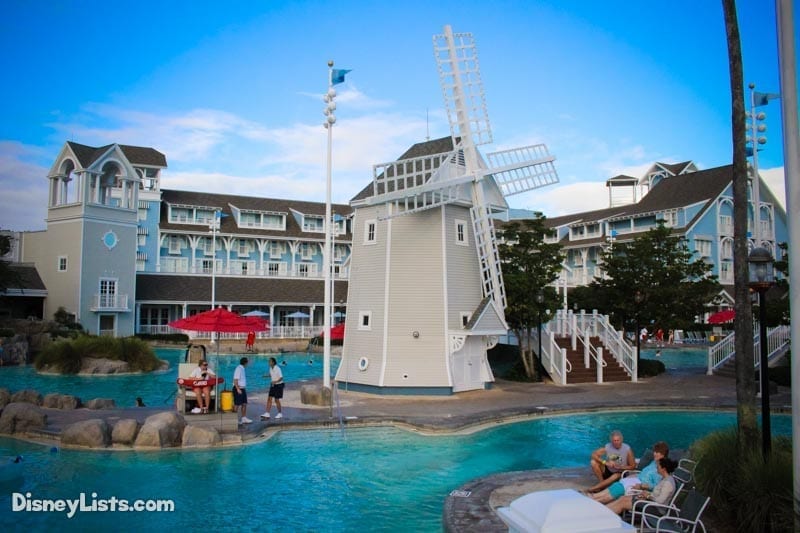 2 – Enjoy recreation activities.
Need a break from construction and some of the cranes that you may see from time to time?  Take a break to enjoy some of the other recreation activities.  You can go horseback riding, go on a wagon ride, rent a boat to take out on the water, go fishing, go golfing, rent bikes or surrey bikes to ride around your resort and so much more.  Disney does an amazing job of making Walt Disney World Resort a place that has something for everyone and tons of entertainment and activities that allow you to do just about anything that you can think of.  You want to go on a balloon ride?  You can!  You want to parasail over Bay Lake?  You can do that, too!  There is too much to do, so don't let yourself get down about the construction or closures!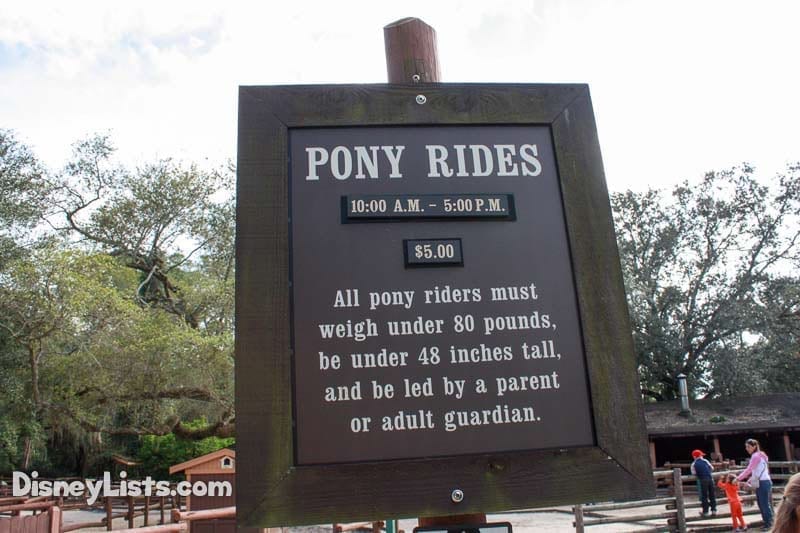 1 – Be positive and patient.
Hey, don't forget… you're on vacation.  I know that sometimes certain aspects can seem frustrating or disappointing, but try to stay positive and patient.  It isn't worth letting closures or these disappointments negatively impact your vacation.  You are there to spend and amazing time with your family and the people you love, and you can still definitely do that and make a ton of amazing memories.  You'll have a much better vacation if you don't sweat the small stuff and you focus on being in the moment during your stay!
For a no obligation, FREE Quote on a Disney vacation package, please contact our travel partner Magical Vacation Planner at 407-442-0227 (407-442-0215 for Spanish). You can also request a FREE quote online by Clicking HERE.