Disney's Animal Kingdom celebrated its 20th Anniversary on Earth Day, Sunday, April 22. It was a big (and crazy busy) day at Animal Kingdom and we were on hand to check it out. Disney used this day to not only mark the 20thAnniversary, but to kick off some pretty cool new things. Check out all the details below.
20thAnniversary Celebration Ceremony
Disney's Animal Kingdom celebrated its 20th anniversary in a ceremony marking two decades of magical adventures and unforgettable experiences. Gathered at the Harambe Theater (because of the threat of rain), set of the popular Festival of the Lion King stage show, drummers, dancers, stilt performers and Disney characters joined Disney executives in a ceremony observing the 20thanniversary and the kickoff of the two-week Party for the Planet celebration, on now through May 5.
Joe Rohde, Creative Portfolio Executive for Walt Disney Imagineering, led the creation of Disney's Animal Kingdom and reflected on its 20-year history. "We created this park out of a set of ideals that we believed were relevant and meaningful," Rohde said, "and as the years have passed, those ideals have only become more relevant and more meaningful. Our lives are bound to the lives of all creatures."
Djuan Rivers, vice president of Disney's Animal Kingdom noted how the park has grown over the last two decades, and its profound impact on guests and conservation efforts around the world. "Since 1998, we have been extremely conscious that what we have here is a new species of theme park," said Rivers. "And while it has undergone an amazing transformation in the past few years, it will always be dedicated to helping our guests create a personal connection with the natural world." Rivers also called out the success of the Disney Conservation Fund, aimed at reversing the decline of imperiled creatures in the wild. To date, he said, the fund has directed more than $70 million to save wildlife, inspire action and protect the planet.
Maribeth Bisienere, senior vice president of Walt Disney World Parks, noted today was more than an anniversary, it was a day of firsts. "'UP! A Great Bird Adventure' has its official debut in the park today," she noted. "On Pandora – The World of Avatar you'll be able to interact with a scientist who explores in a Pandora Utility Suit."
Be sure to check out our live video from the event on our Facebook page by following this link.
Reflecting on 20 years of Disney's Animal Kingdom
After the ceremony we were able to speak with some Disney executives who shared with us their love and passion for this amazing park.
Joe Rohde, Portfolio Creative Executive, Walt Disney Imagineering had this to say when reflecting on the park. "It's kind of unusual to stay attached like this to a single project for two decades, but there you have it…Disney's Animal Kingdom is more or less the story of my life!! Even though it's…like…twenty years old, there has never been a single day when we were not working on something that was going to go into the park or change the park. It's a living thing, because it is full of other living things."
"The super complex horticulture and landscaping of the park is part of what makes it alive.  It isn't managed to stay the same, but rather to continue to grow and change…to be as real as we can make it be. You would not believe how much work that takes!!
We also had a chance to speak shortly with Joe. Below is the video:
Dujan Rivers, Vice President of Disney's Animal Kingdom also had thoughts on the park. "Disney's Animal Kingdom has undergone an amazing transformation in the past few years, but at its heart, it has always been dedicated to helping our guests create a personal connection with the world around us. As we approach this 20thanniversary milestone, I'm honored to have been entrusted with leadership of this unique park and to work with this incredible group of Cast Members who share the magic of nature with our guests every day."
"Disney's Animal Kingdom has seen a lot of change, and through all the amazing accomplishments, we have remained committed to bringing the magic of nature to our guests in ways only Disney can."
Animal Care at Disney's Animal Kingdom
We spoke to Dr. Scott Terrel, DVM, DACVP, Director, Animal & Services Operations. In his current executive role, he leads a team of more than 700 animal care professionals, educators, scientists, and veterinarians that provide the animal care and guest experiences for Disney theme parks and resorts around the world. He spoke to us about the two young tiger cubs, Anala and Jeda, who were born about eight months ago at the park. He shared with us that their names really reflect their personality. Anala, the female, means "firery" and "she's exactly that, just like her mom." Jeda, which means "pause or slow," is more "chill and mellow" and enjoys spending time in the fountain in his space.
We also spoke to Dr. Anne Savage, Conservation Director, Animals, Science & Environment – Walt Disney Parks & Resorts. Dr. Savage leads the team to protect purple martins, a small migratory song birds that flies more than 3,000 miles from the Brazilian Amazon to Walt Disney World to raise their young. She also leads the Walt Disney World sea turtle conservation team that works to protect sea turtles and educate our guests at Disney's Vero Beach Resort. Anne said, "For the past 20 years, Disney's Animal Kingdom has worked to help save wildlife and engage communities in helping protect the magic of nature.  I'm so excited to see these care and conservation efforts continue to grow through the Disney Conservation Fund and our dedicated cast."
Finally, we spoke to Claire Martin, Sr. Manager of Strategic Philanthropy, Disney Corporate Social Responsibility. Claire leads Disney's philanthropic efforts to reverse the decline of imperiled creatures in the wild through the Disney Conservation Fund. She is responsible for developing strategies to advance Disney's conservation legacy and ensure maximum impact through the Disney Conservation Fund.
It is clear that team members love their jobs and really care for the animals and conservation at Disney's Animal Kingdom.
Party for the Planet Celebrations
Now through May 5, guests will find special experiences throughout the park including being able to learn more about the animals, backstage experiences, special photo opportunities, a limited-edition badge as part of the Wilderness Explorer program, and attend special dinners at Tiffins, Animal Kingdom's signature restaurant. Click here to read about all the details on these experiences.
The Impossible Burger-You've Got to Try It
We also sampled some food that you can find during the Party of the Planet. Pictured below is the two cupcakes you and purchase. Both were delicious. A Tree of Life Cupcake is available at Creature Comforts and Flame Tree Barbecue. An Earth Day Cupcake is also available at Pizzafari and Restaruantosaurs.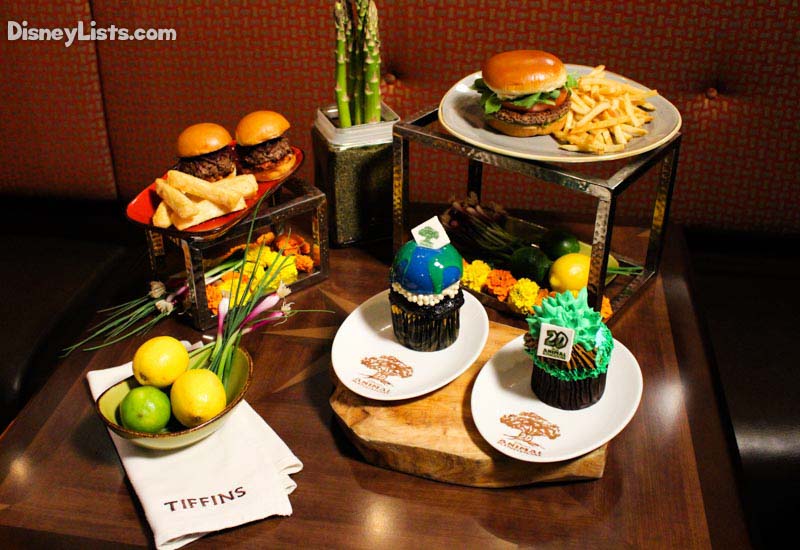 The highlight of the tasting was the Impossible Burger. The Impossible Burger is a burger that is trying to change the world. It is made from plants (100% plant-based) but looks, cooks, smells and tastes like ground beef. Created by Impossible Foods, the burger can be found at Restaurantosaurus during the Party of the Planet through May 5. If the burger proves popular with guests, Disney has plans to keep it as an option for guests.
An Impossible Burger is cholesterol-free with no hormones or antibiotics. Eating an Impossible Burger instead on one from a cow saves the equivalent of a 10-minute shower, 18 miles driving a car, or 75 sq of rainforest land. It's good for your body and the environment! But how does it taste?
I'll be honest. I ate half of my burger without knowing what it was. I thought they were just normal hamburgers for us to try. I was enjoying the burger, not noticing any difference, when I was told it was plant-based and had zero meat. I was shocked. It was very good, and this is coming from a meat lover! If you're able to, we highly encourage you to try this burger, whether you're a Vegan, Vegetarian, or meat lover! Nomad Lounge will offer Impossible Burger Sliders with tomato chutney and smoked onion on a brioche bun and served with yucca fries. At Restaurantosaurus, you'll find an Impossible Burger with avocado and tomato on a brioche bun.
Pandora Utility Suit
We also caught a glimpse of a new experience at Pandora – The World of Avatar. A 4.2-ton, towering mechanical suit has made its debut. The new Pandora Utility Suit is inspired by the iconic Amplified Mobility Platform (AMP) suits of power armor from the epic film AVATAR. Perched ten feet high, a human pilot straps into the cockpit of this exo-carrier and controls its powerful, yet agile movements. The giant walking suit was designed with articulated hands and a shoulder span of more than five feet. It also bears claw marks and battle scars from a Thanator – an alpha predator on Pandora.
But the Pandora Utility Suit was actually designed for restoration, while the film's AMP suits were created for infantry missions of destruction. Its streamlined structure and technical upgrades make it the perfect tool to collect plant samples, study flora and survive Pandora's wild terrain. Like all the lands at Disney's Animal Kingdom, Pandora is rooted in nature. The Pandora Utility Suit showcases that in dramatic fashion. As the suit traverses the land daily, its pilot will interact with guests, share details about the land's otherworldly landscape, and highlight the importance of preserving nature. The Pandora Utility Suit continues the collaboration between Disney and Lightstorm Entertainment that first brought Pandora – The World of Avatar to life nearly a year ago.
UP! A Bird Adventure
We were able to catch the all new show, UP! A Bird Adventure, that debuted on April 22. Senior Wilderness Explorer Russell and his furry pal Dug from Disney•Pixar's animated hit film UP join bird experts on a new adventure featuring encounters with birds from around the world. The show was fantastic. We'll have a full review soon. In the meantime, be sure to watch our live video of the first show on our Facebook page here.
Backstage Experiences at Rafiki's Planet Watch
Our day ended with a backstage tour of the veterinary hospital and Animal Nutrition Center, at Rafiki's Planet Watch where we learned some really interesting things about the care that goes into feeding and caring for all of the animals at the park. We saw where the different diets and gels are prepared for the animals. Great care and detail goes into planning and preparing the food for the animals. At the veterinary hospital we learned how vets use animal droppings to learn more about the animals to better care for them. These 30-minute special tours are a part of the Party of the Planet. They are now happening daily until May 5.
Happy Anniversary Animal Kingdom! And thank you Disney for all that you do not only to create an awesome experience for park-goers, but for the awesome conservation work you do around the world!
For a no obligation, FREE Quote on a Disney vacation package, please contact our travel partner Magical Vacation Planner at 407-442-0227 (407-442-0215 for Spanish). You can also request a FREE quote online by Clicking HERE.