News
Disney's Animal Kingdom Party for the Planet 2018 – What You Need to Know
Disney's Animal Kingdom celebrated its 20th Anniversary on Earth Day, Sunday, April 22, 2018. (Click here to read all the details about the celebration festivities on April 22, 2018). Commemorating the milestone year, the 500-acre adventure park kicked off a two-week celebration that will last until May 5. The park is offering animal encounters, family-friendly activities, specialty desserts and more during an expanded Party for the Planet celebration. Keep reading to catch all the details!
1 – Rafiki's Planet Watch
Rafiki's Planet Watch will take center stage for the 20th anniversary. It's home to fun educational exhibits and activities that help create awareness of animal issues. During the 20th anniversary, Rafiki's Planet Watchis offering backstageexperiences with experts where guests will learn about animal nutrition, visit the veterinary hospital and hear how Disney promotes global wildlife conservation.
We had a chance to experience a backstage tour of the veterinary hospital and Animal Nutrition Center, at Rafiki's Planet Watch where we learned some really interesting things about the work that goes into feeding and caring for all of the animals at the park. We saw where all the different meals are prepared for the animals. Great care and detail goes into planning and preparing and managing the diverse dietary needs of the full-time residents of Animal Kingdom. At the veterinary hospital we learned how vets use animal droppings to learn more about the animals to better care for them. These 30-minute special tours are a part of the Party of the Planet.
You can also attend conservation talks by animal-care experts and participate in enhanced interactions with some of the more than 2,000 animals that make their home at the Association of Zoos and Aquariums-accredited park at Rafiki's Planet Watch. Both the tours and the talks are happening daily until May 5.
2 – Party for the Planet Exclusive Food & Beverages
Two celebratory cupcakes are available. A Tree of Life Cupcake is available at Creature Comforts and Flame Tree Barbecue. An Earth Day Cupcake is also available at Pizzafari and Restaruantosaurs. The Tree of Life Cupcake is a vanilla cupcake topped with buttercream and an edible chocolate piece; and the Earth Day Cupcake is a chocolate cupcake topped with buttercream, white chocolate crispy pearls, white chocolate mousse, and an edible chocolate piece. We have tasted both and they were delicious.
You also need to try the Impossible Burger Sliders! Nomad Lounge will offer Impossible Burger Sliders with tomato chutney and smoked onion on a brioche bun and served with yucca fries. At Restaurantosaurus, you'll find an Impossible™ Burger with avocado and tomato on a brioche bun. It is made from plants (100% plant-based) but looks, cooks, smells and tastes like ground beef. I'm a meat-lover and had no idea it wasn't beef until I was told. I really enjoyed it! Give it a try!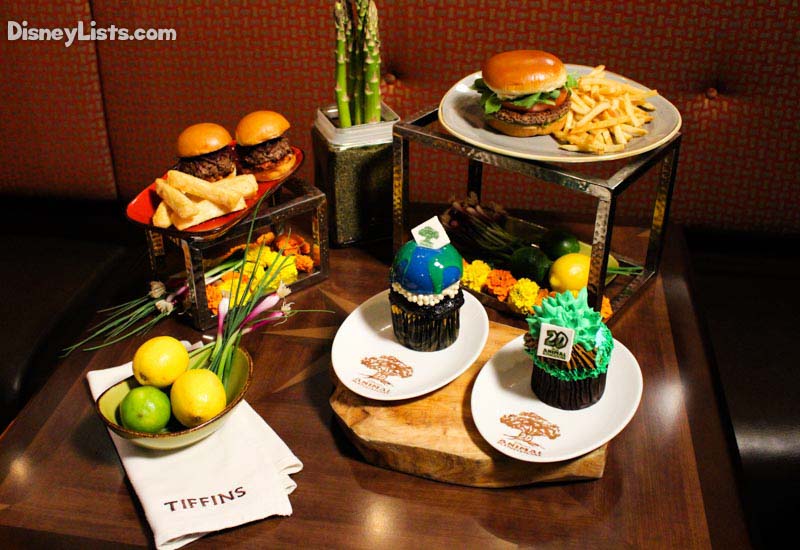 3 – Wilderness Explorers
Just for kids is the chance to earn a limited-edition badge as part of the Wilderness Explorer program. The badge is one of many that youngsters can earn by completing fun activities throughout the park. To learn more about the Wilderness Explorers Program click here.
4 – Tiffins Talks
Party for the Planet will also include six different Tiffins Talks – themed dinners hosted by animal experts at Tiffins, the theme park's signature, full-service restaurant. Tiffins Talks are intimate dining experiences that allow Guests to enjoy specialty food and beverages that complement the topics shared by animal and conservation experts. Tickets are $165 per person (tax and gratuity included). The event begins at 5:30 pm.
Here is the schedule for the remaining talks:
Wednesday, April 25, 2018– Joe Rohde, a veteran Imagineer, will share tales from his adventures all over Asia, India, Nepal and China. The chefs of Tiffins will follow Joe's journeys with a menu inspired by his travels. (sold out)
Friday, April 27, 2018– Dr. Jason Fischer, one of the park's Conservation Program Managers will speak about Disney's efforts to conserve the purple martin, a remarkable migratory songbird that travels to Walt Disney World Resort from the Brazilian Amazon to raise a family each year. The menu will feature North American cuisine.
Sunday, April 29, 2018– Rachel Daneault, one of the park's Zoological Managers, will talk about the Gorilla Rehabilitation and Conservation Education Center (GRACE) project that Disney supports in the Democratic Republic of Congo. The menu will feature African cuisine.
Wednesday, May 2, 2018– Dr. Anne Savage, the park's Conservation Director, will speak about the cotton-top tamarin conservation project Disney supports in Colombia. The menu will feature South American cuisine.
Friday, May 4, 2018– Dr. Scott Terrell, Director of Animal and Science Operations, will chat about caring for the Sumatran tigers that call Disney's Animal Kingdom theme park home, as well as the conservation work Disney is doing to protect tigers in Asia. The menu will feature Asian cuisine.
Note: speakers and topics subject to change.
Tiffins Talks are separately priced offerings and available by booking online or calling (407) WDW-DINE.
6 – 20thAnniversary Merchandise
You'll find special t-shirts, hats, bags, mugs, and pins that celebrate Disney's Animal Kingdom's 20thAnniversary. Many of these products will be available throughout the year so you have time to get them. Disney Cast member Steven Miller shares the details:
For Disney Parks Merchandise, this milestone occasion was the perfect opportunity for creating an unforgettable collection of merchandise inspired by the theme park's iconic centerpiece.
"We mixed earth tone colors with images of animals and icons reminiscent of the beautifully sculpted animal carvings found on the breathtaking Tree of Life," explained Cody Reynolds, Senior Creative Director with Disney Consumer Products and Interactive Media Creative Group.
From a banshee at Pandora – The World of Avatar to a Baobab tree from the Kilimanjaro Safaris attractions, artists drew more than 50 stylized animals, icons and graphics for an artwork style guide. Merchandise developers referenced this guide when creating items to ensure the overall assortment had a consistent look.
Artwork on a t-shirt and matching water bottle captures the park's tremendous transformation during the past 20 years, and includes nods to attractions from opening day to the more recent other-worldly additions of Na'vi River Journey and Avatar Flight of Passage.
Designed to complement each other, merchandise offered includes a mix of apparel for adults and kids, home décor, accessories and other collectibles such as trading pins or jewelry by ALEX AND ANI.
On select products, the merchandise team added hidden surprises in the artwork. A closer examination of drinkware reveals images of tiny ants strategically placed for guests to discover.
Island Mercantile in Disney's Animal Kingdom serves as the headquarters for the 20th anniversary assortment. Select products may also be found in shops throughout the park or via Shop Disney Parks.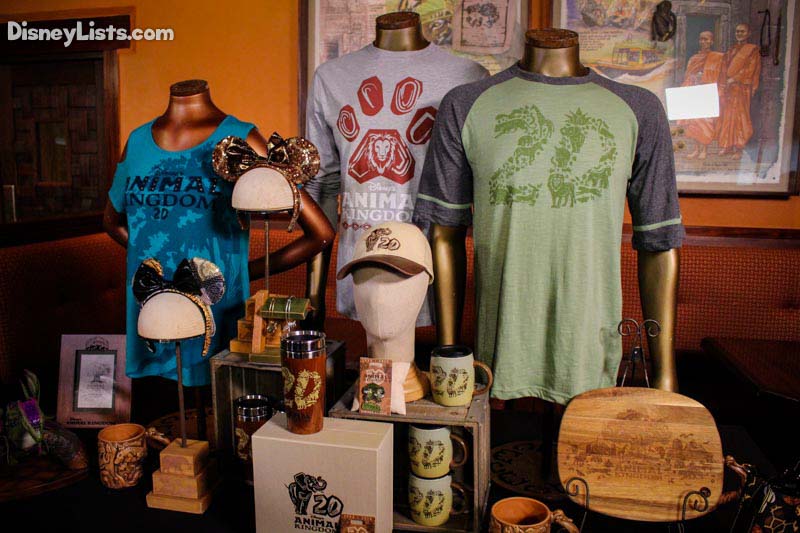 Another new product is a special edition banshee. With colors inspired by a moss-covered wall from Pandora – The World of Avatar, a new interactive banshee is flying into the Rookery at Windtraders. This limited release banshee will be packaged with a display perch and a Certificate of Authenticity. Similar to its 10 colorful counterparts currently available, the banshee contains authentic sounds and includes three ranges of motion – mouth, head, and wings – that are controlled by hand. You can find this at Windtraders in Pandora – The World of Avatar.
Also debuting is special Disney Gift Cards made out of wood! Here are the details from Disney Cast member Allison Friedlander:
Choose between a landscape design featuring the wonders of the park or a playful elephant just like the ones you see on Kilimanjaro Safari. These special Disney Gift Card designs are only available in Disney's Animal Kingdom, so be sure to visit a merchandise location starting this weekend during the "Party for the Planet" celebration and throughout the year!
In order to preserve the design and integrity of the cards, there is no magnetic strip on the back of the card, only a barcode, so after selecting the design you want, ask a Disney's Animal Kingdom cast member to scan the card to activate for a minimum of $15. After your card is activated, it functions exactly like our traditional plastic Disney Gift Card, redeemable for practically all things Disney throughout Walt Disney World Resort, Disneyland Resort, aboard Disney Cruise Line, in Disney store locations in the US, Canada and Puerto Rico as well as at shopDisney.com and on the Shop Disney Parks app.
6 – Special Photo Opportunities
Guests can also commemorate their visits to the theme park with special photo opportunities. They can step into an oversized picture frame celebrating the park's 20thanniversary at the park's entrance. Other photo frames support Disney's "Reverse the Decline," an initiative created to help protect 10 threatened animal species. One recent success of the program was the birth of two critically endangered Sumatran Tiger Cubs at Disney's Animal Kingdom. Exclusive Magic Shots from Disney Photopass for the Party for the Planet will also be available.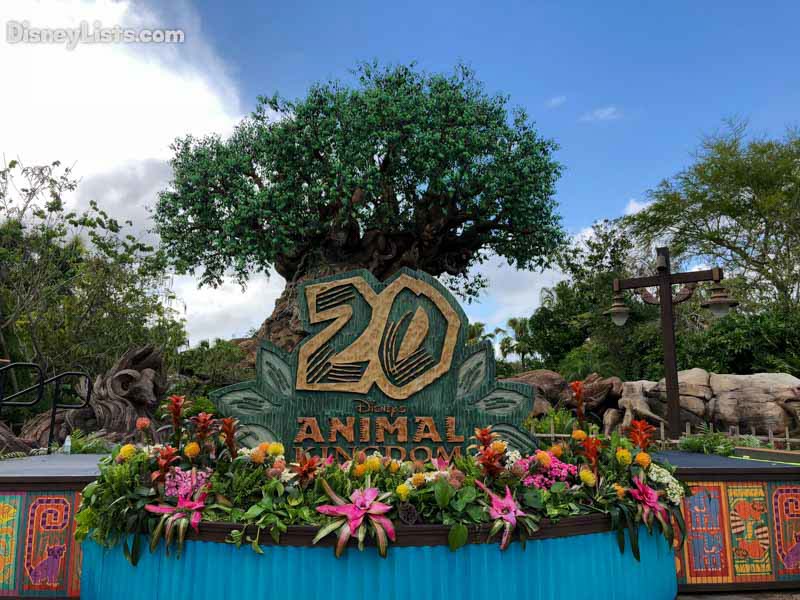 7 – More Experiences and Adventure coming to Disney's Animal Kingdom
A celebration with Donald and his friends will premiere on Friday, May 25 in DinoLand, U.S.A. This dinosaur-themed party celebrates Donald Duck's discovery that his bird ancestors were actually dinosaurs. DinoLand U.S.A. will feature colorful new décor and playful character greetings with rarely seen pals like Scrooge McDuck, Launchpad McQuack and more. A DJ-powered dance party will mix tunes from the truck-o-saurus stage, capping the nighttime festivities.
Memorial Day 2018 commemorates the one-year anniversary of Pandora – The World of Avatar. Here, travelers are transported to a mystical world of floating mountains, bioluminescent rainforests and breathtaking new experiences. Inspired by the blockbuster film, AVATAR, the epic land invites guests to explore a glowing landscape, encounter a larger-than-life Na'vi Shaman of Songs and soar on the back of a banshee.
For a no obligation, FREE Quote on a Disney vacation package, please contact our travel partner Magical Vacation Planner at 407-442-0227 (407-442-0215 for Spanish). You can also request a FREE quote online by Clicking HERE.