On Sunday, May 27 we enjoyed a fantastic evening at Star Wars: Galactic Nights. In case you aren't familiar, Star Wars: Galactic Nights is a thrilling Star Wars-themed event held after hours from 7 p.m.-midnight. It celebrates the entire Star Wars saga with out-of-this-world entertainment, special photo opportunities, event-exclusive merchandise, food & beverages, along with encounters with rarely seen characters that guests can only experience during this event. We were there for this amazing event. Catch all the details and our thoughts on the party below.
1 – A Huge Star Wars Party
Star Wars: Galactic Nights is comparable to Mickey's Not So Scary Halloween Party and Mickey's Very Merry Christmas party in that it is a separate themed hard ticketed event. This event was $129 for adults and $124 per child. Disney Annual Passholders received a $10 discount. Unlike the Halloween and Christmas parties, Galactic Nights only occurs one night rather than multiple days. The timing of this party was coincided with the release of Solo: A Star Wars Story and MegaCon, a science fiction and comic convention which draws about 100,000 fans. Even though the party was only one night, it did not sell out.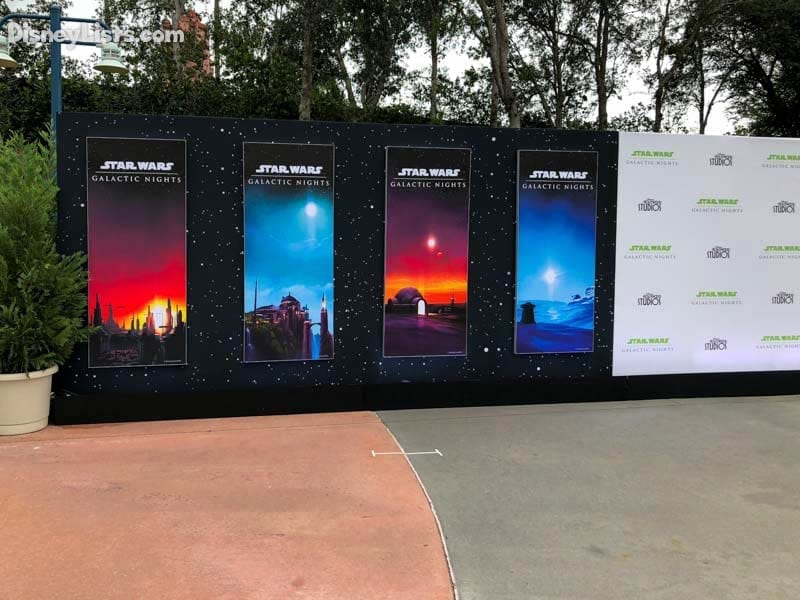 2 – Enter Disney's Hollywood Studios Early
Although Star Wars: Galactic Nights officially began at 7 p.m., ticketed guests are welcome to enter the park as early as 4 p.m. Like the Halloween and Christmas Parties, this allowed guests to get a head start on the fun and experience some of the park's standard attractions including Star Tours – The Adventures Continue and The Twilight Zone Tower of Terror. Even though the party didn't start until 7:00 pm, many of the party events, particularly photo opportunities, were available as early as 5:00 pm. We were able to get into many photo spots early, which gave us more time to experience everything the party had to offer (and it was A LOT!).
3 – Dress Up for the Occasion
Guests are encouraged to come dressed in their Star Wars best for Star Wars: Galactic Nights. We saw a variety of amazing outfits and costumes. Many guests who were happy to just wear Star Wars apparel.  In the future, if you find yourself going to this party and want to wear a costume, you'll want to follow Disney's Costume Guidelines for special events.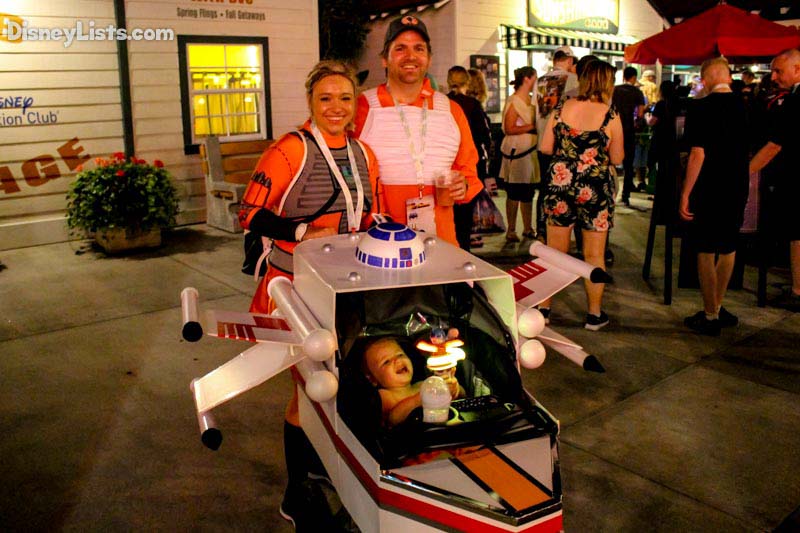 4 – Rebel Base – Star Wars: Galactic Nights Event Hub
The main stage was the hub of the special event. Throughout the evening there was a DJ dance party and many other interactive features. Star Wars actor Warwick Davis was the Galactic Host for the evening. Also at the main stage were showings of Star Wars: A Galaxy Far, Far Away, which featured new video moments from Solo: A Star Wars Story. A special Imperial March (different from the First Order March you'll find during the day) occurred multiple times through the night as well. The Imperial March included the Dark Lord of the Sith himself, Darth Vader. Finally, a new action sequence came to life as part of Star Wars: A Galactic Spectacular pyrotechnic extravaganza. Bottom line, there was a lot of entertainment throughout the evening bringing the characters and stories of Star Wars to life.
See the slideshow below for photos from the Rebel Base area.
[smartslider3 slider=134]
5 – Star Wars: Galactic Destinations Projections Transformed The Hollywood Tower Hotel
One of the coolest parts of the evening were the projections onto The Hollywood Tower Hotel. Visible on the Sunset Boulevard area of the park, the facade of the Hollywood Tower Hotel was transformed via stunning projection technology to showcase familiar locations from across the galaxy. Favorite film moments, special effects, lighting, and of course the stellar Star Wars cinematic score supported each galactic location moment all night long. Star Wars Galactic Destinations is currently an event exclusive. The projections were on a loop so we saw most of them throughout the night, without having to stand there for 10 minutes. They were amazing and really added to the atmosphere of the evening.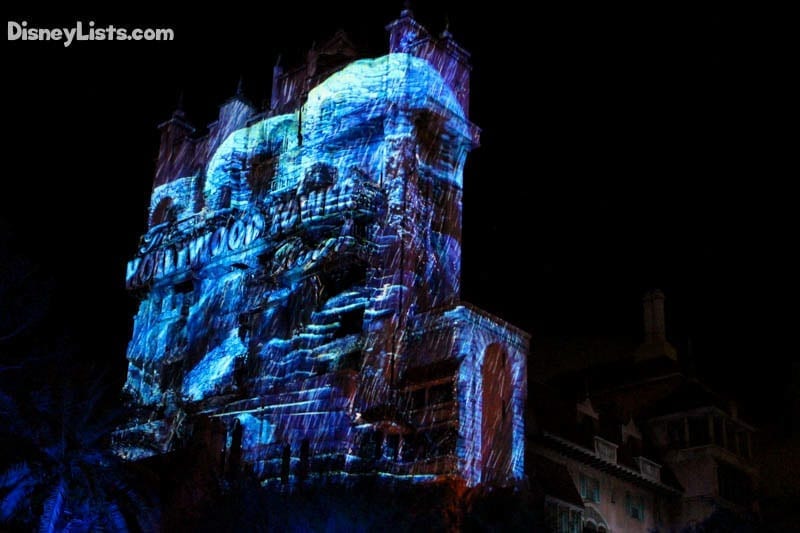 6 – Special Guests
In addition to Warwick Davis, there were two other special guests that came to the event.
Book Signing by Actor Ashley Eckstein (voice of Ahsoka Tano) – Ashley is known to Star Wars fans as the voice of Ahsoka Tano, but she's also known as the person behind the company responsible for filling fandom's closets and wardrobes with stylish apparel and accessories. Ashley appeared at the event in the Once Upon a Time gift shop with an assortment of her merchandise. She also signed her new book, "IT'S YOUR UNIVERSE," in which Ashley shares her life lessons, as well as lessons from iconic Disney characters, as a way to inspire girls to create big dreams and work to make them a reality. The book was released on May 8, 2018.
Stars of the Saga, an entertaining Star Wars-themed talk show, featured celebrity guest Joonas Suotamo who played Chewbacca in the new film. There were two chances to catch this show. He talked about his fascinating life and movie-making adventures – plus some lucky audience members had the opportunity to ask Joonas their own questions. Joonas was great. It's clear he loves playing Chewbacca and takes his role very seriously, caring about how he presents himself as Chewie and the legacy of the character. Watching his interview was a highlight of the night.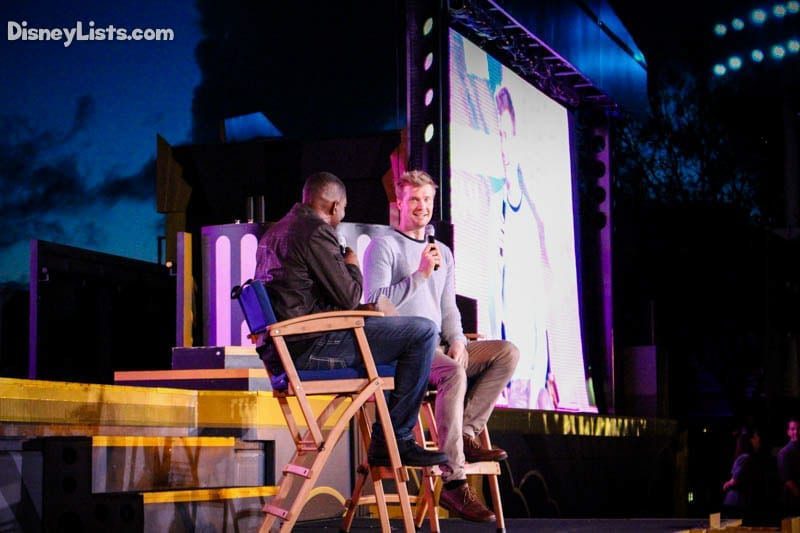 7 – Inside Star Wars: Galaxy's Edge Panel
Over at The Epic Theater, we found out what it's like to bring the epic stories of Star Wars to life, from the big screen to the real world! It all began with a special introduction by legendary Star Wars actor and Star Wars: Galactic Nights event host Warwick Davis. For all the news and details of the panel, be sure to click this link to read the full news article.
8 – Special Photo Opportunities
Throughout the park, we were able to step into immersive and iconic scenes from Star Wars films in a series of incredibly detailed photo locations. These special photo ops were only available at Disney's Hollywood Studios during Star Wars: Galactic Nights.
The full list for this event included:
Death Star: Emperor's Throne Room
Batuu (with First Order Stormtroopers)
Jedha: U-Wing and K-2SO
Ahch-To: Luke's Hut
Malachor: Sith Temple (with Seventh Sister)
Jakku: Luggabeast
Tatooine: Jabba's Palace (with Rancor)
Tatooine: Jundland Wastes (with Tusken Raiders)
To encourage guests to visit all of the photo locations, the Seize the Saga Scavenger hunt returned. Guests who collected all the clues were rewarded with exclusive artwork stickers that we placed on the back of our event credentials.
For the event, Disney offered special pricing on Memory Maker One Day for just $39 (the regular One Day price is $69). With Memory Maker One Day, you'll receive unlimited digital downloads of your Disney PhotoPass Photos from Star Wars: Galactic Nights—capturing your encounters with Characters, icons, attractions and more. If you attend a future event, we highly recommend purchasing either Memory Maker One Day or the regular Memory Maker for your entire vacation. We took a lot of pictures and it was so nice knowing we would have all of them available in our MyDisneyExperience account.
9 – Character Encounters
There were many characters to meet during the evening, a number of whom can only seen on rare occasions. We got photos with three of the characters on the list. With everything there was to do during the evening, it was challenging to see all the characters. Some characters had very long lines. For instance, around 10:00 pm the wait time for Kylo Ren and Captain Phasma was 60 minutes. To see Rey with Chewbacca, the wait was 45 minutes. The other characters had moderate wait times of 15-20 minutes. Later in the evening, some of the wait times were much lower. For instance, at around 9:00 pm, we saw an estimated 25-minute wait for the First Order Storm Troopers, but around 11:30 pm there was no wait at all.
Here is the full list of Meet and Greet Star Wars characters for the May 27 event:
Darth Vader*
Chewbacca and Rey*
Kylo Ren and Captain Phasma*
BB-8
Seventh Sister*
Jawas*
Tusken Raiders*
Imperial Stormtroopers*
AWR Stormtroopers*
First Order Troopers
*denotes that these characters are currently exclusive to the Galactic Nights event
Check out the slideshow below of photo backdrops and character meet and greets:
[smartslider3 slider=133]
10 – Exclusive Food & Beverage offerings
For a special treat, Disney chefs created out-of-this-world Star Wars-themed offerings. Here is the menu of food items that were available only during the event:
Savory Seafood
Crab puff with wasabi crab claw– inspired by the Gungans of planet Naboo
Bloody Mary grilled shrimp and chorizo skewer– a hearty option to satisfy even the hungriest Wookiee ($5.69)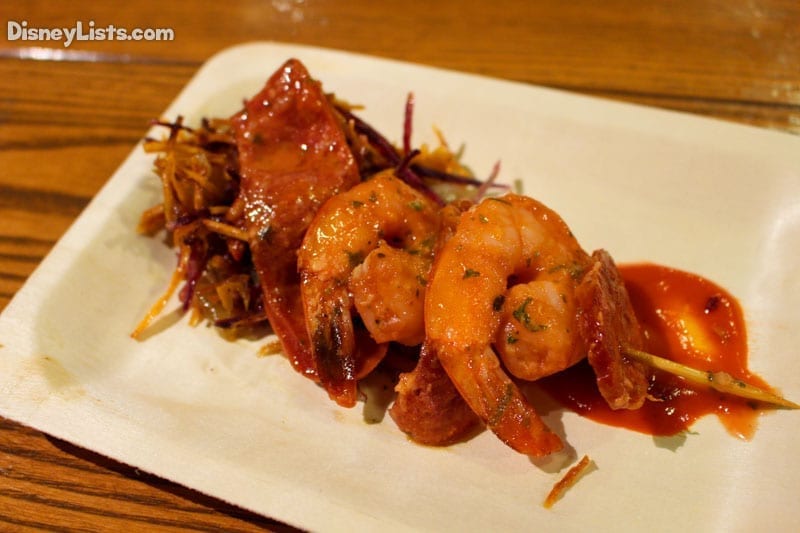 Fish and chips with smoked paprika remoulade (NEW)– reminiscent of the Ersos' coastal homestead
Cheese grits with steamed crawfish (NEW)– a savory dish modeled after the Mon Calamari
Carnivorous Creations
Wagyu beef slider smothered with cognac mustard and fried Toma cheese patties– a dish that's big and messy, just like Dexter Jettster, owner of Dex's Diner. ($6.70)
Ribeye steak puff– an option that's easy to eat on the run, and ideal for an active nerf herder
Balsamic BBQ pork wings with blueberry slaw– featuring a surprising ingredient that will leave you puzzled, just like the spirited R2-D2
Loaded red curry duck fries (NEW)– a colorful dish modeled after the Battle of Crait
Three-cheese pasta with meatball (NEW)– a dish as bold and strong as the Resistance Movement ($5.29)
Sweet and spicy fried drumstick with a pepper jelly biscuit (NEW)– a tasty tribute to Chewbacca's "complicated" relationship with the porgs
Veggie Delight
Vegan blue milk curry with coconut, plantains, sweet potatoes and blue curry sauce– inspired by the peaceful, herbivore bantha
Soba noodle salad with chili glazed deviled egg (NEW)– a delightful vegetarian dish. ($4.79)
Plantmeat on root crush (NEW)– a vegetarian twist on meatloaf that would be popular at Unkar Plutt's concession stand on Jakku ($5.99)
A duo of gazpachos (NEW)– a tasty interpretation of the lightsaber duel between Jedi Master Qui-Gon Jinn and Sith Lord Darth Maul
Desserts and Snacks
Lightsaber churros– blue- and red-colored confections covered in edible stars and sugar
Sweet and crunchy popcorn with chocolate, caramel, pecans, and cookies– a tasty treat reminiscent of the iconic garbage chute scene
Star Wars-themed éclairs
Specialty cupcakes- inspired by Star Wars characters and icons. The cupcake included a glowing Millennium Falcon, which might explain the price increase over other cupcakes that Disney sells. ($7.99)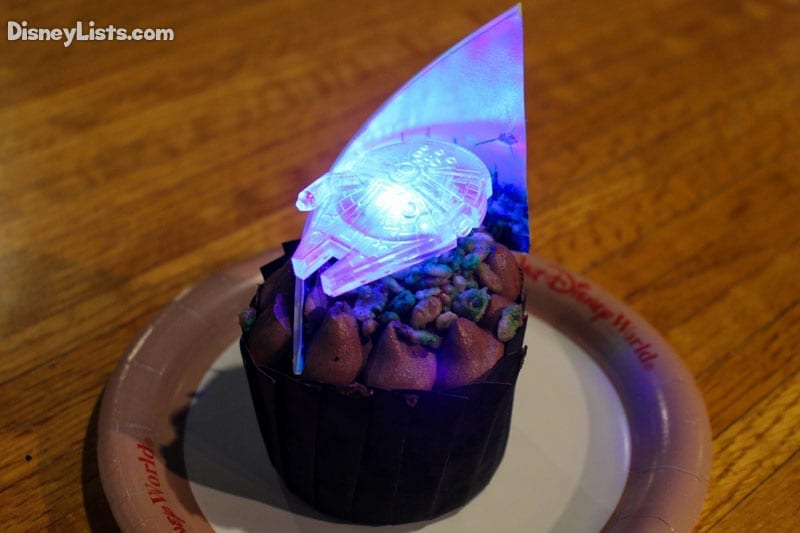 The Wagyu beef slider was our absolute favorite dish of the evening. It was delicious. We also liked the cupcake, which was an orange truffle cupcake. The cupcake was fine-good but not amazing.
Alcoholic beverages were also available throughout the park. The drinks were on the pricey side ranging from $13.50-$14.50. Non-alcoholic versions were $8.29.
11 – Enjoy park attractions
Select attractions were open to all guests throughout the evening. We're including the average wait times that we saw throughout the evening (as reported by the MyDisneyExperience App) to give you an idea of how many attractions you might be able to visit during the evening.
Rock 'n' Roller Coaster: Star Wars Edition (wait time averaged about 30 minutes)
Star Tours – The Adventures Continue (wait time averaged about 10-20 minutes)
Star Wars Launch Bay (theater wait time averaged about 10 minutes)
Star Wars: Path of the Jedi (no wait)
The Twilight Zone Tower of Terror (wait time averaged about 15-20 minutes)
Toy Story Mania! (wait time averaged about 20 minutes)
Muppet*Vision 3D (wait time averaged about 5-10 minutes)
Walt Disney Presents (no wait)
With all of the special entertainment, photo opportunities, and the Inside Star War's Galaxy's Edge panel, we only rode one attraction throughout the evening. We rode Rock 'n' Roller Coaster: Star Wars Edition because it was an experience we could only get that night. The overlay was pretty cool. They play Star Wars music and characters were projected on the wall. We've been to Disneyland and absolutely love Hyperspace Mountain. This overlay was not as in-depth or as good as that experience, but it was very cool nonetheless. The attraction photo was very cool (see below).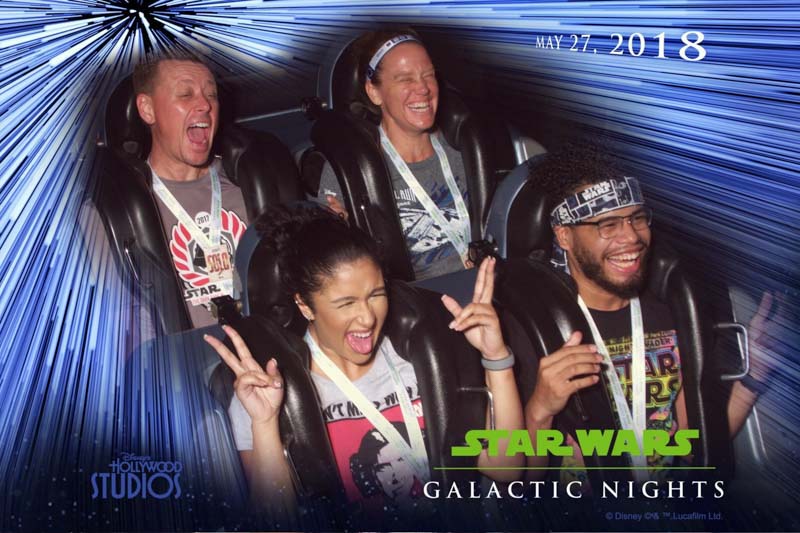 12 – Special Merchandise
There were a few special merchandise items to purchase. The items included a special event t-shirt and water bottle. An exclusive Star Wars: Galactic Nights poster and Star Wars: Galaxy's Edge trading cards were given to every guest as we left for the night.
13 – Final Thoughts and Recommendations
We get a lot of questions on whether or not these events are worth the ticket price. There is no way around the fact that $129 per ticket is a pretty hefty price. A single day Hollywood Studios ticket for May 27, 2018, would cost $122 for an adult. Compared to a one day ticket, it's not that bad. However, realistically almost no one buys a single day ticket. Is this event really worth it? The answer is yes and no. Unlike the Halloween or Christmas parties which will appeal to a wide variety of guests, this party is definitely targeted to a very niche audience. If you and your family are crazy huge Star Wars fans, then this party was made for you and you will love it. Between the exclusive entertainment, characters, attractions, and photo opportunities, you'll be in Star Wars heaven! If you're not really into Star Wars are only a casual fan, then this party is not for you!
If you attend a party in the future, you'll want to decide ahead of time what your priorities are for the event. If your vacation plans allow for a "regular" day at Hollywood Studios, then we recommend saving as much of the non-exclusive attractions for that time. We had a very hard time getting done what we wanted to do and there were many things we missed out on, such as characters. Don't take up precious party time by spending time at Muppet*Vision 3D!
Here are our recommendations for the best night possible:
Arrive at 4:00 p.m. Plan to stay the entire evening and expect a very late night. We stayed until the very end and didn't even get back to our hotel until 1:00 am! Be mindful how this event might affect your younglings! They may need a nap or have a low key afternoon before the event, and possibly, a slow day after since they will be staying up so late! And don't schedule a 7:30 am breakfast the following morning!
Decide ahead of time what your "must-dos" are for the evening. Break the party items into three categories: A, B, and C. Your A group is your "I must do" items. Do them first! Once you've done those, then do your "B" items, which would be "I really want to do these if there is time" items. Finally, make a "C" group of things you won't be sad if you didn't get to experience. Hopefully, that way you'll leave the party happy with what you've accomplished!
Decide which attractions you can skip, particularly if you will be hitting Hollywood Studios on another day. A 20-minute wait for Toy Story Mania may be hard to pass up, but if you miss out on an exclusive party experience, you won't have another chance to do it, while you'll have another chance and possibly even a FastPass for a Hollywood Studios attraction another day.
Same suggestion goes for the characters. While I love BB-8, you can see him anytime. Focus on characters that you can only see during the party, like Chewie and Rey together or Kylo Ren and Captain Phasma together.
Overall we really enjoyed the party. We're huge Star Wars fans so it made sense for us. The entertainment was top notch and we think the characters and photo backdrops were excellent. If you're a Star Wars fan, then this event was made for you!
The Disney Company provided us with two complimentary Star Wars: Galactic Night passes. However, the thoughts and opinions contained in this article are our own.
For a no obligation, FREE Quote on a Disney vacation package, please contact our travel partner Magical Vacation Planner at 407-442-0227 (407-442-0215 for Spanish). You can also request a FREE quote online by Clicking HERE.