2018 was a pretty exciting year for Walt Disney World. Not only did we get a brand-new land complete with two new attractions, but guests were also treated to fancy resort renovations, new entertainment (in the form of dance parties, walk-around characters, and attraction scenes), and new restaurants and shops.
Of course, every year at Disney comes with changes good and bad (and big and small), but at least there's one thing we can always count on- Disney World will constantly be changing. And while the year isn't over yet, we can reminisce on what changes we've been treated to so far. Here is a recap for seventeen of the biggest happenings of 2018!
17 – New Restaurants Open at Disney Springs
I feel like every time I blink, Disney Springs has a new restaurant opening. Disney's high-end shopping, dining, and entertainment district is an ever-evolving entity, and something new is always there to delight guests- even if it's just special menu items themed to a season or holiday. Luckily, in 2018, guests had even more restaurants to choose from while dining at Disney Springs- five brand new restaurants opened over the course of the year.
First was The Edison, which opened just in time to ring in the New Year of 2018. Themed as a restaurant of the roaring '20s, The Edison boasts a steampunk décor and party atmosphere. Enzo's Hideaway Tunnel Bar and Restaurant, themed after a speakeasy hidden inside rum-running tunnels, opened in early January. I have yet to eat there, but I can't wait to visit and eat some unique Italian cuisine (as well as try some Prohibition-era cocktails). Wine Bar George, named after Master Sommelier George Miliotes, opened in May and offers 130 various selections of wine. You can also order a few food items there, such as charcuterie boards and European-style sandwiches.
Terralina Crafted Italian (formerly known as Portobello Country Italian Trattoria) opened in late June of 2018. If you couldn't tell by the name, the restaurant boasts famous Italian dishes and a fancy outdoor bar. The atmosphere is influenced by the lakes surrounding northern Italy. Finally, Chicken Guy, Disney Springs' newest dining location, opened in August. Chicken Guy is the brainchild of celebrity chef Guy Fieri and Planet Hollywood founder Robert Earl. While chicken is obviously the main draw, the true gems are the 20 varieties of house-made sauces.
With all of these exciting new places to eat, I know I'll be spending a lot more time at Disney Springs throughout the next year!
16 – Resort Parking Fees Announced
Fees at Disney World were a big talking point in 2018, and it all began with overnight parking at Disney resorts in March. One of the biggest draws of staying on property at a Disney resort was free parking- both at the resort itself, and at the theme parks. However, guests staying at a Disney resort with a car are now expected to pay $13 to $24 a day, depending on the level of accommodations (value, moderate, or deluxe).
As with every price increase and add-on Disney does, debates spark online, as well as tips on how to beat the fees. Often, confusion is created- what happens if you travel without a car, or if you do online check-in and don't tell anyone you have a car? What happens if you visit a resort for dinner, but aren't actually staying there? I don't have all the answers, but I do know that it's never worth trying to get around Disney's rules. Most Orlando hotels already have parking fees in place, and this change, while unfortunate, doesn't seem to be worth arguing. Disney will keep adding and increasing fees, and guests will keep visiting the parks and resorts.
15 – The Purple Wall Gets a Paint Job
In 2018, the famous Instagram "Purple Wall" got a fun new makeover. The Purple Wall has already inspired lots of Disney World merchandise, including hats, T-Shirts and Magic Bands that say "Meet Me at the Purple Wall." While some guests panicked that their beloved purple wall would be destroyed by the new paint job, I think Disney did a good job by putting a geometric design over a white and purple background, which only covers one side. The rest of the wall, which is located right outside the Tomorrowland Terrace Restaurant, remains the same. Now, Instagrammers have two "Purple Walls" to choose from!
You have to hand it to Disney; they know their audience, and they know how to spark interest. They even put a Photo Pass photographer outside the Purple Wall, but I'm not sure if one is there at all times. What you can be sure of seeing, at all times, is a bunch of people with phones in their hands, trying their hardest to get that perfect Purple Wall pose.
14 – Animal Kingdom Celebrates Its 20th Anniversary
If there's one thing Disney knows how to do, it's how to throw a party. And to honor Animal Kingdom turning 20, Disney threw a "Party for the Planet." For 2018, this party lasted from April 22nd(Earth Day) to May 5th, and included so many amazing things! Aside from limited edition merchandise, photo opportunities, and special Wilderness Explorer badges, the park offered different backstage experiences at Rafiki's Planet Watch. This allowed guests to visit the veterinary hospitals and learn more about wildlife conservation.
One of the most exciting offerings was Up! A Great Bird Adventure, which took over the Flights of Wonder show in Asia. The new show still centers around the wonder, beauty, and education of different types of birds, but now includes Dug and Russell from the movie Up. This show is now a permanent offering at Animal Kingdom, and while the script may soon be rewritten, guests can catch the show at The Caravan Theater multiple times a day.
Animal Kingdom is already my favorite park, but I love how Disney really took the time to make it special for guests during this important milestone.
13 – Donald's Dino-Bash
A special offering that arrived shortly after the 20thAnniversary was Donald's Dino-Bash, a dance party and character greeting spot in DinoLand U.S.A. with Donald Duck, Daisy Duck, Scrooge McDuck, Launchpad McQuack, Goofy, Chip and Dale, and more. A DJ plays tunes when the characters come out, and the area is covered in colorful décor. I don't usually spend much time with dance parties, but I'm sure it's exciting to meet Donald and his friends decked out in their dinosaur gear!
The event even has a few specialty snacks-one of which can be found at a Pop Up Bar in DinoLand which serves a drink called "The Cretaceous Cooler" (Parrot Bay Coconut Rum, Midori, and Pineapple Juice). Over at Restaurantosaurus, there is Donald's Dino-Bash Cupcake, a yummy concoction covered with white-chocolate mousse, buttercream, and pearls in Donald colors of red, yellow, and blue (complete with a red fondant bow).
Unique character meet and greets, along with special food items, is definitely a Disney fan's dream. Plus, I love that Donald is getting the attention he deserves in 2018!
12 – Disney's "Incredible Summer" Event Brings Out the Supers
Beginning in May, Disney decided to celebrate the release of The Incredibles 2 by bringing a ton of superhero-themed events to its parks and resorts. At Epcot, guests could catch Guardians of the Galaxy- Awesome Mix Live! over at the American Gardens Theater. For this show, Star-Lord and Gamora performed with an alien band to hits from the movie's soundtrack. I never got a chance to see this show, but I'm sure it was the perfect way to prepare for the new Guardians of the Galaxy attraction that Epcot is currently building!
Most of the festivities took place over at Tomorrowland in the Magic Kingdom, where banners everywhere announced the presence of the Incredible Tomorrowland Expo. There were plenty of cool photo opportunities, but the best part was an Incredibles "SUPER" Dance Party on the Rocket Tower Stage. It was here that Edna Mode made her first appearance in the parks, and with her being one of my favorite characters, I was so excited to catch a glimpse of her and her fabulous bob making their way to the stage one day!
There was also a Pixar celebration on certain nights at Typhoon Lagoon, called H20 Glow Nights. These nights took place after-hours, but allowed access to Toy Story-themed meet and greets, as well as all of the attractions at Typhoon Lagoon. Disney really did make sure their summer of 2018 was extra special with all of these events, and while I couldn't attend all of them in person, I know there'll be more to look forward to for 2019!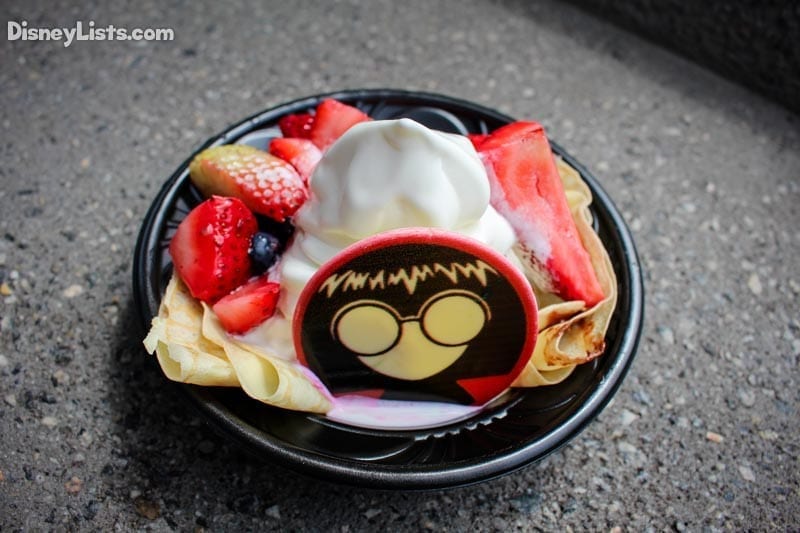 11- The Maleficent Parade Float Catches Fire
When I first heard about this particular incident of 2018, I thought it was a joke. Then, I saw the videos erupt over Facebook and Twitter and learned that it was real. Poor dragon Maleficent got a little over-worked one day and caught fire during a showing of the Festival of Fantasy parade at the Magic Kingdom.
The steampunk-inspired Maleficent dragon float was always my favorite part of the daytime Festival of Fantasy parade. The fact that she could literally breathe fire was an amazing effect, but I would be lying if I said it never occurred to me that it could go wrong. The dragon is supposed to periodically spout flames through its nostrils as it glides down the parade route, but in May of 2018, the flames wouldn't stop. In fact, the fire just got bigger until Maleficent's whole head was ablaze.
Guests didn't flee the scene but rather filmed the whole incident on their phones. I can kind of understand this from a first-timer's perspective- if you didn't know any better, you would think this was all part of the show. Luckily, no one got hurt. The fire was put out very quickly. Many cast members surround the dragon float during the parade, and I'm sure they all were heavily trained on what to do if this ever occurred. Now, the Maleficent float has been removed, and no one knows when it will return.
I am very glad no one was hurt, but I do miss the float. I hope necessary safety precautions are put in place and that Maleficent can be repaired and returned, but I understand if the float never breathes fire again.
 10 – The "Play Disney Parks" App Launches
Disney is always thinking of ways to keep guests entertained while waiting in long lines. Now with this new mobile app, you can answer trivia questions, earn achievements, play games, and listen to music while walking around the four parks (and some aspects of the app you can even do at home)! It's perfect for those attractions that don't have interactive queues.
The app can be played at Disneyland and Walt Disney World, and became available for free download on June 30th, 2018. The app is designed for parties to enjoy together, which is great for some of the interactive games designed for especially popular rides. For example, groups or individuals can play activities themed to Slinky Dog Dash, Toy Story Mania, Peter Pan's Flight, and Space Mountain. Other attractions reward guests with an "achievement" once you reach the loading area, and there are trivia questions and official music playlists tied to different lands of the parks.
The Play Disney Parks app is said to evolve over time, and I'm excited to see what new experiences will be available when Star Wars: Galaxy's Edge opens!
Read Part 2 of our 2018 Year in Review by clicking here.
For a no obligation, FREE Quote on a Disney vacation package, please contact our travel partner Magical Vacation Planner at 407-442-0227 (407-442-0215 for Spanish). You can also request a FREE quote online by Clicking HERE.