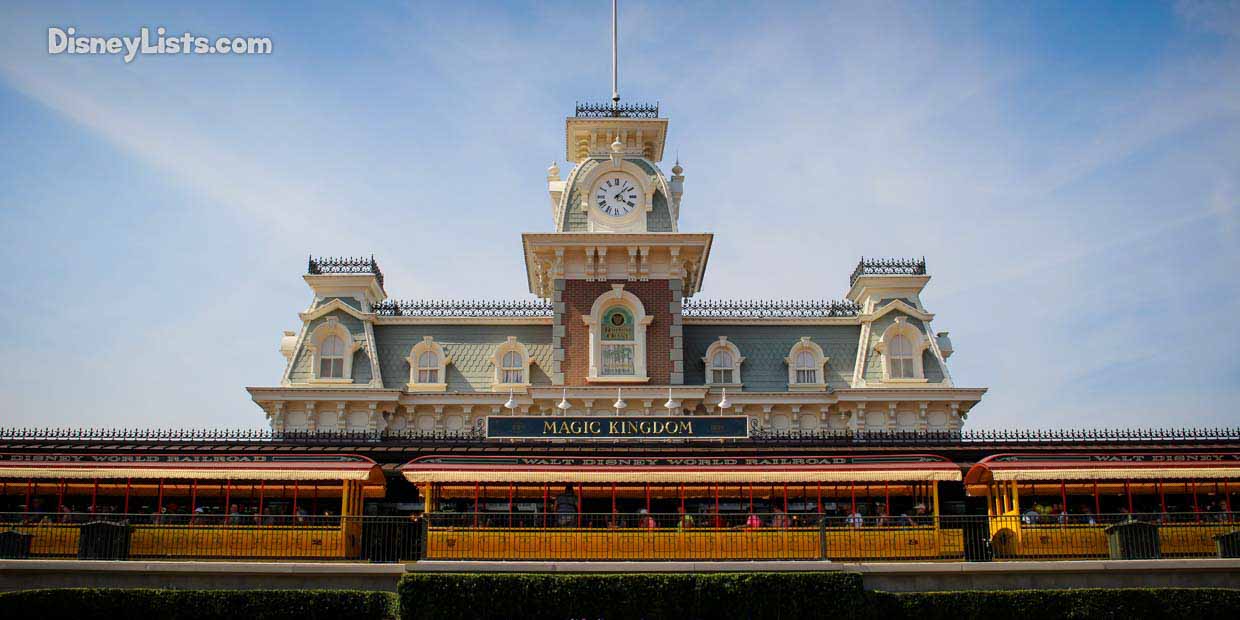 It doesn't get any more magical than visiting Walt Disney World's Magic Kingdom! Yes, Disney's other theme parks are spectacular but Magic Kingdom – well, it just has that extra special touch of Pixie Dust that we can't seem to get enough of no matter how many times we visit. As you prepare your Magic Kingdom visit, check out these 15 things you'll want to know before you go!
Editor's Note: We understand that with the phased reopening of Walt Disney World, some of the advice in this article may not apply if you visit while park hours are reduced, capacity limits and physical distancing are in place, and some of our favorite experiences—fireworks, parades, and character greetings—are temporarily suspended. (You can read everything you need to know about the phased reopening by clicking here). We will continue to share articles that give guidance on a "normal" vacation to Walt Disney World, along with any special changes or instructions you may need to be aware of during the phased reopening to provide the best tips we can regardless of when you are visiting. ~ Chad & Cindy
Click here for our guide to visiting Magic Kingdom during the phased reopening and what you need to know.
1 – Parking
If you plan to drive to Magic Kingdom, you'll first want to know that parking is actually NOT at Magic Kingdom at all, but rather at the Transportation and Ticket Center (TTC) a few miles away from the park entrance. Once you've parked at the TTC, you'll get on the Monorail or Ferryboat to be shuttled over to Magic Kingdom. Sometimes Disney also operates buses that will take guests from the TTC to Magic Kingdom, but this is typically only during the busier seasons.
2 – Closest Resorts
Not in the mood to tackle the TTC? No worries! Stay at one of Disney's many resorts. The resorts offer bus transportation that will drop you off at the park entrance. Some of the resorts even offer boat transportation. The very best resorts to stay at if you're looking to be close to Magic Kingdom is Disney's Contemporary Resort, Bay Lake Tower, Grand Floridian Resort, and the Polynesian Resort. Just catch the Monorail for an easy ride to Magic Kingdom. If you stay at the Contemporary Resort or Bay Lake Tower – you'll be able to WALK to Magic Kingdom!
3 – Tickets Prices Vary
As with any of Disney World's four theme parks, the Magic Kingdom ticket price varies. The one 1-day ticket price for admission varies between $109 and $159 per adult (10+ years), plus tax. Disney sets the price of the ticket depending on the crowd levels expected. The less popular seasons are where you'll pay the $109, versus something like Christmas day when you'll spend $159.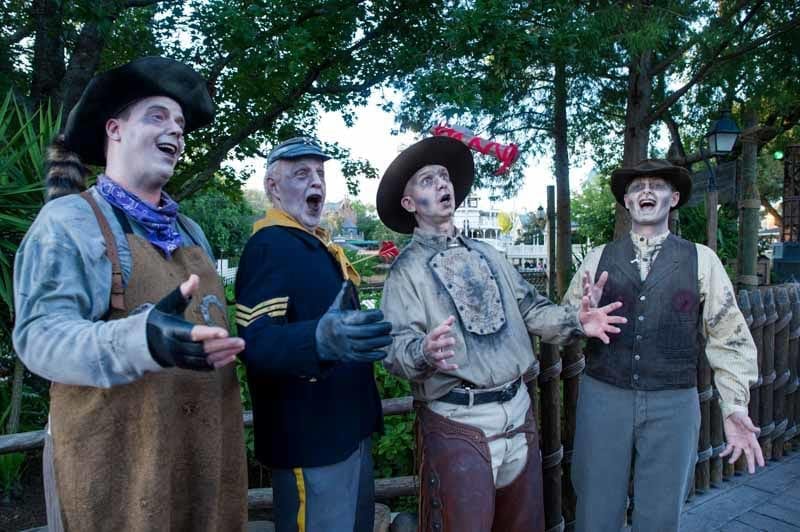 4 – Special-Ticketed Events
Editor's Note: During the phased reopening of Walt Disney World, both parties were canceled in 2020. No decision has been announced for late 2021.
Looking for something extra special? Guests can purchase special-ticketed event admission at Magic Kingdom for select days (specifically during the holidays). The two special-ticketed events are Mickey's Not-So-Scary Halloween Party and Mickey's Very Merry Christmas Party. Both of these events are incredible and worth the admission price in our opinion! The parties begin at 7 pm on select nights so even if you are not planning on going to one of these parties, you'll want to know which days they are as your general admission ticket will have you leaving the park by 7 pm on party nights!
5 – Six Themed Lands
Don't let looking at a Magic Kingdom map overwhelm you! Magic Kingdom's layout is almost like a wheel, with the Cinderella Castle at the hub. Each area is known as a "Land". The six themed lands include Main Street U.S.A., Adventureland, Frontierland, Liberty Square, Fantasyland, and Tomorrowland. Every land holds unique attractions, dining, and entertainment that matches the theme.
6 – Arrive Well Before Parking Opening
Editor's Note: During the phased reopening of Walt Disney World, the park will not open one hour beforehand, and "Let the Magic Begin," is not operating. 
Magic Kingdom opens before the park officially opens. Ok, we know this sounds weird, but if Magic Kingdom opens at 9 am, you'll be able to get into the park around 8 am – if not a little earlier. Guests are welcome to explore the shops on Main Street U.S.A. but are stopped from going anywhere past the Castle hub. At the official opening of the park, a show called "Let The Magic Begin" is held on the stage in front of the Castle. With all this excitement, if you arrive at the official park opening time, you'll actually be behind the crowd of people already in the park.
7 – Go Left
If your Mama didn't tell you this – we will now! Statistically, for whatever reason, in a crowd more people tend to go right. Not only will this save you some time in the grocery store, but you'll find this to also be the case for Magic Kingdom! While most people head right to reach Seven Dwarfs Mine Train or Space Mountain, you'll want to head left towards Adventureland. You'll be surprised at how much you can tackle on this side of the park before the crowds reach you.
8 – Best FastPasses
Editor's Note: During the phased reopening of Walt Disney World, FastPass+ is temporarily suspended. 
You'll want to book FastPasses (FP) via your MyDisneyExperience (MDE) App 60-days in advance of your Magic Kingdom day for Disney resort guests or 30-days in advance for non-resort guests. With a FP, you can bypass the standby line and go straight to the FP line with little to no wait! The top FP to snag are Seven Dwarfs Mine Train, Space Mountain, Peter Pan's Flight, Thunder Mountain Railroad, and Splash Mountain. Since you can only select three in advance, we recommend Seven Dwarfs Mine Train, Space Mountain, and Peter Pan's Flight as they usually boast the longest wait times. Select FP times for late morning if possible (such as 10:30 am, 11:30 am and 12:30 pm). This way you can hit some of the other attractions you don't have FP for before the lines are too long. After you finish your initial three FP, get on your MDE App and select a 4thand so on until the park closes. No FastPasses? Forget tip #6 above to go left, and instead follow the crowds to the popular attractions first.
9 – Best Dining
Editor's Note: During the phased reopening of Walt Disney World, the dining booking window is 60 days. 
There is no possible way we can pick just one favorite place to dine at Magic Kingdom! There are plenty of kiosks, snack carts, quick-service, and table-service dining options spread throughout the park. Two of the most difficult restaurants to get a reservation for include Be Our Guest and Cinderella's Royal Table. Both are spectacular which makes getting a reservation for them all the more important – but also much harder to obtain. Book your table-service dining reservations 180-days in advance from your Disney resort check-in date or dining date if a non-resort guest. If you don't want to deal with table-service dining, be sure to use your MyDisneyExperience App to Mobile Order your food at quick-service locations so you can skip the lines. Did you know, you can even order a Dole Whip via Mobile Ordering?!
10 – Mostly No Alcohol
Unlike the numerous lounges and alcoholic-beverage drink carts situated throughout Disney World's other three theme parks, alcohol is a lot tougher to come by at Magic Kingdom. Even though we enjoy to sip on an adult beverage from time to time, we appreciate that Disney is trying to keep Magic Kingdom an especially family-friendly place. Magic Kingdom used to be a totally dry park until alcohol was offered at Be Our Guest Restaurant and now several of the table-service restaurants.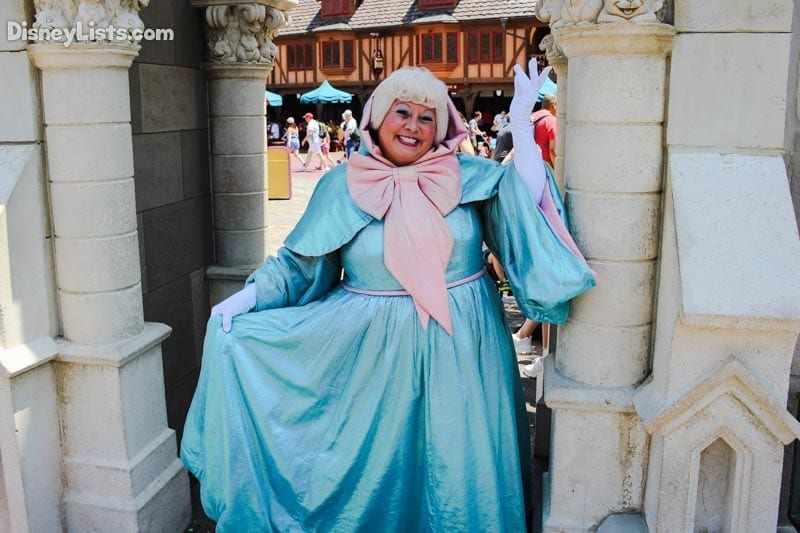 11 –  Characters Galore
Editor's Note: During the phased reopening of Walt Disney World, character greetings are temporarily suspended. You'll see characters come through each park in short parades. Click here for more information on how to see characters during the phased reopening.
Of course, what would Magic Kingdom be without an influx of Disney characters! Several character meet and greets are available and include some of our absolute favorites like Mickey, Minnie, Donald, Goofy, Pluto, Daisy, Tinkerbell, Cinderella, Rapunzel, Tiana, Pooh, Tigger, Buzz, Ariel, and MORE. FastPasses are available for several of these meet and greets while others you'll just have to wait in line for. Looking to see several characters at once? Two restaurants in Magic Kingdom are character dining experiences including the Crystal Palace (Winnie the Pooh and Friends) and Cinderella's Royal Table (Cinderella and many other Princesses). Be Our Guest dinner guests will also have a chance to meet the Beast.
12 – Flag Retreat
This one gets us every time! Get ready to feel your heart fill with sweet patriotism as Magic Kingdom celebrates a memorable Flag Retreat each day in the park. Typically at 5:15 pm (but be sure to check your Times Guide), gather at the large flag pole in Town Square on Main Street U.S.A. After a Pledge of Allegiance, the American flag retreats to the "Star-Spangled Banner" tune played by Disney's band. A guest Veteran is then handed the flag to complete the ceremony. It's really an incredible experience to see!
13 – Parades, Fireworks, and a Kiss Goodnight
Editor's Note: During the phased reopening of Walt Disney World, the parades, fireworks, and Kiss Goodnight are temporarily suspended. 
We mentioned characters galore above, but you can see them in action at one of Magic Kingdom's many entertainment options. The highlight of any day is the afternoon Festival of Fantasy Parade which features numerous characters, spectacular floats, and beautiful music. Another Magic Kingdom parade is the Move It! Shake It! MousekeDance It! Street Party. This parade stops around the Castle hub and allows guests to dance with the characters. Of course, you'll want to plan to catch all the nighttime entertainment including Once Upon a Time, a nightlight projection show on the Cinderella Castle. And then there is the BEST of the best fireworks at Magic Kingdom called Happily Ever After. Last but not least, is a not-so-well-known special moment called A Kiss Goodnight. Many guests miss this 2-minute announcement and projection on the Castle as it takes place roughly 30-minutes after park closing. It's Disney's sweet way of saying, sorry – but you've got to go!
14 – Need More Than One Day
This is very true. There is simply no way to do all of Magic Kingdom in just one day. It's easy to spend two days (if not more) at Magic Kingdom. This will allow you to try multiple restaurants, have six advanced FastPass selections, and hit all the entertainment, characters and attractions you may not be able to tackle in one day.
15 – Tron is Coming!
YES! It's hard to contain our excitement, but a Tron attraction is coming to Magic Kingdom! If visiting Magic Kingdom now, you'll already notice construction taking place near Space Mountain and Tomorrowland Speedway where Tron will be located. Shanghai Disney currently has the Tron Lightcycle Power Run attraction and it's known as the highest-ranking attraction there. We expect the same for Magic Kingdom! Get ready to board a coaster-like attraction where guests will sit upon a two-wheeled light cycle for the ride of a lifetime.
For a no obligation, FREE Quote on a Disney vacation package, please contact our travel partner Magical Vacation Planner at 407-442-0227 (407-442-0215 for Spanish). You can also request a FREE quote online by Clicking HERE.