We're on our first Disney Cruise and are so excited to bring you updates about our time on the beautiful Disney Magic. We're enjoying a 5 Night Caribbean Cruise with a Marvel Day at Sea on the Disney Magic. On Sunday, January 6, we left Miami to begin our adventure. Read on to learn more about our first day and for some tips on how to have an enjoyable embarkation!
1 – We're Going to Miami
When scheduling your Disney Cruise, you'll want to keep in mind when and how you'll arrive at your port city. The last thing you want is to miss the ship! We highly recommend, if possible, to arrive at your port city the night before your cruise, if that port is more than a two-hour, drive or if you are flying in. The cost of the hotel stay the night before is worth the expense so that you can enjoy a relatively stress-free day 1. If there are travel delays due to weather, traffic, bumped flights, car trouble, etc., you have extra time to make it to the port on time. Our rule of thumb is we always stay within an Uber ride of the port the night before. If something goes wrong, you can catch a ride and deal with it when we get back. It also lets you transition from the real world to vacation mode before your cruise begins. Since we live in the Orlando area, that meant we planned to leave shortly after lunch the day before for the four to five-hour drive to Miami. We enjoyed dinner in Miami and got to bed early so we would be ready for our very full first cruise day. We had a short drive to the Port of Miami and arrived right around 11:00 to get checked in!
2 – Checking in at the Port
The check-in process went very smoothly for us. Clearly, Disney is a well-oiled machine, and they know how to make the process move quickly. The first thing you'll do is drop off your bags at the curb. Be sure that the luggage tags that Disney provided are on your bags. These bags will be dropped off at your stateroom in the afternoon by 5:30 pm. You may want to have a carry-on bag for valuables, medicine, swimsuits, and a change of clothes. After you drop off your bags, you'll head to the main building to check in. Plan on having your Passport checked. You'll also need your cruise documents with you so make sure you don't pack either of these items in your checked luggage! Items like purses and your carry-on luggage will be scanned for security. Next, you'll head upstairs where you'll have your passport checked again, fill out a health questionnaire, and sign the cruise contract. Finally, you'll go to the waiting area. We were a bit early, so we had about a 15-minute wait. However, we got in line to meet Goofy (the characters change out regularly). After we met Goofy, our boarding group was called, and we were able to board the ship! Be ready for a lovely moment of Disney magic. As your family boards, your name will be announced and the crew will cheer you aboard. It makes you feel very special!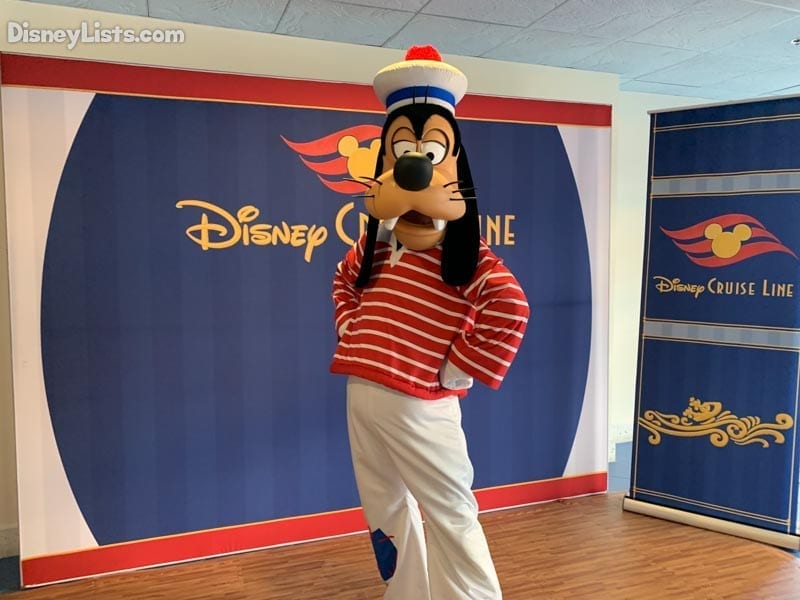 3 – Lunch on the Ship
We got on board around 11:45 so we went ahead and went straight to lunch. There are two lunch options available. On the Disney Magic, you can enjoy an a la carte lunch at Lumiere's, or you can enjoy a buffet lunch at Cabanas. We opted for the buffet, because we were not very hungry, and we wanted a faster meal. We enjoyed Cabanas' food very much and enjoyed the variety. FYI – we noticed a few of the other snack and counter service locations open as well.
4 – Open Houses
After lunch, we wanted to explore the ship, so we visited the various Youth Clubs. We don't have our children with us on this cruise, but we still wanted to check out the rooms because we've heard they are so great. Once again Disney does not disappoint in their offerings to children on this ship. We'll have a full article up soon detailing the five different youth areas and programming offered to families with children from babies all the way to seventeen years old. The theming and attention to details are just what you would expect from Disney, and certainly made us wish we could hang out in these rooms!
5 – Getting Into Our Room
We were able to get into our stateroom shortly after 1:30 pm. This allowed us to drop off our carry-on luggage and head back out to explore the ship. We have cruised other cruise lines and were very pleased to notice some real Disney differences that just set these rooms apart. We love our stateroom! From the split bathrooms to the curtains that separate the bed and sitting area, to the many, many plugs, the room just stands out for us. Not to mention the wonderful Disney artwork, theming and hidden mickeys. All staterooms include a small refrigerator for keeping cold things cold, and there is a ton of storage. Besides the big closet, there are drawers and nooks everywhere.
This is also the first time we've enjoyed a balcony on a cruise. We didn't know what we were missing! Being able to sit out and enjoy the view with some privacy is really nice!
6 – Adventures Away
After the mandatory guest Assembly Drill, we went straight up to the Deck 9 stage and enjoyed the Adventures Away party! This upbeat sail away party was fun, energetic, and got us super excited for our cruise. We enjoyed meeting some of the entertainment cast members as well as getting to see Mickey and the gang get us ready for our cruise adventure. If you're traveling on a Disney Cruise, we highly recommend getting to this deck party. It will undoubtedly get your family excited and ready to cruise!
7 – Dinner at Rapunzel's Royal Dinner
We then enjoyed a fabulous dinner at Rapunzel's Royal Dinner. This is one of the three rotational dining experiences to enjoy on the Disney Magic. The entertainment along with the delicious food was the highlight of the day for us. We'll have a full review article up soon on this terrific dinner theater experience.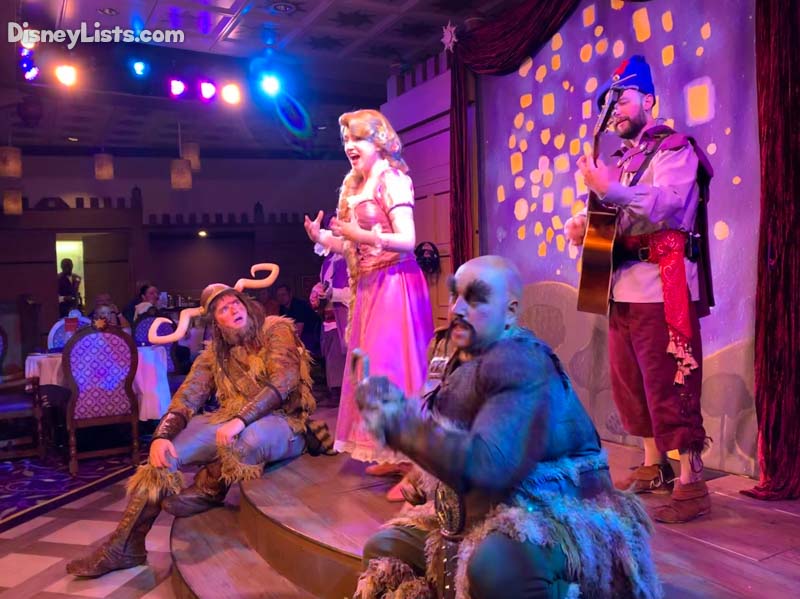 8 – Twice Charmed: An Original Twist on the Cinderella Story
After dinner, we headed to the Walt Disney Theater to enjoy a Twice Charmed: An Original Twist on the Cinderella Story. We thoroughly enjoyed this Broadway-style show. The singing, acting, and stage magic were top-notch. We thought Prince Charming stole the show! He was the perfect prince and did a fantastic job! The whole production was everything you would expect a Disney production to be. If you're sailing on the Disney Magic, don't miss this amazing show!
9 – Night Life
Our show ended at 9:30 pm and the ship was far from settling down for the night. We walked around and got a glimpse of some of the offerings from dance parties to youth activities. Since we had a very full day, we decided to head back to our room to enjoy our balcony before turning it. It was an incredible first day of cruising, and we're just getting started!
Read about Day 2 on our Disney Cruise-Marvel Day at Sea on Disney Magic
Read about Day 3 on our Disney Cruise-Marvel Day at Sea on Disney Magic
Read about Day 4 on our Disney Cruise-Marvel Day at Sea on Disney Magic
Read about Day 5 on our Disney Cruise-Marvel Day at Sea on Disney Magic
Read about Day 6 on our Disney Cruise-Marvel Day at Sea on Disney Magic
Editor's Note: The Disney Company is providing us a complimentary Disney Magic Cruise and special media-specific events during the cruise. However, as always, the thoughts and opinions contained in this article are entirely our own.