On the third day of our 5-night Caribbean cruise on the Disney Magic, we enjoyed some time with some famous Disney princesses, stretched our sea legs on land at our only port of call, and then ended the day partying like a pirate! It was another fun-filled day with surprises and fantastic entertainment. We hope you've been following along our journey on our website and Instagram account. Read on below for a recap of our third cruising day.
1 – Princess & Frozen Gatherings
One of the fantastic benefits of a Disney Cruise is the ability to meet so many Disney characters in one spot. I mean, a TON of characters. While there are many character meet & greets throughout the day where you just line up, there are a few character greetings that can be scheduled ahead of time before your cruise. For our Disney Magic Marvel Day at Sea cruise we were able to book ahead of time the following character greetings:
Princess Gathering, featuring Tianna, Arielle, Cinderella, Belle, and Rapunzel
Frozen Gathering, featuring Anna and Elsa
Heroic Encounters – Mission: New York, featuring Spiderman, Black Panther, and Ironman
Heroic Encounters: Groot
All of these greetings are no additional charge, they just require you to reserve a spot in advance. Some of these items were fully booked before the sailing (the princess and Frozen gatherings), so you'll want to reserve your tickets to these greetings as soon as you are able to on the Disney Cruise Line website under "My Disney Cruise—My Cruise Activities." The gatherings are offered on multiple days, but you may only book one of each gathering per cruise to allow everyone to get a chance to meet them.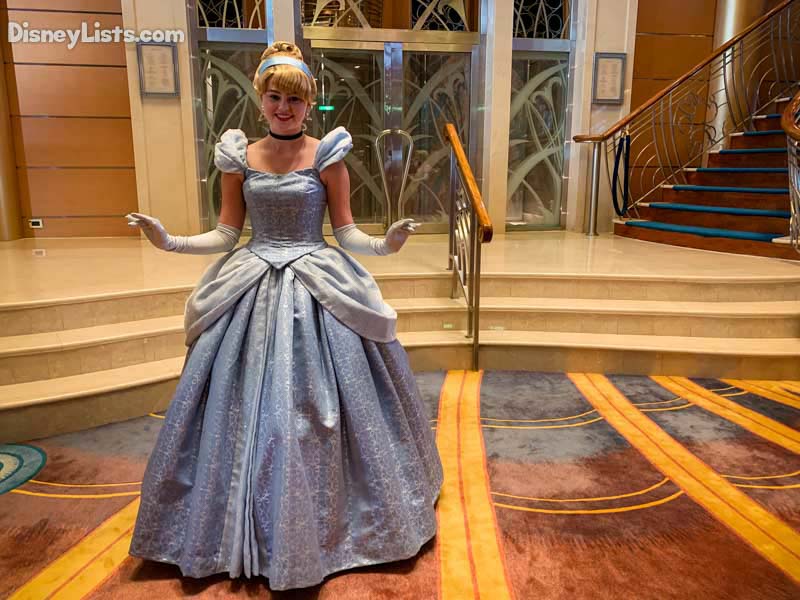 On Day 3 of our cruise, we enjoyed the Princess and Frozen Gatherings. We met with the Princesses at 8:15 am and the Frozen sisters at 8:45 am. This allowed us the opportunity to meet the characters early in our day and then disembark for that day's port.
The system works really well. The tickets for the experiences were waiting for us in our stateroom when we arrived. We showed up to the Atrium for the Princess Gathering a few minutes before our printed time and were able to meet FIVE princesses in just about 20 minutes. After the princesses, we headed to Animator's Palate to meet the famous princesses of Arendelle, Anna and Elsa. This was also a great set up, and we met them fairly quickly in about 10 minutes. Considering how much time it takes to greet these awesome ladies in the park, being able to meet some many Disney characters in that short amount of time does add to the overall experience of a Disney Cruise. If you have princess fans in your party, then be sure to add these gatherings to your schedule.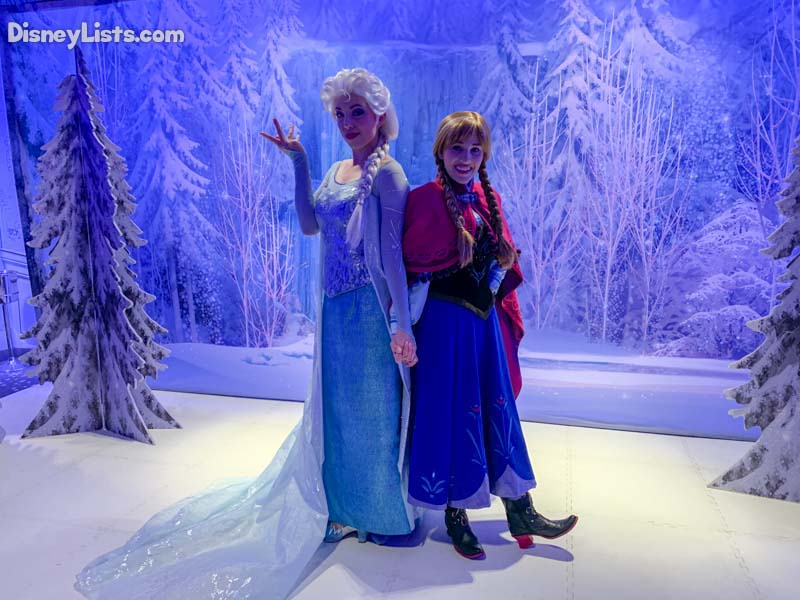 2 – George Town, Grand Cayman Island
Our itinerary included a stop at George Town, Grand Cayman Island, home of the famous seven-mile beach. We enjoyed a short visit off the ship, where we walked along the shore, visited some shops, and ate a nice lunch near the water (with free wi-fi—yay!). Many excursions are available at the ports of call, but we knew we wanted to enjoy the Disney Magic and we had lots to cover for our awesome readers, so we only stayed in town for about two hours before heading back to the ship. We're looking forward to visiting again when we can spend more time on the island and enjoy an excursion. The Jeep 4×4 adventure is top of our list.
3 – A Pirates Life for Me
Disney is known for its amazing entertainment, and that extends to Disney Cruise Line. An offering that you'll find on no other cruise line is Pirate Night! On most itineraries, guests will eat, dance, and party like a pirate on the high seas. It was a fantastic night that we really enjoyed.
Before our cruise, we received word from the cruise line that we would be enjoying Pirate Night. Disney highly encourages guests to dress up and participate. I was able to scrounge up an old Pirate Mickey T-Shirt that I had. You'll find that guests' costumes will range from very elaborate to nothing at all. Chad did not wear anything Pirate themed, and while he didn't feel uncomfortable, he did wish he had gotten in on the fun, even if it was just wearing a simple T-Shirt. So, if your next cruise includes a pirate night, you may want to do some shopping ahead of time to prepare. But if you don't, no worries, Disney provided each guest a pirate bandana that can be tied on for some pirate flair. This way every guest has a little something to wear.
4 – Pirate Character Greetings
Another exclusive offering for Disney Cruise Line is the ability to greet Disney characters in pirate attire. We had an absolute blast meeting our beloved characters in their pirate costumes. It was great. Check out the photos of the characters here on our Instagram account. The character greetings were offered twice throughout the evening to allow everyone time to meet the characters in their pirate attire. Check out our Instagram Post of the Disney characters in their pirate attire by clicking here.
5 – Eat Like a Pirate
The Pirate Party extends to a fabulous pirate-themed dinner at each of the main dining restaurants. The menu looked like an old treasure map that included options such as Davy Jones' Locker Rock Crab Cakes, Master Gibb's ½ Pint of Shrimp Cocktail, Jack's Treasure-of-the-Seas, and King George's Roasted Privateer Strip Loin. Dinner was delicious, as usual. There was also a bit of entertainment included with dinner including some visiting pirates and a limbo!
6 – Pirates IN the Caribbean Deck Party
After dinner, we headed straight up to the pool deck for a fun deck party. The Pirates IN the Caribbean deck party is an adventure for everyone. The show was great! The show began with some energetic pirate dancers getting the crowd pumped up and excited for the show. Then Goofy, Minnie, and Chip and Dale joined in on the fun dancing for the crowd. However, Captain Hook showed up along with some rockin' pirates and threatened to ruin the show! With some rock 'n roll tunes, these pirates got the crowd excited too (along with the crowd singing along to a Bon Jovi tune). Just in time, Pirate Mickey shows up to save the day! Mickey zip lined across the deck and introduced the fireworks in the sky. The crowd went absolutely wild!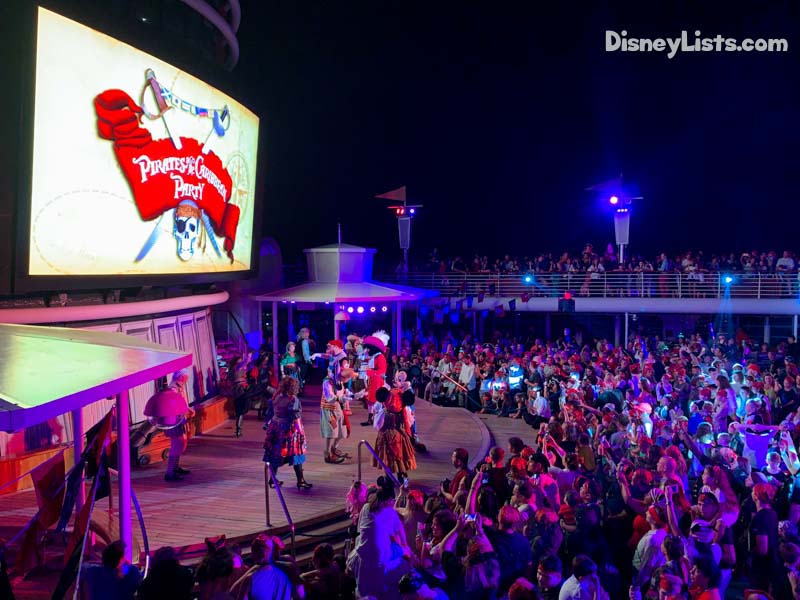 7 – Fireworks at Sea!
Disney does amazing fireworks on land, but nothing beats fireworks on the high seas. Disney does a great job with the show. It was truly incredible to be in the middle of the ocean and getting watch a pretty fantastic firework show! It was a great ending to our third day!
Read about Day 1 on our Disney Cruise-Marvel Day at Sea on Disney Magic
Read about Day 2 on our Disney Cruise-Marvel Day at Sea on Disney Magic
Read about Day 4 on our Disney Cruise-Marvel Day at Sea on Disney Magic
Read about Day 5 on our Disney Cruise-Marvel Day at Sea on Disney Magic
Read about Day 6 on our Disney Cruise-Marvel Day at Sea on Disney Magic
Editor's Note: The Disney Company provided us a complimentary Disney Magic Cruise and special media-specific events during the cruise. However, as always, the thoughts and opinions contained in this article are entirely our own.
For a no obligation, FREE Quote on a Disney vacation package, please contact our travel partner Magical Vacation Planner at 407-442-0227 (407-442-0215 for Spanish). You can also request a FREE quote online by Clicking HERE.