News
NEWS: New Nighttime Dining Experience Coming to Disney's Animal Kingdom
Disney recently announced the reopening of Rafiki's Planet Watch and we were thrilled to learn it would be coming back better than ever. But wait, there's more. This summer a new dining experience is being offered that includes a journey to Rafiki's Planet Watch with some very special guests. Catch all the details below.
Here are all the details from Disney Cast Member Alex Dunlap:
Get ready to experience a new dining adventure honoring some of the most majestic and endangered African animals and celebrating the beloved story of "The Lion King." Circle of Flavors: Harambe at Night offers a unique way to dine at Disney's Animal Kingdom with a family-friendly progressive dining experience drawing inspiration from the many facets of African cultures and animals.
Your journey begins with a welcome reception at the Wildlife Express Train Station and takes you on a fun-filled adventure to the train station at Rafiki's Planet Watch, then continues on to Harambe Market. Throughout the night, you'll take in sights, sounds, and scrumptious flavors in celebration of "The Lion King" and the Big Five game animals: the African elephant, the rhinoceros, the Cape buffalo, the leopard, and our host animal, the lion. Along the way, you'll have the opportunity to learn more about the importance of the Big Five and the challenges they face around the world as well as how Disney is working to protect them.
Starting at the train station, you'll receive light hors d'oeuvres, snacks, and beverages (alcoholic and non-alcoholic) while enjoying acoustic music before hopping on the train to ride over to Rafiki's Planet Watch. Upon arrival, you'll be greeted with more light bites and sips. And hanging out in the train station, familiar friends Timon and Rafiki will be available for character greetings and fun interactive activities for all ages. Once you've finished up at Rafiki's Planet Watch, hop back on the train and get ready to venture over to Harambe Market for the main event. Throughout the marketplace, you'll enjoy an array of sweet and savory dishes paired with unique beverages.
Circle of Flavors: Harambe at Night begins on July 24, 2019, at Disney's Animal Kingdom. Pricing is $125 plus tax for adults and $99 plus tax for children ages 3-9 and separate park admission is required. Reservations can be made starting April 3 by calling 407 WDW-DINE (407 939-3463) or by visiting the Walt Disney World Resort Dining Page. Annual Passholders and Disney Vacation Club Members can receive early access to reservations starting on April 2 by calling 407 WDW-DINE (407 939-3463).
RELATED ARTICLE: 9 Must-Do Night Experiences at Disney's Animal Kingdom
by Mike and Jamie Sylvester
Animal Kingdom's additions of night experiences proves that wilderness and exploration never cease! You can head to Animal Kingdom now and enjoy night experiences that will bring out your adventurous side in so many wild ways! Here are our 9 must-do night experiences at Disney World's Animal Kingdom theme park.
1 – Pandora – The World of Avatar
The new land, the largest expansion in the history of Disney's Animal Kingdom, is based on Oscar-winning filmmaker James Cameron's record-breaking box-office hit, Avatar, which was released in 2009. The film was insanely popular, mostly due to Cameron's amazing special effects. The land is an amazing spectacle of Disney Imagineering, creativity and story-telling. As you explore the vibrant terrain sprawling beneath mountains that appear to float in the sky, you'll see waterfalls cascading down the mountainside into meandering streams and pools, and then you'll discover two thrilling new expeditions: Avatar Flight of Passage and Na'vi River Journey. Grab a bite to eat at the quick-service restaurant, Satu'li Canteen or grab a drink and snack at Pongu Pongu. At night the land transforms into an entirely new experience. The bioluminescent plants of Pandora illuminate the land at night, giving breath-taking views of the Pandora landscape that are completely different from the daytime experience. You don't want to miss Pandora after dark!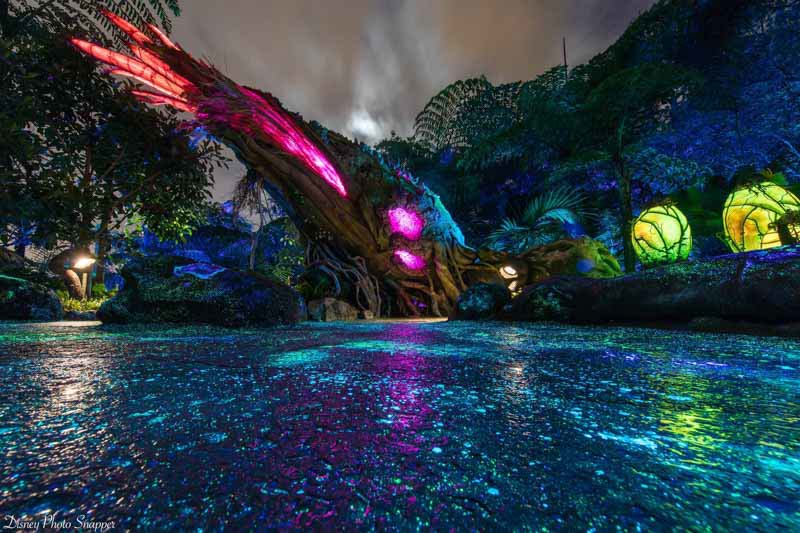 2 – Rivers of Light
Rivers of Light is here! Read all about the amazing nighttime show here! The show debuted in February 2017 and the wait was worth it! This is a remarkable water show with incredible floats, lights, and lasers displaying the beauty of all things living! Animal Kingdom can't bring fireworks to the park for the sake of the animals present, but the lighting effects are said to rival that of Illuminations at Epcot. You don't want to miss this!
3 – Tree of Life Awakenings
You may have seen the projection show on the Cinderella Castle at Magic Kingdom known as "Celebrate the Magic". Well, now Animal Kingdom boasts a projection show on the iconic Tree of Life known as "Awakenings". After night falls, be sure to look to the Tree of Life for a beautiful display of vibrant colors and incredible animal artistry. Thankfully, this show takes place every 10 minutes until the park closes so you'll have several opportunities to see the Tree of Life awaken if not just once – but twice!
4 – Expedition Everest
If you were terrified to ride Expedition Everest before, chances are riding it in the dark will step up that notch of fear in the pit of your stomach. When riding Expedition Everest at night, it feels like you are experiencing a completely new attraction versus riding it during the normal daylight hours. With the darkness surrounding you, you'll feel like you are going higher, faster, and well – slightly more out of control, as you try to gather your bearings. Plus, no one put the Yeti to bed so he is still angry and on the loose, tearing up the track!
5 – Kilimanjaro Safaris
Take a ride in an open-air vehicle to spot majestic animals of all sorts. The bumpy ride and exotic surroundings will make you forget you are in the Animal Kingdom theme parks and not off exploring Africa! At night, however, Kilimanjaro Safaris turns into a nocturnal hot spot. The animals seem to enjoy the late hours at Animal Kingdom as well, as they are very active in the dim, yet illuminating lighting provided. Catching the Safaris before the animals are tucked into bed for the night is definitely a nighttime must-do at Animal Kingdom!
6 – Discovery Island Carnivale
When the sun goes down, the party begins! You might try to stop those hips from swaying, but we suggest you don't fight the urge! Join in this lively street party with dancing and excellent entertainment located close to the Tree of Life on Discovery Island. Musicians, stilt-walkers, and vibrant costumes will have you snapping pictures and joining in the fun jamboree. There are usually a couple of street parties per night so be sure to check the times guide to catch the party.
7 – Donald's Dino Bash Evening Dance Party
A super new experience is waiting for you at Dinoland U.S.A. Donald Duck has taken over the land with a celebration with prehistoric elements in a new and exciting new character meet and greets. The evening boasts a dino-riffic dance party with Chip 'n' Dale! They'll get you dancing and grooving! You won't want to miss it!
8 – Nomad Lounge
All that dancing likely made you thirsty! Head to one of the newest additions to Animal Kingdom – Nomad Lounge. This lounge is known for their specialty cocktails and exotic appetizers from around the world. Neighboring the newest restaurant, Tiffins, Nomad Lounge is the perfect way to enjoy some of the great selections at Tiffins in a lounge style, small plate, atmosphere. With non-alcoholic beverages, cocktails, wine, beer, small plate appetizers, and the incredible "Taste of Tiffins" dessert – there is something for everyone at this popular new lounge.
9 – Kali River Rapids
Are you ready to end your night with a big splash? Then you'll want to take a ride on the Kali River Rapids! In the dark, this ride is dimly illuminated but still leaves a sense of wonder for what's ahead. Travel down the water in the massive river raft and expect that you'll be the one that gets drenched or at least mostly wet! Just think – you won't need a shower before bed after all.
What is your favorite must-do night experience at Animal Kingdom? We'd love to hear from you!
For a no obligation, FREE Quote on a Disney vacation package, please contact our travel partner Magical Vacation Planner at 407-442-0227 (407-442-0215 for Spanish). You can also request a FREE quote online by Clicking HERE.