What do Villains, Rafiki, Briar Rose Gold merchandise and sweet treats all have in common? Disney news, of course. There were several big announcements this week from Walt Disney World. Food & Wine dates were announced along with the reveal of a special themed Disney After Hours event, a new dining experience is coming to Disney's Animal Kingdom, and move over Purple Potion, Briar Rose Gold is the hot new color this month and is all over Disney merchandise and food. Catch up on these stories and more in this week's news roundup.
1 – Dates for Epcot Food and Wine Festival and Epcot Festival of the Holidays Announced
It's never too early to plan your next Walt Disney World vacation and this fall there are so many reasons to visit. Epcot's Food and Wine Festival has added more dates for the longest festival ever! Dates have also been announced for the Epcot Festival of the Holidays! So get out those calendars and follow this link to get all the information.
2 – Disney Announces Awesome New Villains Themed After Hours Event
The Disney After Hours events have proved to be very popular because it allows guests to enjoy the parks with very limited crowds and special benefits such as free food and drinks. Now Disney has announced that they will be having a Villains themed After Hours Event this summer and we couldn't be more excited! Click here to learn more!
3 – New Nighttime Dining Experience Coming to Disney's Animal Kingdom
With the announcement that Rafiki's Planet Watch would be reopening guests have been excited to see how the old land would come back new and improved. Now Disney has announced that there will be a Lion King themed dining experience coming to the park this summer. Click here to learn more!
4 – Disney Adds Cool New Ride Photo at Haunted Mansion
We love getting fun attraction photos while riding the Disney attractions. Seeing how we can come up with the best pose is a lot of fun for the whole family! This week Disney announced that another attraction is now on the list of rides that will capture a picture as you ride along. Click here to learn more!
5 – New Sweet Treats Available Now at Disney Parks and Resorts
Food lovers rejoice! Disney announced that they will be bringing even more treats to the Disney Parks and Resorts. This round of treats is inspired by the new Briar Rose Gold merchandise collection that recently hit Disney Parks. Some of the desserts include cupcakes, ice cream, and frozen drinks. Click here to learn more!
6 – New Restaurant Jaleo at Disney Springs Adds Lunch Service
Last month the latest restaurant to come to Disney Springs opened. Jaleo represents the very best of Spanish cuisine and design, seen through the creative lens of Spanish Chef Andrés and his team and served tapas style. Jaleo at Disney Springs features an extensive menu of tapas reflecting the rich regional diversity of traditional and contemporary Spanish cuisine, as well as sangrias and a premier selection of Spanish wines. We will be enjoying lunch at Jaleo on Thursday, April 11 during a media event. Be sure to follow us on Instagram and follow along on our Story as we experience lunch at Jaleo.
7 – The Edison Burger of the Month
Spring has arrived with flavor-packed burgers and refreshing beverage offerings at The Edison in Disney Springs. Take a bite out of "Prime Pretzel Twist Burger," featuring the signature Edison blend of sirloin, short rib, and brisket topped with mouthwatering sautéed mushrooms and juicy shaved prime rib au jus on a freshly baked pretzel roll.  The April specialty pairs perfectly with a tall glass of "Booker's Tea," a refreshing southern-inspired cocktail featuring Knob Creek Barrel Bourbon, Ketel One Peach & Orange Botanicals Vodka, Ketel One Peach & Orange Botanicals Vodka, simple syrup, honey, Woodford Orange Bitters, and fresh brewed herbal tea.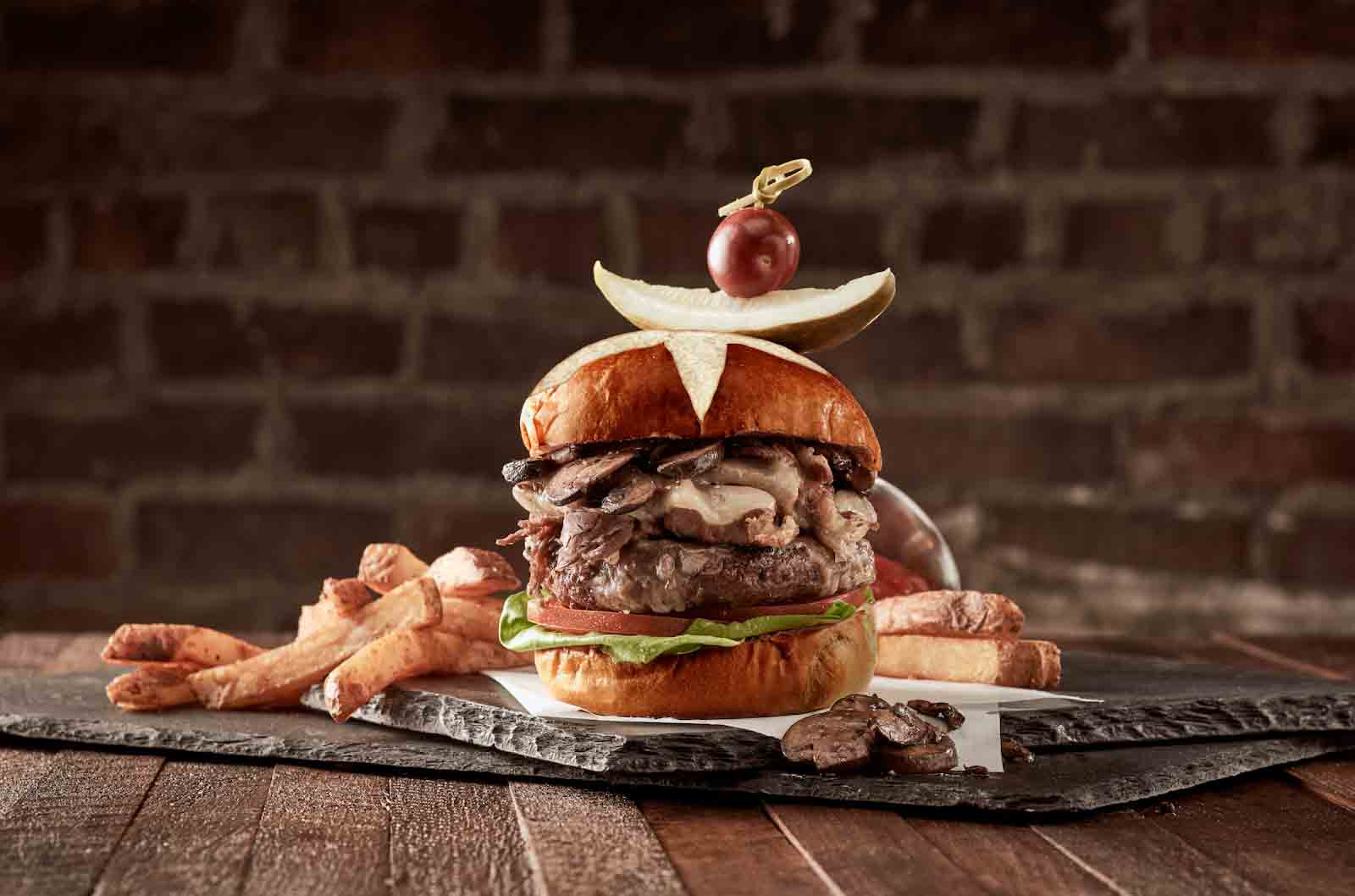 8 – Marine Debris Sculpture Celebrates Disneynature Penguins and Inspires Conservation Action
Every April Disney releases an animal film in order to inspire conservation action. This year's animal . . . penguins! Guests have an opportunity to see penguin sculptures made out of marine debris at Epcot and Animal Kingdom. Cast Member Dr. Mark Penning has all the details below:
The Epcot International Flower & Garden Festival has returned for its 26th year of connecting guests to the magic of nature, with interactive gardens and exhibits bursting with the beauty of spring. If you've had a chance to visit, you may have noticed a special addition to this year's displays – a giant penguin sculpture created out of marine debris celebrating the upcoming release of Disneynature Penguins.
The film, which opens April 17, is a coming-of-age story about an Adélie penguin named Steve who joins millions of fellow males in the icy Antarctic spring on a quest to build a suitable nest, find a life partner and start a family. None of it comes easily for him, especially considering he's targeted by everything from killer whales to leopard seals, who unapologetically threaten his happily ever after.
The larger-than-life sculpture, located between The Land and The Seas with Nemo & Friends, depicts an adult and baby Adélie penguin resting on a pebble nest. The installation is more than initially meets the eye – it's made entirely out of recycled marine debris such as bottle caps, toothbrushes and even discarded toys, all recovered from oceans and waterways! The artwork was created by the nonprofit organization WashedAshore.org, whose mission is to produce powerful works of art that are designed to help inspire a global audience to keep oceans and waterways clear of plastic pollution. Epcot guests can start making a conservation impact of their own by pledging to reduce the amount of single-use plastics they use each day, choosing reusable bags and skipping the straw when consuming beverages.
Disneynature "Penguins" carries forward a legacy of conservation and the work of the Disney Conservation Fund. Since 2000, the Disney Conservation Fund has donated $1 million to support penguin conservation projects around the world. If you can't visit the Epcot International Flower & Garden Festival, you can still make a difference for penguins. For every ticket sold during the film's opening week April 17-23, Disneynature, via the Disney Conservation Fund, will make a donation to the Wildlife Conservation Network to help protect penguins around the globe.
Guests can also see another enormous penguin sculpture at Disney's Animal Kingdom Park in celebration of Earth Month, April 1 – 30. For an exclusive peek into "Penguins," download your free copy of the Disneynature "Penguins" Educator's Guide and Activity Packet, available online at disney.com/nature.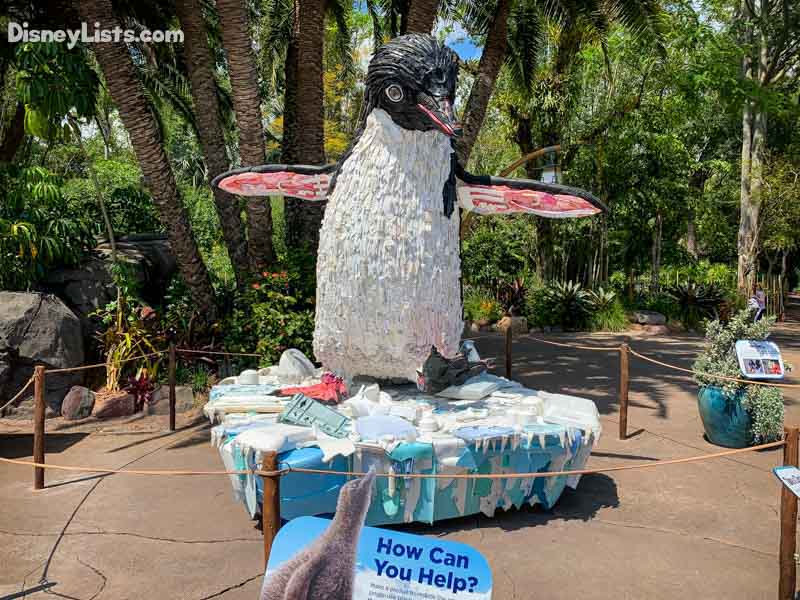 9 – See Bo Peep from Disney Pixar's 'Toy Story 4' at Disney Parks This Summer
We couldn't be more excited for Toy Story 4 this summer, and now guests will have the opportunity to meet Bo Peep herself! Cast Member Shawn Slater has all the details below:
Bo Peep, from Pixar Animation Studios' "Toy Story" films, will be making special appearances at Disney Parks starting this summer. You'll be able to meet Bo when she finds her way to Disneyland Paris, Pixar Pier at Disney California Adventure park and Toy Story Land at Disney's Hollywood Studios. She'll also be traveling across the Pacific to visit Disney Parks in Asia.
In "Toy Story 4," when Bonnie takes the toys on her family's road trip, Woody ends up on an unexpected detour that includes a reunion with his long-lost friend Bo Peep, whose adventurous spirit and life on the road belie her delicate porcelain exterior. Woody and Bo are worlds apart when it comes to life as a toy, and they soon realize that's the least of their worries.
Disney•Pixar's "Toy Story 4" ventures to theaters on June 21, 2019. Stay tuned to Disney Parks Blog for more information on Bo Peep's arrival later this year.
10 – Celebrate the Fourth of July with Woody's Roundup Barbecue Buffet at Disney's Contemporary Resort
Fourth of July is just around the corner, and Disney is offering guests the opportunity to dine with Woody and the gang! Disney Cast Member Alex Dunlap has all the details below:
Summer is almost here, and if you're planning on visiting Walt Disney World Resort over the 4th of July holiday, this event is one you certainly won't want to miss! Come hang out with us July 4 – 6 at Woody's Roundup – a fun-filled barbecue buffet complete with great food, familiar friends, and fun times, all from the comfort of Disney's Contemporary Resort.
This exciting event lets you step inside Andy's favorite playset to join in on a summertime hootenanny with Woody's Roundup. Harken back to your playful beginnings along with Sheriff Woody, Jessie the Yodeling Cowgirl, and the rest of your favorite toys! When you arrive at the resort, Sarge will be there to greet you and make sure you're in tip-top toy shape and ready for playtime. Once inside, you'll be greeted by your host, decked out in their favorite western gear and ready to entertain in true cowpoke style. You'll also discover that the room has been filled with rustic camp time playsets offering the perfect setting for this summertime bash. Meet your favorite toy pals Woody, Jessie, and Bullseye from the playful world of Disney•Pixar's Toy Story. Buzz Lightyear will even be on hand in his own playtime zone. Theatrical backdrops, toys, and other fun props will help bring the room to life!
While you're greeting with the toys, saunter on over to the delicious barbecue buffet, featuring some of the best barbecue outside of the Wild West. Feast on mouthwatering barbecue beef brisket, low and slow-smoked pork ribs, and grilled boneless chicken with roasted peach coulis, or take a bite out of a fire-roasted vegetable cake served with chipotle succotash. Create the perfect plate with sides including fresh cornbread (served with honey butter – YUM!), sweet cream cole slaw, southern-style potato salad, and grilled vegetables with smoked olive oil. You can also chow down on some warm vegetarian campfire chili or mixed greens with balsamic vinaigrette and roasted pepper ranch dressing. In addition, kids can enjoy their own special buffet featuring items like Creamy Mickey Roni Cheese, chicken fingers, and potato barrels.
And for dessert? Try some yummy salted caramel cookie bars, cherry pie shots, or assorted sliced fresh melon. And in celebration of the 4th of July holiday, grab a patriotic Red, White, and Blue Cake Push Pop!
While you're chowin' down, a rootin' tootin' DJ spins Woody's favorite tunes from a rustic toy set right in the heart of it all. Kids can go have some fun with activities like the Trick Ropin' Toy, Make-Your-Own Toy Station, camp-style carnival games, and a larger-than-life balloon artist who can recreate your favorite Toy Story characters. And finally, at the end of the night, you'll be invited out to the Porte Cochére to end the evening with a viewing of the famous Magic Kingdom Park nighttime spectacular.
This limited-time event is happening for three nights only, July 4-6, from 6:15-9:15pm each night at Disney's Contemporary Resort. Space is limited, so be sure to reserve your family's spot before it's too late! Tickets are $149 for adults and $99 for children ages 3-9, tax and gratuity included. To make reservations, you can call 407 WDW-DINE (407 939-3463) and for more information, visit the Walt Disney World Resort website.
All menu item and event experiences are subject to change without notice. 
11 – Avengers: Endgame' Stars and Disney Team of Heroes Unite for Good Cause
We're just a few short weeks from the premiere of the highly anticipated film, Avengers: Endgame! Recently, the actors of Avengers Endgame and Disney Team Hero's Unite donated $5 million to benefit Children's Hospitals. Thomas Smith has all the details below:
The stars of "Avengers: Endgame" visited the Disneyland Resort to launch Avengers Universe Unites, a charity event that supports The Walt Disney Company's signature philanthropic commitment, Disney Team of Heroes, which delivers comfort and inspiration to seriously ill children around the world.
Robert Downey Jr., Chris Hemsworth, Scarlett Johansson, Jeremy Renner, Paul Rudd, and Brie Larson were on hand at Disney California Adventure park to celebrate the donation of more than $5 million to nonprofits supporting children with critical illnesses, including $1 million in cash from Disney to Starlight Children's Foundation.
The LEGO Group, Hasbro, Funko and Amazon together donated over $4 million in "Avengers: Endgame" toys and products which will be sent to hundreds of children's hospitals throughout the country, as well as Give Kids the World, a nonprofit resort in central Florida.
"The superheroes in Avengers personify traits like courage, perseverance, bravery, and hope – the same traits countless kids and their families in children's hospitals exhibit every day," said Robert A. Iger, chairman, and CEO of The Walt Disney Company, who joined the kickoff celebration. "We are grateful to have the Avengers cast take time out of their day to be a part of this effort to lift spirits and bring comfort to children during a difficult time."
The Avengers stars joined kids from the Boys & Girls Clubs of Anaheim and Garden Grove to play at a larger-than-life LEGO® build at The LEGO Store in Downtown Disney and were treated to a visit by Amazon's Treasure Truck stocked with "Avengers: Endgame" toys, including Hasbro action figures, Iron Man MK50 robots by UBTECH and Funko POP! vinyl figures.
12 – Enjoy Special Experiences at Magic Kingdom Park on April 13
If you are in Magic Kingdom on April 13, you don't want to miss a unique opportunity at the Haunted Mansion attraction. Read below for all the details from Disney Cast Member, Emily Southard.
As we recently announced, now when you materialize at Magic Kingdom Park's the Haunted Mansion attraction, a ghost will follow you home…in your attraction photo!
To celebrate the launch of this 13th attraction with Disney PhotoPass capture at Walt Disney World Resort, we're offering special opportunities around Liberty Square on April 13!
Let's start by unearthing the photo opportunities.
Beginning at 9 a.m., look for the photographer near the exit of the Haunted Mansion who will offer a "Tomb Sweet Tomb" prop, available during daylight hours. This photographer will also capture a chilling Animated Magic Shot. Is your photo actually moving, or is it your imagination?
If you're dead set on capturing even more frightfully fun photos, the photographer near the hearse in front of the Haunted Mansion will possess the ability to make the Hitchhiking Ghosts appear in your photo. In addition, you can come head to head with a Hatbox Ghost Magic Shot when you visit the photographer near the entrance to the Liberty Square Riverboat. These two Magic Shots will be available all day and night beginning at 9 a.m.
In the evening, hurry back for a few more spook-tacular photos! The photographer outside of Memento Mori will capture the orbs that surround this eerie estate. Weird glows gleam where spirits dwell! You'll also find the caretaker's lantern available near the Haunted Mansion exit after sundown.
There's always room for one more…Disney PhotoPass photo, that is. Be sure to wear a MagicBand or MagicBand 2 icon in a MagicKeeper that's linked to your Disney account while riding in your Doom Buggy to preview your attraction photo.
To really get in touch with your spirited side, waltz over to Memento Mori. On April 13 only, you can take home an 8-inch by 10-inch lenticular image showing your spirited side for the special price of $13.13 + tax.*
The celebration doesn't stop at photos! Inspired by the famous clock inside of the Haunted Mansion, a special Midnight Fright Delight "browkie" will be available at the Liberty Square Market for $6.99 + tax.
Finally, the Cadaver Dans ghostly quartet will make a special appearance, conjuring up scary-good tunes after the sun goes down in Liberty Square.
Here lies the most exciting deal: You can take home all of your memories captured by Disney PhotoPass Service on April 13 with Memory Maker One Day! With it you'll receive unlimited digital downloads of all your easy-to-share Disney PhotoPass photos and videos taken in a single day for $69. That includes photos taken at the 13 Walt Disney World Resort attractions with photo capture, participating dining locations, Character Experiences, and of course the photos captured by photographers at the most scenic locations around Walt Disney World Resort.**
You can purchase Memory Maker One Day in the My Disney Experience mobile app once you've linked at least one Disney PhotoPass photo to your account from the day to which you plan to apply the entitlement. You can also visit Box Office Gifts inside Town Square Theater at Magic Kingdom Park to purchase.
We're dying for you to join us on April 13, but for those in regions beyond, you can be with us in spirit by following Disney PhotoPass Service on Twitter and Instagram as we share all of the #HauntedPhotoPass fun! 
Parks, attractions, entertainment or character experiences may change operating hours; close due to refurbishing, capacity, weather, special events, character availability or other reasons; and otherwise change or be discontinued without notice and without liability to the owners of the Walt Disney World Resort. 
*Not available for online or in-app purchases. Cannot be combined with any other promotion and discount. No adjustments to prior purchases.
 **Disney PhotoPass Service and Memory Maker are subject to the applicable terms and policies. Includes photos taken during the applicable Memory Maker Window as defined in such terms (generally, photos taken (i) within one day for Memory Maker One Day or (ii) within 30 days from the date of first activation for standard Memory Maker). A MagicBand is required to receive certain attraction photos and other digital content. Online registration required. Disney PhotoPass Photos in your account will expire pursuant to the expiration policy. Downloads are restricted to personal use only. Not responsible for missing, lost or damaged photos. Subject to restrictions and change without notice. Valid theme park admission required for certain photo locations.