The holiday season is a fantastic time of year to visit Disney World. With out a doubt, one of our favorite parts is Mickey's Very Merry Christmas Party at Magic Kingdom. With Magic Kingdom decked out, cookies and cocoa, and some great holiday entertainment, it is an incredibly special experience that is not to be missed. Now, party guests have something new to start counting down to, a brand new Christmas fireworks show. Check out all the details below!
Cast member Thomas Smith shares details on what guests can expect:
This holiday season, the skies above Magic Kingdom Park will sparkle to life like never before during Mickey's Very Merry Christmas Party with the debut of an all-new fireworks show that can be enjoyed across the park!  
Minnie's Wonderful Christmastime Fireworks show, hosted by the one-and-only Minnie Mouse, will celebrate the magic of Christmas with medleys of beloved holiday songs, from "Joy to the World" and "Deck the Halls" to "Up on the House Top" and "We Wish You A Merry Christmas."  The holiday music will evoke heartfelt moments of home and family, as well as the festive fun of the season before an incredible finale you won't want to miss.
You'll be able to see the fireworks show during Mickey's Very Merry Christmas Party on select nights November 8 – December 22, 2019.   And if you are looking for an extra magical way to celebrate the brand new show in its first year, our fireworks dessert parties are the perfect option! You can add on this experience to enjoy treats, including chocolate-dipped strawberries, cupcakes, ice cream, seasonal fruits, cheeses and other festive favorites while taking advantage of dedicated, dazzling views of the show.
Along with our new show, each of this year's 23 nights of Mickey's Very Merry Christmas Party will feature performances of Mickey's Once Upon a Christmastime Parade, A Totally Tomorrowland Christmas and Mickey's Most Merriest Celebration stage show.  And during A Frozen Holiday Wishstage show, Queen Elsa will magically transform Cinderella Castle with glistening ice.
During Party nights, you can also experience select rides and attractions (including the "Jingle Cruise"), savor complimentary treats, discover event-exclusive merchandise, delight to a magical "snowfall" on Main Street, U.S.A., and more.
RELATED ARTICLE BELOW: A Review of Mickey's Very Merry Christmas Party in 2018
RELATED ARTICLE: A Review of Mickey's Very Merry Christmas Party in 2018
by Chad and Cindy Nykamp
Mickey's Very Merry Christmas Party at Magic Kingdom Park features favorite Disney characters in their yuletide finest, a shimmering Cinderella Castle, festive sweets and treats, and enchanting holiday entertainment – there's even snowfall on Main Street, U.S.A.! We recently enjoyed the second party of the 2018 holiday season and loved every minute of it. Based on that experience, here are our ten tips for this year's Mickey's Very Merry Christmas Party.
1 – Basics
Mickey's Very Merry Christmas Party is a separately ticketed event, complete with snow flurries and complimentary holiday treats, amazing Disney entertainment, and holiday magic. The party begins at 7 p.m., after regular park hours.
Like Mickey's Not So Scary Halloween Party, it's an opportunity to enjoy holiday-themed entertainment and activities in Magic Kingdom Park.
2 – Come Early
While the party does not officially begin until 7:00 pm, you may enter with your party ticket at 4:00 pm. We highly recommend you do this for several reasons. First, you'll have time to enjoy the decorations and Main Street USA with some daylight. It will get dark shortly before 6:00 pm. Second, there is a lot to do at the party. We recommend getting there early, eating dinner, and even getting a few rides in before the party begins. That way when the party officially starts, you'll be ready to enjoy the exclusive party offerings.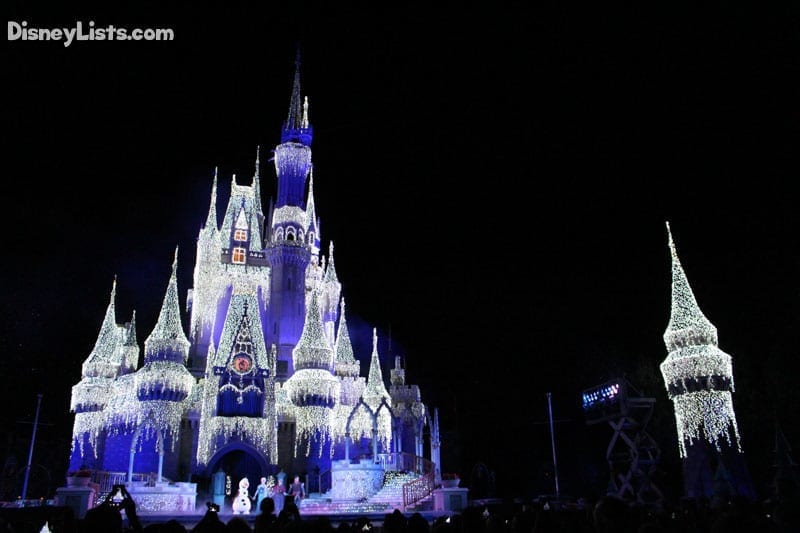 3 – A Frozen Holiday Wish
Part of the evening's entertainment is the popular, A Frozen Holiday Wish. Anna, Olaf, and Kristoff encourage Queen Elsa to transform Cinderella Castle into a special holiday display. During the party, the show takes place at 8:15 pm. However, this is not the only time you can catch this show. While Magic Kingdom will close for regular day guests at 6:00 pm, there is a performance of A Frozen Holiday Wish at 6:15 pm. By catching the 6:15 pm show, you'll free up time during the party of other offerings. Be aware that since day guests may stay for this show, it will be crowded, and you'll want to grab your spot about 20-30 minutes before the show. It's a great show. Click here to see the finale of this show on our Instagram account!
4 – Complimentary Treats
We hope you come hungry and ready for sweets and treats because this party has got a lot of them. Here are the complimentary Holiday Treat Locations you can visit throughout the evening. All locations are open until 12:00 am.
Adventureland
Snowman Soft Pretzel & Sno-Coneat Tortuga Tavern
Liberty Square
Ginger Molasses Cookies & Eggnog at Liberty Square Ticket Office
Fantasyland
Variety of Holiday Favorites at Pinocchio Village Haus
Chilled Apple Cider and DOVE Chocolate at The Friar's Nook
Peppermint Crunch Cookie at Storybook Circus Snacks
Tomorrowland
Snickerdoodle Cookie & Hot Chocolate at Cosmic Ray's Starlight Café
Chocolate Chip Cookie & Sno-Coneat Auntie Gravity's Galactic Goodies
The complimentary treats are a nice bonus to the party, but we do wish the quality of the cookies was a bit higher. We put these cookies on the same level as the cookies they give out with the kid's quick service meals. They're not terrible, but they are not that great. They are individually wrapped so you can take them home with you later if you desire. The one salty treat, the soft pretzel at Tortuga Tavern was the same as the Mickey pretzels in the park, just a different shape. This was a nice alternative to the cookies. At the end of the night, around 11:50 pm, we were treated to fresh, warm pretzels, so it's nice to know they were still offering fresh pretzels even at the end of the party. One final note on the treats, the chilled "apple cider" was a disappointment – it was just Minute Maid apple juice.
5 – Specialty Foods
In addition to the complimentary holiday treats, there are other special holiday treats available for purchase. They include special cupcakes, cookies, cinnamon rolls, hot-dogs, ice cream, sundaes, and eclairs. We really enjoyed the special Mickey cinnamon roll from Main Street Bakery. It was fresh (still warm) and tasted delicious. It was quite large and was a nice treat to share.
For more information and photos, be sure to check out this news article.
6 – Don't Miss the Entertainment
The entertainment during the Christmas Party is top-notch. Be sure to check out our article on the Five Can't-Miss Entertainment Offerings during the party.
Other entertainment options include:
Club Tinsel – a dance party at Cosmic Ray's Starlight Café
The Edge Effect – an a cappella holiday concert with amazing vocal harmonies
Storybook Circus Disney Junior Jingle Jam – a dance party for the little ones with Disney Junior characters.
The Reindeer Wranglers in Frontierland – 7:15 pm, 8:05 pm, 9:30 pm, 10:30 pm, 11:45 pm
We caught the Reindeer Wranglers at 11:45 pm and it was a fantastic set. They were great! We highly recommend checking them out! Below is a short video of part of their set:
7 – Rare Disney Character Meet & Greets
One of the biggest highlights of the Christmas Party is the chance to meet rare characters or characters in holiday costumes. Here is the complete list of character meet and greets.
Main Street USA
Santa Claus
Mickey Mouse
Jack Skellington and Sally
Adventureland
Aladdin, Jasmine, Genie, and Abu
Captain Jack Sparrow
Moana
Peter Pan
Frontierland
Liberty Square
Fantasyland
Ariel and Prince Eric
Rapunzel and Flynn
Cinderella and Prince Charming
Belle
Pooh and Friends
Snow White and Prince
Aurora and Prince Phillip
Elana of Avalor
Minnie Mouse
Tianna and Naveen
Tomorrowland
Reindeer and Polar Bears
Nick Wilde and Judy Hopps
8 – Party Merchandise
There is plenty of festive event keepsakes available for purchase. The full event collection includes apparel, ornaments, an event trading pin, and a MagicBand. Here are the shopping locations:
Full Event Collection
Emporium, Main Street USA
Ye Olde Christmas Shopee, Liberty Square
Big Top Souvenirs, Fantasyland
Mickey's Star Traders, Tomorrowland
Trading Pins
Emporium, Main Street USA
Frontier Trading Post, Frontierland
Mickey's Star Traders, Tomorrowland
MagicBand
Mickey's Star Traders, Tomorrowland
Tomorrowland Light & Power Co., Tomorrowland
Passholder Merchandise
Emporium, Main Street USA
Mickey's Star Traders, Tomorrowland
9 – Get Some Magic Shots
During the Christmas Party, Disney PhotoPass Photographers will be making merry photo opportunities. Disney Cast member Emily Southard shares the Magic Shot locations:
Have a taste for sweet Magic Shots? The Mickey Mouse Cookie Magic Shot is available in Adventureland, Fantasyland, and Tomorrowland, while the Candy Cane Magic Shot can be found in front of Cinderella Castle and on the bridges leading to Liberty Square, Tomorrowland, and Fantasyland.
Mickey's Once Upon a Christmastime Parade is a beloved party staple, and if you love it as much as I do, you'll adore these photo opportunities featuring a few parade favorites! The Toy Soldiers can march into your photo on Main Street, U.S.A., and the photographer at the entrance to the park can offer a Magic Shot featuring a cheerful reindeer and gingerbread man.
Disney Characters can make an appearance in your photos too! A Magic Shot featuring a festively dressed Tinker Bell will be available on Main Street, U.S.A., and look for Olaf to pop into photos taken on the bridges leading to Liberty Square, Tomorrowland, and Fantasyland.
For photos with a traditional Christmas vibe, visit any Disney PhotoPass photographer in the park (except for those at Character Experience locations) to take a Mistletoe Magic Shot, and get a special Animated Magic Shot when you meet Santa Claus.
And finally, photographers will also be capturing your memories at Character Experience locations during the event.
If you want to deck your halls with all of your photos taken during Mickey's Very Merry Christmas Party, purchase Memory Maker One Day and apply the entitlement to the day you attended the party! With Memory Maker One Day, you'll receive digital downloads of all your Disney PhotoPass photos linked to your account that were taken on the one day of your choice. Memory Maker One Day is available in the My Disney Experience mobile app once you've linked at least one Disney PhotoPass photo to your account from the day to which you plan to apply the entitlement. You can also purchase it inside Town Square Theater at Magic Kingdom Park.
10 – Stay Late
We recommend staying late and enjoying everything the party has to offer. This party is not inexpensive and there is a lot to do, so much that you can't get everything done in one night. So, enjoy the magical holiday atmosphere and stay as late as you can. The party will go on right through 12:00 am. As long as you are in line for an attraction by 11:59 pm, you'll be able to ride that attraction. There are also two entertainment performances worth catching at the end of the evening. We've recommended the Reindeer Wranglers' and their last show is at 11:45 pm. Also, the last stage show performance of Mickey's Most Merriest Celebration is at 11:55 pm. By catching this last show right at the end of the party, you'll be able to get more done throughout the evening. Finally, don't be afraid to stick around Main Street USA for photos after midnight. We left the party at 12:30 pm and it was still very busy with many lines for PhotoPass photographers more than 10 minutes long. The cast members will gently move you along when it's time to go, but you can enjoy the atmosphere and get photos taken through 1 am. Just be respectful of cast members and security directing you to leave.
Overall, we really enjoyed the party. Magic Kingdom is a very special place to celebrate Christmas. The entertainment and decorations are top notch. While we prefer the Halloween Party, if you'll be visiting Disney World during the holiday season, attending Mickey's Very Merry Christmas Party is an excellent choice!
Editor's Note: The Disney Company provided us with complimentary Mickey's Very Merry Christmas Party tickets. However, the thoughts and opinions contained in this article are completely our own.
For a no obligation, FREE Quote on a Disney vacation package, please contact our travel partner Magical Vacation Planner at 407-442-0227 (407-442-0215 for Spanish). You can also request a FREE quote online by Clicking HERE.