Disney has been offering some new dinner alternatives for its quick-service restaurants (such as the change to quick-casual reserved dining at ABC Commissary), and we're really excited about its another new offering. Disney's Animal Kingdom is getting a new dinner experience over in DinoLand USA at Restaurantosaurus that includes some tasty burgers and make your own sundaes. Catch all the details below along with some mouthwatering photos.
Here are all the details from Disney Cast Member Alex Dunlap:
If you're looking for a classic burger meal and a yummy sundae to top off your day in DinoLand, U.S.A., this new dinner experience is definitely for you! Our paleontology students have conspired to open a fun and exclusive burger joint right at Restaurantosaurus, giving families a great way to enjoy hand-crafted burgers and a build-your-own sundae bar.
For just one price, you can select an entrée and a side dish and even build your own sundae! On the menu are gourmet burgers, a chicken sandwich, a veggie burger, and a salad. For the sides, choose from fries or onion rings served with a delicious house-made dipping sauce. Plus, your dinner also includes a non-alcoholic beverage.
When you order, you'll receive a token that can be redeemed for a bowl with two oh-so-yummy scoops of delicious ice cream, which you can then take over to the toppings bar to build your own dig site sundae with an abundance of selections to choose from. And in addition to savoring these burgers and treats, guests will be able to color with fun dinosaur stencils while cast members entertain them with games and stories of the paleontology students who created the restaurant.
Restaurantosaurus Burgers and Sundaes is only available only during dinner on select nights and is $22.99 plus tax for adults and $14.99 plus tax for children ages 3-9. Alcoholic beverages will also be available for purchase. This experience can also count as one quick-service meal entitlement on the Disney Dining Plan. Quick service dining at Restaurantosaurus will still be available. Guests partaking in this new dinner experience will check in at a designated register where they will be escorted to a table in a separate dining room. Reservations will be open starting June 12 and can be made by calling 407 WDW-DINE (407 939-3463) or by visiting the Walt Disney World Resort website. Walk-ups are welcome but subject to availability.
RELATED ARTICLE: 10 Best Quick Eats at Disney's Animal Kingdom
by Christy Caby
Disney's Animal Kingdom is definitely an amazing food location.  You might not think of an animal-themed theme park as a fantastic place to dine, but the food at Animal Kingdom is unlike anything else on property. There is a ton of great variety of flavors and options, so there is definitely something for everyone.  Here is a look at our top 10 best quick eats at Disney's Animal Kingdom:
10 – Baked Macaroni & Cheese with Pulled Pork – Eight Spoon Café, Discovery Island
This delicious snack features creamy macaroni and cheese with pulled pork.  It is a perfect blend of comfort food favorites to enjoy when you are looking for something tasty during your fun day in the park.  This is a great take on a classic dish that the whole family can enjoy!
9 – Rib Bowl – Harambe Market, Africa
These amazing rubs are rubbed with African spices and then have a barbecue glaze on top.  The ribs are served over cilantro rice and salad greens bowl finished with salsa.  The flavor combinations are perfect and this is definitely a very filling quick meal option.
8 – Smoked Turkey Sandwich – Kusafiri Coffee Shop & Bakery, Africa
If you're looking for a healthier option, there is a great sandwich at Kusafiri Coffee Shop and Bakery in Africa. The smoked turkey sandwich has a generous portion of sliced smoked turkey. It is on multigrain bread and comes with cranberry mayonnaise and arugula. It was delicious. The sandwich is also served with delicious house-made curry spiced chips.
7 – Shrimp Flatbread – Pizzafari, Discovery Island
This is definitely a unique option, but one that is quite tasty.  The flatbread is made with roasted shrimp, tomato, red pepper, Alfredo sauce and pesto.  Is then all topped with greens and served with a small Caesar salad.  If seafood isn't your thing, then the pizzas or salads at the location are also great options!
6 – Cheeseburger Combo – Restaurantosaurus, DinoLand U.S.A.
What is better than the classic bacon and cheeseburger combo?  This burger is a flame-broiled Angus bacon cheeseburger.  With the combo, you also get French fries, a warm caramel chocolate brownie and your choice of a fountain beverage. This is definitely a meal that will keep you full for a while.
5 – Ribs, Chicken and Pulled Pork Sampler – Flame Tree Barbecue, Discovery Island
This huge platter includes smoked ribs, chicken and pulled pork.  You can smell these delicious meats as you are walking around in the area of the restaurant.  It is intoxicating and will definitely lure you in to give them a try.  The platter also includes baked beans and coleslaw as sides so that you have a complete meal.
4 – Satu'li Sampler Platter – Satu'li Canteen, Pandora – The World of Avatar
If you have hungry members of your family, then you have to take the opportunity to sample this amazing platter.  This gives you the opportunity to try a little bit of everything that the location has to offer so you don't have to pick.  You get your choice of four proteins that include a sampling of each of the bases and sauces for the location.  You also get vegetable slaw and 4 non-specialty beverages, too.  This is definitely a favorite when you have a group with you that can help you eat it!
3 – The Colossal Cinnamon Roll – Kusafiri Coffee Shop & Bakery, Africa
How about a cinnamon roll so big it can feed more than two people? That's what you can find at Kusafiri Coffee Shope and Bakery in Disney's Animal Kingdom's Africa. This cinnamon roll is fresh and delicious with plenty of icing. Whether for breakfast or a snack later in the day, this cinnamon roll will disappear quickly because it's so yummy!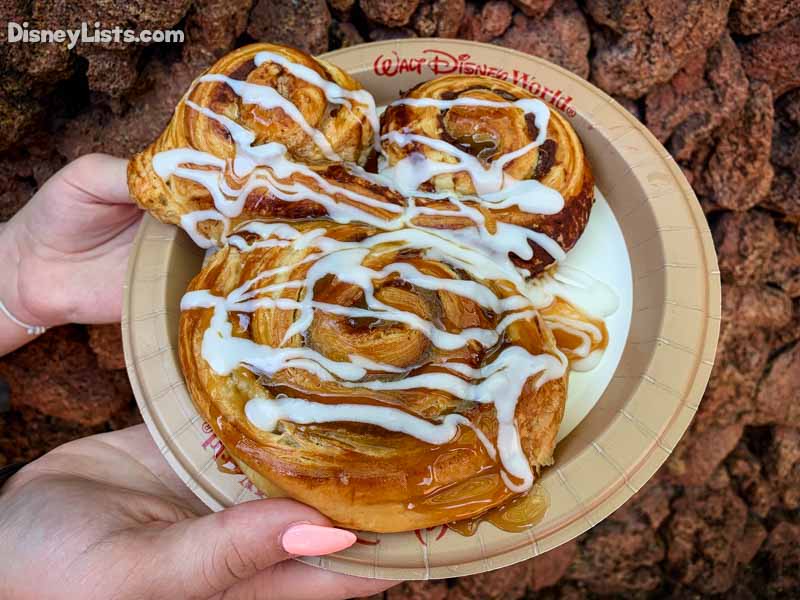 2 – Buffalo Chicken Chips – Trilo-Bites, DinoLand U.S.A.
I don't know about you, but I love just about anything that has buffalo sauce.  These chips are the perfect buffalo sauce, chicken, chives and bleu cheese combination with a great crunch from the tortilla chips.  You won't want to share these, but you definitely could!
1 – Teriyaki Beef Slider – Caravan Road, Asia
This is a delicious slider served with pickled cucumber.  It is a great option when you are looking for a quick snack, but aren't looking for a heavy meal.  This option lets you get a good mix of carb and protein to power through the day, all with delicious teriyaki flavors.
For a no obligation, FREE Quote on a Disney vacation package, please contact our travel partner Magical Vacation Planner at 407-442-0227 (407-442-0215 for Spanish). You can also request a FREE quote online by Clicking HERE.