There is no denying that Walt Disney World has truly stepped up the food game recently and is constantly churning out some pretty amazing treats on a regular basis. August is no different and there are some really great treats to that are only available this month. There are also some fall treats that will be sticking around a bit longer. Catch all the details below.
Here are all the details from Disney Cast Member Alex Dunlap:
Last week I announced quite a few sweet (and savory) additions to Walt Disney World Resort like the new Cookie Dough and Everything Sweet Food Truck coming to Disney Springs and plant-based Coconut Mickey Onigiri at Disney's All-Star Music Resort. But this week, I have even MORE sweets to share with you! This month's Sweet Treats features a few more sweet offerings at Magic Kingdom Park, Disney's Polynesian Village Resort, and Disney's All-Star Music Resort. Read on to find out more!
Rainbow Unicorn Cupcake – Available August 15-18 at Magic Kingdom Park
Head on over to Main Street Bakery to try this limited time rainbow confetti cupcake with white buttercream, sparkly crispy pearls, fondant ears, and a rainbow fondant horn.
Monster Brownie Sundae – Available through August 31 at Magic Kingdom Park
This crazy dessert can be found at Plaza Ice Cream Parlor. This cookie dough ice cream comes sandwiched between two brownies topped with caramel, hot fudge, candy-coated chocolates, whipped cream, and a cherry and is served in a waffle bowl.
Pride Cone – Available through August 18 at Disney's Polynesian Village Resort
Celebrate love with this purple cone topped with Dole Whip Strawberry and a white chocolate rainbow Mickey! You can find it at Pineapple Lanai.
Fall Treats at Disney's All-Star Resorts – Available August 25-November 30
Try one of these FABULOUS fall treats coming to all three of Disney's All-Star Resorts. Find them at Intermission Food Court, World Premiere Food Court, and End Zone Food Court.
Jack's Hallow-Lime Cupcake – Vanilla cupcake with lime whip cream, a chocolate Jack Skellington, and a dropper of "liquid goo"
Queen's Poisoned Apple Tart – Butter tart filled with cinnamon apples and topped with a spiced panna cotta glazed with green icing
Pumpkin Pie Cheesecake – Vanilla cheesecake with whipped pumpkin panna cotta, pie crust crumble, and chocolate ganache (Only available at World Premiere Food Court and Intermission Food Court)
Chai Tea Cupcake – Chocolate cupcake with colored chai tea buttercream and dark ganache (Only available at World Premiere Food Court and Intermission Food Court)
For more information on all of the locations listed above, visit the Walt Disney World Resort website or check out the My Disney Experience app on your mobile phone.
Happy Snacking!
RELATED ARTICLE: 7 Things to Know Before You Visit Disney World in the Fall
by Arielle Tuan
Fall is one of my favorite times to visit Walt Disney World. I love Halloween and seeing all the pumpkins, leaves, and other fall decorations around the parks puts me in a super festive spirit! Aside from the atmosphere, I also love the events that take place during the fall season- there's a lot to see and do in Disney from September to December, and the best part is, you can usually experience everything with more pleasant weather and slightly fewer crowds. Here are the top things to keep in mind when visiting Disney World in the fall.
7 – Nicer Weather in Late Fall
While Orlando can still get pretty hot in the fall, even going into December, you can generally expect milder temperatures. In the summer, Orlando is known to get unbearably hot. In September, you can expect temperatures to still be in the lower 90s through the end of the month. October is a month of transition, beginning with hotter temperatures and ending with generally, much more comfortable temperatures. During late October through early December, you can usually expect temperatures between 75-85 degrees during the day, with cooler temperatures at night. Of course, predicting the weather is always tricky, so monitor the forecast for Orlando in the few weeks leading up to your vacation. Be prepared for cooler weather, but don't leave behind those hats, sunglasses, and bottles of sunscreen just yet.
6 – Mickey's Not So Scary Halloween Party
 One of the best things about planning a fall trip to Disney World is the option of attending Mickey's Not So Scary Halloween Party. Starting in mid-August and lasting until November 1st, the Halloween Party is a separately ticketed event in the Magic Kingdom. At the party, you can celebrate Halloween in costume while most rides and quick-service food locations remain open. There are trick-or-treat stations set up around the park where you can load up on candy, as well as unique character meet-and-greets. There is a Halloween-themed parade, stage show, and fireworks celebration, as well as fun photo opportunities and merchandise. Mickey's Not So Scary Halloween Party is a great way to get into the fall spirit, but even if you don't attend, there are Halloween decorations situated throughout all parks and resorts during this time of year.
5 – Epcot International Food and Wine Festival
Another fun event that occurs during the fall is the Epcot Food and Wine Festival. The festival usually runs from late-August to Mid-November, so you'll have plenty of chances to visit if your vacation falls during one of those months. The Food and Wine Festival is included with park admission to Epcot and consists of plentiful booths set up around the World Showcase. Each booth represents a different country or ingredient/cooking style and serves food in snack-size portions. Along with trying different foods and specialty drinks, you can also attend cooking demonstrations, seminars, see celebrity chefs, and rock out to Epcot's Eat to the Beat concert series. This festival is definitely something to check out if you're in Disney during the fall season!
4 – Wine and Dine Half-Marathon
For those who feel like working out after indulging at the Food and Wine Festival, there is the Wine and Dine 10K and Half Marathon that takes place in November. This event is a popular weekend for runners, as the races provide not only courses through the parks, but also interactions with Disney characters, special entertainment, and an after-hours Post-Race Party just for runners and their guests (with access to Epcot's attractions and Food and Wine Festival). Families of runners can cheer them on, and kids can even sign up for their own dashes. Disney also offers a Fall Feast 5K and a Two-Course Challenge. Sign-ups start in March, so if you're interested in participating, make sure to keep an eye on the Disney website!
3 – Walt Disney World's Anniversary
Magic Kingdom and Epcot both opened on October 1st(Magic Kingdom in 1971, and Epcot in 1982). Both parks usually hold small celebrations to commemorate the occasion, but in the meantime, the whole resort is gearing up for the big 50thAnniversary taking place in 2021. If you visit during the fall, even if you can't celebrate on October 1st, chances are you'll be able to see some cool construction updates as Disney prepares for this big milestone. Some projects to look out for on your trip include the Tron Light Cycle coaster, the Ratatouille ride, and the Guardians of the Galaxy coaster.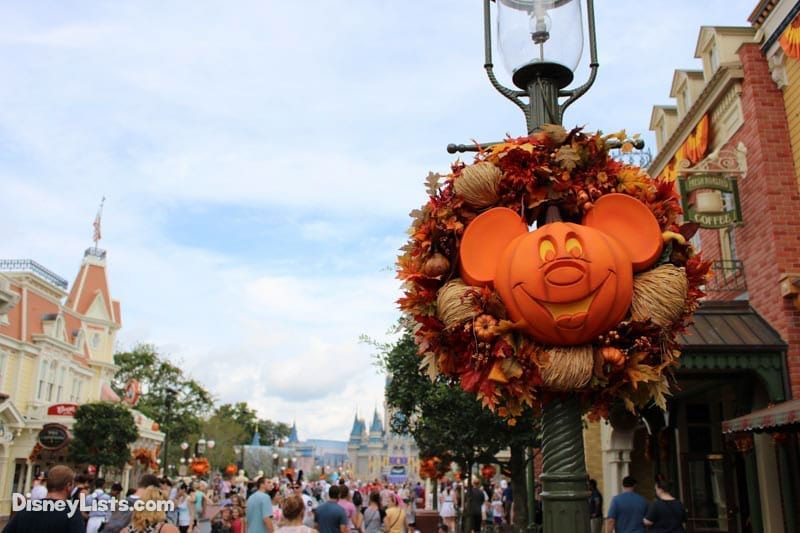 2- Lower Crowds
While it's true that there really is no "slow" season anymore at Disney World, early fall generally brings lighter crowd levels. Historically, September has shown to be the best month to visit Disney World, since kids will have gone back to school. It gets busier as Halloween approaches, and then slows down again (slightly) in the weeks leading up to Thanksgiving, as most families plan their trips during the holiday season. If you visit during the fall, you can't expect the parks to be empty, but you also won't have to deal with the number of people that the summer months typically bring.
1- September is Rainy Season
In my opinion, this is one of the most important things to keep in mind if you visit Disney World in the fall. A lot of guests who live out of state expect rain in the summer, but don't realize that storms can be just as prevalent in the fall. September is actually the height of Orlando's rainy season, and guests should prepare themselves for the chance of daily afternoon thunderstorms. Hurricane season also lasts until late November, so you'll want to check the weather forecasts before your trip. However, don't let the chance of thunderstorms put a damper on your visit! Rain tends to drive away crowds and gives the weather a chance to cool down. I always have a blast visiting the parks during September – it truly is one of the best months to visit, rain or shine.
For a no obligation, FREE Quote on a Disney vacation package, please contact our travel partner Magical Vacation Planner at 407-442-0227 (407-442-0215 for Spanish). You can also request a FREE quote online by Clicking HERE.