With the August 29 debut of Star Wars: Galaxy's Edge and the 24thEpcot International Food & Wine Festival leading the way, the fall season will bring plenty of excitement to Walt Disney World Resort. The new Mid-Day Magic Ticket, available starting today, is a great value for families to take in the fun of Walt Disney World Resort theme parks. Catch all the details below.
Mid-Day Magic Tickets are valid for admission after 12 p.m. and were designed with guests' flexibility in mind, with timing that helps meet their needs. Mid-Day Magic Tickets may be used at any of the four theme parks, allowing guests to catch a parade, enjoy a meal, experience favorite attractions, and then get ready for wondrous nighttime shows.
The fall and winter months will be a fantastic time to visit Walt Disney World Resort. Guests can climb aboard the fastest ship in the galaxy on Millennium Falcon: Smugglers Run inside Star Wars: Galaxy's Edge. They can taste their way around World Showcase during the Epcot International Food & Wine Festival. They can enjoy the resort as it transitions into a winter wonderland in November and December, with holiday décor and festivities at all four theme parks.
The 2-, 3- and 4-Day Mid-Day Magic Tickets* are available for use on or before Dec. 15, 2019:
Two-day ticket from $88 a day, plus tax (from $176 total, plus tax)
Three-day ticket from $84 a day, plus tax (from $252 total, plus tax)
Four-day ticket from $79 a day, plus tax (from $316 total, plus tax)
Tickets are valid for one theme park per day. Prices are for ages 10 and older. The price varies based on selected start date. Lower prices may apply on certain dates. The two-day ticket expires four days after the selected start date. The three-day ticket expires five days after the selected start date. The four-day ticket expires seven days after the selected start date.
For more information or to purchase the Disney's Mid-Day Magic Ticket, guests can visit Disneyworld.com/MidDayMagic.
RELATED ARTICLE: 9 Reasons to Visit Disney World in Fall of 2019
by Chad and Cindy Nykamp
Fall of 2019 is going to be a particularly fantastic time to visit Walt Disney World. So many new and amazing things will be taking place. Star Wars: Galaxy's Edge will be brand new at Disney's Hollywood Studios, while Magic Kingdom Park will unveil a new fireworks show as part of Mickey's Not-So-Scary Halloween Party. The Epcot International Food & Wine Festival will run for a record number of days, and the park will wave a fond farewell to "IllumiNations: Reflections of Earth" before ushering in a new nighttime spectacular, "Epcot Forever." These enticing options and more are all part of a season of fun where guests are invited to "fall into magic." Catch all the reasons below:
1 – Experience Limited-Time Offerings Through September 30
Through September 30 you can still catch limited-time offerings that include new parties, shows, character experiences and more at all four theme parks. Our favorite is Mickey & Minnie's Surprise Celebration. This celebration honors those true originals, Mickey and Minnie Mouse, with new entertainment, merchandise, and specialty food and beverages at Magic Kingdom. Mickey and Minnie greet guests together inside Town Square Theater, wearing all-new, colorful outfits for their special celebration.
Over at Disney's Hollywood Studios, there are some incredible offerings to find. Pixar Avenue is the place for guests to show off their inner Supers with The Incredibles. You can celebrate the heroic deeds of Mr. Incredible, Mrs. Incredible, and Frozone, who will make appearances throughout the day during a party featuring lively music, dancing, interactive games, and more Super fun.
At Disney's Animal Kingdom the park is celebrating the  25thAnniversary of Disney's The Lion King. Take a walk on the wild side at Disney's Animal Kingdom during the "Hakuna Matata Time Dance Party," featuring Timon and Rafiki from Disney's "The Lion King." Each day on Discovery Island, the dance party will encourage young adventurers to let their inner animals roam free on the dance floor as a street band plays a fiery soundtrack in a World Beat style.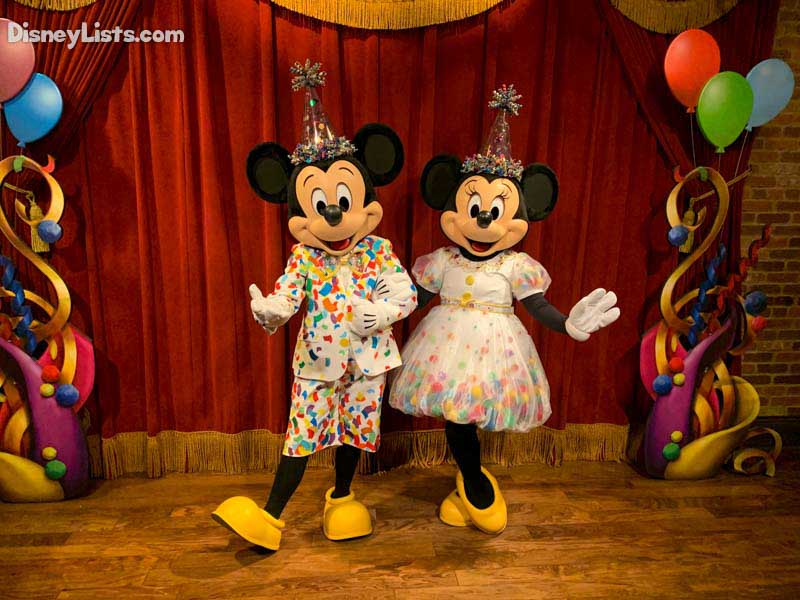 2 – Star Wars: Galaxy's Edge Will Be Open 
On the heels of its August 29 opening, Star Wars: Galaxy's Edge offers Disney's Hollywood Studios guests the chance this fall to live their own Star Wars stories. The action takes place on Batuu, a far-flung planet populated by scoundrels and adventurers. While visiting the land, guests can stop for a drink at Oga's Cantina or discover rare artifacts at Dok-Ondar's Den of Antiquities, among other immersive Star Wars experiences. The groundbreaking attraction Millennium Falcon: Smugglers Run gives guests control of the iconic spacecraft as the ship hurtles through space on a smuggling mission. Star Wars: Rise of the Resistance, a second attraction opening later in 2019, will put guests in the middle of a climactic battle between the First Order and the Resistance.
DID YOU KNOW … Guests will play one of three unique and critical roles in Millennium Falcon: Smugglers Run – pilots, gunners or flight engineers – providing multiple ways to experience the attraction.
Star Wars: Galaxy's Edge and its experiences are subject to capacity.
Click here for everything you need to know about the new land.
Click here for our response after we walked into Star Wars Galaxy's Edge in late spring 2019.
3 – New Fireworks Show for Mickey's Not-So-Scary Halloween Party at Magic Kingdom Park 
A new Halloween-themed fireworks show debuts this year during Mickey's Not-So-Scary Halloween Party. This new show will feature state-of-the-art projection effects, lasers, lighting and dazzling fireworks that come together to tell a not-so-scary story about how anything can happen on Halloween night. The show will take guests along for a trick-or-treating adventure, where four friends – Mickey Mouse, Minnie Mouse, Donald Duck and Goofy – find themselves drawn into a mysterious haunted house.
Held for a record 36 select nights from August 16-November 1, Mickey's Not-So-Scary Halloween Party is a specially ticketed event that captures the spirit of the season with spooky décor, lighting and music parkwide, along with returning favorites such as "Mickey's Boo to You Parade," the "Hocus Pocus Villains Spelltacular" castle stage show and trick-or-treating throughout the park. Also returning for this year's party will be special attraction experiences for Mad Tea Party, Pirates of the Caribbean and Space Mountain. Children are encouraged to dress in costume and enjoy the spirit of Halloween with their families. Mickey's Not-So-Scary Halloween Party is a ticketed, after-hours special event. Tickets start at $79. Book through Disneyworld.com or the Disney Reservations Center at (407) 827-7350.
DID YOU KNOW … The Headless Horseman will appear prior to "Mickey's Boo to You Parade."
Check out our review of last year's party by clicking here.
4 – Record Number of Days Set for Epcot International Food & Wine Festival
The Epcot celebration of cuisine, music and more takes place August 29-November 23 – a record 87 days. During this foodie festival, the park will brim with marketplaces, culinary demonstrations, beverage seminars, the Eat to the Beat Concert Series, specialty merchandise and much more. In some fun for the whole family, Remy's Ratatouille Hide & Squeak will send guests on an adventure searching for Remy in a savory scavenger hunt around the festival. Eat to the Beat concerts will bring a lineup of pop, rock, R&B, country, Christian, swing and Latin artists, with three shows every night of the festival through November 19. Families will find a play area for kids and an international flair – including kid-approved menu items – at many of the 30-plus Global Marketplaces.
DID YOU KNOW … This year's festival will offer 249 Eat to the Beat concerts.
5 – Last Call for "IllumiNations: Reflections of Earth" as "Epcot Forever" Debuts October 1
For nearly 20 years, the nighttime spectacular "IllumiNations: Reflections of Earth" has brought each day at Epcot to a thrilling close. Guests have marveled as World Showcase lagoon came to life with fireworks, fountains and lasers paying homage to the joyful story of humanity and the remarkable achievements of our time. The show's final night will be September 30, to make way for an all-new, limited-time spectacular, "Epcot Forever," debuting October 1. This new show will be a celebration of the past, present and future of Epcot, built around the magical soundtrack guests have come to know and love at the park. The new show will feature fireworks, lasers and choreographed special-effect kites accompanied by a stirring collection of songs celebrating Epcot.
DID YOU KNOW … "IllumiNations: Reflections of Earth" has entertained millions of guests since it debuted in October 1999.
6 – Disney Skyliner Takes Flight September 29
A new mode of transportation will float through the air around Walt Disney World this fall when Disney Skyliner, a state-of-the-art gondola system, begins gliding guests across the sky in custom cabins. Disney Skyliner will conveniently connect Disney's Hollywood Studios and Epcot to four resort hotels – Disney's Art of Animation Resort, Disney's Pop Century Resort and Disney's Caribbean Beach Resort, as well as the 15th Disney Vacation Club property, Disney's Riviera Resort (planned to open in mid-December). Select gondolas will have iconic Disney characters incorporated into their exterior designs to give the appearance that a Disney pal is riding along with guests. Disney Skyliner will offer a new way to experience Walt Disney World with amazing views only available from the sky.
DID YOU KNOW … Several Disney Skyliner gondolas will be adorned with graphics based on Disney films, attractions or characters.
Click here for close-up photos of the gondolas and everything we know about the Disney Skyliner!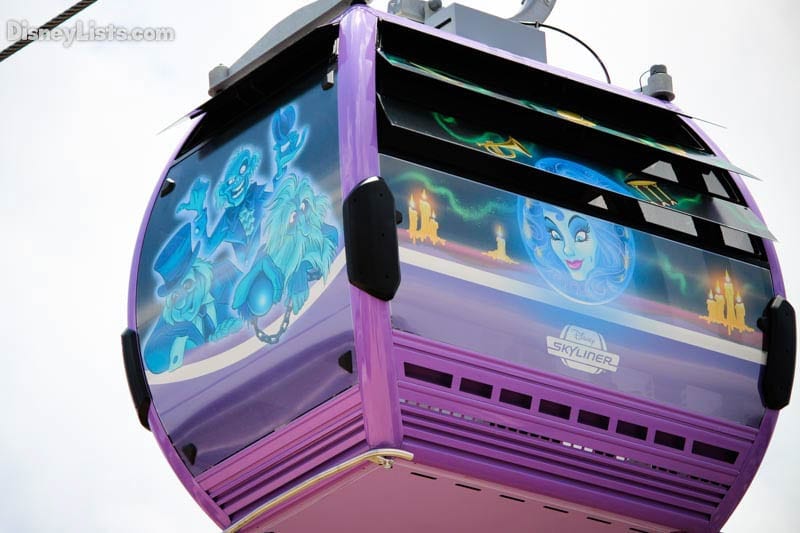 7 – Disney's Animal Kingdom Theme Park Lights Up at Night
As the sun sets earlier and earlier this fall, these nighttime experiences will come to life at Disney's Animal Kingdom:
"Rivers of Light: We Are One" is the next chapter for this nighttime show on Discovery River. Updates include dramatic new imagery and familiar animal characters from Disneynature films along with a colorful tapestry of unforgettable moments from Disney animated films.
Pandora – The World of Avatar continues to come to life each night with bioluminescent fauna and flora as guests hike amid floating mountains, fly on their own mountain banshee, take a mystical river ride and more.
DID YOU KNOW … On May 1, 2019, a baby western lowland gorilla was born at Disney's Animal Kingdom. Named Grace, the gorilla and her parents can now be seen at the Gorilla Falls Exploration Trail inside the park.
8 – Disney Resort Hotels News
To welcome fall travelers, there's always something new at Disney resort hotels. Disney's Coronado Springs Resort's new 15-story Gran Destino tower is now open, adding 500-plus guestrooms, including suites and concierge-level services. New waterfront dining and a retail shopping area have come to Disney's Caribbean Beach Resort, while a mid-December opening is planned for Disney's Riviera Resort, a Disney Vacation Club property inspired by the grandeur and enchantment of the European Riviera.
DID YOU KNOW … Sitting atop the new Gran Destino Tower at Disney's Coronado Springs Resort will be Toledo – Tapas, Steak & Seafood, a new table-service restaurant featuring dishes and small plates inspired by the flavors of Spain.
Click here for our review of Gran Destino Tower.
9 – Bounce into Fall at Disney Springs with NBA Experience and Special Seasonal Offerings
Basketball is officially "in season" this fall, now that NBA Experience is now open at Disney Springs. When guests step into this re-creation of a modern NBA arena, they'll feel what it's like to be a basketball superstar. The one-of-a-kind destination features 13 unique interactive and hands-on experiences where Disney magic merges with the thrills of the NBA and WNBA.
Click here to read our review of NBA Experience.
NBA Experience is part of the ever-evolving Disney Springs area. Also new is Jaleo, offering the very best of Spanish cuisine and design seen through the creative lens of renowned Chef José Andrés. Jaleo (which means "revelry" in Spanish) treats diners to an extensive tapas menu, reflecting the rich regional diversity of traditional and contemporary Spanish cuisine, complemented by sangrias and a premier selection of Spanish wines. Just off the main entrance is Pepe by José Andrés, the first brick-and-mortar location of the chef's wildly popular Spanish food truck.
Jaleo is one of six restaurants at Disney Springs featuring James Beard Award-winning chefs, and dining venues throughout the district will offer sample-sized fall food and drinks. With the help of a printed guide, guests can make their way through Disney Springs and sample all the flavors of the season from select locations. Click here to read our review of Jaleo.
The fall season is also a great time to enjoy entertainment and shopping at Disney Springs. Colorful backdrops will make great seasonal photos for the entire family, while new fall looks will be available in shops throughout the shopping district, including Halloween costumes for kids and clothing for adults featuring their favorite Disney characters.
DID YOU KNOW … NBA Experience spans 44,000 square feet of basketball action and fun.
For a no obligation, FREE Quote on a Disney vacation package, please contact our travel partner Magical Vacation Planner at 407-442-0227 (407-442-0215 for Spanish). You can also request a FREE quote online by Clicking HERE.