On Monday, August 12, the NBA Experience, a brand-new experience on the West Side of Disney Springs at Walt Disney World Resort, opened to guests. Disney developed this one-of-a-kind environment in collaboration with the NBA, where guests enter the world of professional basketball. The high-energy, family-friendly venue is packed with 13 different basketball-related activities across 44,000 square feet and two floors. We were there opening day to catch the Grand Opening Ceremony and experience it for ourselves. Read more about this new experience below!
1 – Experience the NBA
NBA Experience immerses guests in the world of professional basketball, both as a fan and a player. In this first-of-its-kind entertainment venue, guests of all ages and skills can celebrate and learn about their favorite teams and players while engaging in 13 basketball-themed activities in a high-tech, interactive, family-friendly environment.
"When we were young, we played basketball in our driveways or in the park, creating those imaginary moments of making the game-winning shot for a championship," said Stan Dodd, executive producer, Walt Disney Imagineering. "We want to take that energy and help you feel what it's like to be an actual NBA or WNBA player."
2 – Grand Opening Ceremony
The Grand Opening Ceremony kicked off with a high-energy dance number featuring Mickey and Minnie Mouse. Next, NBA and WNBA stars filled the stage being announced by ESPN personality Rachel Nichols. In attendance were Naismith Basketball Hall of Famers Kareem Abdul-Jabbar and Grant Hill, along with NBA legend Dwyane Wade, Milwaukee Bucks center Brook Lopez, Utah Jazz point guard Mike Conley, Indiana Pacers guard Victor Oladipo, Orlando Magic forward Aaron Gordon, Miami Heat forward Udonis Haslem and WNBA legend Swin Cash, now the vice president of basketball operations and team development for the New Orleans Pelicans. Finally, the Commissioner of the NBA, Adam Silver, along with Chairman and CEO of the Walt Disney Company, Bob Iger, joined the stage. It was great to see so much talent up on that stage!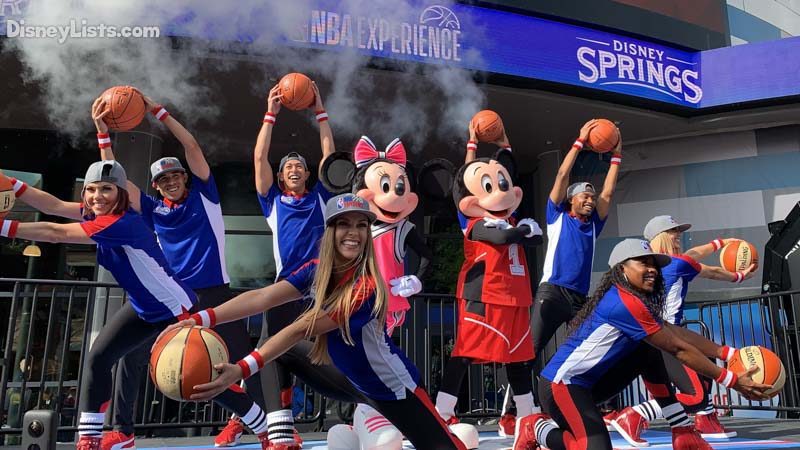 "NBA Experience lets everybody who loves the game, live it," said Bob Iger. "We're excited to open the doors to a fun and unique experience for fans of all ages."
NBA Commissioner Adam Silver also shared his excitement. "I want to thank Bob Iger and the Walt Disney Imagineering team for capturing the authentic NBA experience at this landmark destination at Disney Springs." "Disney creates memorable experiences better than anyone, and we are thrilled to share the excitement of NBA basketball with fans and Walt Disney World guests from around the world."
Click here to watch the opening ceremony on our Instagram IGTV!
3 – 13 Different Stations to Enjoy
NBA Experience features something for everyone. Upon entry to NBA Experience, guests will feel as if they're walking through the players' tunnel at an NBA or WNBA arena. A ticket to NBA Experience grants access to every activity, in any order guests choose, with the ability to return to stations to improve performances or learn even more about the game, players, and teams they love. We had a chance to try out all of the experiences and had a lot of fun. At the stations requiring basketballs, there were NBA regulation, WNBA regulation, and kid-size balls so that guests can use the right ball for them.
NBA Experience Highlights
Dribble!– Test ball-handling skills with an interactive coach who leads a variety of dribbling routines. This one was a lot of fun, even for someone who has no idea what they are doing—like me.
Dunk! – Execute the perfect slam just like a superstar, captured by cameras surrounding height-adjustable baskets. This station was also a lot of fun. Because you can adjust the baskets, you can make some pretty amazing dunks!
Slingshot–Use an oversized slingshot to launch balls at hoops of varying heights, making as many baskets as possible before the clock runs out in this thrilling timed challenge. This was my favorite activity for the day, just because of its uniqueness. It was challenging, but a lot of fun.
Shoot! – Step onto the court and hear the roar of the crowd while maneuvering through a series of last-second shots before the clock expires. We enjoyed watching people get their shots off and watching the "crowd" get excited and cheer the player on. Well, except for the guy on his phone the whole time. Be sure to look for him on the screen. He's a lot of fun to watch.
Combine– Compare wingspan and vertical leap to NBA or WNBA players with this series of tests that replicates NBA Combine drills. This was interesting, and I learned a lot about my wingspan and vertical leap compared to other WNBA players. I also got to practice my free throws!
Draft – Experience one of the biggest milestones for a basketball player at the NBA Draft with a photo moment that re-creates the electric atmosphere of the Draft stage. This was a short, but fun experience where you get to be drafted and get a photo with NBA Commissioner, Adam Silver. Well, a wax-figure Adam Silver.
Replay– Take a seat at an interactive, multi-screen module to watch replay clips from NBA games and use tools at the station to make the right calls. This module was interesting as we got to watch replay clips and take the job of a referee and see if the right call was made. If you're an armchair referee, you'll love this one!
Players–Enter the off-court sanctuary of the locker room and explore current team rosters, records, and highlights. This area is a great place to take photos and learn more about your favorite players. This is a great spot for the super fan!
Champions– Be immersed in the rich legacy and history of NBA and WNBA championship teams and take a photo with replicas of the NBA championship and MVP trophies.
"Game Time" – Watch a heartwarming film about the in-arena game experience and the impact it has on a young woman and her father.
"Together"– Discover the amazing on- and off-court story of an NBA superstar in this inspirational, 180-degree cinematic presentation.
Arcade–Play interactive games, from the fan-favorite Pop-A-Shot to the latest NBA video games.
Trivia–Demonstrate knowledge of the NBA and WNBA – past, and present – during a multi-player, real-time contest. This one was fun, even though I really know nothing about basketball. If you have a knowledgeable fan in your party, they will love this!
4 – Tickets Required
A ticket to NBA Experience grants access to every activity, in any order guests choose, and they can return to stations to improve performance or learn even more about the game, players, and teams they love. Tickets to NBA Experience are $34 (plus tax) for guests ages 10 and older, and $29 (plus tax) for children ages 3-9. They are available wherever Walt Disney World tickets are sold, including Disneyworld.com/NBAExperience or any Walt Disney World ticket window.
Note: Tickets are valid through December 31, 2020, and provide one admission to NBA Experience; re-entry is not permitted. Age restrictions may apply. Prices do not include tax. All tickets are non-transferable and non-refundable and exclude activities/events separately priced. The amount paid for any unused ticket may be applied toward the purchase of a new ticket at the current price.
5 – NBA Store
The NBA Store adjacent to NBA Experience features:
A collection of official NBA and WNBA merchandise for adults and youth, including jerseys, apparel, headwear, basketballs, home goods, accessories, and limited-edition memorabilia
Walt Disney World products designed by Disney specifically for NBA Experience, including Mickey Mouse Ear Hats with a basketball-inspired cap and a Mickey Mouse basketball-themed mini-backpack
An assortment of Disney products featuring Mickey Mouse, Minnie Mouse, Goofy and Donald Duck in new basketball action poses
Customizable products, including phone cases, MagicBands and water bottles
NBA Experience-branded items, including backpacks, drinkware, basketballs, headwear, and apparel
Learn more about the NBA Store by clicking here.
6 – Final Thoughts and Recommendations
The NBA Experience is a slam dunk if you or your family are basketball fans. You'll have a lot of fun at the various stations working on your skills, learning more about the game, and getting a lot of great photos. If you're looking for a unique activity at Disney Springs, this can be an excellent option for families. Comparably, 1.5 hours of bowling at Splitsville costs anywhere from $14-$22 depending on when you play. An eight-minute balloon ride on Aerophile costs $20. You'll spend much more time at the NBA Experience, so the price is on par with other activities that Disney Springs has to offer. We figure you could easily spend three to four hours here. Keep in mind that there is no re-entry. So, you'll want to get everything you want to experience done before you leave.
Since there is no re-entry, you'll want to plan ahead for your experience. Be sure to wear (or bring) athletic shoes and wear comfortable clothing since you'll be moving around a lot. You'll also be asked to sign a waiver before starting your activities; children under 18 will need a parent or guardian to sign the waiver for them. For convenience, you may view the waiver in advance at disneyworld.com/expwaiver.
Also take note that there is no food and beverage to purchase in the building–that includes water. There are water fountains with a water bottle refill station near the restrooms, so you may want to bring a water bottle to use as you play throughout the experience.
Check out our Instagram Story for complete coverage, including lots of photos and video from our day at the NBA Experience.
For a no obligation, FREE Quote on a Disney vacation package, please contact our travel partner Magical Vacation Planner at 407-442-0227 (407-442-0215 for Spanish). You can also request a FREE quote online by Clicking HERE.