This past summer, Disney Villains After Hours, debuted at Magic Kingdom Park and was a huge hit. Disney has announced the return of the special ticketed event, adding 14 additional nights and with spring and summer dates being offered. Catch all the details below!
Here are all the details from Disney cast member Sara Domenech:
Guests loved Disney Villains After Hours so much that next year it is coming back to Magic Kingdom Park with more nights and more wicked fun for all!
In 2020, the event will take place on 24 select nights from February 7 through July 10! Yes, that's 14 additional nights!
Disney Villains After Hours is bringing back the villain-themed elements guests loved:
"Villains Unite the Night" stage show. Hades and Meg from "Hercules" will set the castle stage ablaze in this exciting and villainous show which also features appearances by Jafar, The Queen, Dr. Facilier and Maleficent.
Spot Maleficent the Dragon. Maleficent the Dragon, with her Steampunk style and signature wicked grin will be let loose at night – breathing fire as she creeps through the park as a one-of-a-kind experience for party guests.
Dance the night away at the Cinderella Castle Forecourt stage, where a party DJ will be spinning some sick beats, transforming the entire Central Plaza of the park into a killer club scene.
Discover surprising, villain-inspired additions to Pirates of the Caribbean and Space Mountain.
Eat and drink wickedly good food & beverages. A variety of specialty food & beverage offerings will be available for purchase, including tasty desserts, drinks, and dishes inspired by your favorite villainous friends.
Event attendees can purchase exclusive merchandise as well as items from a curated collection of the best Disney Villains merchandise available.
Enjoy low wait times at more than 25 attractions and experiences after the park closes to day guests.
Tickets for Disney Villains After Hours go on sale today! You can purchase tickets in advance for $145 plus tax or $155 plus tax on the event night. That's at $10 savings if you buy early! Plus, Annual Passholder and Disney Vacation Club Members can take advantage of a $30 discount. Limited tickets are available, so get yours soon!
Event tickets allow entry as early as 7 p.m., which gives you time to enjoy fireworks before heading off to the attractions. Select complimentary snacks and beverages are also included in the cost of admission.
And don't forget to show off your sinister side by dressing in attire inspired by your favorite baddie and sharing your experience using #VillainsAfterHours.
As a reminder, this event does not include character greetings with the Villains.
For more information on Disney Villains After Hours and to purchase your tickets, visit DisneyWorld.com/VillainsAfterHours or call the Disney Reservation Center at (407) 939-2742.
RELATED ARTICLE: Disney Villains After Dark – 12 Things You Need to Know About this Wickedly Fun Event
by Chad and Cindy Nykamp
Disney Villains After Hours debuted last week, and the event brings the best of Disney After Hours and villainous entertainment together. The event runs on select nights at Magic Kingdom Park this summer. Here are the 12 things you need to know about this wickedly fun event.
1 – Disney After Hours
Disney After Hours is a separate ticket event that began in April 2016. Offered on select nights throughout the year, guests pay to have access to twenty-five attractions with little to no crowds in the Magic Kingdom Park. The event has now expanded to include Disney's Hollywood Studios and Disney's Animal Kingdom Park.
The event runs three hours long, but your ticket will grant you access to the park three hours early, for a total of six hours. The most significant selling points to the Disney After Hours events are the low crowds and wait times. Disney caps the attendance for these events, so you get the benefit of riding multiple attractions throughout the evening with way shorter than average waits or even no wait at all.
Also included with your admission are unlimited novelty ice cream treats, select bottled beverages, and popcorn. A Mickey Bar now costs close to $6, and bottled drinks run $4-5 each. So, these included snacks are a great addition to the evening, and they off-set the overall cost of the night. Granted you might not eat four Mickey bars in one evening on a regular night, but when they are included in the ticket—why not? During the evening, we took advantage of these items and left satisfied!
2 – Disney Villains After Hours
While Disney After Hours events are usually not themed, this year Disney introduced its first themed Disney After Hours event with Disney Villains After Hours. The Villains themed event offers the same great benefits of a regular Disney After Hours evening but adds in some really cool extras!
Guests with Disney Villains After Hours tickets can enter the park at 7:00 pm on the night of the event. You'll want to enter at 7:00 pm to get the greatest value out of your admission. Use the first three hours to do things that are not available during the event, like watching Happily Ever After and meeting characters. Then, at 10:00 you'll be ready to enjoy the event!
Not surprisingly, the Disney Villains After Hours event costs a little more than a regular After Hours event. The Disney Villains After Hours is $145 in advance, while a Disney After Hours event is $129 in advance. Disney Vacation Club Members and Annual Passholders pay $115 for the Disney Villains After Hours, while they will pay $99 for a Disney After Hours Event.
Here's a look at the new elements added into the Disney Villains After Hours:
Disney Villains stage show
Enhancements to two attractions
Maleficent the dragon roaming Magic Kingdom Park at night
Specialty food & beverage
Event merchandise
Special themed castle projections, other projections around the park, and special lighting on Main Street USA
A villainous surprise at the exit
We thought getting all of the above for only $16 more was a bargain. If you're a Villains fan, we feel this event is a no brainer, but let's take a closer look at each of these extras.
3 – A Brand-New Disney Villains Stage Show
Villains Unite the Night is an all-new, nearly 30-minute stage show staring Hades, Meg, The Queen, Maleficent, and Jafar. Disney Cast Member Shawn Slater describes the show:
A dark magic is taking over Magic Kingdom Park and inviting you to run amuck in the Villains' scary world. The party DJ gets things lit, energizing the castle stage with sick beats and transforming the entire Central Plaza of the park into a killer club scene. As the party heats up, the DJ introduces your "Caretaker" for the evening, the Lord of the Dead, Hades, who arrives in a burst of blue flames for the all-new show, "Villains Unite the Night."
With Meg by his side, Hades sits atop his dark throne awaiting the alignment of five planets, following a prophecy that states when the five come together he will be able to rule the universe. But this dastardly plan doesn't go quite as expected, when an assemblage of Disney Villains interrupts his party. Jafar, The Queen, Dr. Facilier and Maleficent arrive with henchmen in tow, prepared to showcase their power with spine-tingling displays of skill. It seems these Villains have also heard the prophecy and believe they are the ones who will rule all.
The show was energetic and fun. The castle projections were stunning as always. Hades was great, and the acrobatics and skills of the dancers were outstanding. I kept waiting for them to break out into song, though! It was a bit weird to have a stage show with no singing, but it worked. And it keeps it different from the absolutely fantastic, "Hocus Pocus Villains Spelltacular" that you can watch at Mickey's Not So Scary Halloween Party.
The show runs three times during the evening at 11:00 pm, 12:00 am, and 1:00 am. We HIGHLY recommend you watch the 1:00 am show to maximize your event time. The event runs from 10:00–1:00 am. Rides close down at 1:00 and so you can get extra event time by watching this last show. Since the show is nearly 30 minutes, that's a lot of extra ride time. After the 1:00 am show, stick around for the last showing of Maleficent, and you've added an additional 45 minutes to the event (see more at #5).
4 – Villainous Enhancements to Fan-Favorite Attractions
During the 2018 Mickey's Not So Scary Halloween Party, new enhancements were added to Pirates of the Caribbean and Spaceship Earth. Disney has added these enhancements to both attractions during Disney Villains After Hours.
When riding Pirates of the Caribbean, you'll find live pirate actors in the attraction. We encountered two in the queue and one during the actual ride. Last fall, we didn't think this enhancement quite lived up to what it could be. I thought this time around it really did add to the overall experience and I feel that they really did improve the experience.
One of the highlights for us last year during the Halloween Party was riding in "deep space" on Space Mountain with all lights off in complete darkness. During the Disney Villains After Hours, you're still traveling in almost complete darkness, but the soundtrack has been changed, and you'll hear Disney villains throughout the ride. We love riding Space Mountain in total darkness and love that they've added this to the evening's offerings.
 5 – Maleficent the Dragon
Usually, you can only catch Maleficent the Dragon during the Festival of Fantasy parade that takes place during the afternoon. For the first time ever, Maleficent roams the park breathing her fire. It was awesome to catch her during the evening. She also appeared to have special lighting. Seeing Maleficent should definitely be on your must-do list for the party. Thankfully, catching her doesn't take long. She appears three times throughout the evening. At 10:40 and 11:45, she begins and ends in Frontierland. (She follows the parade route but makes a turn at the Hub and returns back to Frontierland). At 1:20 am, she begins in Frontierland and makes her way all the way down to Main Street, USA. If you are watching the Villains Unite the Night stage show at 1:00, stick around because shortly after the show Maleficent will arrive at the Hub and you can follow her down Main Street. It was a really cool way to end the evening!
6 – Wickedly Good Food & Beverage
Even though the novelty ice-cream bars, select bottled beverages, and popcorn are included with your admission, there are some party exclusive food and beverages that are available for purchase. Click here for the Foodie Guide for the event including photos, descriptions, and where you can find the items. We did not end up purchasing any extra treats during the night. We were happy with the included items mentioned above. But if you're looking for an exclusive treat, then you're in luck with Disney Villains After Hours.
7 – Event Merchandise
Also available to purchase are event-exclusive merchandise. There is also a variety of Villains themed merchandise featured (but you can get these anytime). You'll find these items at the Emporium, Plaza del Sol Caribe Bazaar, Memento Mori, Fantasy Faire, Tomorrowland Light & Power Co., and Mickey Star Traders. Click here to get a look at some of the items you can purchase at the event.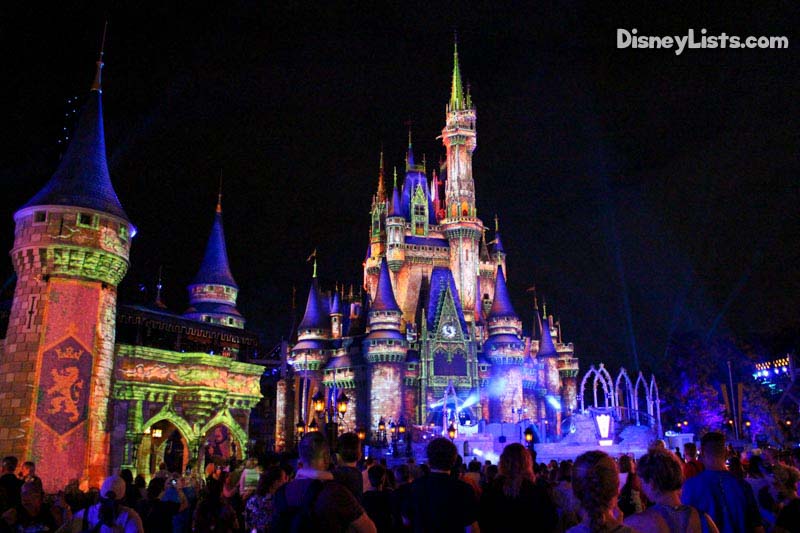 8 – Special Castle Projections, Lighting & Mood Music
The day after the event, I was reading a post on Instagram where the person was complaining that there were no decorations for the Villains After Hours. I wondered if we attended the same event. This isn't the Halloween Party so don't expect the park to be decorated top to bottom every Thursday; however, Magic Kingdom is transformed for the party. Throughout the night Cinderella Castle has special "spooky" projections that are entirely new. Main Street USA has a different lighting theme that is also different than the Halloween Party. The logo of Disney Villains After Hours is projected on walls and sidewalks. There are event-exclusive photo opportunities, including Magic Shots. You'll also hear "malevolent music" that sets the tone for the evening. Simply put Magic Kingdom does look and feel different than normal and certainly is different from the Halloween Party and a regular Disney After Hours event.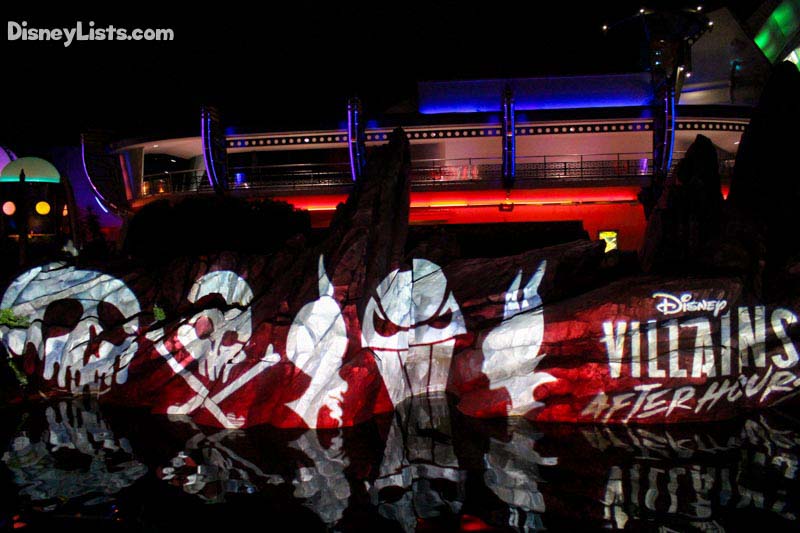 9 – A Special Farewell from Villains
At the end of the evening, we were treated to eight Disney Villains that were interacting with the crowds from the train station as we were leaving the park. The Queen of Hearts, the Bowler Hat Guy, Gaston, Anastasia, Drizella, the Evil Stepmother, Cruella Deville, the Big Bad Wolf, and Captain Hook were all there talking to the crowds. We saw the villains after we followed Maleficent down Main Street USA around 1:40 am. They left around 1:50 am. This was a nice treat at the end of the evening.
10 – What You Won't Find at Disney Villains After Hours
Speaking of seeing the villains do not expect to line up for character greetings during the event. They are not out. Disney has tried to get the message out that they are not there for meet & greets, though many were still surprised to find out they were not available and complained. If you read about the event information on Disney's website, they do warn you that villains will not be greeting guests. So, while you can see them in the stage show and at the end of the night, you won't get to greet them.
Also, be warned that you will not find any other characters to meet during Disney Villains After Hours. During a regular Disney After Hours event at Magic Kingdom, you'll find plenty of characters like Mickey and the princesses at various locations. We spoke to some Disney cast members responsible for managing the event, and they told us they ultimately decided not to include regular Disney character greetings because they don't go well together. Mickey Mouse is not a villain. So, when attending the event, if you want a photo with Mickey and Minnie or any other Disney character, be sure to do that during the regular operating hours between 7:00–10:00 pm.
11 – Let's Talk About Wait Times
Overall, we really enjoyed the evening. You'll be amazed though how quickly three hours fly by. We attended the first night of Disney Villains After Hours, and it was sold out. We've attended Disney After Hours events at Magic Kingdom, Animal Kingdom, and Hollywood Studios, but we've never done those on sold-out nights. I will admit that I was a bit surprised at the crowd levels. While it's nothing compared to a regular day or even Mickey's Not So Scary Halloween Party, it was more crowded than any Disney After Hours event we've attended.
We did walk on to The Many Adventures of Winnie the Pooh, Peter Pan's Flight, Buzz Lightyear, and the Barnstormer. We noticed the Mad Tea Party, Dumbo, The Magic Carpets of Aladdin, and the Jungle Cruise were also walk-ons. We did wait about 15 minutes for the Speedway and almost 27 minutes for Seven Dwarfs Mine Train at 12:30 pm. We waited about 15 minutes for Pirates of the Caribbean shortly after 10:00 pm. We were able to ride Space Mountain twice but did wait about 10-15 minutes each time. Also, Splash Mountain was closed due to technical difficulties, so that was a bummer, but it should be open during other Villains After Hours events.
When writing this article, I decided to check the wait times for these attractions on a regular summer day (a Monday at 5:40 pm) and here is what I found. I also put the wait times we experienced in parenthesis for comparison.
Pirates of the Caribbean – 20 minutes (10 min)
The People Mover – 20 minutes (walk-on)
Mad Tea Party – 25 minutes (walk-on)
Under the Sea – Journey of the Little Mermaid – 30 minutes (we didn't ride)
Dumbo – 35 minutes (walk-on)
Tomorrowland Speedway – 35 minutes (15 min)
Buzz Lightyear Space Ranger Spin – 50 minutes (walk-on)
Magic Carpets of Aladdin – 50 minutes (walk-on)
Barnstormer – 65 minutes (walk-on)
Big Thunder Mountain – 85 minutes (we didn't ride)
Peter Pan's Flight – 85 minutes (walk-on)
The Jungle Cruise – 90 minutes (walk-on)
Space Mountain – 90 minutes (15 min)
Splash Mountain – 110 minutes (down for the evening)
Seven Dwarf Mine Train – 130 minutes (27 min)
Even for a sold-out Disney After Hours event, your waits are going to be significantly less than you would experience during regular operating hours. That's the beauty of Disney After Hours. You can get so much done! In three hours we rode Aladdin, Pirates of the Caribbean, Space Mountain (twice), Buzz Lightyear (twice), The People Mover, Barnstormer, Tomorrowland Speedway, Peter Pan's Flight, it's a small world, and Winnie the Pooh. Looking at the wait times above, it would take 10.5 hours of just wait time to ride all of those attractions on a typical summer day. Add in the included ice cream, drinks, popcorn, and the villain's theme, and you've got yourself a great value. We got so much done and enjoyed some really great entertainment along with it.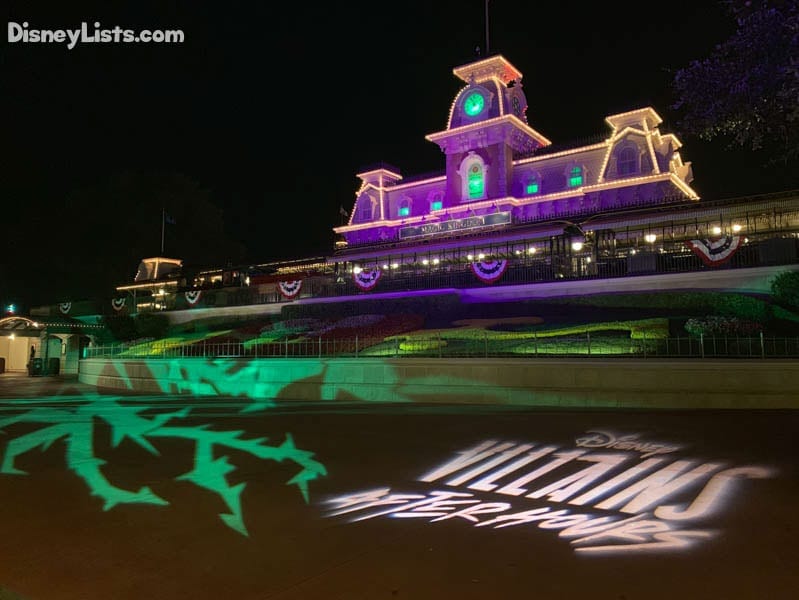 12 – Overall Thoughts and Recommendations
As you might surmise, you'll be staying up late. In fact, we left the park at 2:00 am (we were one of the last to leave). Parents might want to consider the ages of your kids and how they would handle such a late night. You'll want to plan the next day accordingly. For instance, you won't want to schedule an 8:00 am breakfast the next day. Be mindful when you select your next-day FastPasses so they aren't in the morning. It took a couple of days for me to fully recover from my lack of sleep, but I do think it's totally worth it.
We've given some tips throughout the article, but here they are for quick reference:
Arrive at 7:00 pm, so you enjoy all of the available time of the event.
During 7:00–10:00 pm, do what you can't do during the event.
Come hungry and thirsty to take advantage of the included ice cream, popcorn, and drinks.
Expect the first 20-30 minutes to be a bit more crowded as regular day guests are leaving.
Catch the Disney Villains Unite the Night Stage Show at 1:00 am so you have more time for attractions.
End the evening following Maleficent down Main Street USA.
Stay and say goodbye to the Disney villains at the Main Street USA train station.
Be mindful of your schedule the next day so you can recover from your late night.
Disney Villains After Hours was a well-done themed evening. You get the benefits of a Disney After Hours event such as low wait times and included treats, as well as some great villainous entertainment. It costs a little more than a day ticket, but you'll get more done in those three hours than you would during a typical summer day. It's not as hot, and you don't have to fight the crowds. We think this one is a real winner!
Editor's Note: The Walt Disney Company provided us with complimentary Disney After Hours passes. However, the thoughts and opinions contained in this article are completely our own.
For a no obligation, FREE Quote on a Disney vacation package, please contact our travel partner Magical Vacation Planner at 407-442-0227 (407-442-0215 for Spanish). You can also request a FREE quote online by Clicking HERE.