Epcot is known for being a foodie paradise no matter what time of year. This month, however, there are a lot of new offerings in addition to the selections at the Food and Wine Festival. With so many new things to try and experience, now is an excellent time to get over to Epcot. Catch all the details below.
Here are all the details from Disney cast member Alex Dunlap:
Between the new nighttime spectacular, "Epcot Forever," the opening of Walt Disney Imagineering Presents the Epcot Experience, the Epcot International Food & Wine Festival, and all of the new dining experiences and attractions coming to Epcot, it's an exciting time to be eating your way around World Showcase! On this Epcot edition of Disney Parks Foodie News, I have a few announcements and some new menu items to share with you.
First up, there have been a couple of new openings this month as part of the Epcot International Food & Wine Festival. Just head on over to Future World East near Test Track to try out The Donut Box and Cool Wash. At The Donut Box, you'll find Sweet Corn Fritters with Fresno and red pepper jelly as well as Strawberry-dusted Yeast Donut Holes. On the beverage menu here are several sweet sips including a Strawberry Smoothie (garnished with a donut hole) and, for guests over the age of 21, a Black and White Coffee Cocktail garnished with a fresh yeast donut with chocolate espresso bean crumbles, plus a Central 28 Beer Company Boston Cream Donut Ale.
Right next door, Cool Wash has reopened with an array of fun slushies! You can now have an interactive experience by creating your own custom slushy blend from six frozen carbonated beverages. Choose from Coke, Fanta Cherry, Fanta Orange, Fanta Banana, Fanta Watermelon and Blue Raspberry – all frozen! In addition, you can even choose to top your slushy with candy pebbles, popping pearls, jelly drops, or popping candy. Those over 21 can also enjoy a Coca-Cola Orange Vanilla with gin in a souvenir cup.
Both The Donut Box and Cool Wash will be open through the remainder of the festival, which runs through Nov. 23, 2019. For more info on all of the marketplaces and menus this year, check out this Foodie Guide!
Also located in Future World, Coral Reef Restaurant will be offering a commemorative menu to celebrate the 30th anniversary of Disney's animated classic, "The Little Mermaid." With menu items like the Dinglehopper Shrimp Cocktail, Chef Louis' Lobster Seafood Boil, and King Triton's Key Lime Tart, this is a menu you'll definitely want to dive right into! When you dine here, you'll also be able to take home a beautiful commemorative menu (only available while supplies last). This limited-time menu will be available starting Oct. 19. To make reservations, visit the Walt Disney World Resort website or check out the My Disney Experience mobile app.
Finally, a new kiosk is coming to the Italy pavilion in World Showcase. This new location will replace the current gelato cart and will be operated by Patina Restaurant Group. The kiosk will be scooping up 12 different varieties of gelato and sorbet, including gluten-friendly and plant-based flavors. Its seasonally updated menu will also use locally sourced fruits. Stay tuned to the Disney Parks Blog for more details to be announced soon!
For more information on all of the locations listed above or to make reservations, visit the Walt Disney World Resort Dining Page or check out the My Disney Experience mobile app. Happy snacking!
RELATED ARTICLE: 8 Strategies for Making the Most of the Epcot Food & Wine Festival
by Chad and Cindy Nykamp
It's the most wonderful time of the year! No, we're not talking about Christmas. We're excited that the Epcot International Food & Wine Festival is finally here! It's one of the top reasons fall is such an amazing time to visit Disney World. As amazing as this festival is, it can be overwhelming for first-timers and veterans alike. With over 30 global marketplaces to visit, special dining experiences, seminars, and concerts, not to mention big crowds, navigating the festival can be tricky. We're all about maximizing your time and enjoyment at the parks.
Over the years, many weekends, and many, many dollars, we've learned a thing or two about how to tackle the festival. Here are our top 8 tips for experiencing the Epcot Food & Wine Festival.
8 – Have a Plan
It's best to review the menu options before you head to the Food & Wine Festival. There are literally hundreds of choices once you get there. Out of those hundreds of options, there is always a handful that I know I need to have the second I hear about them. I want to make sure I don't miss those favorites, so I plan what I want to get first. If you still have room after that, keep going.
Click here for photos of every menu board with prices and snack credits for easy planning.
7 – Get a Passport
The Festival Passport is a fun and helpful way to keep track of everything you've done during the festival. We highly recommend using this passport for many reasons. First, it's an entertaining challenge. It's fun to go to each marketplace and place your sticker that shows where you have visited. Second, it's a great way to plan your "must-haves." We always start at the festival center and highlight the items we really want to enjoy so we make sure we don't miss anything we were looking forward to. Also, it's a great way to track what food and drink you have actually tried. With so many choices, after a while, it can get challenging remembering what you have and have not had. We like to have a goal to get one item from every marketplace. Using the passport throughout the festival, we can easily see which market places we still need to visit. Finally, in the end, they make fantastic souvenirs.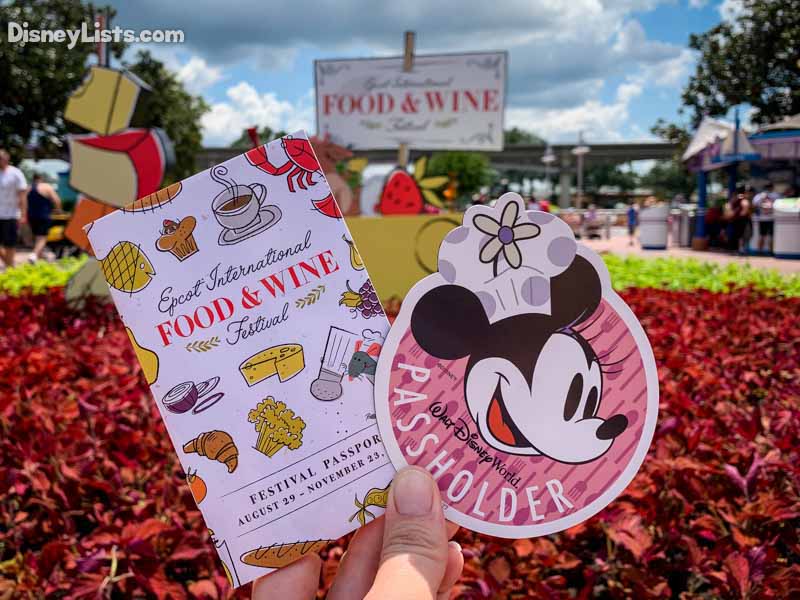 6 – Try at Least One Special Experience
Food & Wine Festival isn't just about getting a bite to eat. It is a celebration of food and drink and the art of creating it. I've always felt strongly that great food is about more than just sustenance. It's art and entertainment. That's one of the reasons we love this festival so much. Beyond the global marketplaces, Disney has incorporated dozens of special events and experiences. Some of them are paid, but many are free. Carve out time for at least one.
Click here for our 2019 Epcot Food & Wine Preview where we highlight many of the extra experiences available.
5 – Use Your Dining Credits Wisely
For those of you on the Disney Dining Plan, you will have one or two snack credits a day, depending on which dining plan you have. Using those credits during the festival can be an excellent way to save some significant money and get maximum value from your plan. Most menu items at the festival can be purchased with a snack credit and are often significantly more expensive than usual park snacks like popcorn or ice cream. Clearly, all snack credits are not created equal. We recommend using the credits for those most expensive festival items and use your cash for the items that you have to pay for. Another reason to check the menu ahead of time and have a plan.
Click here for photos of this year's winners of the best snack credit value from our Instagram account.
4 – Get a Gift Card
Disney has made it really easy to spend money during the festival (that's good and bad news). Every year, they release gift cards that have the festival logo you can wear around your wrist. There are a few reasons you'll want to take advantage of the gift cards. First, it makes it paying for your items significantly faster! We all want the lines to move as quickly as possible. Do your part by using a festival gift card. Gift cards can be purchased and reloaded at many locations and can be loaded using cash or credit card.
It will also help you stay within a spending budget. The festival is not cheap, especially if you want to sample a lot of offerings. By purchasing a gift card, you can (try to) force yourself only to spend what is on the card. Blindly, charging here and there on your MagicBand or credit card can quickly get out of control.
Finally, it makes reviewing your credit card statement or balancing your checking account a lot easier. Instead of dozens of small charges, you have one charge. You can also easily replace a lost gift card if you keep the receipt.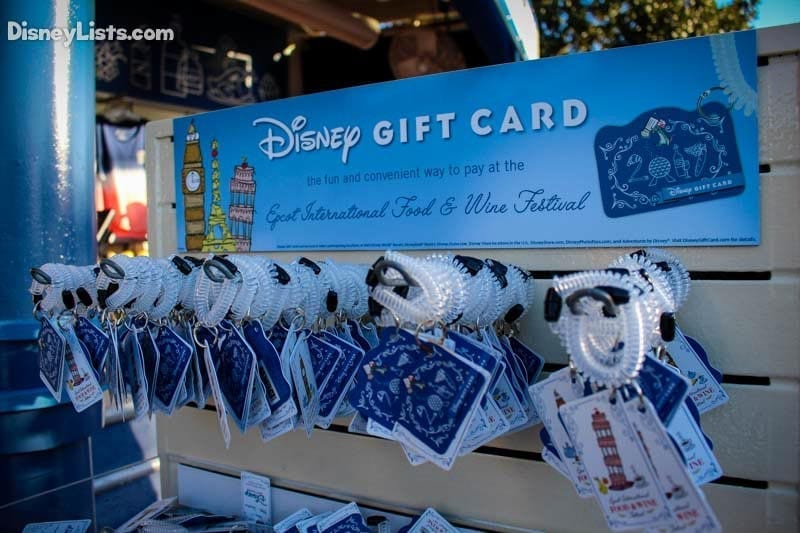 3 – Spread It Out
Epcot Food & Wine Festival is an event best spread out, both over time and physically. It's tough to get everything in throughout one crammed day. Unlike experiencing a park where your only limits on conquering everything are the park hours, at the Food & Wine Festival you have to contend with the size of your stomach and alcohol tolerance. If you are going to be at Disney World for multiple days and have a park hopper pass spread Food & Wine out over your entire stay. Plan a couple of hours of tasting each day rather than one marathon session. Better yet, replace one meal a day with a trip around the world.
We usually recommend experiencing all the attractions you want to in one area before moving on to avoid bouncing all over the park and adding a lot of time and mileage going back and forth. This is isn't one of those times. You'll do a little more walking, but we like to hit a marketplace on our list and then skip three or four making two or three laps around the lagoon instead of doing everything in order. It spreads the consumption out more and keeps us from getting too full or too tipsy too early. It also prevents our experience from becoming all lines and stuffing our faces and allows time for conversation and enjoyment of the atmosphere.
2 – Try New Things
We have a rule in our family; you must try everything, even if it's just one bite. We have famously picky eaters in our family, but to their surprise, they found new favorites when actually trying new things! Crazy, I know! There are so many different foods to try, and we encourage you to take advantage of the extensive offerings, by trying foods you wouldn't normally eat.
The best thing about the Food & Wine Festival is the opportunity to try new flavors from around the world without committing to a whole meal. Just a taste of a sample is a pretty low risk. We still get our favorites, year after year, but we also make sure to try new offerings. That's one of the great things about the festival, there are always so many new things to try!
1 – Share
Disney World is about creating and sharing memories with other people. Food & Wine Festival is a great place to do that. If you are traveling with a group of people, take the opportunity to share. Instead of everyone getting their own individual food items, plan for each person to get something different and then everyone gets a taste of everything. It's a great way to multiply the number of things you can try and create some conversation as you discuss and rate things as a group. There are disposable utensils at every kiosk to make splitting food up in a sanitary way is easy. If you discover something amazing and you just have to have a full serving you can always go back for seconds.
Epcot's Food and Wine Festival is Disney at it's best and is a fantastic opportunity to experience the adult side of Disney World. Soak up as much as you can and make sure you try the Canadian Cheddar Soup.
For a no obligation, FREE Quote on a Disney vacation package, please contact our travel partner Magical Vacation Planner at 407-442-0227 (407-442-0215 for Spanish). You can also request a FREE quote online by Clicking HERE.