Planning a trip to Walt Disney World can be fun, but incredibly overwhelming. There is so much to see and do, and every family has their own personal park traditions. However, there are some experiences that are considered must do's among every Disney World fan, and by adding these to your vacation itineraries, you'll be sure to make the most out of your visit!
Editor's Note: We understand that with the phased reopening of Walt Disney World, some of the advice in this article may not apply if you visit while park hours are reduced, capacity limits and physical distancing are in place, and some of our favorite experiences—fireworks, parades, and character greetings—are temporarily suspended. (You can read everything you need to know about the phased reopening by clicking here). We will continue to share articles that give guidance on a "normal" vacation to Walt Disney World, along with any special changes or instructions you may need to be aware of during the phased reopening to provide the best tips we can regardless of when you are visiting. ~ Chad & Cindy
7 – Resort Hopping  
At Disney, the fun doesn't stop at the theme parks. The resorts at Disney World are plentiful, and each one has a different theme. It's definitely worth checking out a few of the resorts if you have time, especially the ones on the Magic Kingdom monorail loop- the Grand Floridian, the Polynesian, and the Contemporary. A few of my other favorite resorts to explore are the Animal Kingdom Lodge (where you can gaze out upon a real-life savannah); the Art of Animation, which has buildings themed to Finding Nemo, Cars, the Lion King, and the Little Mermaid; and Fort Wilderness, which has plenty of activities that non-resort guests can partake in, such as horseback riding and a campfire singalong. Whether you get there by boat, monorail or bus, checking out all the different resorts is a definite must-do.
6 – Pandora: World of Avatar
Pandora: The World of Avatar at Animal Kingdom is probably my favorite land in any Disney park. Avatar: Flight of Passage is the most amazing and unique attraction, and consistently draws large lines. Na'vi River Journey, while not as thrilling, is a serene boat ride that takes you through a bioluminescent forest. The food at Satu'li Canteen is delicious, and I always find myself craving a Night Blossom from the Pongu Pongu drink stand. Then, there is the land itself- waterfalls trickle down from enormous floating mountains, and at night, everything seems to come alive in a shimmery glow. Just like at Galaxy's Edge, there really is something for every family member to enjoy in this land! 
5 – Eat Around the World Showcase  
This one is hard to complete in just one trip- but that doesn't mean it isn't fun to try! When visiting Epcot, whether it's during a festival or not, exploring the countries throughout World Showcase is always at the top of my to-do list. I love to sample food from every single country- and the best part is, you don't need a fancy dinner reservation to try all the flavors of the world! The best way to stroll and shop around the World Showcase is by snacking. Some of my favorites are the School Bread in Norway, the Kakigori shaved ice in Japan, the brioche ice cream sandwich in France, and the cheddar cheese soup in Canada. Of course, if you (and your wallet) are up for it, you can pair these snacks with a tasty margarita from Mexico or a beer from Germany. In my opinion, eating around the World Showcase is a must-do, and it's a great way to fully experience Epcot!
4 – Star Wars: Galaxy's Edge 
Guests can now visit the Black Spire Outpost, on the planet of Batuu, at Disney's Hollywood Studios. The land is incredibly immersive, and you can enjoy it even if you're not a hardcore Star Wars fan. Aside from the theming and the feeling as though you have actually stepped foot on another planet, this land has incredible shopping and dining experiences. I love the fact that actually get to ride the Millennium Falcon- the experience is different every time you ride, thanks to some truly impressive interactive elements. After the ride, you can stop by Oga's Cantina for drinks, build a lightsaber or a droid, and sip on some blue milk while keeping an eye out for Stormtroopers. Finally, you don't want to miss Star Wars: Rise of the Resistance. It has quickly become the most popular attraction for a good reason. Star Wars: Rise of the Resistance delivers thrilling action driven by cutting-edge technology and innovative design that gives guests the feeling of stepping inside a Star Wars film. This land is definitely a must-do!
3 – Happily Ever After
Editor's Note: During the phased reopening of Walt Disney World, nighttime spectaculars, including fireworks shows, are temporarily suspended.
There's no better way to end a day at Disney than by watching fireworks burst over Cinderella Castle. Happily Ever After is a fantastic show, comprised not only of fireworks and lasers but incredibly detailed projections that bring the castle to life. The show also has a soundtrack that plays both classic and newer Disney hits. It's a show that draws huge crowds every single night, and I can think of no other way to end a day at the parks- even if it means staking out a good spot in front of the castle in order to get that perfect view. No matter how many times I see this show, Happily Ever After will always be a must-do! 
2 – Riding the Classics  
Can you really say you've been to Disney World if you haven't ridden Dumbo, or Pirates of the Caribbean or the Haunted Mansion? There are some rides that simply scream "Disney"- either because they've been around for years and have that nostalgia factor, or because they are so beloved by fans all over the world. Whether it's soaring over Neverland on Peter Pan's Flight or laughing at the backside of water on the world-famous Jungle Cruise, it's definitely worth it to spend a day riding all these attractions that have become just as iconic as the castle itself. So what if you get "it's a small world" stuck in your head all day?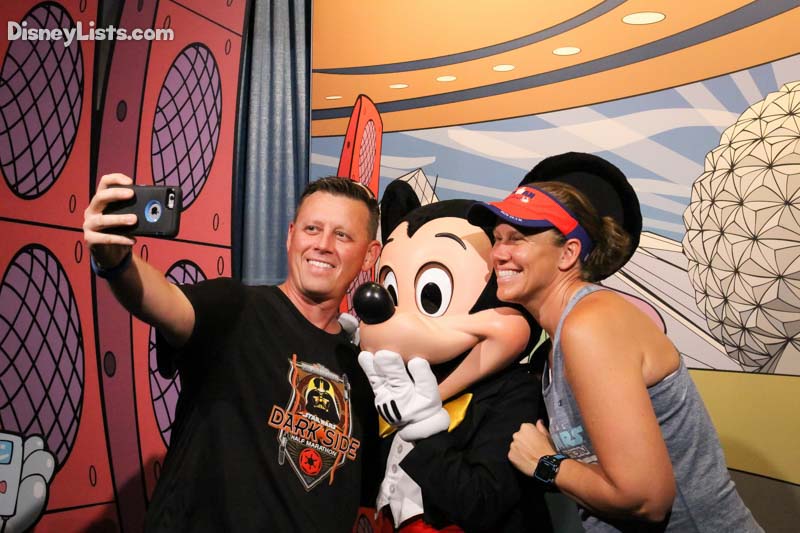 1 – Meet Mickey Mouse 
Editor's Note: During the phased reopening of Walt Disney World, character greetings are temporarily suspended. However, you'll still get plenty of chances to see Mickey Mouse. You'll see Mickey and other characters come through each park in short parades. Click here for more information on how to see characters during the phased reopening.
Odds are that if you're visiting Disney World, you're going to run into a character or two. Meeting characters isn't for everyone, but for those who enjoy filling out their autograph books, there is no better character to meet than the main mouse himself! Meeting Mickey is a classic Disney World experience and, well, he does give the best hugs. Plus, I've never seen someone leave his meet and greet without a giant grin on their face. So, if you can, set aside some time and give Mickey a high give (or rather, a high four). You won't regret it, and it'll make a great memory to look back on!
For a no obligation, FREE Quote on a Disney vacation package, please contact our travel partner Magical Vacation Planner at 407-442-0227 (407-442-0215 for Spanish). You can also request a FREE quote online by Clicking HERE.