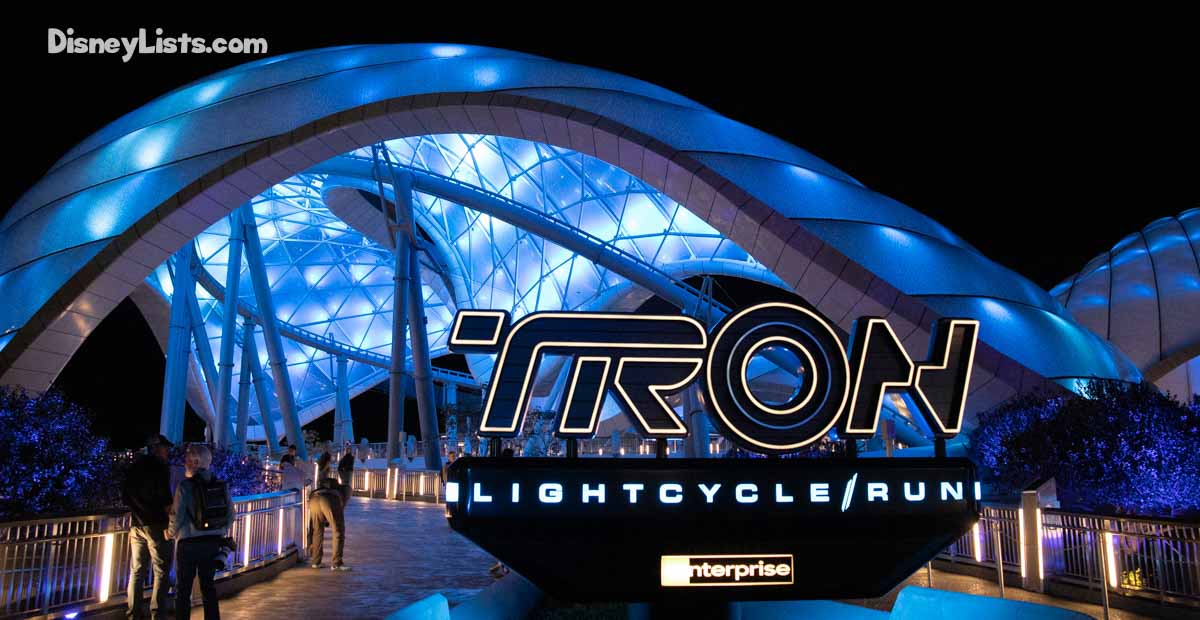 The latest Walt Disney World attraction, TRON Lightcycle / Run, takes guests, known as Users, into a mysterious game world. As members of Team Blue, guests board high-speed Lightcycles for a thrilling race through a dark, computerized world, facing off against a fierce group of Programs known as Team Orange. The attraction is now open for all guests to enjoy! Learn everything you need to know about this thrilling attraction below.
1 – A Perfect Addition to Tomorrowland
The new attraction, located in Tomorrowland at Magic Kingdom Park, is the fastest coaster attraction in a Disney theme park, alongside its sister coaster at Shanghai Disneyland. It masterfully blends coaster thrills with speed, visual effects, music, and a one-of-a-kind ride system to create an experience like no other.
With its massive, awe-inspiring "curved wave" canopy, the new attraction is a stunning addition to the Tomorrowland skyline. Lightcycle trains appear from seemingly out of nowhere, making flowing, high-speed twists and turns beneath the gleaming canopy as they launch onto the Game Grid. The experience is even more dramatic after dark as shifting patterns of light and color create a powerful visual for riders and bystanders alike. The attraction's 10-acre footprint is the largest expansion of Magic Kingdom since New Fantasyland opened in December 2012.
2 – The Story of TRON Lightcycle / Run
Following events in The Walt Disney Studios 2010 film, "TRON: Legacy," TRON Lightcycle / Run enables guests to enter the digital world via gateways that Grid creator Kevin Flynn's son, Sam Flynn, opened. The Magic Kingdom gateway complements another gateway located in Shanghai Disneyland. Sam created the Lightcycle / Run competition as a "friendly" way for Users and Programs to interact in a gaming-style, competitive event.
Learn more about the story of TRON Lightcycle / Run by clicking here.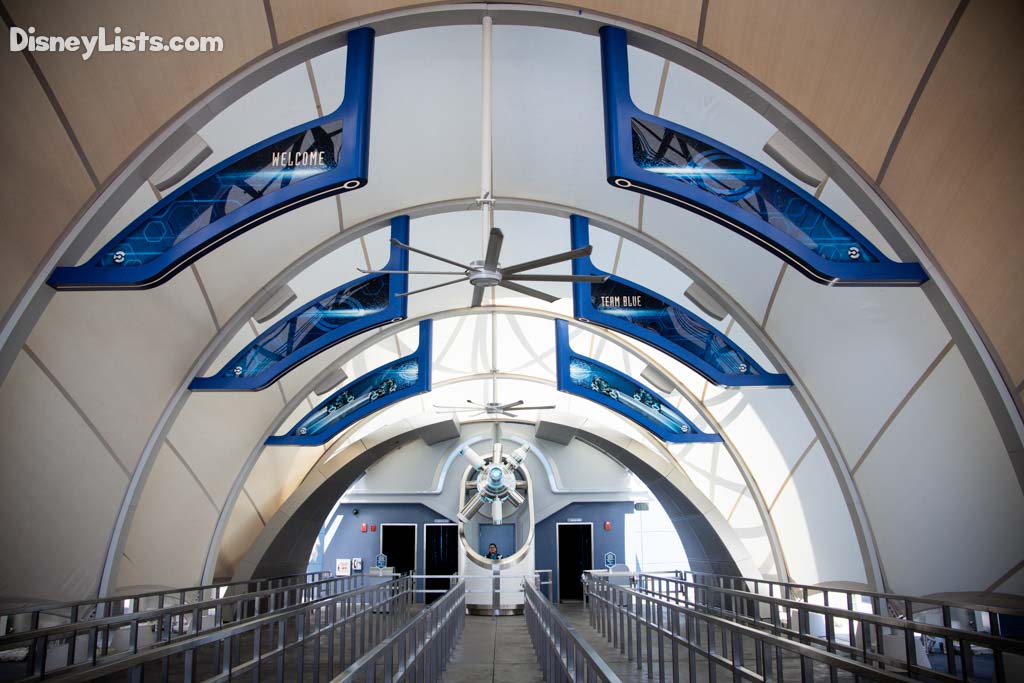 3 – Ride Requirements, Virtual Queue, and Individual Lightning Lane
First, be aware that this attraction has a height requirement since it's a roller coaster. Guests must be at least 48 inches tall to ride.
Second, there will be no standby queue for TRON Lightcycle / Run. Guests with valid park admission and Magic Kingdom Park reservations can request to join the virtual queue to experience the attraction via the My Disney Experience app on the day of their visit. The virtual queue is limited and subject to availability and is not guaranteed. The virtual queue process is the same as it is for Guardians of the Galaxy: Cosmic Rewind and what was used previously for Remy's Ratatouille Adventure and Star Wars: Rise of the Resistance.
The Virtual Queue becomes available at 7:00 am each morning, and you can be anywhere to join in. You'll want to join as soon as possible since, as expected, the queue will fill up quickly (only a few seconds) at the 7:00 am slot. If you miss out, you'll have another chance to join at 1:00 pm, although, at that time, you'll need to physically be in Magic Kingdom to join the Virtual Queue. We expect the Virtual Queue will be used for at least the first several months the ride is open. Do note boarding groups for the virtual queue are limited, subject to availability, and are not guaranteed. An evening Virtual Queue is available as part of the Extended Evening Hours benefit to guests of Deluxe Disney resorts. Deluxe Resort Guests can request to join at 6:00 pm.
Guests will also have the option to purchase Individual Lightning Lane entry for the attraction via the My Disney Experience app on the day of their visit. Lightning Lane purchases are limited in availability. Access to purchase Lightning Lane for the individual top-tier attractions is available to all guests at park opening. However, guests staying on Disney World property receive the benefit of early access to top-tier reservations and can make their purchases at 7:00 am on the day of their visit. Access to the Lightning Lane can hit capacity and will sell out, so we highly recommend you purchase access right at 7:00 am if you plan to purchase access. Prices will vary by date, attraction, and park. So far, Tron has been priced at around $20.
4 – Prepare for the Grid – Lockers for Your Gear
Because of the nature of the ride, guests cannot bring their belongings onto the attraction with them. To prepare for upload onto the Grid, guests will input bags, purses, hats, and other items into double-sided lockers that are opened and locked using a MagicBand, MagicBand+, or ticket media. The lockers are the same size as they are across Walt Disney World property. Medium-size bags should fit well, though larger bags may not fit. The lockers are free to use. For those who do not have a bag, smaller items such as cellphones, sunglasses, or wallets can be placed in a small compartment located on each Lightcycle. Following the race, guests will return to the real world and retrieve their belongings from the lockers. See the lockers in action in the video below.
5 – Onto the Grid – Lightcycle Ride Vehicles
The experience of TRON begins before guests board Lightcycles. After passing beneath the dazzling attraction canopy, they will enter a Digitizer for another powerful preview of what's in store when they join the games. Then it's time to board Lightcycles in the Sync Chamber and prepare for upload.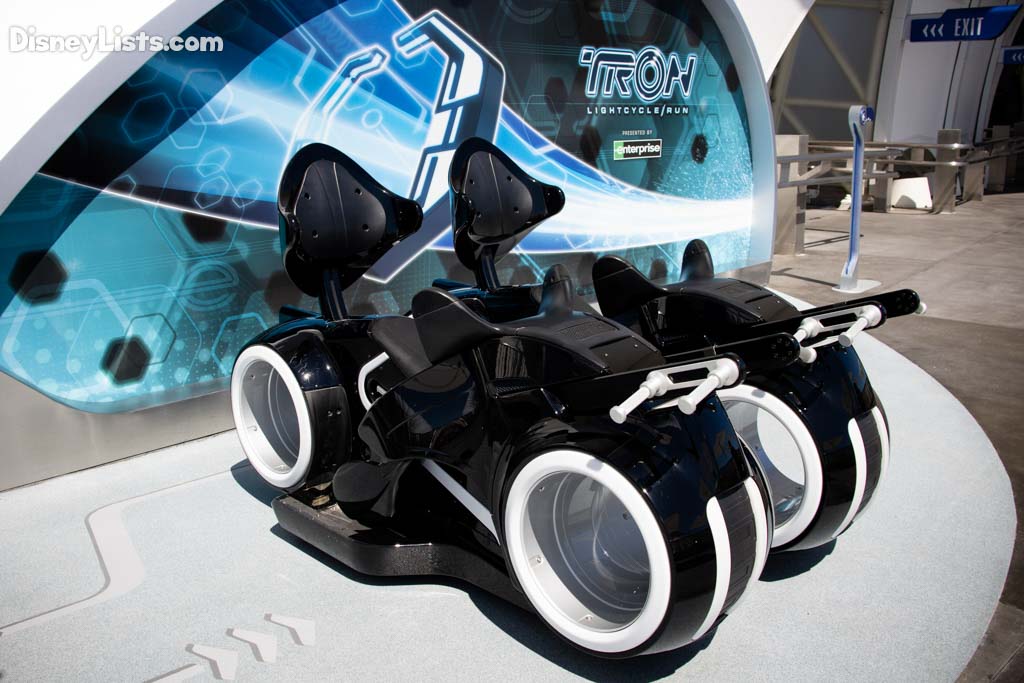 During the annual passholder previews, there was a lot of discussion on the Lightcycle ride vehicles. Many guests report they are a bit awkward and uncomfortable. Guests who may not fit or need accessible seating have the option to use the accessible row at the back of the train.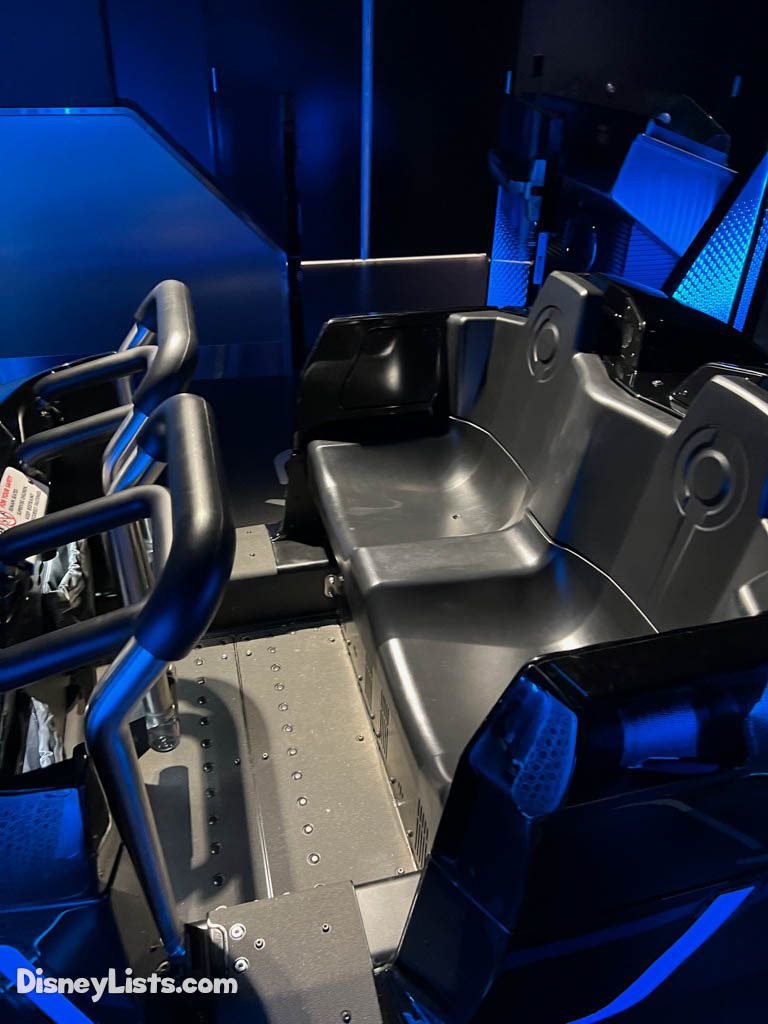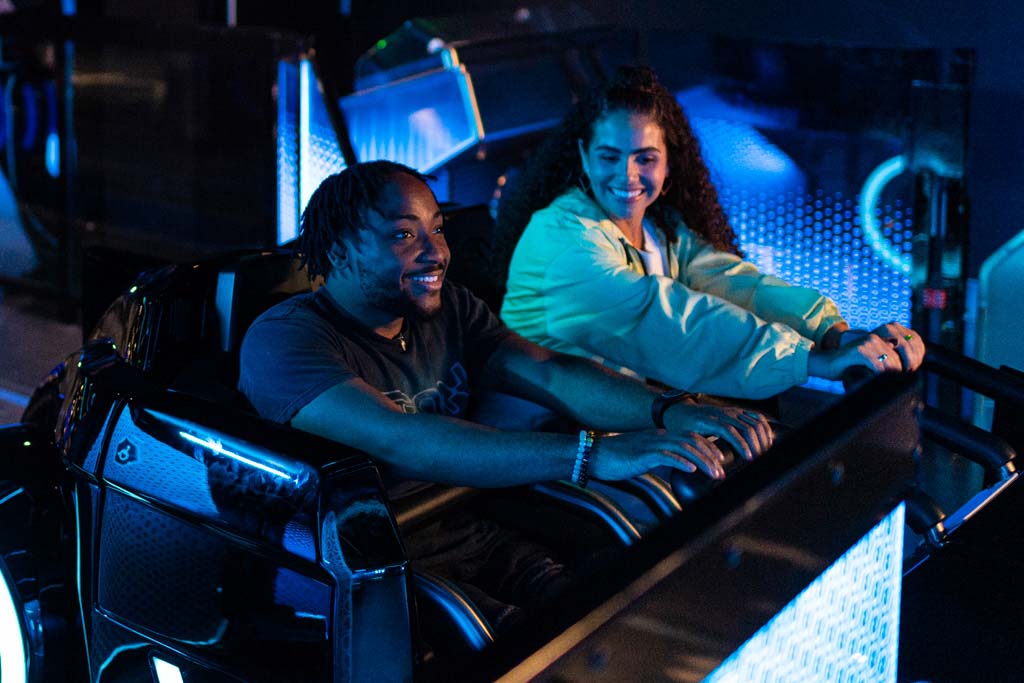 Here is what our Social Media Assistant, Adelei, has to say about the ride vehicles:
Overall, the bike seats were pretty comfortable. Lifting yourself off the bike is slightly awkward but is completely manageable. I also got to experience the accessible seats and really liked that ride experience. It allows you to see better all the visuals featured in the ride. Plus, because the accessible seat is the last car, you get the best experience in terms of really being able to feel the speed and see all the visuals. On the flip side, the bikes completely change how you experience the ride. While the accessible seats have their perks, it feels like you're riding a roller coaster, not racing on the grid. Basically, with the coaster seats, it's almost as if you are a spectator, whereas on the bike, you have the full racing experience.
6 – Our Thoughts on the Attraction Experience
Launching onto the Grid is an unforgettable experience for Users as their powerful Lightcycles arc gracefully beneath the towering attraction canopy and charge into a mysterious game world of light, sound, and speed.
Here is what our Social Media Assistant, Adelei, has to say about the ride experience:
I absolutely LOVED Tron. I love how incredibly fast but smooth the entire experience was. I also recommend riding at night because riding in the dark with all the lights flashing outside adds to the ride experience.
In comparison to Guardians of the Galaxy: Cosmic Rewind, the experiences are completely different. Cosmic Rewind is a story-focused attraction, while Tron puts the coaster and the seat experience first. While I love both, I would choose Cosmic Rewind over Tron if they were in the same park.
Ride along with Adelei by watching the video below:
7 – Disney PhotoPass Attraction Photos and Video
With Disney PhotoPass, Users have myriad ways to commemorate their experiences on the Grid with a special photo and video effects, including Magic Shots. What's awesome about this attraction is that they have cameras on both sides, so each person riding will be the center of the photo and video. See the post below to see both photos and both videos from the same ride on the attraction.
8 – Gear Up for the Grid with New TRON Merchandise
An all-new retail experience is the place to gear up for the Grid with racing-themed apparel, collectible pins, must-have toys, and light-up accessories, all inspired by the TRON films and the new attraction. Guests can also purchase and customize their own TRON action figures. Get a preview of the merchandise by watching the video below.
Click here for more photos and details on TRON Lightcycle / Run merchandise.
9 – Power Up at Energy Bytes
Energy Bytes, a new quick-service kiosk near TRON Lightcycle / Run, will put a fun spin on global cuisines. Items both savory and sweet offer nods to regional food offerings at Shanghai Disneyland, where the first TRON gateway is located.
Selections include:
Digital Dumplings – Choose from Buffalo Chicken: Chicken Dumplings, Blue Cheese Powder and Cayenne Pepper Broth; or Beef & Broccoli: Beef Dumplings, Broccoli Pesto and Ginger-Soy Broth
Strawberry IceOform – Strawberry Ice Cream Mochi, Graham Crackers and Cheesecake Foam Watermelon Refresher – A frozen beverage with Yuzu and Ginger
Chocolate Doughnut Holes with Mocha Sauce Joffrey'sTM Cold Brew Coffee with Mocha Sauce
The new "bytes" are the perfect way to power up for competition. For photos and more details about what's coming to Energy Bytes, click here.
10 – Final Thoughts
We love TRON Lightcycle / Run and think it's a fantastic addition to Tomorrowland and Magic Kingdom. It's crazy fast, yet smooth. And with two different ride experiences — daytime and nighttime — the attraction will keep guests coming back for more. We're sure it will be a huge hit!
For a no obligation, FREE Quote on a Disney vacation package, please contact our travel partner Magical Vacation Planner at 407-442-0227 (407-442-0215 for Spanish). You can also request a FREE quote online by Clicking HERE.