Disney's Animal Kingdom has long been my favorite park. Now for the first time, the entire park is decorated for the holidays. While I enjoyed exploring the park with the family, I was invited back by Disney to learn more about the holiday transformation at Disney's Animal Kingdom. The look and feel of the park is so unique compared to the others that I can't wait to go back and spend even more time there. Keep reading for five reasons you need to visit Disney's Animal Kingdom during the holiday season!
1 – The Entire Park is Decorated
While Disney's Animal Kingdom always has a Christmas Tree out front and some decorations throughout the park, this is the first time in its history that every land has decorations. So it's also the first time that all four parks have been decorated for the holidays. Like I mentioned before, the look and feel of the park is so perfect. The decorations on Discovery Island were inspired by nature and animals. The holiday music playing is a bit wild, which is appropriate. The decorations in each land are a perfect fit for those lands. You'll want to spend time exploring the park in both day and night. There is a lot of fun waiting to be discovered.
Here are some things to look out for throughout the park:
Snowflakes on Discovery Island
A hidden Na'vi Nutcracker at Pongu Pongu in Pandora – The World of Avatar.
In Africa, you'll find gourds that have been turned into lanterns and wreaths that you would see in Africa.
In Asia, you'll find so many lights as the land celebrates Diwali – The Festival of Lights.
In Dinoland USA, look for a special snowman with a unique nose and the character's personalities coming out in their areas.
Check out my two favorite Christmas trees in the park – Russel and Dug's trees – at the Wilderness Explorers Clubhouse.
2 – The Artistry is Stunning
As one might expect, the artistry behind the decorations is stunning. There are 148 animal-inspired luminaries throughout Discovery Island. At night they cast a warm and festive glow throughout the area.
Also on Discovery Island is the Merry Menagerie. You'll find 10 artisan-sculpted puppets resembling winter animals roam and interact with guests throughout the land. The details on the puppets are exquisite! (Learn more about the Merry Menagerie below).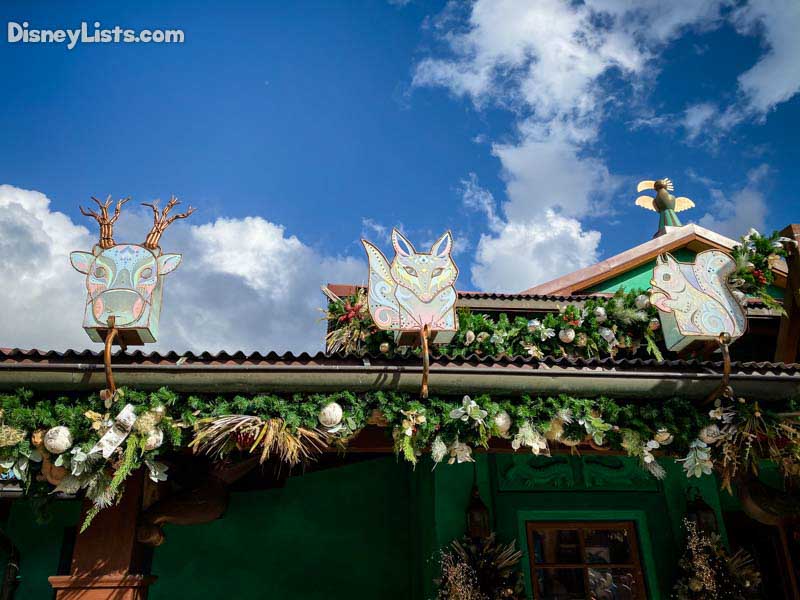 3 – The Snowflakes are Very Special
There's something very special about the snowflakes on Discovery Island. Disney cast member Thomas Smith shares more:
The stunning holiday decorations at Disney's Animal Kingdom featuring an extra special touch of magic this year.
The beautiful, white snowflakes woven into garland hanging on the shops and buildings in Discovery Island were handmade by artisans from the Augusta Training Shop, a nonprofit organization in Augusta, Georgia that employs adults with cognitive and physical disabilities, enabling them to discover their abilities and create rich and meaningful lives.
We recently had the chance to meet the inspiring artisans who made these snowflakes and hear their stories of the care and attention they put into making each and every one. And because the holidays are all about coming together, we knew we had to bring them to Walt Disney World Resort to personally see their one-of-a-kind snowflakes hanging for all to see at Disney's Animal Kingdom!
The impact of Walt Disney World Resort reaches communities beyond our own here in Central Florida, and we've been honored to work with the Augusta Training Shop and showcase the amazing and inspiring talents of their artisans.
It goes without saying that this holiday season at Walt Disney World is one to feel good about. We hope you love admiring these beautiful snowflakes just as much as we do!
4 – Dinoland USA Characters Get in on the Fun
You may not know, but the story behind the transformation of Dinoland USA into Donald's Dino-Bash is a good one. Donald was doing some research and found out that his ancestors are actually dinosaurs! To mark this amazing discovery, he transformed the land into a celebration like no other! He first consulted his girlfriend, Daisy, and she went straight to work. She designed the truck they arrived in and all the outfits for themselves and their friends! This time though, the characters wanted to design their own areas themselves. Take time to explore each character greeting spot for some unique touches the characters chose themselves! For example, Scrooge McDuck's area is glittering with gold accents and gold ornaments that are perfect for Scrooge! Launchpad McQuack area has an oversized Christmas tree because he's such a big guy! Daisy's area is perfectly pink, with lots of threads and buttons. Chip 'n' Dale's area has antlers and strings, and Goofy has a lot of lights. Donald's area has a very nice touch. He chose to hang stockings for all his friends! There are also presents in the Boneyard. Lastly, be sure to check out the Snowman next to Donald's meet and greet area! You'll notice instead of a regular carrot nose, he has a beak! This is because he wanted to join in on the fun!
5 – Can't-Miss Entertainment
You don't want to miss the holiday edition of Tree of Life Awakenings that take place throughout the evening. There are many different scenes that replay, including the "First Snow," "Gift Giver," and "Seasons of Life." They are all beautiful and the wintry tales they tell are so enjoyable. (Tip: the projections show on both sides of the Tree! You'll have great views on the path from Africa to Asia behind the tree!)
Click here to watch a wintry scene of the Tree of Life Awakens on our IGTV channel.
While the Tree of Life projections are amazing, there's nothing quite like being able to see up close and interact with the puppets of the Merry Menagerie. Watching the puppets interact with guests was so much fun. The animals sniff phones, encourage you to pet their heads, are playful with nudging, and very curious about all the people around. There is a lot of laughter when interacting with these puppets!
Click here to watch a video highlighting the amazing puppetry.
Click here to see the highlights of our day at Disney's Animal Kingdom!
Click here to learn more about celebrating the holidays at Disney's Animal Kingdom!
Editor's Note: The Disney Company provided us with complimentary admission into Disney's Animal Kingdom and media-specific experiences. However, the thoughts and opinions contained in this article are completely our own.
For a no obligation, FREE Quote on a Disney vacation package, please contact our travel partner Magical Vacation Planner at 407-442-0227 (407-442-0215 for Spanish). You can also request a FREE quote online by Clicking HERE.