We had a fun-filled day on the third day of our Very Merrytime Cruise on the Disney Dream. We enjoyed most of the day on Disney Cruise Line's private island, Castaway Cay, and loved Pirate Night in the evening. These two offerings are the highlight for many Disney Cruise Line cruisers on a Caribbean cruise. Catch more details below.
1 – Disney Dream Staterooms
This morning we had a chance to chat with Andy, the Hotel Director on the Disney Dream, who manages just over 1000 crew members. These crew members run food and beverage, housekeeping, guest services, photos, and merchandise. The cast members do a fantastic job offering excellent services to Disney Cruise Line guests.
Andy spent some time sharing about the 1,250 staterooms on the Disney Dream. We'll be sharing an in-depth look at the staterooms shortly after the cruise. We will say that the staterooms on the Disney Dream offer comfort, conveniences, luxury, and plenty of Disney magic. There is so much we love about our stateroom. This is the first cruise that Chad and I have shared a room with our kids. I was a bit worried about what it would be like to have two adults and two teenagers all in one room. I'm happy to say that it's really not a problem, and there is plenty of room. Between the two closets and lots of drawers, shelves, and cabinets, we had plenty of room for everything we brought with us with space left over. The split bathroom (half-bath and shower/tub room with an additional sink) is actually the feature we love most about Disney Cruise Line and what makes it possible for all of us to get ready in the morning without a lot of fuss! The kid's sleeping areas are also prepared by our wonderful hostess every evening and then turned back every morning. It makes the room so comfortable during the day. While we didn't spend too much time in our room, when we were there, it was comfortable and worked for the four us.
2 – Entertainment on the Disney Dream
We also got to spend time with Stephen, the Cruise Director on the Disney Dream, who is in charge of the entire entertainment program. The entertainment staff was amazing, and we thoroughly enjoyed every show throughout the week. We know when we cruise on Disney Cruise Line, we'll be treated to top-notch Broadway-style shows that are included in the cruise fare. They are the highlight of our evenings!
A particular treat on this cruise was the release of 'Frozen 2' scheduled for Thursday evening at 11:00 pm. A great benefit of cruising with Disney Cruise Line is that they can offer first-run movies. So, if a film debuts on land, it will likely debut at sea as well. Stephen did say that they are restricted by rules and regulations of their distribution agreements, so sometimes a film might not debut at the same time. But generally, if a Disney film is currently in theaters, you can expect to see it on the ship.
3 – Castaway Cay
Castaway Cay, Disney's private island, is a tropical paradise that has so much to do for the entire family. We always really enjoy our time on the island. There is so much to see and do. For an overview of everything, you need to know about Castaway Cay, click here.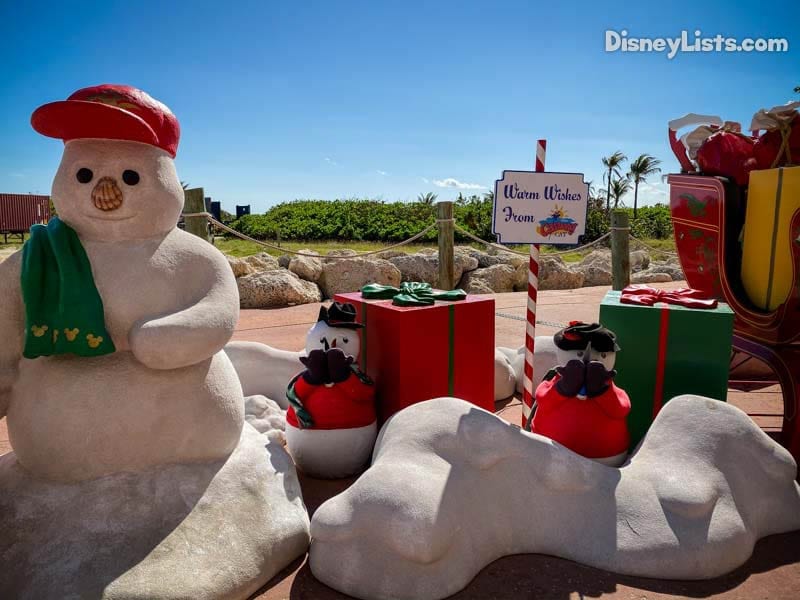 4 – Holiday Celebration on Castaway Cay
Carrying the holiday celebration to the island, Castaway Cay is decked out with decorations, including a perfectly themed Christmas tree, holiday island music, and Disney character meet-and-greets. It was fun to see these decorations as we stepped ashore. There were plenty of photo opportunities right off the ship, including the gorgeous Christmas tree, Santa's sleigh, and some snowmen that would make Olaf jealous! There is also some garland sprinkled throughout the island. The island holiday music was a treat and kept us in the holiday spirit while maintaining the Caribbean vibe. The holiday additions were a nice touch to carry the holiday celebrations onto the island! It made our visit there very unique!
5 – Dining at Castaway Cay
A great thing about Castaway Cay is that you don't have to go back to the ship to eat lunch. There are three dining areas available to guests: Cookies, Cookies II, and Serenity Bay BBQ for adults only. Cookies feature typical back yard barbequed fare such as ribs, hamburgers, hot dogs, and chicken sandwiches, etc. The food choices are the same at each location, so head to the one closest. Each Cookies location also has self-serve ice cream machines with the unique flavors of strawberry and banana in addition to vanilla and chocolate.
Adults spending their time at Serenity Bay don't need to the seclusion of the adults-only area to eat lunch or grab a drink. A smaller lunch buffet, Bahamian specialty drinks, beer, and mixed drinks are served at the nearby Castaway Air Bar. As an added bonus at the adults-only lunch location, ribeye steaks grilled to order are available.
6 – Snorkeling Family Fun
Since we were traveling with two of our teenaged children, we wanted to spend time as a family snorkeling. We were very happy to have done this and think the experience is well worth the small rental fee for snorkeling equipment. As you might expect, we saw plenty of tropical fish. Disney Cruise Line has done a nice job of creating artificial reef environments that a plethora of colorful and exotic fish call home. We even ran into a large school of silver moonfish (made famous in Finding Nemo). After allowing us to admire their synchronized movements for a while, they pointed us to some of the underwater treasures to be explored.
There's plenty to discover underwater including a statue of Minnie, a Micky shipwreck, an old 20,000 League Under the Sea ride vehicle and more. Don't worry about finding them. Look for the white and orange buoys that mark the major items.
7 – Adult Time at Castaway Cay
Our teens really enjoyed the Vibe area of the island and enjoyed the time there with the new friends they had made. That gave Chad and I time to enjoy the island together. We spent some time on Serenity Bay, the adult-only area of the island. This area is relaxing but can be a bit windy, so we headed back to Head's Up Bar for a nice drink and amazing views of the ship and the family beach areas. It also offers a chance to watch the snorkelers searching for treasure.
8 – Shopping on Castaway Cay
A trip to the island wouldn't be complete without shopping! There are a few stores you'll want to visit during your time on the island. First, 'She Sells Sea Shells…and Everything Else' is the larger store with a great offering of Castaway Cay exclusive merchandise and other sundries. Further in on the island is 'Buy the Seashore," which has a smaller collection of exclusive merchandise. It also is a great place to purchase sand toys for the kids. Note that you can charge items back to your room, so you don't need to have cash or credit cards unless you choose to purchase the items that way. Disney Gift Cards are not accepted on the island. However, you can apply gift cards to your account at Guest Services on the ship to "pay" for any charges on the island. If you're a collector then you'll want to pick up one of Disney's reusable bags on Castaway Cay. They have a very cute Castaway Cay version that I was happy to add to my collection.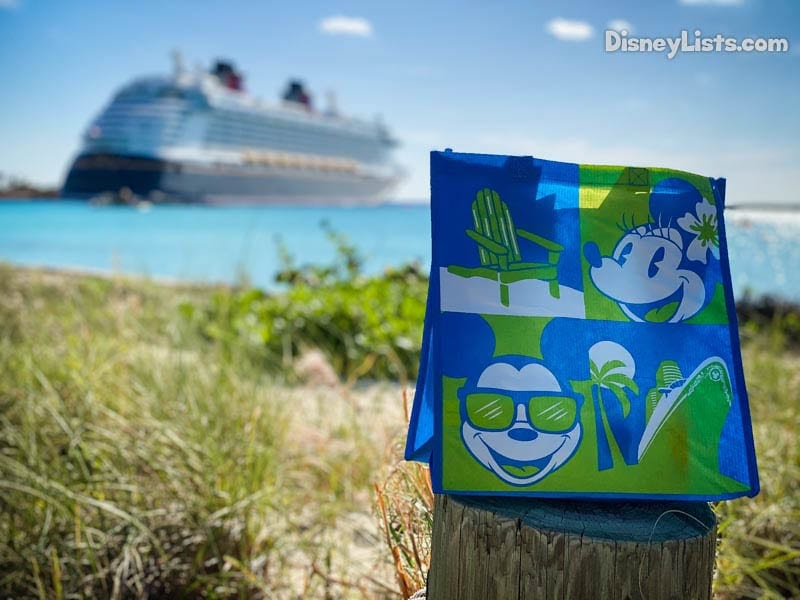 Also, be aware that the stores will close about 45 minutes before the last call ashore. We had to return to the ship by 4:45 pm, so the stores closed at 4:00 pm on the day we visited. We suggest you visit the stores early in the day, so you have plenty of time to look around. Most of the items are island exclusive, and you won't find them on the ship! So if you see something you think you'd like to purchase, you'll want to go ahead and buy it then!
9 – Pirate Night
Pirate Night is THE highlight for many Disney Cruise Line cruisers. During Pirate Nights, guests will eat, dance, and party like a pirate on the high seas. The party begins in the early afternoon with family trivia, games, and character greetings with your favorite Disney characters dressed up in pirate garb. Dinner will be pirated themed at all three main dining rooms that night.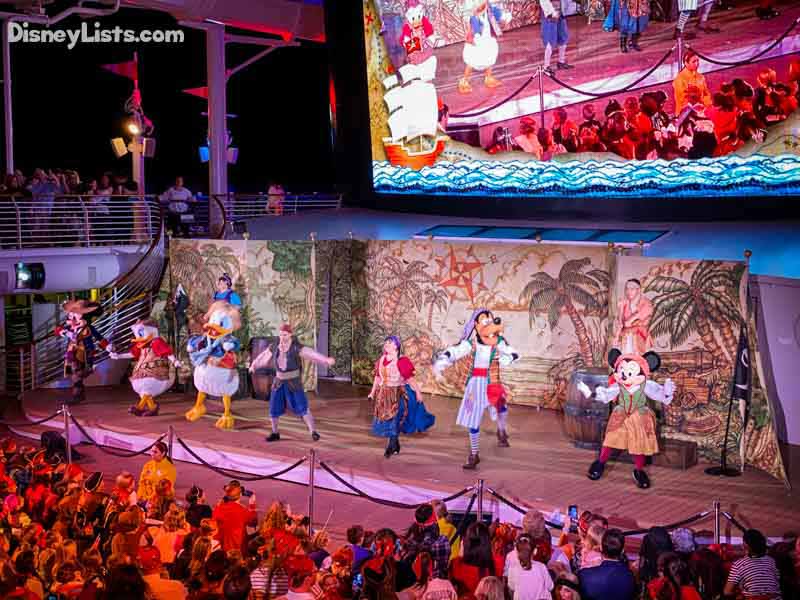 There are also two deck parties that you don't want to miss. First, in the early evening, you can enjoy Mickey's Pirates IN the Caribbean deck party, a family-friendly interactive show featuring the famous Disney characters. Guests become members of Mickey's Pirate Crew as they participate in a series of pirate-themed musical numbers. Then later in the evening, Jack Sparrow from the "Pirates of the Caribbean" films, makes a special appearance on deck in "Hunt Fer Jack," a thrilling live-action pirate showdown which culminates in "Buccaneer Blast" – Disney Cruise Line's fireworks at sea! As the night rolls on, a high-tech, open-air dance party on the upper decks of the ship heats up as guests unleash their inner pirate and dance their boots off during "Club Pirate." It's a fantastically themed evening that is so much fun for the entire family!
Day three was such a great day! From relaxing on the island to dancing like a pirate! There is always so much to do on a Disney Cruise! We're trying hard not to think that we only have one more day on our cruise!
Check out our Day 3 Instagram Story highlight for lots of photos and videos from our day!
More Cruise Coverage:
Packing for Our Very Merrytime Cruise on the Disney Dream
Click here for our Day 1 Travel Log from Our Very Merrytime Cruise on the Disney Dream.
For a ton of photos and videos from Day 1, check out our Instagram Story highlight by clicking here.
Click here for our Day 2 Travel Log from Our Very Merrytime Cruise on the Disney Dream.
For lots of photos and videos from Day 2, click here for our Instagram Story highlight.
See lots of photos and video from Day 4 by clicking here for our Instagram Story highlight.
Editor's Note: Walt Disney Parks & Resorts provided us a complimentary Very Merrytime Cruise and special media-specific events during the cruise. However, as always, the thoughts and opinions contained in this article are entirely our own.
For a no obligation, FREE Quote on a Disney vacation package, please contact our travel partner Magical Vacation Planner at 407-442-0227 (407-442-0215 for Spanish). You can also request a FREE quote online by Clicking HERE.