If you thought counting down to Christmas was a tough wait, try counting down to a Disney Cruise Line Merrytime Cruise! I have to admit, it wasn't easy to get to sleep the night before departure. We've been so excited to see the Disney Dream decked out in holiday decorations, and wow, we were not disappointed. The ship is nothing short of gorgeous! But the festive cheer only starts with the decorations. It just kept getting better.
1 – Don't Leave Home Without It
Just like any vacation, there is a lot of preparation that goes into getting ready for a cruise. We've been ready and eagerly waiting for our embarkation day and were thrilled when the day finally came! We were packed and ready to go. How did we prepare? Here are some links to help you get ready for your Disney Cruise Line cruise.
Packing for Our Very Merrytime Cruise on the Disney Dream
12 Do's & Don'ts for the Week Before Your Disney Cruise Line Cruise
Don't forget to download the Disney Cruise Line Navigator App. It's a free app that is extremely useful when onboad the ship. Everyone in your family who has a smartphone will want to download the app while you still have wifi. Once downloaded, go ahead and sign in using your Disney account details. Our children are over 13, so they have had their own accounts for a while. Get them signed in before you leave, so you don't have to worry about forgotten passwords. Once on the ship, simply put your phone on airplane mode and turn the wifi on. Then you'll be able to use the app during your cruise. We'll have more on the app later. It's such an essential tool to use during your cruise. So, download that app!
Note: A paid internet package is not required to use the Disney Cruise Line Navigator App or to use the group chat function. iPhone users can also text using iMessage while onboard for free.
2 – Heading to Port
When scheduling your Disney Cruise, you'll want to keep in mind when and how you'll arrive at your port city. The last thing you want is to miss the ship! We highly recommend, if possible, to arrive at your port city the night before your cruise if the port is more than a two-hour, drive or if you are flying in. The cost of the hotel stay the night before is worth the expense so that you can enjoy a relatively stress-free day one. If there are travel delays due to weather, traffic, bumped flights, car trouble, etc., you have extra time to make it to the ship on time. When we have to travel to a port, our rule of thumb is we always stay within an Uber ride of the port the night before. If something goes wrong, you can catch a ride and deal with it when you get back. It also lets you transition from the real world to vacation mode before your cruise begins.
However, since we live in the Orlando area, we only have about an hour and a half drive to Port Canaveral. So, for this cruise, we stayed at our home the night before the cruise. We had everything packed and ready to go. We woke up, got cleaned up, and hit the road early enough to make it in plenty of time to the port. Even though we live close, there is always the chance for delays, and we would rather get to the port early and wait there than be stuck in traffic stressing about whether or not will we will make it on time.
3 – Checking In
The check-in process went very smoothly for us. Disney has the check-in process down, and they know how to make the process move quickly. The first thing you'll do is drop off your bags at the curb. Be sure that the luggage tags Disney provided are on your bags. These bags will be dropped off at your stateroom in the afternoon by 5:30 pm. You may want to have a carry-on bag for valuables, medicine, swimsuits, and a change of clothes.
After you drop off your bags, you'll head to the main building to check-in. Plan on having your passport checked. You'll also need your cruise documents with you. Make sure you don't pack either of these items in your checked luggage! Items like purses and your carry-on luggage will be scanned for security. Next, you'll head upstairs where you'll have your passport checked again, fill out a health questionnaire, and sign the cruise contract.
Finally, you'll go to the waiting area. We were a bit early, so we had a short wait. Shortly after we arrived, we were able to board the ship! Be ready for a lovely moment of Disney magic. As your family boards, your name will be announced, and the crew will cheer you aboard. It makes you feel exceptional, and it's a great way to start the cruise!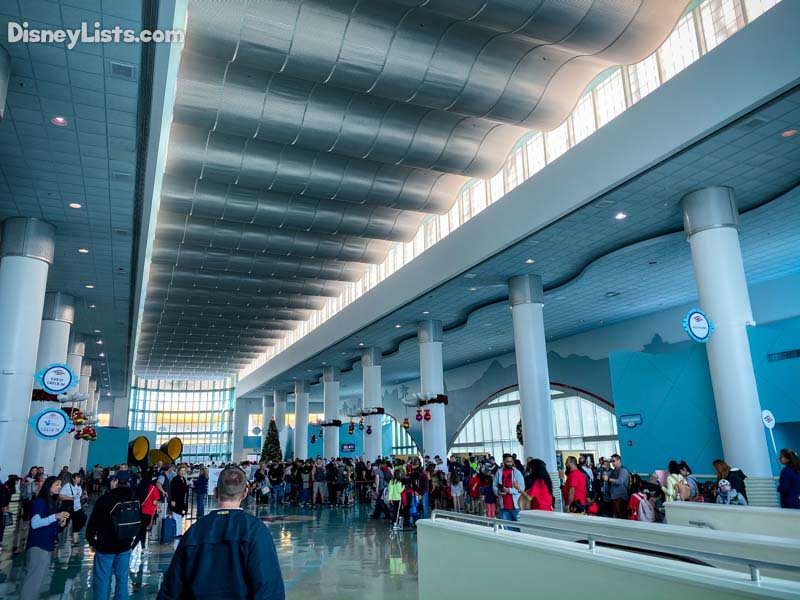 4 – Prepare Your Phone for Your Cruise
Once on the ship, you'll want to get out those smartphones and get them ready for the cruise. Option one is to "unplug" immediately by putting your phone into airplane mode and then connecting to the ship's wifi. With cellular turned off, you won't be able to connect to the "outside world," and that's probably a good thing. Note that if you do want to stay connected for a few more hours, while you're in port, you'll likely have a strong cellular signal, at least until the ship sails away. We opt to wait to turn off our cellular until the ship sails away! The key though, is you have to remember to put your phone in airplane mode once the ship sails away from the dock. Don't forget!
Once onboard and connected to the ship's wifi, you'll want to open up that Navigator App (see #1) and view the itinerary for the day. The app is full of great information, so take some time to look throughout it at the beginning of your cruise.
5 – Lunch Options
Since we couldn't get into our stateroom until 1:30 pm, we went ahead and got lunch. Generally, on embarkation day, the earlier you eat lunch, the less crowded it will be. Our first day, we had two options for lunch: a quick lunch at Cabanas or a more leisurely lunch at Enchanted Garden.
Cabanas food court is a free-flow casual dining restaurant featuring a variety of food and beverage stations. Inspired by California beaches and boardwalks with uniquely Disney touches, Cabanas offers indoor and outdoor dining on Deck 11 aft. Ocean views are all around. Guests can partake in an eclectic array of cuisine served from 16 specialized food stations, each providing delicious offerings.
Enchanted Garden is a whimsical, casual restaurant inspired by the gardens of Versailles that features a dining environment that transforms from day to night. At breakfast and lunch, the restaurant is bright with the light of a blue-sky day. In the evening, the illuminated ceiling transitions into a nighttime constellation of twinkling stars. The light-fixture flowers "bloom" and become infused with color, wall sconces open to become beautiful folding fans, and the centerpiece fountain is basked in shimmering light. Breakfast and lunch are served buffet-style at Enchanted Garden.
We opted to eat at Cabanas since we wanted to have a quick lunch. The food was fantastic as always, and it wasn't too busy!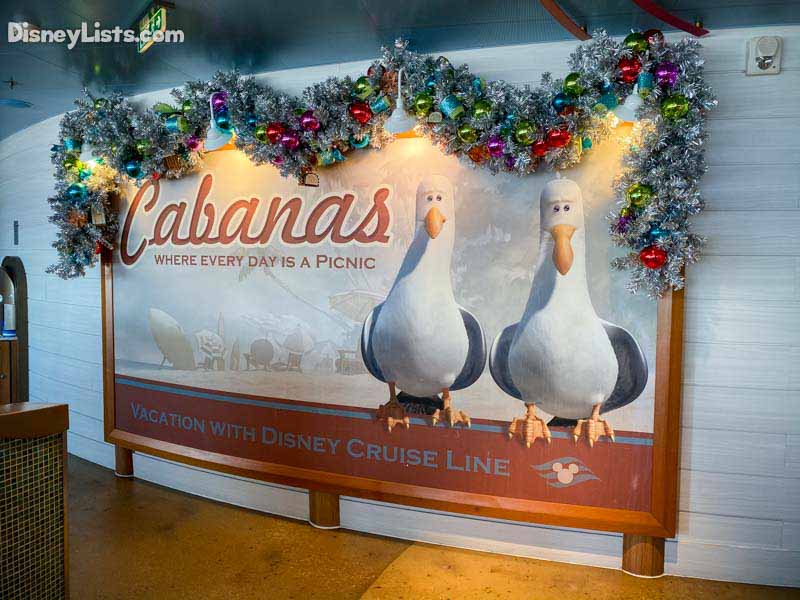 6 – Exploring the Ship
After lunch, since we couldn't get into our stateroom yet, we went ahead and explored the ship. As we expected, the ship is gorgeous. We're going to be sharing lots of information on what's available on the ship from entertainment options, to dining, to kid and youth clubs, staterooms, and more, throughout the week.
7 – Enjoying Your Stateroom
Usually, at about 1:30 pm, guests are allowed into their staterooms. This is a great time to put your carry-on luggage in your room and enjoy your verandah if your room has one. I was super excited to get to our stateroom because we had purchased a holiday stateroom décor package from Disney Onboard Gifts. When we arrived, the stateroom was decorated, and it really made it even more magical. We put out the other decorations we brought with us, and our holiday stateroom was complete! Our luggage arrived at our room very quickly, so we were unable to unpack right away.
8 – Sail Away Party
After the mandatory safety drill, we made our way up to Deck 11 for the Sail Away Party. This fun show welcomes guests aboard with Mickey Mouse, Minnie Mouse, and the Disney gang. The show is a celebration of the fun aboard a Disney cruise, and you don't want to miss it. We've got a few clips in our Instagram Story highlight of the day.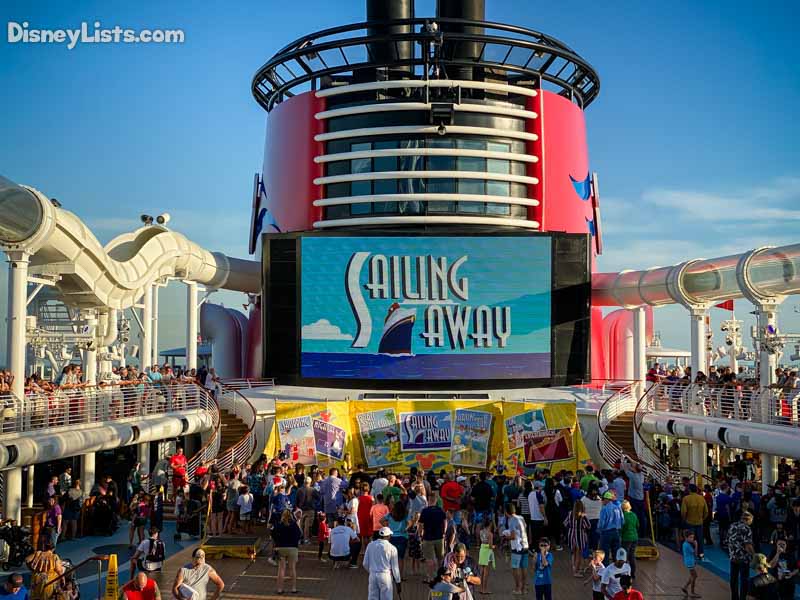 9 – The Golden Mickey's at Walt Disney World Theater
One of the things we love the most about Disney Cruise Line is the top-notch Broadway-style productions that are performed during a cruise. The shows were the highlight of our cruise on the Disney Magic, and we were so excited to be able to see new productions on the Disney Dream.
The first show of our cruise was the "The Golden Mickeys," an award-style show celebrating the musical heritage of Disney animated films. On the Disney Dream, the show gets an extra sprinkle of glitz and glamour with new musical numbers, enhanced technology, and dazzling special effects. New production numbers include an aerial ballet featuring Ariel from "The Little Mermaid," an elegant ballroom waltz inspired by "Beauty and the Beast" featuring the Beast's transformation into a prince, and a romantic duet performed by Rapunzel and Flynn Rider, lead characters of the Disney animated feature, "Tangled."
We really enjoyed the show. It was a great blend of Disney nostalgia and talent.
10 – Mickey's Tree Lighting Magic Ceremony
Unlink our Marvel Day at Sea cruise, where most all of the special activities were on one day, the holiday offerings during a Very Merrytime Cruise are spread out throughout the entire cruise. On the first night of the cruise, Mickey kicks the celebrations off with the "Mickey's Tree-Lighting Magic." In the atrium lobby, Disney characters lead holiday carols and the lighting of the glittering, three-deck-tall tree. It was an entertaining show that set the stage for a great holiday cruise.
11 – Dinner at Animator's Palate
While on a Disney Cruise, you'll enjoy rotational dining, which means that you'll be able to enjoy different restaurants throughout your cruise. The great thing is your wait staff goes with you. For our first night, we enjoyed dinner at Animator's Palate. Animator's Palate aboard the Disney Dream is a re-imagined version of the signature Disney Cruise Line restaurant that brings the magic of Disney animation into the dining room with wall-to-wall whimsy inspired by classic animator's studios.
Design highlights include pillars throughout the restaurant fashioned like huge pencils and brushes, character sketches, maquettes (three-dimensional character models), film strips, and other tools of the animation trade. Scenes and characters from popular Disney and Disney•Pixar films adorn the walls.
Dinner was excellent, and everything we've come to expect from Animator's Palate.
12 – Santa's Winter Wonderland Ball
Our day ended with "Santa's Winter Wonderland Ball" in the atrium lobby. In this short show, we welcomed the guests of honor, Santa and Mrs. Claus. The show is a grand celebration featuring Broadway-style entertainment, favorite Disney characters, and classic holiday tunes. This evening of enchantment was made complete when a special pair of royal sisters joins the party and causes a flurry of "frozen" fun as a magical snowfall overtakes the atrium.
We had a jammed packed, enjoyable first day on our Very Merrytime Cruise.
For a ton of photos and videos from Day 1, check out our Instagram Story highlight by clicking here.
Day 2 will be another fun-filled day! We hope you follow along!
More Cruise Coverage:
Packing for Our Very Merrytime Cruise on the Disney Dream
Click here for our Day 1 Travel Log from Our Very Merrytime Cruise on the Disney Dream.
For a ton of photos and videos from Day 1, check out our Instagram Story highlight by clicking here.
Click here for our Day 2 Travel Log from Our Very Merrytime Cruise on the Disney Dream.
For lots of photos and videos from Day 2, click here for our Instagram Story highlight.
Click here for our Day 3 Travel Log from Our Very Merrytime Cruise on the Disney Dream.
Check out our Day 3 Instagram Story highlight for lots of photos and videos from our day!
Click here for our Day 4 Travel Log from Our Very Merrytime Cruise on the Disney Dream.
See lots of photos and video from Day 4 by clicking here for our Instagram Story highlight.
Click here for our Day 5 Travel Log from Our Very Merrytime Cruise on the Disney Dream.
Editor's Note: Walt Disney Parks & Resorts provided us a complimentary Very Merrytime Cruise and media-specific events during the cruise. However, as always, the thoughts and opinions contained in this article are entirely our own.
For a no obligation, FREE Quote on a Disney vacation package, please contact our travel partner Magical Vacation Planner at 407-442-0227 (407-442-0215 for Spanish). You can also request a FREE quote online by Clicking HERE.