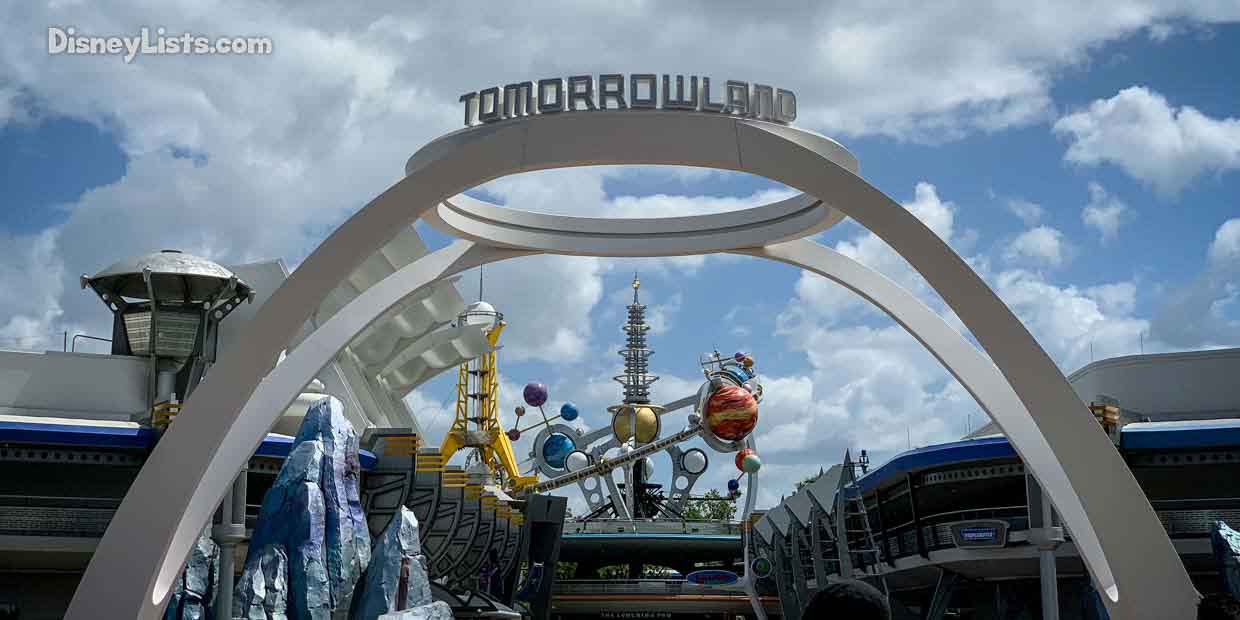 Each area of Walt Disney World is special in its own way through beautiful details, amazing attractions, unique experiences, and world-class entertainment. Guests can spend so much time exploring the theme parks, water parks, Disney Springs, and Disney Resorts that they are sure to find specific places to completely fall in love with. The Magic Kingdom is the favorite park of many guests since it was the original one that opened with the Walt Disney World Resort in 1971. The Magic Kingdom is filled with differently themed lands which feature unique attractions, entertainment, dining, shopping, architecture, and experiences. Of the different lands, many guests love to spend time in Tomorrowland thanks to its thrilling and classic attractions, unique theme, beautiful lighting, and wonderful experiences. With so many amazing things in one place, it is no wonder why so many guests simply adore Tomorrowland. Here are the top seven reasons why guests love Tomorrowland in Walt Disney World's Magic Kingdom.

1 – Space Mountain
When guests picture Tomorrowland in the Magic Kingdom, many immediately think of a thrilling attraction which is a fan favorite. Space Mountain has been thrilling guests since 1975 and invites them into the intergalactic hub Starport 75. There guests can board rockets on either the Alpha or Omega tracks and blast off into space for a thrilling adventure in near darkness. With sharp twists and turns and sudden drops, guests are sure to absolutely love visiting Space Mountain while in Tomorrowland. Since the attraction is so popular, guests should plan on visiting either first thing in the morning or booking a FastPass to avoid losing lots of time waiting on a long line.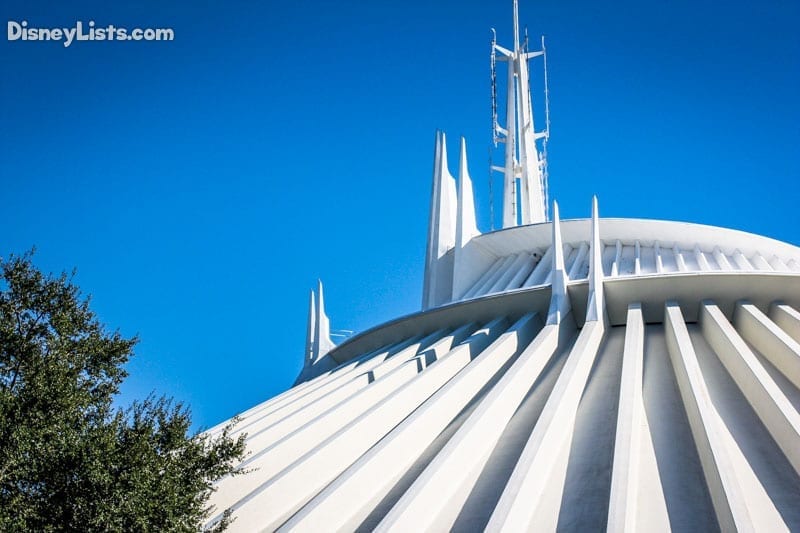 2 – Neon Lights At Night
While Tomorrowland is beautiful during the daytime, at night it becomes an entirely different place thanks to incredible lighting. Every square inch of Tomorrowland is lit in vibrant neon colors which add wonderful energy and constant motion to the land. With the futuristic feel of neon and kinetic energy, Tomorrowland truly feels like a modern-day intergalactic space hub for creatures from all galaxies. Guests who visit the Magic Kingdom definitely need to spend time in Tomorrowland at night simply enjoying the lights.
3 – Buzz Lightyear's Space Ranger Spin
One of the most popular attractions in Tomorrowland brings guests into the fictional world of Pixar's Toy Story. Buzz Lightyear's Space Ranger Spin invites guests to join Star Command for the chance to be a galactic hero while facing off with the Evil Emperor Zurg. Guests can compete against each other to see who can get the highest score while taking aim at targets to collect power from Zurg. With plenty of difficult and moving targets, guests love the challenge of scoring as many points as possible on Buzz Lightyear's Space Ranger Spin!
4- Geometric Trees
A unique touch that many guests love to enjoy in Tomorrowland can be found over near the entrance to Cosmic Ray's Starlight Café. There is a small cluster of futuristic trees that feature modern geometric cutouts and shapes. These angular trees feel so futuristic that guests truly believe that they might be in another galaxy. Small details such as these trees are what help make Tomorrowland so beautifully themed and enjoyable.
5 – View From The TTA
A unique attraction found in Tomorrowland is the Tomorrowland Transit Authority PeopleMover which acts as a highway in the sky. The attraction moves guests on a track high above Tomorrowland offering beautiful views and amazing people-watching opportunities. The attraction takes guests all around the land and even offers glimpses of Cinderella Castle and into nearby attractions like Space Mountain and Buzz Lightyear's Space Ranger Spin. There is no better way to kick back for a few minutes and enjoy the breeze while in Tomorrowland like riding the Tomorrowland Transit Authority PeopleMover.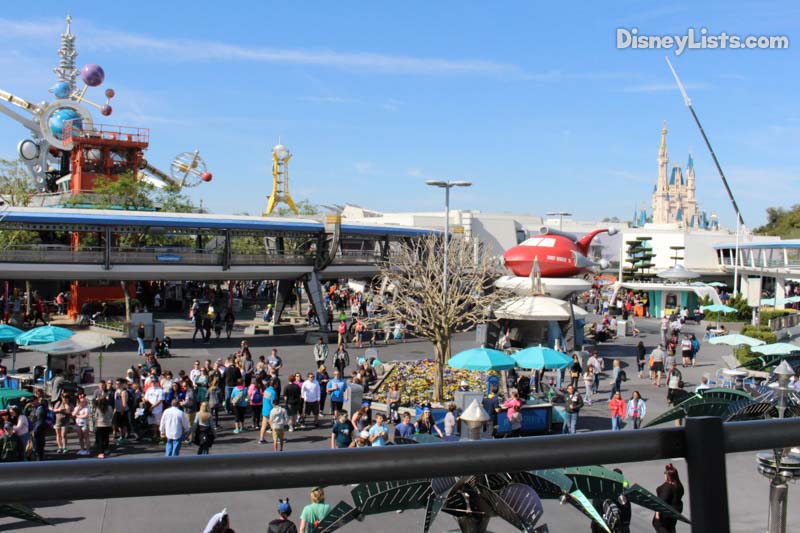 6 – View From The Astro Orbiter
Found high above the walkways of Tomorrowland is an attraction that offers sweeping views of the land and the Magic Kingdom. The Astro Orbiter brings guests above the loading platform for the Tomorrowland Transit Authority PeopleMover and has them board rocket ships to blast off. Guests who are brave enough for the Astro Orbiter can enjoy whizzing past planets and taking in spectacular views, especially at night. For a totally unique experience, guests should try and plan their ride on the Astro Orbiter to coincide with Wishes Nighttime Spectacular for a truly out of this world experience!
7 – Walt Disney's Carousel Of Progress
Another attraction that guests truly adore in Tomorrowland is a classic that dates all the way back to the 1964 New York World's Fair. Walt Disney's Carousel of Progress invites guests to move throughout the entire century with one family to see how technology and progress have made life more convenient. Guests can enjoy sitting in a theater that rotates around each scene and see how the family changes throughout the years. While it's true this attraction is in desperate need of an update, with beautiful details and the catchy song "There's A Great Big Beautiful Tomorrow," guests are sure to love enjoying Walt Disney's Carousel of Progress while visiting Tomorrowland!
8 – Tron Lightcyle Run – Coming Soon!
Tron is on its way to Tomorrowland, and we couldn't be more excited! Tron Lightcylce Run as it is an extremely popular attraction at Shanghai Disneyland Park (with a slightly different name)! It's a semi-enclosed rollercoaster themed after Disney's Tron film series. Guests will have the opportunity to sit on what looks like a motorbike (aka "Lightcycle") and be launched around the coaster track at suspected speeds of 60 mph! Tron fan or not – this attraction is going to be amazing!
For a no obligation, FREE Quote on a Disney vacation package, please contact our travel partner Magical Vacation Planner at 407-442-0227 (407-442-0215 for Spanish). You can also request a FREE quote online by Clicking HERE.