Call me crazy, but the Flower and Garden Festival is my favorite festival at Epcot. The sights and smells of the flowers, combined with (mostly) perfect spring Central Florida weather, make this a great time to visit Epcot. This year marks the 27th installment of the Flower and Garden Festival. It runs from March 4-June 1, 2020! The festival is going to be amazing this year! Catch all the details below about what's back and what's new this year at the festival!
1 – Flowers Blooming
What began in 1994 as a 38-day celebration of Disney-style gardens and topiaries has grown over the years to a 90-day spring extravaganza. The event features seventy Disney-crafted topiaries and beds of multi-colored blooms that will transform the Epcot landscape into a floral extravaganza. As just one example of this metamorphosis, nearly 70,000 festival blooms will surround the lakes in Future World, while on the water, hundreds of colorful mini-gardens will be set afloat.
2 – Amazing Topiaries
There is a new Remy topiary located in the France Pavilion, which is an exciting reminder of Remy's Ratatouille Adventure set to open this summer! The five-foot-tall floral Remy will stand atop a huge wheel of cheese brandishing a giant spoon as he reigns over a veggie-and-herb garden sprouting with tomatoes, eggplants, zucchini, and onions. And a stunning new 18-foot-long dragon topiary that changes color in full sun breathes fresh floral fantasy into the Japan pavilion.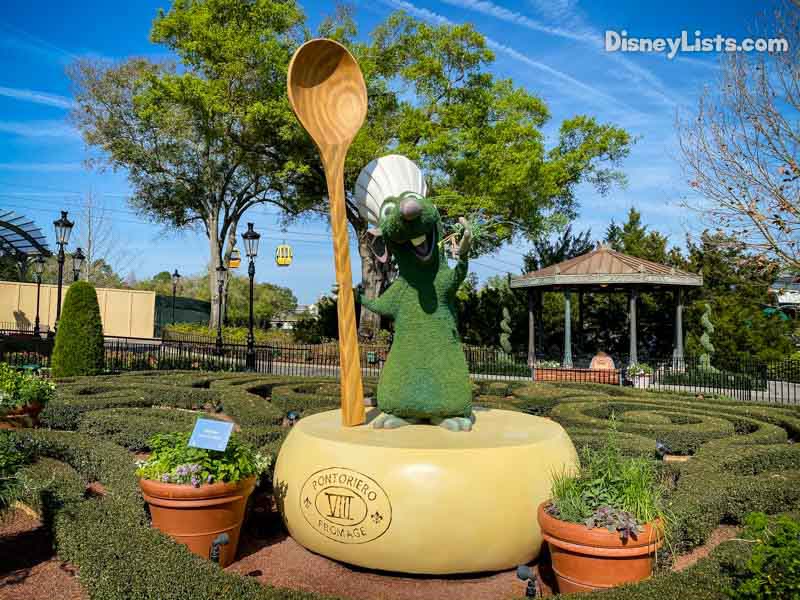 The are many returning topiaries in new locations, telling different stories, so there is always something new for guests who come and visit the festival every year. Mickey Mouse, Minnie Mouse, Goofy and Pluto will wield shovels and other tools to help with the historic EPCOT transformation now underway. Donald and Daisy's topiaries crop up at World Showcase Plaza for a photo op with mischievous nephews Huey, Dewey, and Louie. Dozens of additional character topiaries including Belle, Beast, Kermit, Miss Piggy, Buzz Lightyear and dot the festival landscape, along with with dozens of Disney-crafted "flower towers" and beds of multi-colored blooms. The Fantasia scene this year includes both ostriches and hippos and really enhances the whole scene. Finally, many topiaries continue to be updated to have more realistic facial features. Last year Dopey received a fantastic update. This year both Peter Pan and Tinker Bell received updates to their facial expressions. Be sure to check them out!
Click here for photos of some of this year's topiaries!
3 – Outdoor Kitchens
Creative new culinary dishes and sixteen outdoor kitchens return this year. New festival-exclusive dishes will debut at Outdoor Kitchens, including the new Magnolia Terrace at The American Adventure. Here, low-country, gulf-region comfort food will thrill fish fans with a Southern Seafood Boil and Grilled Oysters prepared on-site for guests to view. Guests will also enjoy an innovative plant-based menu at Trowel & Trellis hosted by IMPOSSIBLE Foods.
There are several dishes and beverages to be excited about. There is a new Spike the Bee sipper cup that is available at the Hone Bee-stro that is sure to be a popular hit with guests. The popular Orange Bird sipper cup that debuted last year is also back. Also, new this year is a Spike the Bee spork (available at select Outdoor Kitchens while supplies last).
Click here for the complete menu listing of the outdoor kitchens.
Click here for photos of the 2020 menu boards with pricing and snack designation.
Click here to see photos of the Spike the Bee Sipper Cup and Spork.
Several Epcot food-and-beverage locations will offer festival-themed eats and libations. Additionally, guests can enjoy breakfast, lunch, and dinner at 15 popular Epcot restaurants and guaranteed seating for a nightly concert with a Garden Rocks Dining Package. Dining packages are now booking at FreshEpcot.com or by calling (407) WDW-DINE.
Guests can also try the new Garden Graze Stroll to purchase five festival dishes from select locations, track their progress with Festival Passport stamps and receive a complimentary commemorative keepsake upon completing the delectable journey.
4 – Garden Rocks Concert Series Returns
The popular Garden Rocks Concert Series will run three times daily featuring chart-toppers of the 1960s, '70s, '80s, and '90s on the America Gardens Theatre stage. That's 270 concerts presenting new acts like Mark Wills and High Valley, and returning fan favorites spanning multiple genres. Returning favorites like The Spinners and Herman's Hermits starring Peter Noone will be joined by artists new to the festival, like Casting Crowns, Don McLean, and Daughtry. Click here to see the full concert line up.
One of the best ways to enjoy the music is to book a Garden Rocks Concert Series Dining Package. Each package includes breakfast, lunch or dinner at a select Epcot restaurant and guaranteed concert seating.
5 – Family Play Zones
Two different family play zones will allow families a chance to play together during the festival. Bo Peep in top topiary form will round up her sheep and other Toy Story pals at Bo Peep's Playtime Training Grounds topiary garden and playground, found along the Test Track walkway. At the Health Full Trail presented by AdventHealth, the entire family can learn fun ways to stay active at a playground, enjoy healthy seasonal treats at an Outdoor Kitchen and relax and unwind in a decompression area.
6 – Scavenger Hunts
Spike's Pollen-Nation Exploration family scavenger hunt is more fun than ever this year with festival surprises to uncover along the garden pollination trail. Guests can also commemorate their scavenger hunt experience with select merchandise offerings featuring everyone's favorite bee, Spike. Another guest-favorite returning to the festival March 27-April 12 (while supplies last) is the Eggstravaganza Scavenger Hunt, where guests can search for Disney character-themed eggs around World Showcase.
7 – Gardens and Exhibits
Among the returning gardens and exhibits, guests will once again enjoy the Goodness Garden Butterfly House presented by GoGo squeeZ where nearly 1,000 native butterflies will fly among the garden's two dozen nectar plants. Because of construction in the middle of Future World, you'll now find the Butterfly House in between The Land and Imagination! pavilions. Additionally, several World Showcase pavilions will include gardens with floral life representative of plants in those countries, such as the Kokodema Garden and Bonsai Collection in Japan, the Urban Spice Garden in Morocco and the Shakespeare Garden in the United Kingdom pavilion.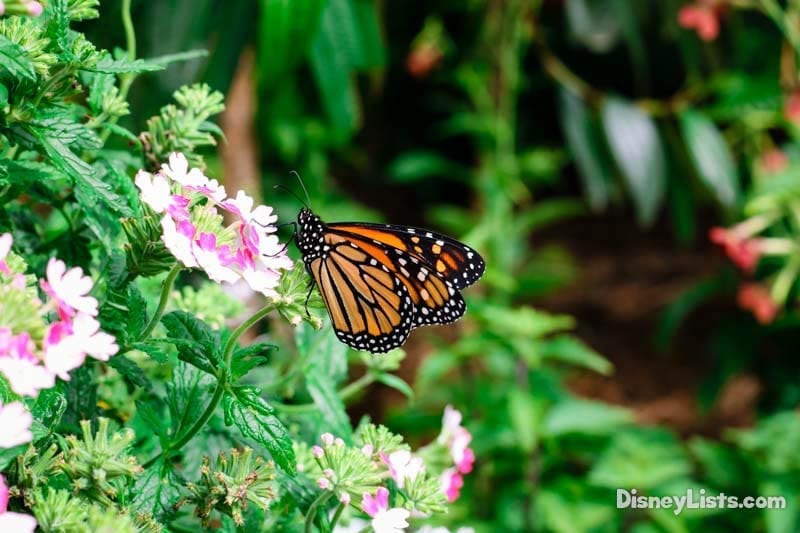 8 – Guided Tours
Guided tours are also available for guests interested in learning more about nature's magic. In Behind the Seeds – The Land, guests can explore the fish farm and four greenhouses that make up The Land at Epcot. Additionally, two guided experiences exclusive to the festival include:
There are two different tours being offered during the Festival. The Royal Tea Garden Tour, presented by Twinings, takes place each festival morning at the United Kingdom and lasts around 45 minutes. For a small fee, guests can follow a knowledgeable guide through the tea garden setting to learn the history and artistry behind growing and blending tea. A post-tour treat of tea and scones is included. The shorter, complimentary English Tea Garden Tour also will be offered on select days and lasts about twenty minutes. We've done this in the past and loved it!
During the Gardens of the World tour, guests will join a Disney horticulturist for a three-hour walking tour to explore the award-winning topiaries and gardens that make the festival so special. Guests will learn about the unique role landscaping plays at Walt Disney World and discover new plant materials and gardening techniques to use for home gardens.
Guided tours are offered select days throughout the festival for an additional fee. Epcot admission is required. Reservations are recommended. For more information or to make a reservation, call (407) WDW-TOUR.
9 – Merchandise
What would be an Epcot festival without official event merchandise? This year you'll find a charming array of whimsical apparel and headwear designed to capture the splendor of spring, garden tools, and accessories, and magical Disney keepsakes to adorn your homes and gardens. There are four different themed lines for the festival:
Mickey's Farmers Market
Minnie's Flower Cart
Orange Bird's Hello Sunshine
Spike's Sweet as can Bee
Click here for a look at some of the 2020 merchandise available. 
10 – Passholder Exclusives
Walt Disney World Annual Passholders will have an opportunity to receive two new passholder magnets and purchase items from an exclusive passholder line. Here are all the details from Disney cast member Jennifer Fickely-Baker:
The Epcot International Flower & Garden Festival will return to the park March 4, and with it, eye-catching floral displays, photo-worthy topiaries and much more.
The festival will also feature exclusive Annual Passholder offerings you won't want to miss, including:
Passholder-Exclusive Magnets – Passholders can receive two new complimentary magnets at this year's festival. The "Donald Duck with Spike the Bee" magnet will be available March 4-April 19, while "Orange Bird" will make his magnet debut April 20-June 1. Both magnets will be available at Mouse Gear.
Passholder-Exclusive Merchandise – Be on the lookout for Passholder-exclusives, including tees and pins. Also check out the new Orange Bird and Donald and Spike collections. Passholders can also take advantage of their 20% discount on merchandise.
Discounted Garden Rocks Concert Series Packages – The America Gardens Theatre will play host to performances by fan-favorite bands and musicians – including 20 new artists this year! Passholders can get a 10% discount on dining packages, which is the most seamless way to experience the concert series.
Discounted Tours – Delightful tours can be unearthed throughout the festival. Passholders get a 15% discount on the Behind the Seeds and Garden of World tours.
For a no obligation, FREE Quote on a Disney vacation package, please contact our travel partner Magical Vacation Planner at 407-442-0227 (407-442-0215 for Spanish). You can also request a FREE quote online by Clicking HERE.