We love Epcot! It is one of our favorite parks to visit. Even with all of the construction and changes coming to Epcot, we still love to explore and experience the park. Our favorite section is World Showcase, which highlights eleven countries: Mexico, Norway, China, Germany, Italy, The United States, Japan, Morocco, France, United Kingdom, and Canada. We love the rest of Epcot, but there is so much to do, see, and taste in World Showcase. Here are five things we love about World Showcase.
5 – It's Totally Different
Culture and cuisine are the stars at World Showcase. It's decidedly not your typical theme park. And while there is plenty to see and do and even has two "water rides" it's not what you think a theme park will be. World Showcase Lagoon is at the center, and the 11 countries ring the lagoon making it a full circle round trip. Don't worry this is no boring field trip. Each country pavilion has lots to see and do. Kids can visit each country's KidCot Center where they can meet a cast member from that country, get a country sticker and card to collect. You can spend an entire afternoon here and not get to everything!
4 – Around the World in 1.3 miles
Each country pavilion offers a glimpse of their country's culture through various means. China, France, and Canada all have movies that showcase their countries. Both the France and Canada movies were updated in January 2020. Canada Far and Wide has new scenes, a new musical score by Canadian composer Andrew Lockington, and new narration by award-winning actors Catherine O'Hara and Eugene Levy. It is still our family's favorite film in World Showcase. France has added a Beauty and the Beast Sing-a-Long, which you don't want to miss! A new film is also coming to the China pavilion. "Wondrous China" will take guests on a spectacular journey across the country, filmed and presented in a completely seamless 360-degree digital format.
Other countries have small museum-type displays where guests can learn of cultures where they may never travel in life. Again, don't think stuffy and boring. Exhibits are interesting and interactive. Even Jules Verne would never have guessed that you could travel around the world in only 1.3 miles!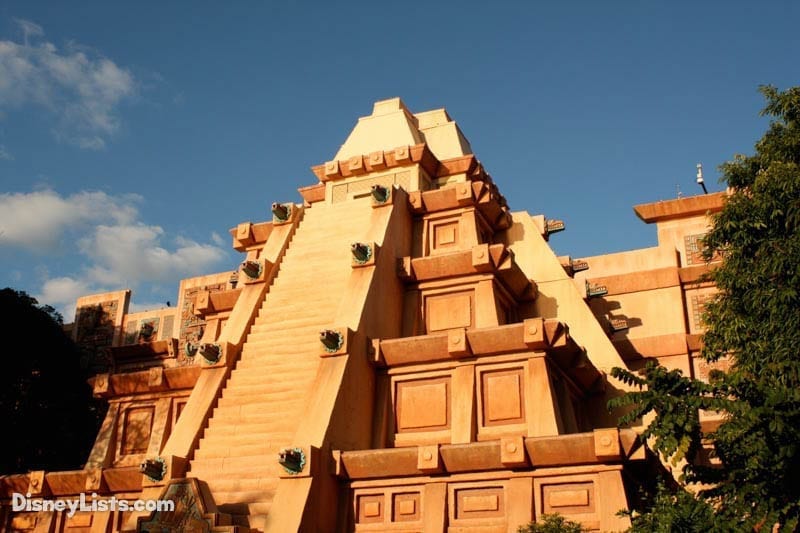 3 – Unique Character Meetings
Editor's Note: During the phased reopening of Walt Disney World, character greetings are temporarily suspended. At EPCOT, You'll see characters greeting guests from a distance in certain country pavilions. Click here for more information on how to see characters during the phased reopening.
Because of the many countries, Epcot is a character lover's dream come true. Characters such as Jasmine, Mary Poppins, Alice in Wonderland, Snow White, Aurora, Belle, Mulan, and Donald Duck are all out and available to meet along World Showcase. Times and characters vary, so be sure to check your times guide or the My Disney Experience App for up to date information.
2 – Amazing Nighttime Fireworks Spectacular
Editor's Note: During the phased reopening of Walt Disney World, nighttime spectaculars, including fireworks shows, are temporarily suspended.
Epcot Forever is a nightly fireworks show that takes place around World Showcase Lagoon. You'll want to grab a spot early for this fantastic award-winning show. FastPass+ is available for special viewing areas. There is also an Epcot Forever Sparkling Dessert Party where guests can sample international desserts and wines as they watch the show.
1 – Some of the Best Dining at Disney World
The dining at World Showcase is a destination all its own. World Showcase features 15 table service restaurants, offers 23 different dining events throughout the year, and too many to count stands and other quick-service food options. The hands-down highlight of the year is the annual Food & Wine Festival which takes place from late August through the middle of November. You'll "taste your way around the world" at over 30 global marketplaces featuring foods and beverages from all over the world. This is all in addition to the regular abundance of food offerings World Showcase has. If you're a Foodie, then a day (or more) at World Showcase is a must! The three other festivals: Festival of the Arts, Flower and Garden Festival, and Festival of the Holidays also have plenty of food offerings that are worth checking out!
Bonus – Coming Soon!
Here are some exciting updates that have been announced for World Showcase that are coming soon!
First up, the France pavilion will offer even more for guests to discover, including the much-anticipated attraction Remy's Ratatouille Adventure, where guests will shrink to the size of Chef Remy and race through Gusteau's restaurant on a wild adventure. A delicious new restaurant in the France pavilion, La Crêperie de Paris, offering both table- and quick-service options featuring a menu from celebrity chef Jérôme Bocuse is also coming soon. Both of these new offerings will open on October 1, 2021. We're looking forward to checking out these new options in the expanded France pavilion!
Disney's DuckTales World Showcase Adventure invites guests to join Scrooge McDuck, Donald, Launchpad, Webby and the nephews in search of priceless treasure. Using the Play Disney Parks mobile app, guests take a trip around World Showcase discovering exotic destinations, exciting mysteries, and maybe even a few thieves, villains, and supernatural guardians of ancient artifacts. This will be the next iteration of a popular interactive scavenger hunt around World Showcase guests have enjoyed for years as they experience the magic of possibility at Epcot.
For a no obligation, FREE Quote on a Disney vacation package, please contact our travel partner Magical Vacation Planner at 407-442-0227 (407-442-0215 for Spanish). You can also request a FREE quote online by Clicking HERE.