Major news from Disney as the Coronavirus continues to spread in the United States. Just hours after the announcement that Disneyland is closing, the announcement has come that Walt Disney World and Disneyland Paris are also closing. More details below. This is a developing story. We will continue to update this article as more details emerge.
Here is the official update from Twitter: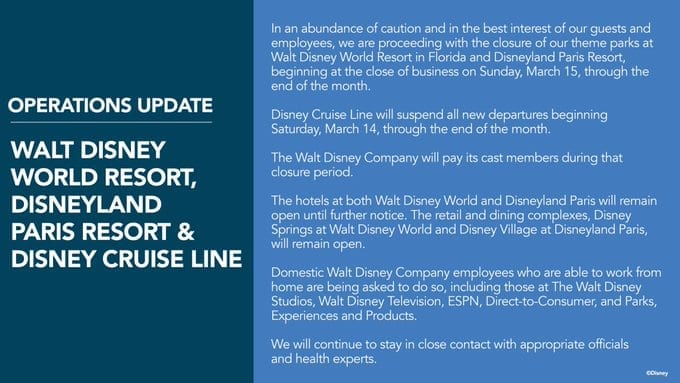 Note that Walt Disney World hotels and Disney Springs will remain open for the time being as guests arrange travel home. Additionally, affected Disney Cast Members will be paid during the closure.
For information on Disney World policies regarding resort reservations, tickets, dining reservations, etc. for guests impacted by the closure, click the link below.
BREAKING NEWS: Disney Announces Full Resort Closure Operations and Procedures – March 16
Adventures by Disney
Adventures by Disney has also suspended new departures through the end of March. Here is the official statement from the website:
IMPORTANT INFORMATION
Information on Coronavirus Disease 2019 (COVID-19) continues to evolve quickly and Adventures by Disney is closely monitoring global developments and following the advice of public health authorities, medical experts and officials in the destinations we visit.
In an abundance of caution and in the best interest of our Guests and Guides, Adventures by Disney has decided to suspend new departures through the end of March, excluding the Australia adventure, departing March 15 that will continue as scheduled.
Additionally, based on updated travel guidance from the U.S. Centers for Disease Control and Prevention, it is also necessary to cancel the following adventures:
Disneyland Resort & Southern California through March
Disneyland Resort & Southern California Escape through March
England and France departures through April
Egypt departures through April
Greece departures through April
Vietnam, Cambodia, and Laos through May
Italy departures through May
Italy and Amalfi Coast departures through May
Japan departures through May
China departures through June
We'll be contacting all impacted guests and travel agents. For specific questions, you may also reach out to our Contact Center 1-855-223-0025 or 407-566-8345.
RELATED ARTICLE: Disneyland to Temporarily Close Due to COVID-19 Threat
The Walt Disney Company announced on Thursday the temporary closure of Disneyland Resort in Anaheim, California.
Here is the official update from Twitter:
— Disney Parks News (@DisneyParksNews) March 12, 2020
The announcement comes after health officials have recommended the cancellation of gatherings of more than 250 people, including sporting events and business conferences.
There is no word on whether or not operations at Walt Disney World in Florida will be disrupted.
Disney has released this statement from Disney Parks Chief Medical Officer Dr. Pamela Hymel
As you may know from the news, COVID-19, commonly known as novel coronavirus 2019, has become a more widespread concern. Our thoughts are with those affected and we want to share more information with you about our efforts to help keep our guests, cast members, and communities safe and healthy.
We are carefully monitoring the evolving coronavirus situation and are in regular contact with health agencies for information and guidance. Walt Disney World Resort and Disneyland Resort are open and welcoming guests and we continue to implement preventive measures in line with the recommendations of the Centers for Disease Control and Prevention (CDC), as well as state and local health agencies. For example, we have added additional hand sanitizers throughout the park, increased the frequency of cleaning and disinfection in high guest contact areas, and are providing information about good hygiene practices and illness prevention to our guests and cast members.
Walt Disney World, Disneyland and all of our parks and resorts around the world have high standards of cleanliness and health and safety protocols in place, such as:
Training for cast members, with ongoing reinforcement on a regular basis
Defined cycles for frequent cleaning and disinfection of targeted areas
Easy access to handwashing facilities and hand sanitizers Quick response to spills, trash and other situations
End of day sanitation procedures for restroom, kitchen, and other facilities
Frequent cleaning and "wash down" of outdoor locations, including walkways and queues
Additionally, a list of First Aid and hand sanitizer locations is available in the Walt Disney World/My Disney Experience and Disneyland apps.
The CDC recommends everyday preventive actions to help prevent the spread of respiratory illnesses like coronavirus/COVID-19, such as staying home when sick, washing hands often with soap and water for at least 20 seconds, following proper respiratory cough etiquette, avoiding close contact with people who are sick and avoiding touching eyes, nose, and mouth with unwashed hands. We continue to communicate about these recommendations, as well as other important health information, to our cast.
The CDC provides more detailed coronavirus information on its website and your personal physician is a valuable resource for specific medical questions you may have. As always, our focus is on the health and well-being of our cast members, guests and the larger community, and we look forward to welcoming you at our parks very soon. If you have any questions about visiting Walt Disney World Resort or Disneyland Resort, or about our response to coronavirus, you can learn more on the Walt Disney World, Disneyland, or Disney Cruise Line websites, or call 407-WDisney.
Thank you, Pamela Hymel, MD, Chief Medical Officer, Disney Parks, Experiences and Products
This week at Walt Disney World theme parks, portable hand-washing stations have been set up. These stations are in addition to the hand sanitizer stations that have been out for a few weeks. Also out is new signage around the parks that give health recommendations such as frequent hand washing, covering mouth and nose when coughing or sneezing, and to seek medical attention if experiencing flu-like symptoms. Walt Disney World will continue to monitor the situation. No operational changes have been made yet. We will announce any changes or updates as they become available.
For a no obligation, FREE Quote on a Disney vacation package, please contact our travel partner Magical Vacation Planner at 407-442-0227 (407-442-0215 for Spanish). You can also request a FREE quote online by Clicking HERE.