On Monday, March 16, Disney announced further closures of its hotels and Disney Springs. With the threat of the spread of COVID-19, Walt Disney World and other Disney Parks are closing down in the best interest of guests and Cast Members. Catch all the details below.
Here is the official announcement from Twitter: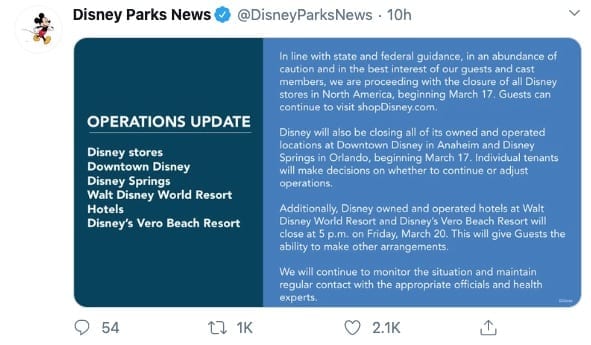 Below you'll find the latest updated information on the closings and operational updates from Walt Disney World website.
Operational Updates
1 – Theme Parks and Water Parks
We are focused on the health, safety and wellbeing of our guests and Cast Members. In line with state and federal guidance, the theme parks and water parks beginning March 16 through the end of the month. The Walt Disney World will pay its Cast Members during the closure period.
Click here for the original news announcement.
2 – Resorts
Disney owned-and-operated hotels at Walt Disney World Resort, Disney's Vero Beach and Disney's Hilton Head Island Resort will close beginning at 5:00 pm on Friday, March 20 through the end of the month.
3 – Disney Springs
All Disney owned-and-operated locations are closed.
The NBA Experience and NBA Store are temporarily closed.
4 – Transporation
All Disney transportation is unavailable through the end of the month.
5 – Other Experiences
ESPN Wide World of Sports Complex and miniature golf locations at Walt Disney World Resort are closed from March 16-March 31.
Disney will automatically cancel and refund experiences occurring near or adjacent to theme parks, including fireworks cruises and special dining events, that will not take place during the parks closure. Most guests with impacted reservations will be notified directly.
Golf and FootGolf operations remain available on their regular schedule.
Modification, Cancellations, and Refunds
6 – Tickets
Unexpired multi-day theme park tickets with unused days, or date-specific theme park tickets with a valid use period during the period March 12, 2020, through March 31, 2020, will automatically be extended to use any date through December 15, 2020. If you are unable to visit by December 15, 2020, you may apply the value of a wholly unused ticket toward the purchase of a ticket for a future date.
Florida Resident Discover Disney Tickets may be used through July 31, 2020.
Guests who have purchased tickets for Disney After Hours, Disney Villains After Hours, and Disney Early Morning Magic from March 16, 2020, through March 31, 2020, will be automatically refunded.
7 – Resort Rooms and Packages
Many reservations can be canceled and rebooked online. You can call (407) 939-5277 to reschedule reservations with arrivals of March 20-31 to a future date. To provide additional flexibility, Disney is waiving all Disney-imposed change and cancellation fees up to the date of check-in for your reservation, as well as those rescheduled reservations with arrivals through June 30, 2020.
On Friday, March 20 at 5:00 pm we automatically cancel reservations of Walt Disney Travel Company Disney Resort hotel packages and Disney Resort hotel room-only reservations booked directly through Disney, for arrivals March 20-31.
Disney will also process a refund to the original form of payment if a payment has been made. If you did not book through Disney directly, please contact your travel professional. Please note that cancellation fees imposed by third-party suppliers, including airlines and rentals cars, as well as non-refundable products like travel protection plans, are deducted from refundable amounts for Walt Disney Travel Company packages.
8 – Annual Passes
All active Walt Disney World Annual Passes will be extended for the number of days the parks are closed.
Passes with renewal windows ending during the closure will also receive an extension of time to renew.
For Passholders participating in the Annual Pass Monthly Payment program, your monthly payments will continue as scheduled. Once your payments are completed, you will still have the extra days as provided above.
Over the coming weeks, Annual Pass details in My Disney Experience will be updated to reflect new pass usage information.
Pass blockout and admission calendars will not be updated during the closure period.
9 – Dining & Other Experiences
All pre-paid dining and experience reservations will be automatically refunded if scheduled between March 16-March 31.
Reservations made at locations impacted by the closure will not be charged a cancellation or no-show fee.
Disney has canceled all showtimes for Disney's Spirit of Aloha Dinner Show and Hoop-Dee-Doo Musical Revue beginning March 16 through the end of the month. Disney will automatically refund Guests with reservations during these dates.
All active Tables in Wonderland members will be extended by the number of days the parks are closed.
10 – FastPass+
All FastPass+ reservations scheduled for March 16, 2020, through March 31, 2020, when parks are closed will be automatically canceled.
11 – Magic Bands
If you have placed an order and received notification that your MagicBands have been shipped to your home, you will still receive your order.
If you have arranged for your upgraded MagicBands to be delivered to you at your Disney Resort hotel for an arrival date between March 20 and March 31, 2020, your order will automatically be canceled and you will receive a refund of the amount you paid for the MagicBands.
While the Walt Disney World theme parks and Resorts hotels are temporarily closed, we are not currently accepting new MagicBand orders linked to Walt Disney World Annual Passholders or Disney Resort hotel reservations. If you have a scheduled Resort hotel arrival date after March 31, 2020, please check back later for updates.
For a no obligation, FREE Quote on a Disney vacation package, please contact our travel partner Magical Vacation Planner at 407-442-0227 (407-442-0215 for Spanish). You can also request a FREE quote online by Clicking HERE.