Mickey & Minnie's Runaway Railway is now open at Disney's Hollywood Studios and is thrilling guests with its state-of-the-art storytelling, attraction design, and celebration of Disney heritage. We all love Mickey Mouse. Through all of his many adventures, though, there's one thing Mickey has never done: starred in his own ride-through attraction in a Disney theme park. That's all changed now with the opening of this fun family-friendly attraction. Learn more about this fun family-friendly attraction below.
1 – The Story of Mickey & Minnie's Runaway Railway
Mickey & Minnie's Runaway Railway invites guests to begin their adventure together at the heart of Disney's Hollywood Studios. Guests are ushered inside the theater for the premiere of a new "Mickey Mouse" cartoon short, "Perfect Picnic," written by Walt Disney Imagineering and produced by Disney Television Animation.
In the story, Mickey and Minnie set off on a journey to find the best spot for a romantic picnic, taking their little red convertible for a drive through Runnamuck Park. Little do they know, Pluto has accidentally stowed away in the trunk of their car, so when the roadster hits a bump and the dutiful dog flies out … mayhem ensues. It's at this point Disney magic brings guests through the movie screen and into the cartoon world, where they join Engineer Goofy on a train ride on the Runnamuck Railroad, following Mickey and Minnie through the park on their quest for that perfect picnic spot.
2 – Enter in the Whimsical World of a Mickey Short
With Goofy at the helm, what could possibly go wrong? It turns out a lot, actually, as along their journey guests will:
Stampede through the Wild West
Visit a carnival
Avoid a swirling twister
Escape an exploding volcano
Dive over a waterfall … and much more
It's up to Mickey and Minnie to keep guests out of trouble, all while poor Pluto tries to catch up and bring them their picnic basket! Audio-Animatronics figures appear throughout the attraction, giving guests up-close encounters with beloved Disney characters.
Disney Imagineers experimented with new printing and painting techniques in ultraviolet light – mixing them with scenic elements and projections – to create an environment evoking the vibrant, hyper-reality of a "Mickey Mouse" cartoon.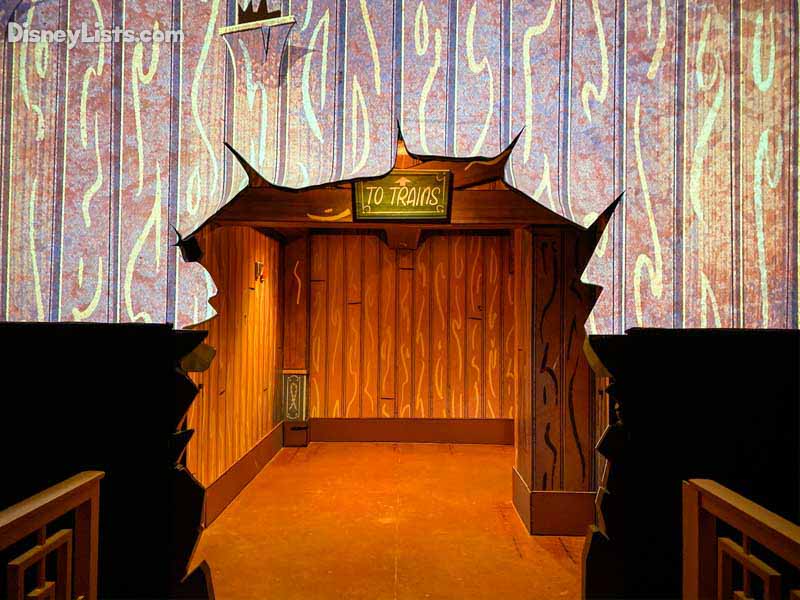 3 – Mouse Rules Apply
When you're inside the whimsical world of a "Mickey Mouse" cartoon shorts, "mouse rules apply," and anything can – and does – happen! Mickey & Minnie's Runaway Railway blends classic Disney attraction design with cutting-edge technology to turn a two-dimensional cartoon world into a rich, vibrant environment. The attraction features a combination of physical sets, Audio-Animatronicsfigures, animated media, and projection-mapping techniques, all syncing up with trackless vehicles and a jaunty musical score. The attraction also features the new song "Nothing Can Stop Us Now," which you'll definitely be humming throughout the day!
"This is a once-in-a-lifetime project. It's an amazing opportunity that I'm honored to be a part of. We are inviting our guests into a Mickey and Minnie cartoon. There are endless possibilities – anything can happen! You have cartoon physics and cartoon logic … there is so much that's possible." – Charita Carter, Senior Producer, Walt Disney Imagineering
4 – You'll Discover Something New Every Time You Ride!
The attraction experience is an all-encompassing environment full of rich and varied storytelling. Guests have the freedom to look in all directions and may see different details depending on which vehicle they ride in – and where they're sitting within each vehicle. Several scenes make transformations right before guests' eyes by combining theatrical effects in ways never seen before on a Disney attraction.
"We've taken our whole grab bag of theatrical tricks and blended them together so seamlessly you won't be able to tell what's what. There is more happening in each and every scene than you could possibly have time to see in just one experience." – Kevin Rafferty, Executive Creative Director, Walt Disney Imagineering
5 – Trackless Ride Vehicles
Trackless vehicles that carry guests through Mickey & Minnie's Runaway Railway are anthropomorphic; they become their own characters in the story, each reacting differently to the action as it unfolds around them with their own specific animation programming. In one scene, they scurry away in fear from a volcano, while in another, they dance in formation to music.
If you've ever ridden Luigi's Rollickin' Roadsters in Cars Land at Disney California Adventure, you'll experience similar movements in this attraction. The attraction also uses movements similar to what you will experience at Star Wars: Rise of the Resistance at Disney's Hollywood Studios.
Below is a look inside the attraction! Ride along with us!
6 – Wheelchair Guests Need to Transfer
Note that for those in scooters or wheelchairs, you do need to transfer to ride. You'll be able to wait in the queue with everyone else and then go to a designated area where you will be able to transfer. Because of the ride system, the attraction can pull off the last train car into a special loading area. There you will be able to transfer at your own pace and not be rushed. It's a fantastic setup. See the photo below for reference.
7 – Easter Eggs and Hidden Mickeys are Everywhere
There are so many hidden Mickey's in the queue and in the attraction. Be on the lookout for some fantastic ones in the queue such as in the lighting fixtures, on the walls, and on the movie screen. There are also plenty of Easter Eggs with nods to The Great Movie Ride and more in the attraction itself.
8 – Thoughts on Mickey & Minnie's Runaway Railway
I absolutely love this attraction. It's so much fun, and it's great to experience it with Mickey, Minnie, and the whole gang. I admit, I was never a fan of The Great Movie Ride and never went out of my way to ride it. I know there are many fans of that ride who wish this attraction was built somewhere else, but know that Disney did a fantastic job with the Chinese Theater. The theater itself and the queue area seems mostly unchanged, although you will see other Mickey Shorts movie posters up throughout the queue. You're attending the movie premiere of a Mickey Short, so the setting for this attraction is perfect.
The story and technology used in the attraction are far more appealing. Young children will love this attraction and seeing their favorite characters throughout the ride. Some have criticized the new look of Mickey, yet, Mickey's look has changed repeatedly throughout his 91 years. By using the Mickey Shorts, this attraction appeals to the next generation of Mickey Mouse fans. I feel the look of the characters is not distracting in the attraction. Their new look may be unfamiliar to those who haven't seen the Mickey Shorts on the Disney Channel, but younger fans will love it.
9 – Ranking Mickey & Minnie's Runaway Railway
Editor's Note: During the phased reopening of Walt Disney World, FastPass+ is temporarily suspended.
Because there is no height requirement, Mickey & Minnie's Runaway Railway appeals to a much wider audience. While Star Wars: Rise of the Resistance is in its own galactic category, this new attraction will easily be the second most popular attraction at Disney's Hollywood Studios. Since Rise of the Resistance currently doesn't offer FastPasses, this attraction is our top pick for your Tier One FastPass. While I love Slinky Dog Dash, I would choose to ride this over Slinky Dog if I had to choose one. Part of that, of course, is that Runaway Railway is new, but because almost every guest can ride it, it will remain a popular choice.
A Disney cast member asked me where I ranked this attraction with all Walt Disney World attractions. While these kinds of rankings are subjective and personal, this one is definitely in my top five favorite attractions. The broad appeal of the attraction, that fact that it's just a lot of fun, and that it stars Mickey Mouse are reasons it jumps ahead of many attractions offered at Walt Disney World.
 10 – Tips & Tricks for Mickey & Minnie's Runaway Railway
We've already said that this new attraction should be your Tier One FastPass pick for Disney's Hollywood Studios. If you are arriving at the park early for Star Wars: Rise of the Resistance and the boarding group process, be aware that the wait time in the morning for Runaway Railway will likely be the longest of the day. That's because most people will head there first, and because there are so many guests in the park at opening, the wait for the attraction can be very long. Unless you are in an excellent position to have a relatively short wait, we suggest coming back to the attraction later in the morning or even early afternoon.
I recently visited Disney's Hollywood Studios during the phased reopening and will say that this attraction had the longest posted wait time all day. The waits were longest in the morning and got shorter as the day when on. The wait times were also shorter than posted. I rode twice in the late evening and both times I waited less than half the time that was posted. This may not be your experience, but I bring this up to say don't let a long wait time scare you away from riding it!
No matter what, be sure to make time to experience this amazing attraction! We've heard an overwhelmingly positive response to the attraction. We're confident you'll love it too!
Bonus – The Cast Member Costumes
Be sure to pay attention to the Cast Member costumes! During the queue and pre-show, you'll see them in movie usher uniforms. Once you've entered the cartoon world, they wear railroad conductor attire! We love it!
Learn More About Mickey & Minnie's Runaway Railway!
Click here to learn more about the opening of Mickey & Minnie's Runaway Railway, Mickey Shorts Theater, and Runaway Railway Merchandise.
Click here to see a video of the train ride vehicle in the loading area.
Click here to see photos from inside the attraction.
Click here to see the opening ceremony on our Instagram account.
For a no obligation, FREE Quote on a Disney vacation package, please contact our travel partner Magical Vacation Planner at 407-442-0227 (407-442-0215 for Spanish). You can also request a FREE quote online by Clicking HERE.