With Disney World and Disneyland closed, one question that has come up is, "What are they going to do with all that food from all those restaurants?" We're happy to report that it won't be going to waste! Both Walt Disney World and Disneyland Resorts are donating surplus food to their respective local communities during the temporary closures of both parks.When faced with challenges and difficulties, it's always inspiring and heartwarming to learn of people coming together and making a difference in their communities for those in need. Catch all the details below.
Here are all the details from Disney Cast Member Thomas Smith:
As you may have seen earlier on Good Morning America, Walt Disney World Resort and Disneyland Resort started donations of surplus food to help the local communities we call home during our temporary closures.
Since making the important decisions to close Disneyland and Walt Disney World Resorts through the end of the month, our focus has been on the well-being of our cast members, guests, families – and of course, local communities.
Today, Walt Disney World Resort cast members joined the Distribution Services team that oversees collection and delivery of donations to help the community and share surplus food inventory like fresh salads, greens and expertly cooked hot items with the Second Harvest Food Bank of Central Florida.
"These donations would not be possible without the dedication of cast members behind the scenes who collect, sort and distribute every item to ensure it's delivered with the highest level of freshness, keeping food safety top of mind," said Tajiana Ancora-Brown, director, External Affairs at Walt Disney World Resort. "We feel an immense sense of pride and excitement every time we see the Disney Harvest truck making deliveries in the community, and we're so grateful for the team that makes these donations happen."
At Disneyland Resort, food donations actually started over the weekend.  While closely following safety guidelines, excess inventory of dairy, fruit, vegetables, packaged goods and banquet meals were shared with Second Harvest Food Bank to be quickly moved out to pantries and food distribution sites throughout Orange County.
"We are deeply grateful to Disneyland Resort for their generous donation of food," said Harald Herrmann, CEO of Second Harvest Food Bank of Orange County. "Donations of food, especially shelf-stable food, will be critical in the days and weeks ahead to serve those in our community impacted by the COVID-19 crisis."
Both Disneyland Resort and Walt Disney World Resort have an ongoing commitment of reducing food waste, and unserved food from select locations is regularly donated to support those in need within the local community.   Each year, the resorts donate over 1.2M meals to their local Second Harvest Food Bank as part of the ongoing food donation programs.
Disney's support of Second Harvest Food Bank doesn't stop there – our longstanding support includes monetary donations and Disney VoluntEARS efforts, where cast members donate their time to collect, sort and distribute food donations.
RELATED ARTICLE: Disney World Announces Full Resort Closure, Operations & Procedure Updates – March 16
By Chad & Cindy Nykamp
On Monday, March 16, Disney announced further closures of its hotels and Disney Springs. With the threat of the spread of COVID-19, Walt Disney World and other Disney Parks are closing down in the best interest of guests and Cast Members. Catch all the details below.
Here is the official announcement from Twitter: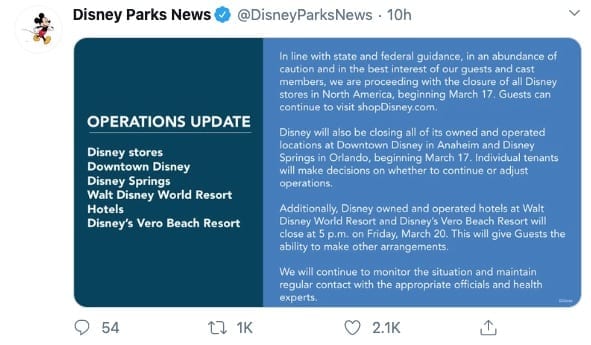 Below you'll find the updated information on the closings and operational updates from Walt Disney World website.
Operational Updates
1 – Theme Parks and Water Parks
In an abundance of caution, Walt Disney World is closing the theme parks and water parks beginning March 16 through the end of the month. The Walt Disney World will pay its Cast Members during the closure period.
Click here for the original news announcement.
2 – Resorts
Disney owned-and-operated hotels at Walt Disney World Resort and Disney's Vero Beach will close beginning at 5:00 pm on Friday, March 20 through the end of the month. This will give guests the ability to make other arrangements.
Disney's Magical Express will continue transfers to and from Orlando International Airport through Friday, March 20.
Food and beverage locations at Disney Resort hotels will remain operating as normal.
Character dining and dinner shows at Disney Resort hotel locations may have modified experiences and characters present from March 16 through March 20.
Effective March 16, the Electrical Water Pageant around Magic Kingdom area Disney hotels will be temporarily canceled.
The following Disney Resort hotel offerings will temporarily stop offering services effective March 16–

Bibbidi Bobbidi Boutique at Disney's Grand Floridian Resort & Spa
All Spa and Salon Locations
Character Coture services at Salon locations.
3 – Disney Springs
All Disney owned-and-operated locations will close beginning Tuesday, March 17, through the end of the month. Select restaurants and retail locations at Disney Springs may remain open and guests should call the location they wish to visit for operating hours.
Be aware of the following exceptions for Monday, March 16:
Bibbidi Bobbidi Boutique at Disney Springs, temporarily closing March 16-March 31.
Specific locations and operating hours are subject to change.
Character appearances, interactions, and entertainment at Disney Springs are also subject to change.
4 – Transporation
All Disney transportation will be suspended beginning the morning of Wednesday, March 18, 2020, through the end of the month.
5 – Other Experiences
ESPN Wide World of Sports Complex and miniature golf locations at Walt Disney World Resort are closed from March 16-March 31.
Disney will automatically cancel and refund experiences occurring near or adjacent to theme parks, including fireworks cruises and special dining events, that will not take place during the parks closure. Most guests with impacted reservations will be notified directly.
The following experiences are temporarily canceled:
All fireworks cruises
Highway in the Sky Dine Around
Pirates & Pals Fireworks Dessert Voyage
Ferrytale Fireworks: A Sparkling Dessert Cruise
Celebration at the Top – Savor, Sip, and Sparkle
Day Cruise Around the World
Disney Vacation Club Seven Seas Tasting Cruise
Grand 1 Yacht Rentals
Golf and FootGolf operations remain available on their regular schedule.
Modification, Cancellations, and Refunds
6 – Tickets
Unexpired multi-day theme park tickets with unused days, or date-specific theme park tickets with a valid use period during the period March 12, 2020, through March 31, 2020, will automatically be extended to use any date through December 15, 2020. If you are unable to visit by December 15, 2020, you may apply the value of a wholly unused ticket toward the purchase of a ticket for a future date.
Florida Resident Discover Disney Tickets may be used through July 31, 2020.
Guests who have purchased tickets for Disney After Hours, Disney Villains After Hours, and Disney Early Morning Magic from March 16, 2020, through March 31, 2020, will be automatically refunded.
7 – Resort Rooms and Packages
Guests who have not checked in for stays between March 16, 2020, through March 31, 2020, may modify or cancel their Disney Resort room reservation or Walt Disney Travel Company package up to their original check-in date. If no action is taken and Guests have not checked in, Disney will automatically process a refund to the original form of payment within 7 days of the original check-in date. If you did not book through Disney directly, please contact your travel professional.
Disney will waive all Disney-imposed change and cancellation fees up to the date of check-in through June 30, 2020.
Note: Refunded amounts for Walt Disney World Travel Company packages will be less cancellation fees imposed by 3rd-party suppliers, including airlines, rental cars, and 3rd-party hotels, as well as non-refundable products like travel protection plans.
8 – Annual Passes
All active Walt Disney World Annual Passes will be extended for the number of days the parks are closed.
Passes with renewal windows ending during the closure will also receive an extension of time to renew.
For Passholders participating in the Annual Pass Monthly Payment program, your monthly payments will continue as scheduled. Once your payments are completed, you will still have the extra days as provided above.
9 – Dining & Other Experiences
All pre-paid dining and experience reservations will be automatically refunded if scheduled between March 16-March 31.
Reservations made at locations impacted by the closure will not be charged a cancellation or no-show fee.
Character dining and dinner shows at Disney Resort hotel locations may have modified experiences and characters present from March 16-March 31.
All active Tables in Wonderland members will be extended by the number of days the parks are closed.
10 – FastPass+
All FastPass+ reservations scheduled for March 16, 2020, through March 31, 2020, when parks are closed will be automatically canceled.
For a no obligation, FREE Quote on a Disney vacation package, please contact our travel partner Magical Vacation Planner at 407-442-0227 (407-442-0215 for Spanish). You can also request a FREE quote online by Clicking HERE.