Dining
Top 10 Themed Restaurants at Disney World
It's a rather tricky endeavor to select the top 10 themed restaurants at Disney World. Disney has done their job too well making their restaurants' themes draw us in time and time again! We, however, have narrowed our list down to these incredibly themed restaurants.
Editor's Note: Not all restaurants have reopened. Be sure to check the My Disney Experience app for up-to-date hours.
10 –  Akershus Royal Banquet Hall
Akershus may have just slid into position 10, but this doesn't mean it's any less of a great experience! This royal banquet hall is nestled in Norway, Epcot. The moment you enter Akershus you feel as if you've stepped into a medieval castle. From the grand arches, vibrant flags, and elegant lighting – this restaurant exudes royalty! Not only is the Norwegian-inspired food presented as a royal feast, but guests are treated like royalty as Princesses make their way around to each table to greet you.
9 – The BOATHOUSE Restaurant
Head to Disney Springs for this waterfront dining restaurant. The BOATHOUSE makes guests feel the need to set sail which can be part of your dining experience in one of their Dream Boats – a car on land, but a boat on the water! Fantastic American and seafood cuisines allow guests to taste the theme presented throughout the dining area which is filled with nautical décor. You'll enjoy dining in this upscale, yet casual BOATHOUSE.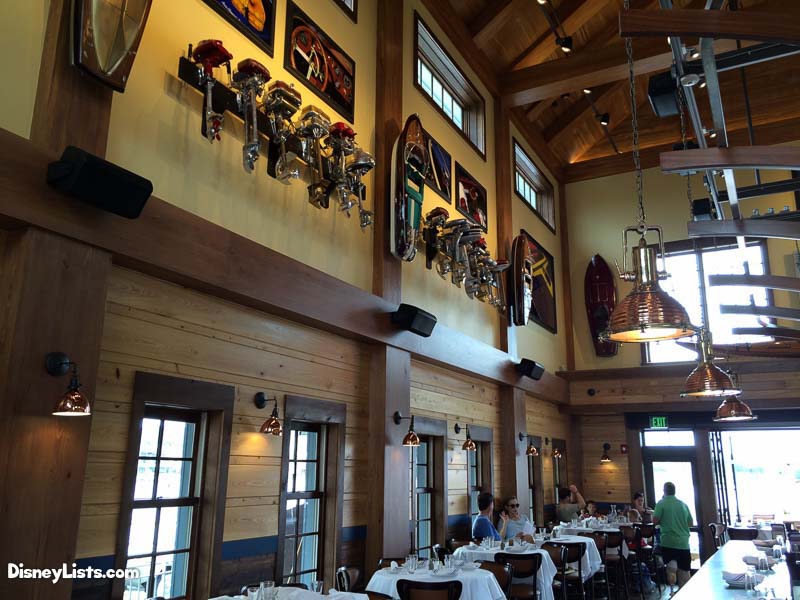 8 – Splitsville
Family fun, girls'/guys' night out, or flying solo – Splitsville has something for everyone! At this Disney Springs restaurant, you'll find a bowling alley-themed space mixed with an exciting lounge and/or dining area. The food selections match the bowling alley theme (nachos and wings!) but you can also get some delicious sushi, burgers, pizza, salad, tacos, pasta, and so much more. Have a blast bowling with your family and friends while enjoying a fantastic meal!
7 – 50s Prime Time Café
Don't forget to set the table, get your elbows off it, and eat your vegetables! 50s Prime Time Café located in Hollywood Studios is a homecoming experience. Décor set in the '50s and diner-type foods and milkshakes to match it, you'll feel like you are a part of the family at this restaurant. Cast Members make this theme come to life with their sassy humor. Enjoy a home-cooked meal, memorable décor, and family fun service.
6 – Rainforest Café and T-REX
Rainforest Café and T-Rex restaurants tie for number 5! While these restaurants have very different themes, both provide almost identical family-friendly environments. Rainforest Café is a jungle of fun with animals making all sorts of noise during the thunderstorm. T-Rex is a Jurassic adventure as dinosaurs roar through the meteor shower. Both menus have tasty American cuisine with fun food names to match each theme. We'd say out of all of the restaurants, these two probably present their theme in the most jam-packed way – from the décor, menu selections, and seating.
5- Sci-Fi Dine-In Theater
Hollywood Studios takes number 6 as well with Sci-Fi Dine-In Theater. Get ready to sit back and relax in Sci-Fi's uniquely designed tables/booths that make it feel like you are dining in a car. Upfront is the big screen with funny Sci-Fi short films. Monsters, aliens, and creepy creatures make you want to snuggle into the person next to you while you munch on your incredible burger! Sci-Fi Dine-In is the perfect place if you are looking for a unique dining experience.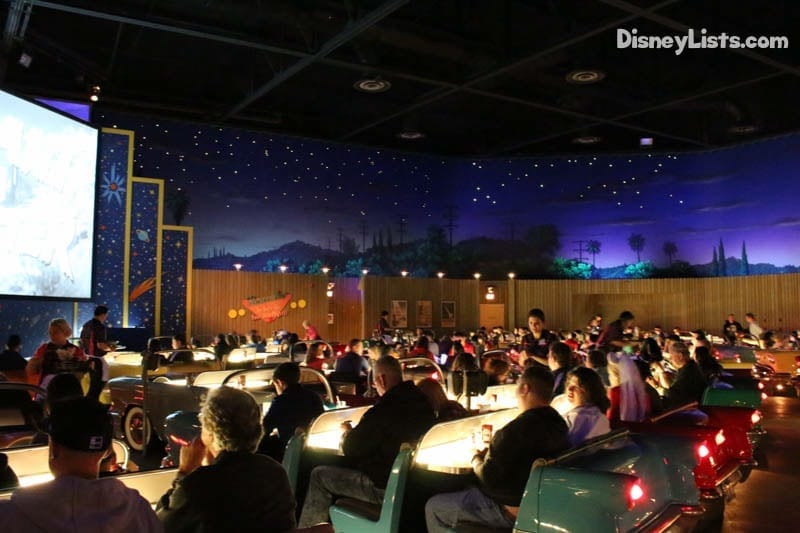 4 – Biergarten Restaurant
Get that lederhosen out and get ready to toast a beer with your family and friends! Biergarten Restaurant in Germany, Epcot is one of our favorite places in all of Disney World to dine. Great live German music is played on some German-specific instruments. The dance floor in front of the stage beckons you to dance along after you dine! The vast buffet has a great mix of German foods and American favors – plus German desserts are the best. Once you enter this restaurant you will feel a part of a German village celebration and forget for a moment you are in Florida!
3 – Coral Reef Restaurant
Also located in Epcot next to The Seas with Nemo and Friends, the Coral Reef Restaurant wins a near top spot on our list because of its awe-inspiring theme. You'll literally feel like you are dining under the sea as you sit among the huge aquariums with a surplus of colorful fish. The panoramic windows give a great view from every table in this restaurant. If you are lucky, you may just be dining then spot a scuba-diving Mickey!
2 – Be Our Guest
It seems like everyone is trying to get in to dine at Be Our Guest located in Magic Kingdom. Well, it's all for a good reason! Be transformed into the animated feature, Beauty and the Beast, as you dine in the Beast's castle. The restaurant offers three different areas – Grand Ballroom, Rose Gallery, and the West Wing. Each space is spectacular and is worth exploring! Quick service lunch provides guests with the opportunity to see the décor, but Be Our Guest dinner is the must-do if at all possible. The dinner food selections are mouth-watering delicious – some of the best at Disney World.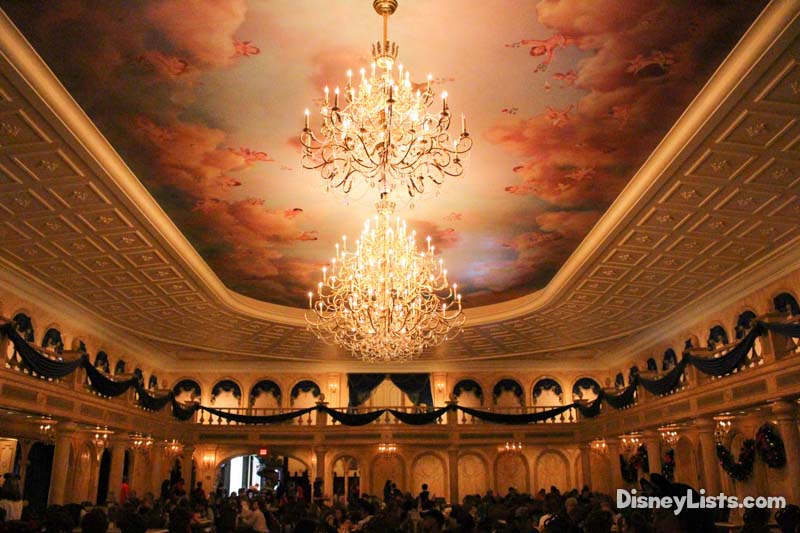 1 – Cinderella's Royal Table
Did you expect number one to be anything else but Cinderella's Royal Table?! Located in Cinderella Castle in Magic Kingdom, Cinderella's Royal Table is the magical-themed experience that in our opinion perfectly sums up all Disney's fairy-tale experience beautifully. Dining inside Cinderella Castle is a paramount experience, plus the food, décor, views, and Princesses greeting guests make for a memorable experience that is worthy of number one on our list!
Did your favorite best-themed restaurant make the list? We'd love to hear from you!
For a no obligation, FREE Quote on a Disney vacation package, please contact our travel partner Magical Vacation Planner at 407-442-0227 (407-442-0215 for Spanish). You can also request a FREE quote online by Clicking HERE.