If there is something positive to emerge from the current public health crisis, it is the coming together of people to help people. The amazing stories of both individuals and companies filling needs where they are able have been a source of joy. Earlier, we shared the story of Disney donating the food that is no longer needed at their parks and resorts to local food banks in Florida and California (read the story here). Disney is at it again, this time stepping up to help our medical heroes in the midst of shortages of critical medical supplies, specifically personal protective equipment. First and foremost, we applaud every medical hero out there, literally risking their own health and lives to serve the needs of others. We also applaud companies like Disney jumping in to help. Check out the details of this very clever way. Disney is clearing out its supplies to help the medical community.
Here are all the details from Disney Cast Member Thomas Smith:
Since taking the unprecedented steps of closing our theme parks and stores and suspending our cruises, we have continued to focus on ways we can make a difference during this time.
In response to requests from hospitals that are in need of additional protective garments and medical-related supplies, Disney Parks has donated 150,000 rain ponchos to MedShare, a humanitarian aid organization, for distribution to hospitals in need. The idea was inspired by nurses across the country who inventively found that rain ponchos can be an excellent way to protect their clothing and prolong the use of PPE, while also freeing up gowns when needed.
"The COVID-19 pandemic is unlike anything we've seen before," said Charles Redding, MedShare CEO and President. "We have to find ways to pool our resources and work together to help the healthcare workers who are doing their very best to treat patients and contain COVID-19. We appreciate Disney partnering with us to support hospitals and healthcare workers on the frontlines."
Disney Parks also recently donated more than 100,000 N95 masks to the states of New York, California and Florida, and is finding additional ways to give back.
These efforts follow the recent donation of more than 270 tons of food to local food banks from Walt Disney World Resort, Disneyland Resort, Disneyland Paris, and Aulani, A Disney Resort & Spa. Since March, Disney Parks have provided nearly $3M in in-kind donations benefitting communities around the globe.
Disney Parks has a longstanding history of helping hospitals and communities, dating back to the 1930s, when Walt, himself, took Disney characters and animators on outreach visits. Sharing the magic of Disney continues today through contributions, collaborating with nonprofit organizations, in-kind gifts, and employee volunteerism. These are some of the ways Disney brings positive, lasting change to communities around the world.
RELATED ARTICLE: Top 5 Disney World Cast Member Habits That Never Disappear
by Arielle Tuan
As a cast member, you are taught many habits that aren't needed at other "normal" jobs. For instance, there is a whole separate vocabulary that goes along with being a cast member (uniforms are "costumes," and jobs are "roles"). You also have a tremendous responsibility- you are a part of maintaining the magic of Disney for thousands of guests. For some guests, you will be a part of their vacation memories forever.
In 2012, I did a Professional Internship at Disney's Animal Kingdom. I worked as a Conservation Education Presenter (now known as Wilderness Explorers). I was stationed at Kid's Discovery Clubs and animal exhibits all over the park, teaching guests about how to protect the environment and the animals. My internship lasted for six months, and I learned a ton of cast member rules- some that were drilled into my brain repeatedly during training.
These are the cast member habits that have stuck with me years later, and have even benefited me in jobs after Disney:
5 – The Two-Finger Point
I'm pretty sure this is at the top of every cast member's list of habits. You usually learn about the two-finger point during your first days on the job. In some cultures, it is considered rude to point with one finger. Since people from all over visit Walt Disney World, and you don't want to offend anyone on their magical vacation, you are told to give direction by pointing with two fingers. This is a habit that becomes ingrained in every cast member, and I still find myself pointing with two fingers (or gesturing with a full hand) long after I've left Disney.
 4 – Maintaining Character Integrity
This is one of those habits that is particularly unique to working at Disney. There is only one Mickey Mouse, just like there is only one Princess Jasmine, one Goofy, etc. No matter where you work at Disney World, you will probably have a guest come up to you and ask where they can meet certain characters. Sometimes, adults will ask without thinking, "How many Mickeys are there?" Even if the main mouse is simultaneously meeting in Magic Kingdom, having breakfast with guests in Animal Kingdom, and performing in the afternoon parade, you still have to insist to guests that it's because they just magically get around really fast. It's all part of the Disney magic, especially for kids. Even now, when I visit the parks as a guest, I still make sure to maintain character integrity.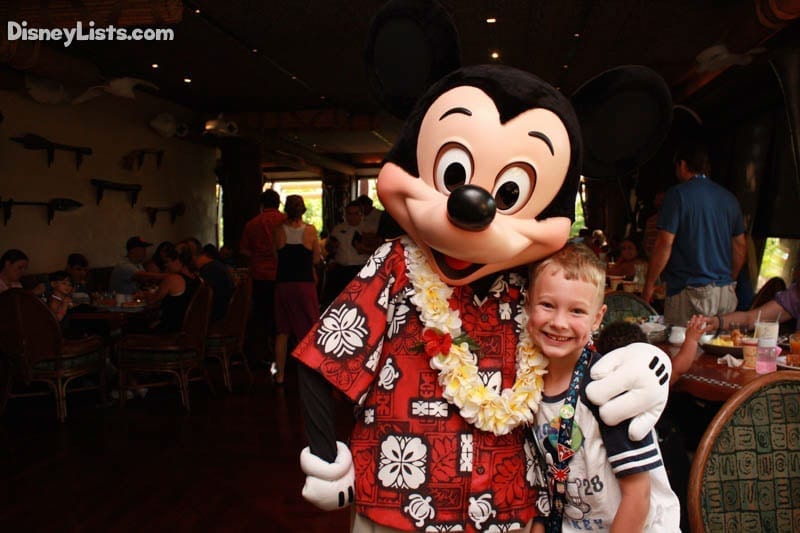 3 – Picking Up Trash
All cast members are part of the Custodial team- that's what I was taught. Even if your role isn't specifically to clean an area of a park or resort all day long, you can still help by picking up trash when you come across it. It's called the "Disney Scoop." You bend down, swipe the trash off the street, and dump it in the nearest bin without breaking your stride. Of course, this doesn't work for bigger messes, but if everyone devoted themselves to picking up bits of trash when they saw it, Disney (and other workplaces) can be clean and sanitary.
2 – Never Saying "I Don't Know"
When I worked at Disney, one of the first things I learned was never to answer a guest's question with "I don't know." Instead, you should say, "I will find out for you." Guests will ask the most random questions, and most of the time, these questions will have nothing to do with your actual role or area. They'll want to know if a ride is still down, where they can find the bathrooms or a restaurant, or what the best way to get to another park is. No matter the question, you should always strive to be as helpful as possible, even if you genuinely don't know the answer. It took me a while to learn where all the bathrooms were in Animal Kingdom when I first started, but I usually had a park map on me or could ask another cast member. Coordinators will provide you with ways to ask for help, and this makes for happier and more informed guests. Saying "I'll find out" instead of "I don't know" has served me well in jobs outside of Disney, and it's a good habit to have!
1 – Safe-D Begins With Me 
If you drive in any cast member-only, backstage area of Disney, you're likely to see signs that say "Safe-D Begins With Me!" It may be a cheesy slogan, but it's a useful lesson that all cast members are taught. Safety is part of the "Four Keys" that all cast members must abide by- Safety, Courtesy, Show, and Efficiency. It is essential to be courteous to all guests, maintain the "show" and magic of Disney, and to manage things efficiently. But most importantly, the safety of guests and cast members alike must be prioritized- even if that means breaking character.
One of the best examples of this is during parades and fireworks, when you might hear a cast member raise their voice, instructing guests to stay behind tape or roped-off areas. This is for the guest's safety- they can't be blocking a walkway or be in the path of a parade float. It may look like the cast member is shouting and acting rude, but they are projecting their voices to keep you safe. The importance of safety is a good thing to remember when doing all jobs, even office jobs- and now, with this rhyme, it's an impossible habit to forget!
For a no obligation, FREE Quote on a Disney vacation package, please contact our travel partner Magical Vacation Planner at 407-442-0227 (407-442-0215 for Spanish). You can also request a FREE quote online by Clicking HERE.