We're all looking for some Disney magic at home right now and that's why we're so excited about the at-home features now available on the Play Disney Parks app. Catch all the details below.
Here are all the details from Disney Cast Member Thomas Smith:
The Play Disney Parks app offers so many ways to experience Disney magic, but did you know that you can explore some of these fun features at home, too?
That's right! Available now, you can test your knowledge with Disney trivia throughout the Disneyland Resort and Walt Disney World Resort game boards in the app, or even try your hand at Mickey & Minnie's Trivia Time – Mouse Rules Apply!, a new trivia game, inspired by the new Mickey & Minnie's Runaway Railway attraction at Disney's Hollywood Studios celebrating the zany world of "Mickey Mouse" cartoon shorts. You can also explore specially-themed Disney Parks playlists through Apple Music®*. Whether you're listening to tunes themed to Cars Land at Disney California Adventure park, tracks from EPCOT's World Showcase, or even the Disney Parks Hits playlist there are many delightful playlists to enjoy.
And Disney fans everywhere can play select Walt Disney World Resort games at home, too! In the app, you can find your laughing place as you play through a series of themed mini games, found on the game board at Splash Mountain at Magic Kingdom Park. Or, explore the fun with some of your favorite toys while playing Andy's Board Game Blast, at Slinky Dog Dash on the Disney's Hollywood Studios game board.
If you haven't already, be sure to download the Play Disney Parks app from the App Store or Google Play today to enjoy these features! Have you already been joining in the #PlayDisneyParks fun? Use #DisneyMagicMoments and #PlayDisneyParks on Instagram and Twitter to let us know!
*Trial or Subscription Required.
RELATED ARTICLE: In-Depth Look at Play Disney Parks App
by Mike and Jamie Sylvester
While we are believers in detaching from mobile devices while vacationing at Disney, we also think there are a couple of apps that play a massive role in making the most of a magical visit. First and foremost, the My Disney Experience App at Walt Disney World is priceless (really, it's free!), keeps us organized, acts as a personal map, mobile orders food, and is a FastPass kiosk all in the palm of our hand. Well, now Disney has rolled out a new app that, in our opinion, is well worth the download. Scroll along with us through this in-depth look at the Play Disney Parks App now available!
1 – Another Disney App?!
Yes! When the My Disney Experience (MDE) App launched in 2013, its sole purpose was to make our lives as Disney guests easier. While it had to work out a few kinks, it truly serves its purpose well now, and we use it regularly with every visit to Disney. Disney has since launched a second app called Play Disney Parks. It's an entirely separate app from the MDE, with the focus of keeping guests happy while they wait in line and roam the parks. It's essentially mobile gaming, Disney style. While yes, these are two separate downloaded apps, they do speak to one another. The Play Disney Parks app will ask you for your MDE log-in information. This is how it keeps track of your "achievements," which we will get to below. We are thankful it asks for the MDE log-in information because it's just one less username/password that needs to be created.
2 – An App with Aptitude 
Just like the MDE App, the Play Disney Parks App is free and available on both iOS and Android. Just be sure to use Disney's free Wi-Fi, so you hopefully don't have to worry about roaming charges. It can pick up on your location if you allow it access which is needed when playing games in standby lines. It also features both Disneyland and Walt Disney World, making it a favorite app coast to coast! Clean, crisp, and colorful in appearance, it's truly eye-pleasing as well as very user-friendly, in our opinion. Before we get into the whole main gaming features, the Play Disney Parks App can serve as a park map if needed. It's easy to navigate and makes for a rather interactive experience even more so then the MDE map. For example, you may see the cars on the Tomorrowland Speedway attraction moving around the track while you view the map. We also enjoy seeing the short phrases when the app is loading something. Some of the fun phrases that appear include "Mixing up the magic," "Wishing upon stars," "Building Castles," and "Gathering Pixie Dust." It's the little details that make this app stand out. Of course, the primary focus for Play Disney Park is to PLAY!
3 – Disney Parks Trivia
Wherever you may be at this very moment, you'll be able to play the Play Disney Parks trivia. No need to be in the park for this, but it's still fun to do once inside the park as well. Each park has its very own trivia that is marked on the map with a question mark icon in different sections of the park. An example question maybe something like, "What were the first-ever words spoken on-screen by Mickey Mouse?" They provide four possible answers in an A to D format. Just in case you're curious about the answer – it's "Hot dogs!" While this was fun to do in the parks, we also found it fun to play on the car ride to Disney World. Some questions are more challenging than others, and you may see a repeat question or two, although Disney is currently working on adding more trivia questions.
4 – Standby Line Games
The true highlight of the Play, Disney Parks app, is the gaming available while waiting in the standby line of a particular attraction. This is really the purpose of the app and truly helps to pass the time. In some situations, the game unlocks special features that only people playing the Play Disney Parks app are able to see. For example, while waiting in the Peter Pan's Flight attraction, you will join in helping Tinker Bell find her trinkets. It's a scavenger hunt while in line! When asked questions prompted by the game, like "Have you reached the lantern?" by saying yes, surprises like Tinker Bell appearing in the lantern may happen. The game may ask questions to talk about with each other like, "What's the most magical part of your day?" or have you doing charades and even sketching a picture. It's an exciting experience and keeps even waiting in line entertaining! You'll know if an attraction has a unique game available by the large icon that pops up over the attraction while you're in or near that attraction. Keep in mind, standby line games may need more than one player and can't be played from home. Since it's interactive, it must be done while in the queue.
Walt Disney World games include:

Magic Kingdom: Off to Neverland (Peter Pan's Flight) and Rocket Race (Space Mountain)
Epcot: Soarin' Challenge (Soarin') and Agent P's World Showcase Adventure (throughout the World Showcase)
Hollywood Studios: Playset Party (Toy Story Mania) and Andy's Boardgame Blast! (Slinky Dog Dash) at Hollywood Studios have interactive games. In Star Wars: Galaxy's Edge, the Play Disney Parks App will take you deeper and deeper into the story of Batuu and take your time in the land to a whole new level.

Click here for more on using the app in Star Wars: Galaxy's Edge.

Animal Kingdom: Animal Expeditions (available at Tree of Life, Gorilla Falls Exploration Trail, and Maharajah Jungle Trek) and ACE Guide to Pandora: Valley of Mo'ara Edition
Art of Animation Resort: Stories of the Enchanted Gallery

Disneyland games include:

Disneyland Park: Off to Neverland (Peter Pan's Flight) and Rocket Race (Space Mountain)
Disney California Adventure Park: Playset Party (Toy Story Mania) and Disney Colorwheel Challenge (Pixar Pier)

5 – Disney Music
Throughout the parks, you'll see music note icons in several different locations. These music notes play all that fantastic Disney music we've fallen in love with over the years. For example, if you click on the music note in Magic Kingdom's Adventureland, you'll hear songs like "Yo Ho (A Pirate's Life For Me)" and "The Tiki, Tiki, Tiki Room." Just like the Trivia, the music portion of the app can be enjoyed from the comfort of your home! You don't have to be in the parks to enjoy this one. Since the Disney Music is powered via Apple Music, the app will encourage you to connect to Apple Music so you can listen to full songs and add music to your library is connected. The app even offers a 3-month free trial of Apple Music if interested.
6 – Achievements
The star icons you'll see on several of the attractions throughout the parks are the "Achievements" portion of the app. If you allow your Play Disney Parks app to access your location, you'll receive an achievement notification for riding a particular ride. It sends a "Congrats!" and even marks the date you received your achievement so you can see when you last rode the attraction. You don't get anything for the achievements, but it's fun to collect them anyway! To see all of your accomplishments, press the big Mickey icon in the top left corner of the screen. Not only can you see your achievements here but manage players if you want to add more than one player, access your My Disney Account, and provide feedback if you'd like. This is precisely why linking to the MDE App is a plus, so your achievements are saved.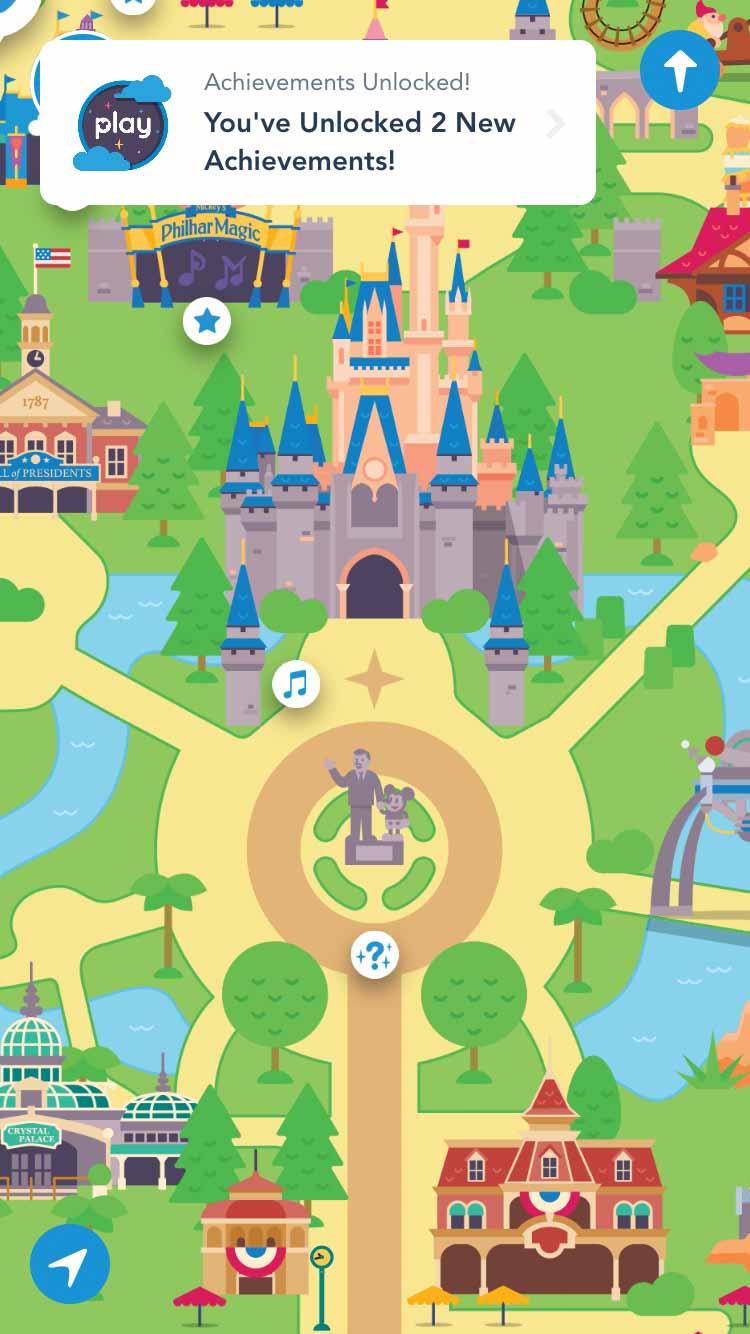 7 – The Negatives
While we'd highly recommend giving Play Disney Parks app a try, we do want to point out a few things you'll want to keep in mind. Unfortunately, it does use quite a bit of battery power, so you'll want to plan accordingly to keep your device charged. It's also not perfect as far as pinpointing location all the time. There were times when it was dead on, and other times that it seemed to have a more difficult time locating us. We closed out of the app and came back in, and it would work most of the time. If you have a FastPass, don't expect to get much out of the gaming portion of the app. We had to wait in a lengthy FastPass line on Peter Pan's Flight, and the game was little use to us because we weren't in the standby queue. Lastly, the queue games aren't always for solo playing. Most of them require more than one player. You can easily add people to your profile to play with, but when you're solo – well, you're out of luck or can add a fake player two and just play both people.
For a no obligation, FREE Quote on a Disney vacation package, please contact our travel partner Magical Vacation Planner at 407-442-0227 (407-442-0215 for Spanish). You can also request a FREE quote online by Clicking HERE.