Dining
Top 10 Classic Disney Treats
There are hundreds of snack options at Walt Disney World, but some are more popular than others. Some of these classic treats have stood the test of time and even become cult fan favorites. You haven't lived until you've tried these Top 10 Classic Disney Treats!
10 – Specialty cupcakes
Specialty cupcakes are available at Walt Disney World theme parks and resorts. There are so many different options that some guests have created a "cupcake crawl" as a way to travel around property to try all the favorites. In the theme parks, the cupcakes served at quick-service locations change seasonally. Disney's Hollywood Studios, for example, had special frozen themed cupcakes during "Frozen Summer Fun."  Also, keep an eye out around holidays as these treats can be themed throughout the year! But bakeries and resort locations often keep the same offerings year-round. The Butterfinger cupcake, featuring a chocolate cupcake filled with chocolate frosting, topped with a huge mound of vanilla frosting coated with Butterfinger pieces is a fan favorite at Disney's Hollywood Studios.  If you are over at Disney's Pop Century Resort, you will want to try "The King" cupcake. This chocolate cupcake features a banana custard filling, peanut butter frosting, candied bacon and a chocolate drizzle on top. Inspired by Elvis Presley's favorite sandwich you are sure to love this treat!
9 – Carrot Cake Cookie Sandwich
This unique treat was a guest favorite at the Writer's Shop at Disney's Hollywood Studios. Although the Writer's Shop is closed, you can still find the carrot cake cookie sandwich at The Trolley Cafe, the Starbuck location on Hollywood Boulevard. This treat is made of two carrot cake cookies and a vanilla cream cheese frosting center. It is similar to a whoopie pie but much better!
8 – Churros
The churro is another theme park favorite that, while not exclusive to Disney, is enjoyed by thousands of guests each year. Some locations offer dipping sauces, and at Disney Springs you can find filled churros with cream fillings such as chocolate, strawberry, vanilla, and coffee. Disneyland has a churro ice cream sandwich, which many Walt Disney World fans hope will make the cross-country journey to the east coast.
7 – Funnel Cake
A funnel cake is the perfect snack option if you are looking to share, or eat the whole thing alone! The fried dough sprinkled with powdered sugar is a theme park favorite! Disney provides topping options such as strawberries, ice cream, whipped cream, and chocolate syrup so you can choose your favorite. There are several locations in Walt Disney World, but you can head over to the American pavilion at Epcot for a double chocolate funnel cake, chocolate funnel cake topped with chocolate syrup! Sometimes even pumpkin spice funnel cake has been spotted at this location during the fall season.
6 – Candy Apples
If you are looking for the classic, caramel version treat, you will find it select locations throughout the Walt Disney World resort such as Epcot's Karamell Kuche located in Germany or Main Street Confectionery at Magic Kingdom. However, other great options are available at locations throughout Walt Disney World. Character Candy Apples feature a layer of caramel, then a layer of chocolate. They are then decorated to look like our favorite Disney characters including Mickey, Minnie, Olaf from Frozen, and Mike Wazowski from Monster's INC. Seasonal varieties also appear throughout the year with theme apples for Halloween, Christmas, and even 4th of July. These specialty apples can be found at The Main Street Confectionery, Big Top Souvenirs and the Frontier Trading Post at Magic Kingdom, The Writer's Stop and Sweet Spells at Disney's Hollywood Studios, Zuri's Sweets Shop at Disney's Animal Kingdom and The Candy Cauldron and Goofy's Candy Company at Disney Springs.
5 – Mickey Pretzel
Sure, soft pretzels are a theme park snack staple, and Disney offers several different kinds including cream cheese or jalapeno cheese filled pretzels. But the best soft pretzel is shaped like Mickey Mouse! You can find these familiar shaped pretzels throughout the Disney theme parks.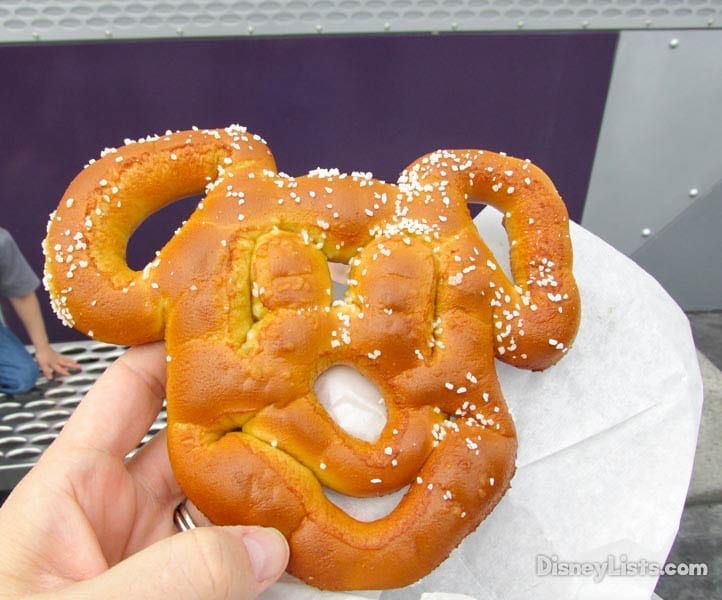 4 – Popcorn
Popcorn may not be as exciting as or have a cult status like some of the other snacks on the list, but this hot, buttery and salty treat definitely deserves a mention. Popcorn in its classic form can be found throughout Walt Disney World, but there are a few specialty options worth mentioning. In Epcot's Future World you can find gourmet flavors such as cheddar cheese, buffalo and bleu cheese and sour cream and chive! And if you are looking for a sweet and salty combination, there are many pre-packaged caramel popcorn options available at stands and merchandise locations. But for real caramel popcorn, you will want to head to Karamell Kuche at the Germany pavilion in Epcot.
3 – Turkey Leg
This classic Disney treat is another that has reached cult status among fans.  Like the Dole Whip, it has recently been featured in several merchandise items including t-shirts and a refrigerator magnet. These turkey legs are smoky, salty and more of a meal than a snack. You may find it hard to finish on your own, which makes this snack a great one for sharing.
2 – Dole Whip
The Dole Whip has reached a celebrity status at Walt Disney World and Disneyland, with guests coming back year after year to get their Dole Whip fix. This frosty treat has even inspired several merchandise items in recent years, including t-shirts, and an air freshener!  A Dole Whip put simply is pineapple soft serve, but it is also available as a Dole Whip Float served with pineapple juice. At Walt Disney World, guests can enjoy a Dole Whip at Aloha Isle at Magic Kingdom or at the Pineapple Lanai at Disney's Polynesian Village Resort, as well as many other locations.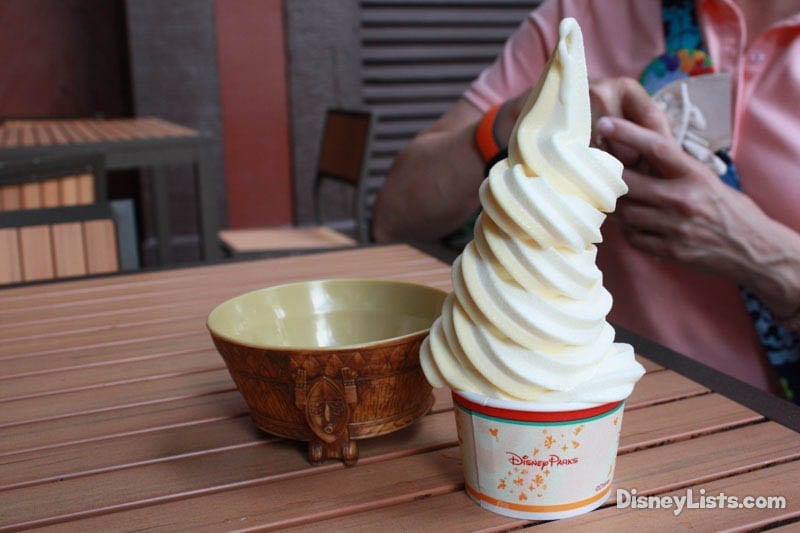 1 – A Mickey Ice Cream Treat
When it comes to enjoying Mickey-shaped ice cream at Walt Disney World, you've got two choices: the Mickey Ice Sandwich or the Mickey Premium Bar. Both are definitely the fan-favorite classic treat. The bar features vanilla ice cream coated in a chocolate shell shaped like our pal Mickey Mouse. The sandwich is yummy cookies and cream ice cream between two Mickey-shaped chocolate cookies. Both can be seen throughout Disney parks and resorts around the world! The reason these snacks are a favorite is that it can be enjoyed by guests young and old and often evokes memories of family trips.  It has become an icon for Disney appearing in commercials, advertisements and featured in many merchandise offerings, including hats, Vinylmations, Christmas ornaments, t-shirts, magnets, and much more!
With so many great options to choose from it can be hard to decide.  Whether you love sweet, savory or salty, there is a classic Disney treat for you! So next time you are wandering around the World, find one of these favorites to hold you over until your next meal! Better yet, challenge yourself to try all 10! Which of these top 10 classic Disney treats are your favorite?
For a no obligation, FREE Quote on a Disney vacation package, please contact our travel partner Magical Vacation Planner at 407-442-0227 (407-442-0215 for Spanish). You can also request a FREE quote online by Clicking HERE.