Every Disney World vacation starts with choosing where to stay. As much as we'd like to be in the parks 24/7, they do close, and you do need a place to sleep. But staying at an on property resort is about so much more than sleeping. Disney hotels are genuinely part of the whole experience. In our years of coming to Disney World, we have stayed on and off property. There are lots of reasons why staying on property just can't be beaten. Here are ten of them.
10 – Early Entry to Theme Parks for All Resort Guests; Extra Night Hours for Deluxe Resort Guests
One of the newer benefits of staying at a Walt Disney Resort is being able to enter any theme park 30-minutes early. Extra Magic Hours have been retired and will not return. This new benefit has completely changed how busy parks are at opening since it allows resort guests to enter any theme park thirty minutes early, ahead of non-resort guests, to get a jump on the day. This means that by the time the park opens, most attraction wait times, especially the very popular ones, are already long and some over an hour. Bring a resort guest allows you to enter the park early and get in line ahead of a lot of people. It's a major benefit of staying on property. Another benefit, available only to guests of Disney Deluxe and Deluxe Villa resorts, gives guests extended evening hours in the parks.
9 – Room Charging
Those awesome Magic Bands aren't just for getting into the parks. They also allow on-property guests to charge purchases back to their rooms. This convenience may not be completely evident until you are in the midst of your vacation. This means you won't have hundreds of charges to go through on your credit card. It really makes life easy at the pools and water parks, as there is no need to carry cash or credit cards with you. Warning: It doesn't make it much easier to make purchases, so be sure to monitor how much you're spending to avoid a budget-busting surprise later.
8 – Save Money
Editor's Note: Disney Dining Plans are temporarily suspended. However, Disney has confirmed that they will return for vacation packages beginning January 9, 2024. Those packages will go on sale on May 31, 2023.
This is going to come as a surprise to a lot of people, but staying off property probably may not be saving you as much as you think, if anything. While you have to pay for resort parking, parking at the theme parks is free (saves $25 a day). Also, don't forget about the dining discounts and Disney Dining Plan. These options can add up to additional savings. Bottom line, staying on property may be less expensive than you think compared to off-property hotels, all things considered. Just make sure you're comparing similar-level hotels (no, you can't compare staying at a youth hostel to a suite at the Grand Floridian).
7 – Early access to Dining Reservations
While changes over the last few years to Disney's reservation system have made getting dining reservations easier, that doesn't mean that the most popular dining spots don't fill up quickly. Getting a table during prime dining time at Space 220, Cinderella's Royal Table and many others is a challenge, even during the slowest times of the year. Reservations for dining can be made 60 days in advance. Staying on property gives you an advantage here because of the +10 rule. The +10 rule allows you to start making reservations 60 days from your check-in day AND then ten days after that. Essentially, giving you a nine-day window where you have a head start over the general public.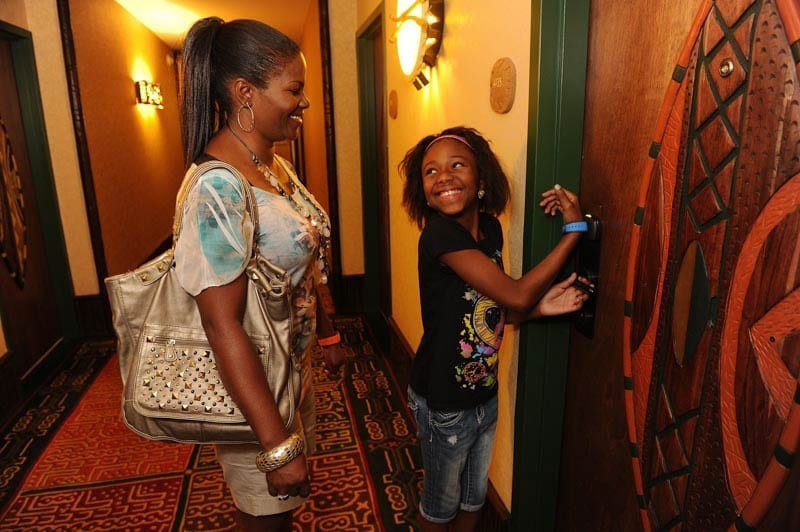 6 – Transportation
If you've ever seen a National Lampoon's Vacation movie (look kids, Big Ben, Parliament), you'll know that getting around can suck a lot of fun out of the experience. Disney knows that, so they've set up a public transportation system that rivals that of most major cities. From the moment you land in Orlando to the time you depart, you can get around without ever doing any of the driving. Between buses, boats, the Disney Skyliner, and monorails, there isn't anywhere you can't get to.
Also, if you think you'll stay off property and the hotel shuttles will be just as good, think again. If your hotel offers a shuttle, it likely has very limited and fixed schedules and will probably be very crowded. I've heard horror stories over and over about how much vacation was wasted this way.
5 – Pools
The pool is a big part of a vacation experience for many people. It's bound to be the favorite part of the trip for most kids, and it's an important afternoon break from the heat of central Florida. The pools at Disney World blow away the pools at most off-property hotels. With fantastic theming and pool bars at most resorts, it cools you off and pulls you deeper into the magic.
*** See #3 below.
4 – Convenience/Time
What is the biggest problem with every Disney vacation? Every single one of them is too short. One of the biggest advantages of staying on property is its convenience and the precious time it saves. Getting to the parks is quicker. Running back to the room for a nap or pool time is much easier if you're in a Disney hotel. Remember, Disney World is twice the size of Manhattan. It's a BIG place; getting from point A to B can already take a lot of time.
A Disney World vacation isn't cheap. I always encourage people to imagine they are paying by the hour. Every hour wasted during your vacation is losing money.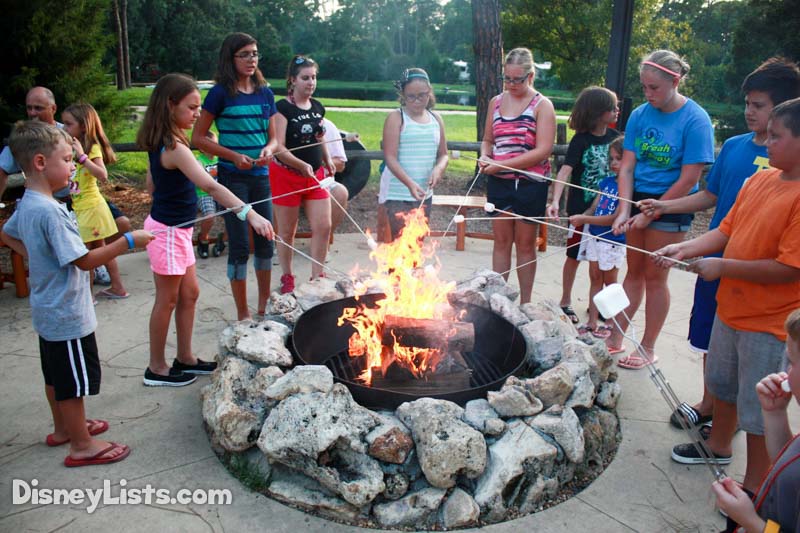 3 – Special Entertainment – movies at the pool, trivia, and games
One really cool treat to staying at a Disney resort is all the little entertainment extras they provide. Head to the pool in the afternoon, and you'll likely walk into a dance party or trivia game. In the evenings, many of the resorts set up a movie screen and show a Disney favorite poolside. Depending on where you're staying, there may also be a scavenger hunt or field games.
2 – The Magic
What makes Disney World different from every other amusement park in the world? The Magic! A vacation at Disney is like going to another planet. I haven't vacationed anywhere else where I can leave the real world behind entirely. We call it the bubble. Staying on property extends the bubble to 24 hours a day and provides total immersion in what Disney does best.
1 – Pre-trip Build up
The absolute best part of staying on property is that the experience starts even before you make the reservation and continues up until check-in. Disney is great about sending materials pre-trip that amp up the excitement. We especially look forward to receiving our Magic Bands! On one trip, they even sent us a sweet light-up Mickey jump drive with all our information on it. It's very entertaining and full of great information. It's also a good way to get your Disney fix between vacations (does floating bench mean anything to you? :) )
For a no obligation, FREE Quote on a Disney vacation package, please contact our travel partner Magical Vacation Planner at 407-442-0227 (407-442-0215 for Spanish). You can also request a FREE quote online by Clicking HERE.