When it comes to music, Walt Disney World offers some of the best musicians around. Not only do they perform incredibly energetic sets of diverse music, but in many cases, musicians are performing it several times a week and even several times a day. It's hard to find a spot on Disney property where you aren't a short distance from live music to enjoy. If you're looking for some great acts to check out, here is a list of 10 great spots for live music in Walt Disney World.
10 – Main Street Philharmonic in the Magic Kingdom
A few times each day, guests walking along Main Street U.S.A. can hear the energetic sounds of the Main Street Philharmonic, a 12-piece band consisting of brass and percussion instruments. Once they've marched to their spot along Main Street, the band jumps right into their performance of swing, ragtime, and Disney songs for guests, who frequently crowd around to catch a glimpse of their high energy display.
9 – Mariachi Cobre at Epcot
In the Mexico pavilion, the harmonious melodies of the Mariachi Cobre band can be heard filling the air over a half dozen times each day. While the World Showcase is home to many talented musical acts, this one carries liveliness as well as the tradition behind this incredible folk music. Dressed in traditional outfits, complete with sombreros, the Mariachi musicians treat guests to songs about passion, love, and triumph.
8 – Raglan Road at Disney Springs
Raglan Road is one of the best places in Walt Disney World to relax and enjoy a pint at the end of a long day in the parks. On top of the delicious food, the pub hosts a troupe of dancers and a house band of musicians to entertain the crowds throughout the week. Trading sets, the dancers and musicians share the limelight, both providing a traditional ambiance with classic pub songs and other popular ballads. You might find that after a couple of numbers, you're singing along with the band or picking up a dance step or two.
7 – Dapper Dans in the Magic Kingdom
Another staple of Main Street U.S.A., the Dapper Dans are a barbershop quartet of gentlemen who delight guests with their a capella songs as well as their Deagan Organ Chimes. The 4-part harmonies that they achieve are amazing to listen to as they sing songs from classic Americana as well as many Disney tunes. Once the chimes come in, the Dapper Dans give fans their rendition of the music from the Main Street Electrical Parade. Dressed in pinstripe suits, straw hats, and tap shoes, this quartet of talented performers consistently draws a large crowd around them every time they step out on the street.
6 – River Roost Lounge at Port Orleans – Riverside
Nestled in the River Roost Lounge, Yehaa Bob Jackson has been entertaining guests with his whimsical piano routine every Wednesday through Saturday since 1997. His blend of boogie-woogie piano music with his comedy routine has audiences consistently raving about the man in brightly colored pants and suspenders. Audience participation is a must in this 21+ lounge as Bob encourages everyone to sing along. Given the Disney Legacy Award in 2013, Yehaa Bob has become a must-do item for any Disney fan's bucket list.
5 – Paradiso 37 at Disney Springs
Bringing in an eclectic group of musicians, Paradiso 37 always has something different to offer guests. With music pumping into the bar, guests are encouraged to hop onto the dance floor to enjoy the songs played by bands and solo acts. It is easily one of the busiest places in Disney Springs once the sun goes down, so if you're planning on visiting, make sure to get there earlier in the night.
4 – Dawa Bar at Animal Kingdom  
While the Dawa Bar in Animal Kingdom doesn't have music directly, it does give you a place to grab a drink while you take in the Tam Tam Drummers of Harambe. These percussionists play a series of drums, inviting guests to come up and dance to the rhythms. A lone whistle and some other authentic percussive instruments round out the ensemble as all of Harambe come to life with the sound of the drums.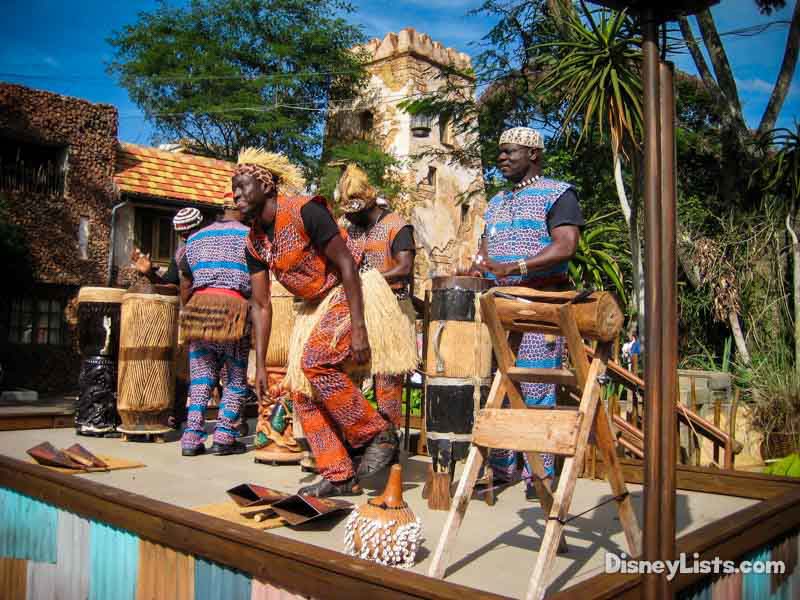 3 – Voices of Liberty at Epcot
In the American Adventure Pavilion, the Voices of Liberty is an a capella choir who sing a large repertoire of songs from American classics to contemporary Disney. Dressed in 1800's attire, the 8 performers sing in the perfect dome of the pavilion rotunda, amplifying the sound to fill the space. The intense harmonies and soulful performances make for an all-around incredible spectacle that is a must-do for any music fan.
2 – House of Blues at Disney Springs
Alongside the delicious Southern cuisine at the House of Blues, the evenings heat up with some of the best blues musicians around. With cabaret-style seating, guests are treated to a great view of the stage where the performers light up the room every night. Different blues bands come through to share their unique style with the audience and on Sundays, guests are treated to a brunch where an all-you-can-eat brunch is paired with talented singers.
1 – Jellyrolls at Disney's Boardwalk  
While Jellyrolls is strictly for guests 21+, this piano bar is one of the busiest lounges on Disney property. Not one, but two pianos sit on stage where two performers come out and take a seat at each one. Set up in a dueling style, the pianos dominate the room where the pianists take on the challenges brought by guests. If you can think of a song, 95% of the time, they will be able to play it, which makes stumping the pianists an equally fun challenge for guests. A large mirror hanging over the pianos makes sure that no one misses out on the action as the performers play well into the night.
For a no obligation, FREE Quote on a Disney vacation package, please contact our travel partner Magical Vacation Planner at 407-442-0227 (407-442-0215 for Spanish). You can also request a FREE quote online by Clicking HERE.