For couples that love all things, Disney, visiting Walt Disney World is a chance to share in the magic and make beautiful memories together. If you reach a point where you'd like to propose and spend the rest of your lives making new memories, what better way to share in your love of Disney than proposing in the parks? While your proposal should reflect your own experiences in Walt Disney World, there are some incredibly romantic places to pop the question that would work for any Disney fan. Here are the top 10 ways to propose at Walt Disney World.
DisneyLists.com Admin Note: Ryan proposed to his fiancee Lauren in front of Cinderella's Castle. She said yes so he obviously knows what he's talking about. You may want to take notes.
10 – Cinderella's Wishing Well, Magic Kingdom
Situated in an alcove along the pathway between Tomorrowland and Cinderella's Castle, the Wishing Well is a quiet spot that is close to the castle but secluded enough to feel private. You may have to wait for a few guests to pass by, but tossing coins into the well to make a wish can be a great excuse to ask what your significant other wished for and when they ask in return, dropping to one knee to pop the question.
9 – Tower Of Terror, Hollywood Studios
This one really only works if it's your partner's favorite ride, but knowing where and when the photo (and now video) cameras will take your picture can be the perfect time to ask them to marry you. It probably would be a good idea to wait before bringing the ring out until the ride is finished, but their initial reaction to your question can be caught by the cameras and immortalized when you purchase the photo and video.
8 – Character Meet and Greet
Editor's Note: During the phased reopening of Walt Disney World, character greetings are temporarily unavailable. 
Everyone has a favorite Disney character, and there are lots of opportunities to meet and greet your favorites in the parks. Find your significant other's favorite character and rehearse your proposal as you head up to your meet and greet. Since the PhotoPass Photographer is already there, you're sure to capture the entirety of your proposal, and the excited look on the character's face.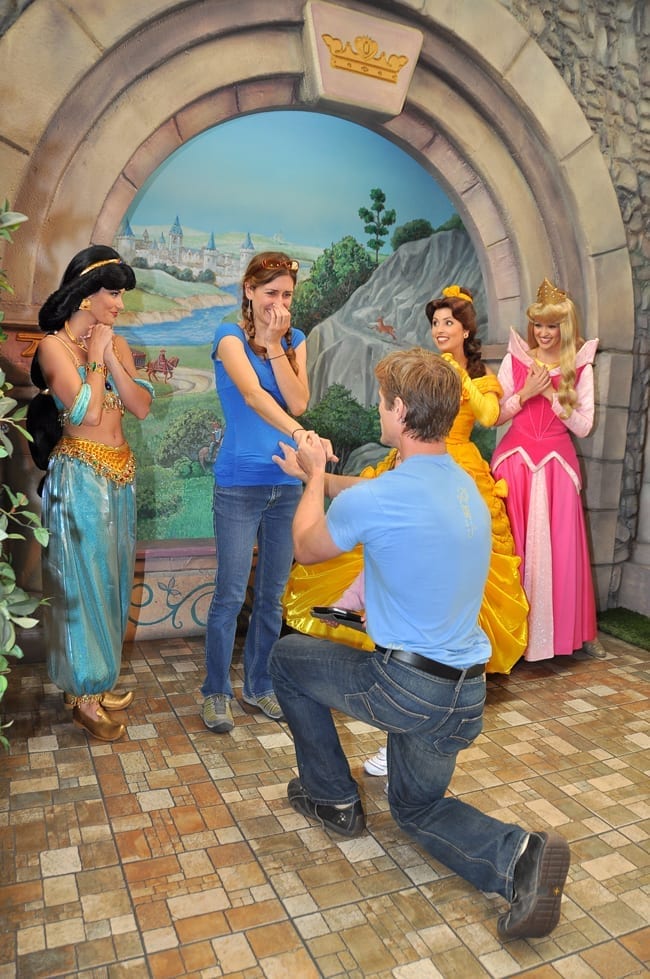 7 – Epcot Nighttime Spectacular Dessert Party, Epcot
Editor's Note: During the phased reopening of Walt Disney World, fireworks and dessert parties are temporarily unavailable. 
If Epcot happens to be your partner's favorite park, then a proposal during Epcot Forever can be a great way to start your life together. To make it extra special, finding a reservation for the Epcot Forever Dessert Party can ensure that you have a magical view, great treats, and a less crowded space in which to pop the question. You can choose to propose right before the fireworks start to enjoy them together, or wait until the finale to surprise them just as the sky is filled with light.
6 – Be Our Guest, Magic Kingdom
The Be Our Guest restaurant has some of the most incredible theming of all the restaurants in Walt Disney World. With the lighting slightly dimmed, the mood is already set for you to enjoy a wonderful meal together before (or after) your proposal. Make sure to order champagne to celebrate, and you can even ask the host to seat you in your favorite room if you get an opportunity to ask quietly. Whether you prefer a table by the snow falling outside the windows of the grand ballroom, or a table by the enchanted rose in the west wing, you're sure to make memories that will last a lifetime
5 – Cinderella's Royal Table, Magic Kingdom
Cinderella's Royal Table is perfect if your significant other is a big fan of the princesses. There are packages you can buy to have your ring brought out in a glass slipper and presented to you before your proposal. While it may seem like you have less involvement in the planning, the glass slipper is a wonderful keepsake to bring home with you and proudly display to remind you of your happy memory. It can be a popular proposal option, so be sure to let them know your plan when you book your reservation.
4 – Carriage Ride
If you prefer to feel a little less crowded when you plan on popping the question, a horse-drawn carriage ride can be the perfect thing for you. The carriage rides take place in beautiful settings through both the Cyprus trees of the Fort Wilderness Resort and along the Sassagoula River at Port Orleans – Riverside. Each ride lasts around 25 minutes and takes you through a quiet journey, giving you ample opportunity to share your feelings and propose.
3 – Happily Ever After, Magic Kingdom
Editor's Note: During the phased reopening of Walt Disney World, fireworks are temporarily unavailable. 
As one of the most iconic moments in any trip to Walt Disney World, Happily Every After Nighttime Spectacular can make for the perfect backdrop to your proposal. You can choose to propose within the first few volleys of fireworks or wait for the pinnacle of Happily Ever After when the sky is full of bright colors. Either way, with only the fireworks to light your evening, you can definitely share a private moment with your significant other as you make a lasting memory.
2 – Splash Mountain, Magic Kingdom
While a proposal on Splash Mountain can require some pre-planning, it's an enjoyable way to propose nonetheless.
Given that the ride builds towards the final 50-foot plunge, a great way to surprise your partner is by having your proposal in writing behind you in your ride vehicle. Asking to sit in the front and handing pre-made signs to the guests (or your friends) behind you, you can get them to pull out the signs just as you're falling down into the briar patch. Once the ride is over, go and purchase a print copy of your ride photo and share it with your partner and as they realize what's going on, drop to one knee and propose.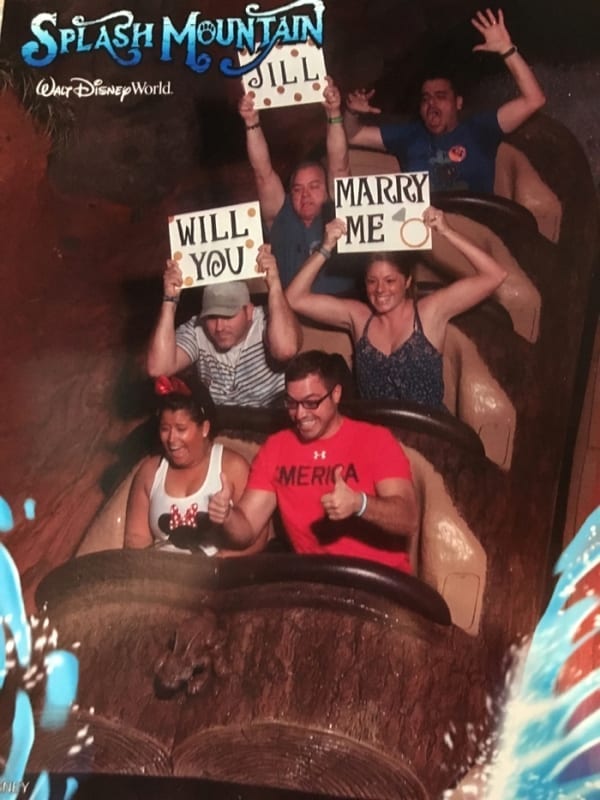 1 – Cinderella's Castle, Magic Kingdom
Since it's the central icon of the Magic Kingdom and Walt Disney World, Cinderella's Castle is always a romantic setting for your proposal. With the addition of the new courtyards in front of the castle, you have lots of space and opportunity to steal away, maybe grab a PhotoPass Photographer and pop the question. It's simple, it's fun, and you get to share an incredibly magic moment that will give you memories to share forever.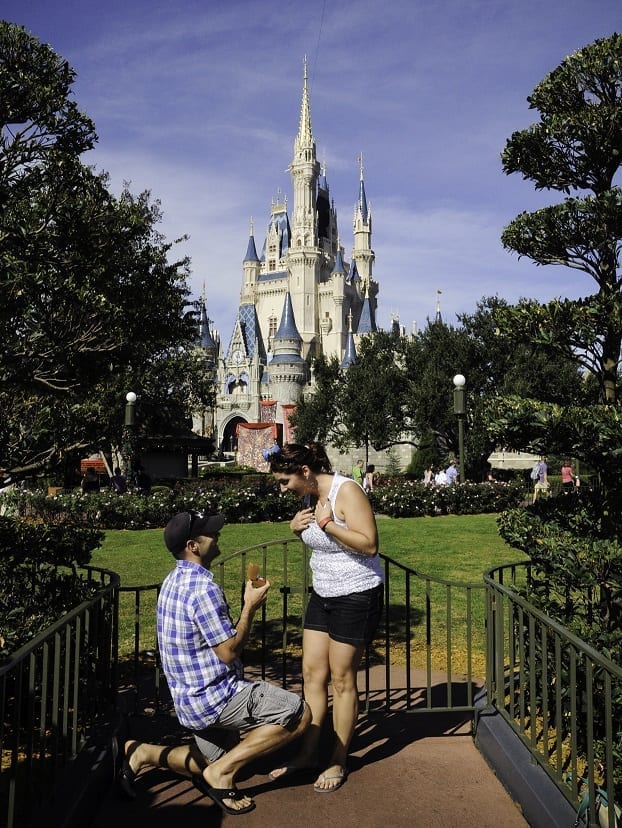 For a no obligation, FREE Quote on a Disney vacation package, please contact our travel partner Magical Vacation Planner at 407-442-0227 (407-442-0215 for Spanish). You can also request a FREE quote online by Clicking HERE.