We may only list 5 reasons why we love Magic Kingdom below, but rest assured this is one article we could likely make a book out of but will spare you the length! Here are our top 5 reasons why we love Magic Kingdom.
1 – It Really Is Magical
The moment we spot the entrance to Magic Kingdom or see Cinderella Castle off in the distance, our hearts start to flutter a little faster. Despite being fortunate enough to experience Disney time and time again, this excitement never goes away. But why is that? We believe it's because so much thought, work, and love have been put into Magic Kingdom that it's meant to make everyone and anyone feel like they have stepped into a new world of joy and happiness. If you were to sit at the entrance of the park and watch facial expressions as people enter, you would see how their tough exterior, unfriendly walls, and serious demeanors seem to melt away magically. It's as if an invisible curtain of unseen pixie dust envelopes them! Don't get us wrong; the other theme parks are fantastic, but stepping foot into Magical Kingdom, in our opinion, is what Disney World is really all about.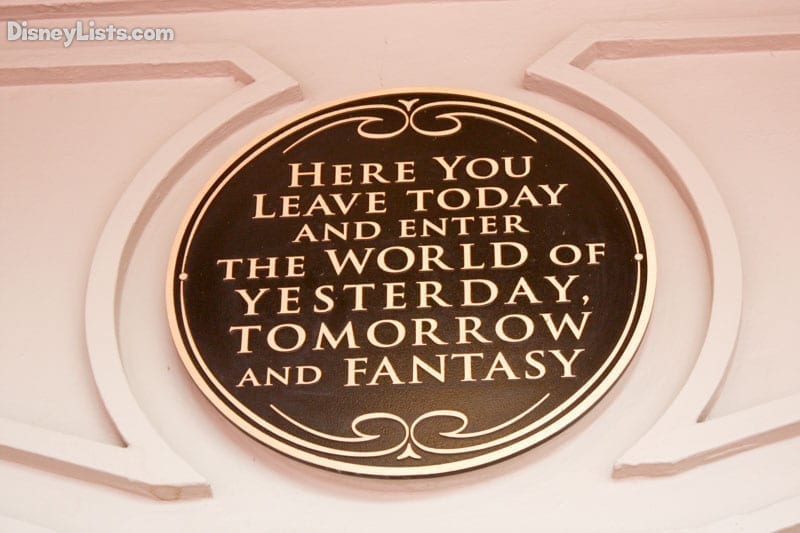 2 – It Lives and Breathes Walt
We can't walk through Magic Kingdom without thinking of the person that first thought up this magnificent dream – Walt Disney! First creating Disneyland, then wanting to make that experience even better, Disney World was Walt's focus surrounding his last years. Walt is remembered in little gems throughout Main Street U.S.A. and even in his specific ride selections at Magic Kingdom, such as Carousel of Progress, Pirates of the Caribbean, Jungle Cruise, Small World, and Prince Charming Regal Carrousel. Probably the most obvious sign of Walt is when meeting Mickey Mouse! Just imagine how amazed Walt would be today to see how his vision for the Florida parks as come to life and grown?! Walt proved to all of us that dreams really do come true, and where else but at Magic Kingdom is that ever so true!
3 – Lands Within the Park
Disney has thought of it all. You can shop around Main Street U.S.A., fight pirates in Adventureland, bump around on Big Thunder Mountain Railroad in Frontierland, hear from the Presidents in Liberty Square, soar with Dumbo in Fantasyland, or blast into space on Space Mountain in Tomorrowland – the options seem endless! We enjoy what each of the 6 different lands at Magic Kingdom has to offer. The change in atmosphere, food, attractions, characters, and even smells make each land different from the other. When visiting Magic Kingdom, not only do you have a chance to experience the various lands, they also seem to make locating items and navigating through the park much easier. Check out the differences in all 6 lands if possible, and see which one is your favorite.
4 – Attractions and Entertainment
Editor's Note: During the phased reopening of Walt Disney World, nighttime spectaculars, including fireworks shows, and parades are temporarily suspended.
Each of Disney's theme parks has those specific attractions that keep us going back for more. There are a handful of attractions at Epcot, Hollywood Studios, and Animal Kingdom that we would say need to be on your must-do list. But when it comes to Magic Kingdom, that must-do list is more than a handful! The attractions at Magic Kingdom seem endless and are too good to pass up. We particularly love that so many of the rides are suitable for all ages. So, when we go to Disney, us adults, our 7-year-old and our 1-year old can all jump on most of the rides together as a family. This doesn't mean we won't go on Space Mountain or Seven Dwarfs Mine Train (minus the baby!)… but it's nice to have so many rides that work for the group as a whole. Plus, who could forget about the unsurpassed entertainment at Magic Kingdom! Happily Ever After Nighttime Spectacular and Festival of Fantasy Parade – all of our absolute favorites at Disney World! While other theme parks have great entertainment options, none can compare to Magic Kingdom's, in our opinion.
5 – Best Special Events and Activities
Editor's Note: During the phased reopening of Walt Disney World, Mickey's Not So Scary Halloween Party, Mickey's Very Merry Christmas Party, Bibbidi Bobbidi Boutique, and The Pirates League are temporarily unavailable.
Yes, this one could be arguable because Epcot does have the Wine and Food Festival, and Hollywood Studios seems to roll out with a Star Wars special event every other day! But, we still think Magic Kingdom has the best special events offered. We can't decide which event is better between Mickey's Not So Scary Halloween Party and Mickey's Very Merry Christmas Party. Plus, the excellent behind the scenes tours available. Let's not forget about those Princesses and Princes… we mean Pirates… in the family! Magic Kingdom holds Bibbidi Bobbidi Boutique and The Pirates League for the young ones in your crew.
Having a magical experience isn't so much of a possibility but rather an indisputable fact at Magic Kingdom! What is your number one reason for loving Magic Kingdom?
For a no obligation, FREE Quote on a Disney vacation package, please contact our travel partner Magical Vacation Planner at 407-442-0227 (407-442-0215 for Spanish). You can also request a FREE quote online by Clicking HERE.