With so many changes taking place at Disney Springs constantly, it's hard to keep up! Here's an easy A-Z guide for some awesome Disney Springs restaurants, shops, and entertainment.
A – AMC Disney Springs 24 Dine-In Theatres
Date night made easy! Enjoy newly released movies in a theater setting while dining on some casual, but delicious American and seafood cuisine. Dinner and a movie Disney Springs West Side style!
B – BOATHOUSE Restaurant
Upscale waterfront dining with a spectacular menu – it's no wonder the BOATHOUSE has rave reviews since opening at The Landing in Disney Springs. Did we mention they have Dream Boats that look and run as if they were cars but can take you for a ride out on the water?!
C – Cirque du Soleil                         
Drawn to Life, the highly anticipated, new family-friendly Cirque du Soleil show coming to Disney Springs. This new show follows the story of Julie, a courageous and determined girl who discovers an unexpected gift left by her late father: an unfinished animation piece. Guided by a surprising pencil, she embarks on an inspiring quest sprinkled with her Disney childhood memories. Through this journey, she learns to imagine new possibilities and animate the story of her future. We can't wait to check it out!
D – Disney's Days of Christmas
Celebrate Christmas throughout the entire year at this joyous shop. Head to the Marketplace side of Disney Springs and enjoy a Christmas shop that seems to hold every Disney ornament imaginable!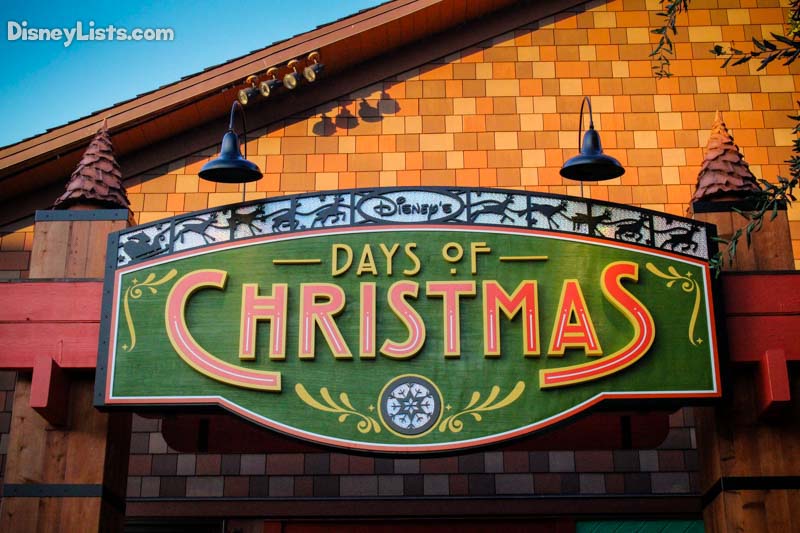 E – Earl of Sandwich
Hands down the greatest hot sub we've ever had. This little quick-service restaurant is an excellent stop in the Marketplace while you break from shopping. Trust us – the food won't disappoint!
F – Food Trucks
Sometimes you just want an easy but tasty meal without the hassle of a restaurant. Head to the West Side and find several yummy food truck selections including edible cookie dough! Yum!
G – Galactic Outpost – Star Wars
Alright Star Wars fans, this one is for you! Check out the impressive Star Wars collection at the Galactic Outpost shop located on the West Side. The force is strong with this shop!
H – House of Blues Restaurant
Live music and great food is what's on stage tonight at the House of Blues. Lunch, dinner, and even a Sunday brunch buffet is served at this location on the West Side.
I – Ice Cream & Chocolate Shop – Ghirardelli
Ice cream and chocolate – yes, please! You can't go wrong by making a stop by the Ghirardelli Ice Cream and Chocolate Shop. Located in the Marketplace, this one is easy to find – just follow your nose.
J – Jock Lindsey's Hangar Bar
Get ready to take off at the Hanger located at the Landing with some excellent food and an atmosphere to match this 1940's airplane-themed restaurant. Family-friendly, waterfront dining is available, or head to their bar for some great suds and snacks.
K – Kid-Friendly Fountain
Over by Earl of Sandwich and the Void, you'll find a kid-friendly fountain area. This is a fun area for kids and adults to cool off on a hot summer day!
L – LEGO Store 
Who doesn't love Legos? Check out the LEGO Store located in the Marketplace. You'll not only enjoy the plethora of Lego merchandise inside, but the impressive Disney themed Lego displays outside!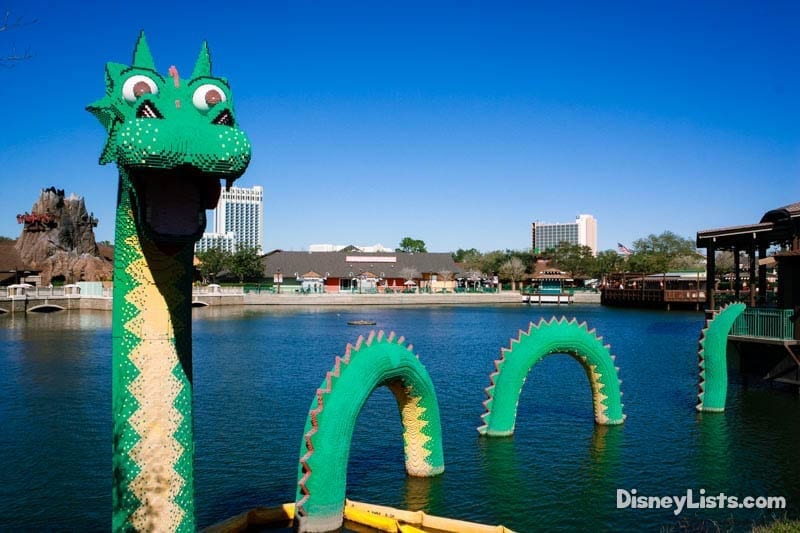 M – Marketplace Co-Op
At the Marketplace Co-Op, you'll likely find some of the trendiest Disney merchandise available. An array of shops inside includes  D-Tech (personalize tech accessories), WonderGround Gallery (Disney art), Cherry Tree Lane (Dooney & Bourke and Vera Bradley bags) Twenty Eight & Main (men's clothing), and Disney Centerpiece (home merchandise). This is the place to shop!
N – NBA Experience
In collaboration with the NBA, Walt Disney Imagineering developed NBA Experience as an immersive, interactive venue. The high-energy environment is packed with 13 different basketball-related activities across 44,000 square feet and two floors. Upon entry, guests feel as if they're walking through the players' tunnel at an NBA or WNBA arena. Visitors can experience what it's like to be selected in the NBA Draft and step onto the court to make clutch shots and highlight-worthy slam dunks. NBA Experience also provides ample opportunities to learn more about the NBA and WNBA via interactive displays, films, and trivia. The unique destination offers something for guests of all ages.
O – Once Upon a Toy
Look for the grand entrance of Lincoln Logs and Tinker Toys in the Marketplace, and you've found the Once Upon a Toy shop. Mr. Potato Head has seemed to take over this toy store as you can create Mr. Potato Head concoctions of all sorts!
P – Paradiso 37
Once again, head to the Landing to find this incredible restaurant. Flavors from the Americas – North, Central, and South are what's on the menu, along with a "Tequila Tower" stacked with 37 varieties. The tequila tower goes perfectly with this fun atmosphere and live music in the evenings.
Q – Quick Service Locations
While Disney Springs boasts plenty of amazing celebrity chef table service restaurants, there are still plenty of fantastic quick-service locations. From classics like Earl of Sandwich to Blaze Pizza, and Chicken Guy, there are plenty of quick options for even the pickiest eater. 
R – Rainforest Café
Listen out for animal noises coming from the Marketplace or lookup for the towering volcano, and you'll spot Rainforest Café. Great food and a very entertaining jungle to dine in, this is one meal you'll be wild about!
S – Splitsville Restaurant and Luxury Lanes
Splitsville has one of the vastest and varied menus we've seen at Disney Springs. Located on the West Side, Splitsville won't only serve up a fantastic dish but allow you to slip on those bowling shoes and bowl a few games.
T – T-REX Restaurant
T-REX Restaurant is very similar to Rainforest Café, but with a prehistoric flare. The food, shopping, and meteor showers all make for one adventurous dining experience!
U – UNIQLO
UNIQLO is an innovative Japanese label. Here you can shop for high-quality, stylish essentials, and exclusive Disney gear. They have some fantastic Disney options that are quite inexpensive. It's well worth checking out!
V – Vivoli il Gelato
Heaven in a cup! Stop by the Landing for an Italian gelato or sorbet at Vivoli il Gelato. This is a world-famous gelato from the beautiful Italy you simply can't pass up!
W – World of Disney
Are you ready? No really… because this store is massive and full of incredible Disney merchandise. Chances are if you can't find that perfect Disney souvenir here, you likely won't find it anywhere else.
X – X-tra Parking
Ok, a bit of a stretch – but you get us! We feel the parking garages are worth a mention. The three parking garages have made getting in and out of Disney Springs so much easier! We love them.
Y – Yuengling
Whether you have a need to quench your thirst with a Yuengling or one of the many other refreshing adult beverages, you'll find no shortage of drink menus at Disney Springs. Raglan Road Irish Pub is one we recommend, but Disney Springs has many other bars/lounges ready to serve!
Z – Zara
Zara, located in the Disney Springs in the Town Center area, is one of the world's largest fashion retail groups! Seasonal fashion trends in both clothing and accessories will be rocking out this intriguing retail shop.
That's Disney Springs from A-Z! Did one of your favorite things about Disney Springs make the list?
For a no obligation, FREE Quote on a Disney vacation package, please contact our travel partner Magical Vacation Planner at 407-442-0227 (407-442-0215 for Spanish). You can also request a FREE quote online by Clicking HERE.