Whether you are looking for thrills or just a spot to relax near the water, the water parks at Walt Disney World have something for everyone. When it comes to the thrills, both Blizzard Beach and Typhoon Lagoon have their fair share of water slides that send guests flying down aboard a cushion of water that propels them all the way to the bottom of the slide.
Each park has its own unique theme, with Blizzard Beach being a former ski resort that (mostly) melted away and Typhoon Lagoon having survived a typhoon, has surfboards, boats, and palm trees blown all throughout the park. Every guest has their own favorites when it comes to the thrilling water slides. They might prefer tube slides over body slides or speed versus how rough the White-Water Rapids are. While we suggest everyone try them all at least once, we have put together a list of the top ten water slides to help get you started. 
10 – Downhill Double Dipper – Blizzard Beach
For a short burst of speed and a quick thrill, the Downhill Double Dipper is the perfect slide. A pair of side-by-side racing slides identical to one another provides the perfect location for you to hone your speed skills. Each rider gets a tube and waits at a retractable starting gate. Once the raceway is cleared, the gates will open and drop guests down 50 feet. Moving at just over 25mph, it's a quick ride that pits guests against one another to see who is the fastest. A large digital stop clock displays the race times down to a hundredth of a second, so guests can compare their times and try to beat their personal bests.
9 – Runoff Rapids – Blizzard Beach
Runoff Rapids is a series of three tube slides, each with its own unique pathway. Twisting and turning in on themselves, the outer two slides allow one and two-person tubes to intertwine with the central slide. Both of the outer slides are open, allowing guests to feel the wind as the speed they pick up helps propel them up the side of each turn. The center slide is different since it offers a fully enclosed tube, except for tiny pinholes of light to give you the faintest idea of what turn is coming up. The drops in each slide come quickly and help keep your momentum before splashing down in the pool at the end.
8 – Miss Adventure Falls – Typhoon Lagoon
Miss Adventure Falls brings to life the story of Captain Mary Oceaneer, a treasure-hunting heroine and world-famous oceanographer, who made it her goal to sail the seven seas and collect treasures to share with the rest of the world. Captain Mary and her parrot got stranded at Typhoon Lagoon years ago by the rogue storm. Her ship, along with some of her artifacts were swept to shore. Locals then repurposed the goods and statues to create this fun, family raft adventure. The rafts for Miss Adventure Falls fit two to four people. Portions of the attraction are covered in tubes, open with waterfall splashes, and there are plenty of twists and turns to keep you guessing. The attraction is well worth a ride and a fantastic slide at Typhoon Lagoon.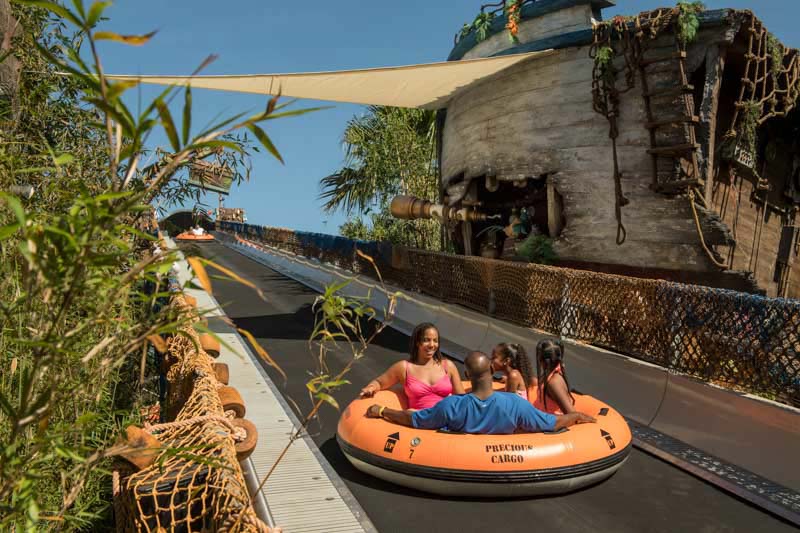 7 – Keelhaul Falls – Typhoon Lagoon
Keelhaul Falls offers a quick scenic tour of the landscaping. While this single-tube slide doesn't move overly fast, it certainly doesn't run at a Castaway Creek pace. Quick turns help to keep the tube active as you spin around each bend, which keeps you on your toes, not knowing which way you'll face when you come upon the waterfall. As the rock formations look to be towering overhead, just at the point where it seems like they might topple over you, you're greeted with the final rush towards safety, which is accompanied by a big splashdown.
6 – Mayday Falls – Typhoon Lagoon
As the most intense of the "falls" slides at Typhoon Lagoon, Mayday Falls is a fast-paced exhilarating ride. This single-tube slide grabs you as soon as you leave the loading area and pushes you straight into the White-Water Rapids. The narrow channel you slide down on has several bumps and odd landscapes to keep your tube moving in an unpredictable fashion. Powerful streams of water propel you into each bend, where you struggle to keep forward-facing. With steeper drops, your tube continues to pick up speed before finally splashing down in the pool at the end. It's an incredibly fun slide that definitely needs to be done more than once.
.
5 – Snow Stormers – Blizzard Beach
Imagine zooming down the snowy slopes slaloming from left to right, but instead of skis, you're going head-first on a toboggan. Snow Stormers is that exact feeling, except the snow is replaced with water. 3 winding slides, each running 350 feet long, have you twisting and turning between the colored gates of the slalom aboard a toboggan-style mat. The quick turns allow the riders to pick up enough steam, so that when they reach the splash pool, they skid on top of the water for the first few feet.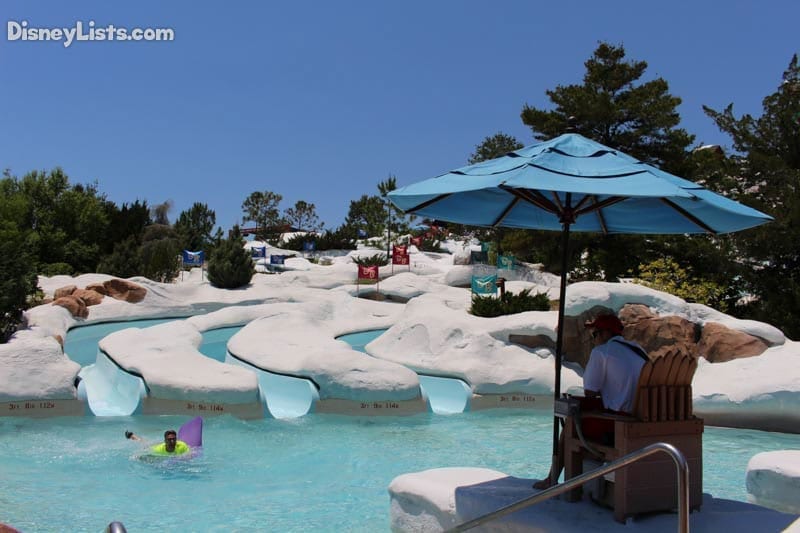 4 – Teamboat Springs – Blizzard Beach
At just over 1,200 feet long, this family-friendly white-water raft slide is one of the longest in the world. Twists and turns in the slide have guests going almost horizontal as they enter each bank. Each of the rafts can hold between 4 and 6 people, so smaller groups may be asked to double up. Meet your new friends and band together as the raft spins and swings on the way down. The Rapids keep the raft moving swiftly and an exciting drop at the end of the slide makes for an incredibly fun journey that lasts quite a bit longer than the average slide. Just in case you didn't get wet on the way down, a dunk under a waterfall awaits everyone just before the ride concludes.
3 – Storm Slides – Typhoon Lagoon
This trio of body slides is a great set to visit if speed is what you look for in your water slides. Standing 3 stories tall, each of the 3 slides has its own unique combination of hairpin turns that send you high up the side of each bend. The Jib Jammer, Stern Burner and Rudder Buster are all designed with maximum speed in mind. Twisting in and through the rock formations, including plunging into total darkness at some points, each slide gives guests a great opportunity to pick their favorite, while trying to see how much speed they can gather along the way.
2 – Slush Gusher/Summit Plummet – Blizzard Beach
The most popular slides at Blizzard Beach are the duo of body slides at the top of Mount Gushmore. The slightly slower Slush Gusher has three drops that allow you to slowly pick up speed before your momentum carries you into the air over the last drop. Reaching speeds up to 50mph, this slide might seem tamer than its big brother but is still not for the faint of heart.
Summit Plummet is the main attraction in the park, standing at over 120 feet tall. Guests who are brave enough to climb to the top are greeted with a view over the entire park, as well as the Tower of Terror off in the distance. The near vertical drop carries you to speeds up to 60mph, which makes the 12 story plunge go by in an instant. A rush of adrenaline fills your body as you propel yourself over the edge and then fills you with so much excitement at the bottom that you'll likely head back to try it all over again.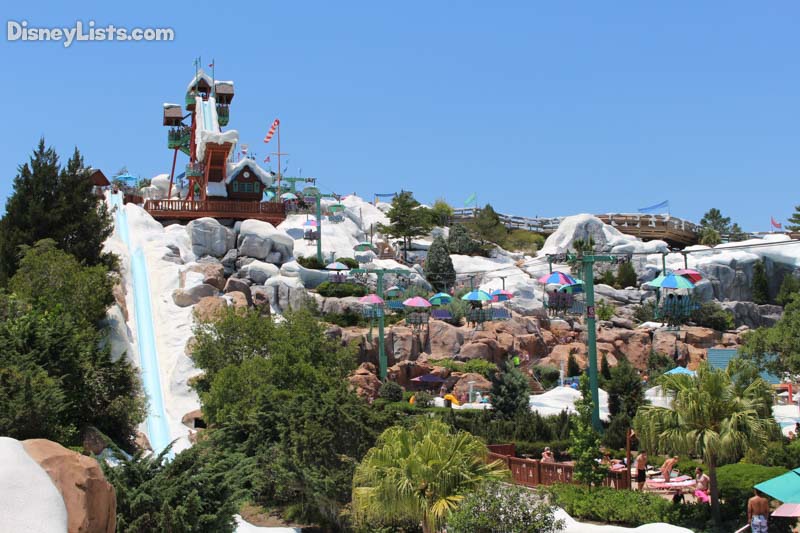 1 – Crush 'N' Gusher – Typhoon Lagoon
It's hard to beat the sound of a "Water-Coaster". While traditional slides send you downhill in a series of twists and turns, the Crush 'N' Gusher incorporates a series of uphill sections into the three wildly popular "Water-Coasters". Each of the 3 "fruit chutes", the Pineapple Plunger, Coconut Crusher and Banana Blaster, offers a unique layout, enticing guests to try each one to pick their favorite. Powerful jets are used to blast guests uphill on the slides, making the 400-foot run seem like it's going on and on. While the wait times can get to be a bit on the long side, the rush of each coaster is well worth it.
For a no obligation, FREE Quote on a Disney vacation package, please contact our travel partner Magical Vacation Planner at 407-442-0227 (407-442-0215 for Spanish). You can also request a FREE quote online by Clicking HERE.