With so many attractions to visit and places to explore in the parks, it's easy to get lost in the immersive atmosphere and lose track of time. Even if you are an expert at keeping organized, your itinerary in the park will always be fluid as you adapt to changing wait times, weather conditions and a host of other things beyond your control. Sometimes you might find that you are short on time heading into lunch or dinner.
With Fastpasses waiting for you or a parade you'd like to see, finding a restaurant where you can dine in a hurry can be crucial to making it on time to your next destination. While Walt Disney World is full of quick-service locations that cater to your ability to grab a quick bite to eat, we decided to focus on table service restaurants that can fill you up and get you back into the park in good time. Here is our list of the top 10 Disney restaurants for guests in a hurry.
Editor's Note: During the phased reopening of Walt Disney World, not all restaurants have reopened. Be sure to check the My Disney Experience app for up to date hours.
10 – Spice Road Table
Featuring a menu consisting of Mediterranean cuisine, the Spice Road Table can be found in the Morocco Pavilion at Epcot. Alongside the waters of the World Showcase Lagoon, the restaurant offers beautiful views both inside and outside. Guests can peruse the menu and decide to try a few of the small plates or the specialty entrées. For a quick meal, the small plates create the perfect opportunity to share amongst the others at your table and sample several of the different flavors from the incredibly tasty dishes. Items like Lamb Sliders, Harissa Chicken Rolls and Fresh Mussels Tagine make for a unique dining experience that doesn't require an investment of over an hour.
9 – Coral Reef
While you may want to stay longer in the Coral Reef Restaurant at Epcot to watch the sea-life, in general, the restaurant can provide guests with a quicker dining experience without losing any of the atmosphere. Nestled beside the Seas Pavilion, the 5.7 million gallon aquarium is home to over 4000 creatures, which provides an incredible backdrop to your lunch or dinner. With a host of seafood dishes to choose from, this is a great place to relax in, since you feel quite removed from the bustle of Future World.
8 – Yak & Yeti
In Animal Kingdom, Yak & Yeti has consistently been one of the most popular food destinations within the park. Because of that, the restaurant tries to make sure guests are served in a timely manner so as to have enough time for new guests to arrive and enjoy lunch or dinner there as well. While nothing feels rushed, it does make for a quicker dining experience to get you back out into the park to enjoy the remaining hours. The Pan-Asian menu has a diverse array of choices, including Korean Beef, Lo Mein Noodles, Bhaktapur Duck and a number of dishes designed to be shared amongst two people.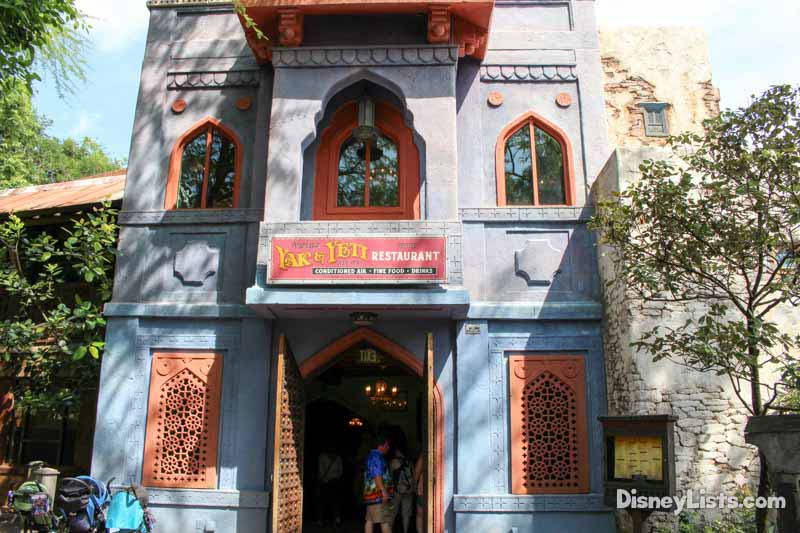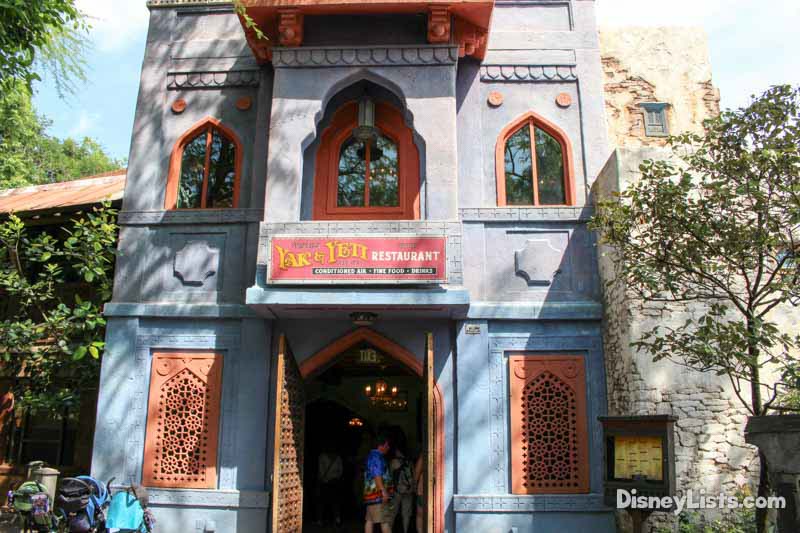 7 – Nine Dragons
While some guests believe Chinese cuisine is universal, no matter where you find it, fans of the Nine Dragons Restaurant will beg to differ. The intricate design of the interior architecture gives you an instant feeling of serenity and immerses you in the feeling that you are about to have an authentic experience. Nine Dragons offers a culinary twist on classic dishes and frequently rotates new items onto the menu. The restaurant runs so efficiently that they can handle a high volume of guests and still give each table the attention they require so as to not waste your time.
6 – La Hacienda De San Angel
Over in the Mexico Pavilion at Epcot, La Hacienda De San Angel offers a prime seating location overlooking the World Showcase Lagoon as well as incredible food. Whether you decide to try a sharing platter or you'd prefer to try one of their stand-alone entrées, it's hard to go wrong with anything on the menu. Dishes like the Pollo al Pastor (marinated chicken with roasted vegetables and a pineapple relish) or the Carnitas Yucatecas (pork confit with pico de gallo) are fresh and flavorful.
5 – Biergarten
Also in Epcot, the Biergarten in the Germany Pavilion is a buffet set in a Bavarian village. With plenty of traditional German dishes like Bratwurst, Schnitzel, Spätzle, and Rouladen, guests have the opportunity to sample as much as they'd like, which leaves the time spent in the restaurant completely up to you. It's worth mentioning that an oompa band will delight the guests with polka music during the evening and you may find that you wish to stay to hear them.
4 – The Garden Grill
This revolving restaurant rotates to give guests the opportunity to see different views of the Living With The Land attraction. Another all-you-care-to-enjoy restaurant, the Garden Grill has all dishes served family-style to each table. With the menu consisting of classic family staples like beef, turkey, vegetables, stuffing, and mashed potatoes, the chefs will be quick to get food to your table to enjoy, helping you keep a tight leash on the time you spend here.
3 – Sci-Fi Dine-In Theater
Over at Hollywood Studios, one of the best restaurant theming in Walt Disney World can be found housed inside the Sci-Fi Dine-In Theater Restaurant. Guests walk straight into a 50's drive-in, complete with retro cars for tables and classic sci-fi clips from old movies. It's a fun and relaxed atmosphere where the nostalgia for the era is apparent in all the little details inside. The menu features All-American fare that is quick to the table and packed with flavor. Guests in a hurry will have no trouble grabbing a quick bite to eat while they watch a few of the clips on the big screen.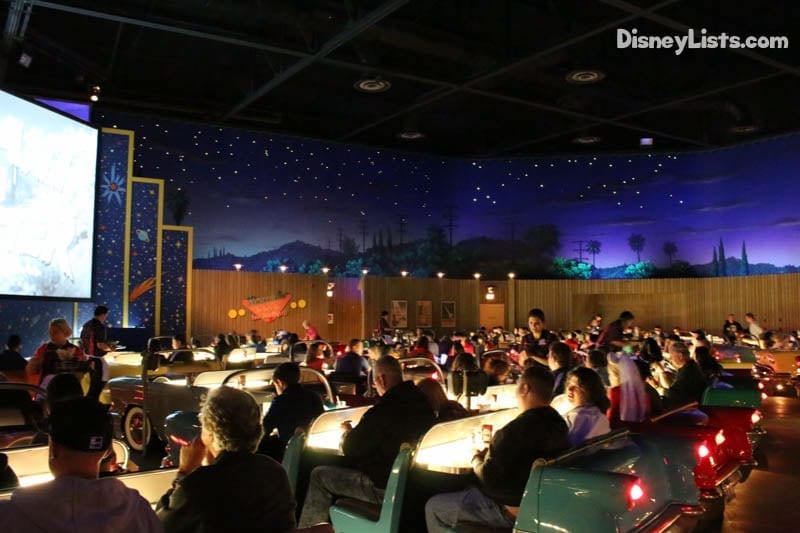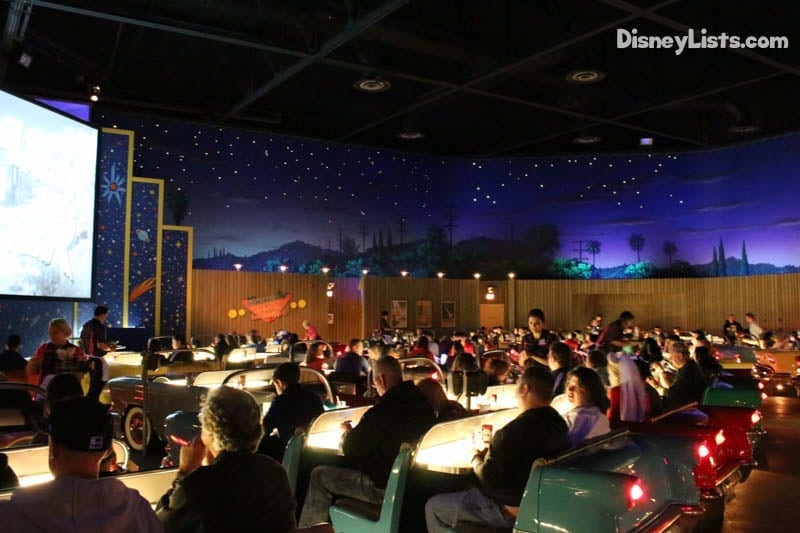 2 – Rose & Crown
For food on the go, it's hard to beat the efficiency of a pub. In the United Kingdom Pavilion at Epcot, the Rose & Crown pub has all of the charm of a British establishment as well as the added bonus of being quite timely if needed. Whether you're looking for a Burger, Shepherd's Pie or the traditional Fish & Chips, you can be sure that the servers will help rush your order through, should you need to leave in a relatively short time.
1 – The Plaza Restaurant
In the Magic Kingdom, there are several restaurants that draw the attention of most guests. The Plaza Restaurant is one that sometimes slips through the cracks, which makes it invaluable for guests who are looking for a sit-down meal without a reservation. It's casual, family-friendly and it's unassuming exterior matches perfectly with its relaxed atmosphere inside. Around the corner from the Plaza Ice Cream Parlor on Main Street, U.S.A., this hidden gem of a restaurant is the perfect place for guests in a hurry. The menu is full of American fare done simply and effectively to fill you up and get you energized for the rest of your time in the park – or you can stick around to enjoy a Banana Split or an Ice-Cream Float.
For a no obligation, FREE Quote on a Disney vacation package, please contact our travel partner Magical Vacation Planner at 407-442-0227 (407-442-0215 for Spanish). You can also request a FREE quote online by Clicking HERE.