Walt Disney World theme parks closed for a record-breaking four months and reopened in July 2020. Since the reopening, we've been back to Magic Kingdom more than any of the other parks. While a day in Magic Kingdom is different than I've known in the past, visits are still a day full of attractions, characters, and Disney magic. A visit to the theme parks may not be for everyone right now, but for some, it can be a great time to experience Walt Disney World. In this article, I'll be focusing on visiting Magic Kingdom and what you can expect. Learn more below.
1 – Arriving & Health Screening Prior to Entry
Editor's Note: Disney has announced they will phase out temperature screenings beginning May 16, 2021.
All guests are required to undergo temperature screenings prior to entering a theme park. Based on guidance from the Centers for Disease Control and Prevention, anyone displaying a temperature of 100.4 degrees Fahrenheit or higher will be directed to an additional location for rescreening and assistance. Those who again measure 100.4 degrees Fahrenheit or higher will not be allowed entry, nor will those in their party.
For Magic Kingdom, the screening will take place at the Transportation and Ticket Center (TTC) if you arrive by your own vehicle or at Magic Kingdom if you arrive by bus. Note that if you park at the TTC, tram service is not available. You'll need to walk to the front.
2 – Getting to Magic Kingdom from the Transportation and Ticket Center
When traveling to Magic Kingdom from the TTC, you usually have two options available: the monorail and the ferryboat. Right now each monorail car has limited capacity and the sections are separated with a screen. All guests must sit. No standing is allowed. You can imagine that the monorail will take longer because so many fewer guests can fit in at one time. The ferryboat also has physical distancing measures in place, but because of its size, the boats can hold more people. On some mornings a bus from the TTC to Magic Kingdom might be an option for you. Do note that if you take the bus, you'll be required to go through the health and security screening again.
3 – Health & Safety Measures
One of the biggest differences you'll notice when visiting the theme parks since the COVID-19 global pandemic hit is Disney's commitment and approach to health and safety. Health and safety reminder signs are everywhere. You'll find hand-sanitizers and hand-washing stations all over the park. On the ground, you'll see markers telling you where to stand to ensure physical distancing. Many rides now have plexiglass dividers in the vehicles. Some attraction queues have plastic screens in some areas where physical distancing is not practical (we saw this at Big Thunder Mountain Railroad and Splash Mountain). High-traffic areas receive increased cleaning. At the Haunted Mansion, you'll walk through the stretching room, instead of crowding in with a large group of people. We saw several Cast Members throughout the day cleaning benches, tables, and other areas frequented by guests. Bottom line, Disney is doing what it can to provide a safe environment for its guests. While Disney cannot eliminate all risk of coronavirus, they have stepped up. Visiting during this time is a personal decision that only you can make for your family.
4 – Remember You Need a Park Reservation
To promote physical distancing, capacity is limited as guests return to Walt Disney World theme parks. Guests with a ticket or Annual Pass must use the new Disney Park Pass system to make a reservation in advance for each park entry. Same-day or even same-week reservations are unlikely. You'll need to plan ahead and get your park reservation as early as possible.
Click here for our guide to making park reservations – how to use your MyDisney Account during the phased reopening of Disney World.
5 – Reduced Hours and No FastPass+
When considering visiting during the phased reopening you need to be aware that a visit like you may be used to is not available at this time. The park will operate with reduced hours. During the holiday season, and since capacity was increased, park hours have been longer on the weekend and shorter during the week. Always check your My Disney Experience app for up-to-date park hours. Disney has been adjusting them, so they may change. Finally, there FastPass+ is temporarily suspended. While wait times are longer now than they were last summer, they are still not close to what they would be during "normal operations."
Also take note that before the closure, Magic Kingdom would open Main Street USA about an hour early for shopping and dining. That is not the case during the phased reopening. A Cast Member told us that officially the park opens at 9:00 am. They are really discouraging guests from arriving early. However, she did say that they will open early to avoid a large crowd from gathering.
6 – Face Coverings and Relaxation Stations
All guests 2 years of age and older, along with cast members, are required to wear an appropriate face covering while visiting the theme parks. They must be worn over the nose and mouth at all times, except when eating or drinking.
At Magic Kingdom, there are three "Relaxation Stations" where guests can sit without their masks on. The tables are spaced well beyond normal social distancing proximity, and a Cast Member monitors the area to ensure that it is not overcrowded. We saw many people taking advantage of taking a break from their masks. Visiting Walt Disney World in July is seriously hot, and it was nice to have a space where you could take off your mask for a little bit.
Here are the locations in Magic Kingdom:
Tomorrowland Terrace
Pete's Silly Sideshow (air-conditioned!)
Golden Oak Outpost
During our preview, guests were wearing their masks and following the rules. If I saw someone without it, it was because they were eating or drinking on in a relaxation station. This was true for young kids as well. Kudos to the parents who worked hard ensuring their children kept their masks on!
7 – Characters
Seeing beloved Disney characters is one of the most magical moments of any Disney theme park experience. With traditional character greetings and parades on hiatus during this phased reopening, Disney characters appear in new and different ways throughout all four theme parks.
Here are the different characters that you'll find during the day at Magic Kingdom:
"The Royal Princess Processional" – Several times daily, favorite Disney princesses travel through the streets of Magic Kingdom.

Princess Merida

leads the way on her steed Angus, followed closely by a gazebo float and crystal castle carrying

Cinderella

,

Tiana

, Belle, Jasmine,

Snow White

,

Rapunzel

, and others.
"

Mickey and Friends Cavalcade

" –

Mickey Mouse,

Minnie Mouse,

Daisy

,

Donald

, and Pluto pop up throughout the day, inviting everyone to "Get Their Ears On" as they wave to guests along the park's parade route.

"Goofy Cavalcade"

– With Goofy, Clarabelle Cow, Max, Panchito Pistoles, and Jose Cariocas.
"Fantasyland Friends Cavalcade" – With

Gaston

,

Pooh Bear

, Peter Pan, Alice in Wonderland, Mary Poppins, and Aladdin.
"

Friends of Pooh Bear

" – With Rabbit, Piglet, and Eeyore.
Tinker Bell & The Lost Treasure
Cinderella's Evil Stepsisters – From time to time, guests in Fantasyland may spot the dastardly Anastasia and Drizella and can interact with them from afar while they're perched on a balcony of Cinderella Castle.
You might also catch Jack Sparrow in Adventureland from time to time.
Stitch was also spotted in Tomorrowland.
While I love hugging Mickey and getting a photo and certainly missed being able to do that, it was great to see the characters in this new way. There was a very steady flow of characters throughout the day. The cavalcades depart on a somewhat regular schedule of about every fifteen to twenty minutes or so. The cavalcades use the typical parade route by starting in Frontierland and ending in the front of the park at Main Street USA. You would need to avoid this area to miss seeing a character. The characters themselves were great and were interacted with the guests. While certainly not the same experience, Disney has done a good job of adapting and keeping up the character presence in the park.
8 – Open Attractions
Most attractions are available at each park. Magic Kingdom offers favorites, such as The Haunted Mansion, Pirates of the Caribbean, Seven Dwarfs Mine Train, and Space Mountain. Splash Mountain is also open allowing guests to experience the attraction in its original form before it closes down for refurbishment and is rethemed.
9 – Attractions Experience
I've already mentioned the safety measures you'll find in place in the attraction queues and the loading of the ride vehicles. You may be wondering about wait times because of this. Wait times have increasingly crept up over the months as more people are coming, but they are still lower than normal.  Wait times are anywhere from 15 min to 90 minutes, depending on the attraction. On a typical day at Magic Kingdom, it's not unusual for the most popular attractions to have wait times over two hours and even up to three hours on a particularly busy day. Another thing to keep in mind is that wait times are often lower than posted. During my last visit, the Haunted Mansion had a posted wait time of 25 minutes, but I only waited for 15 minutes. The Jungle Cruise had a wait time posted of 35 minutes, but I only waited 20 minutes. So don't let the posted wait times keep you from getting in line!
10 – Dining
New measures promoting health and well-being are being implemented at Walt Disney World theme park restaurants during their phased reopening. These include enhanced cleaning procedures in seating, dining, and common areas, as well as changes to self-serve options. In addition, mobile technology via the My Disney Experience app is being used in convenient ways to minimize contact, such as Mobile Order at select quick-service theme park locations and Mobile Dine Check-in at select theme park table-service locations, as well as reduced- contact menus at select theme park restaurants. Most quick-service locations are requiring guests to use the Mobile Order service. However, if you couldn't use that service, they did have a cashier that was able to help you. I've been a big fan of the service and use it almost every time I am in the parks. With more people using it, I'm happy to report that the service was fast and easy.
11 – Different but Still Magical
Walt Disney World has always been a place where we can somewhat escape reality and enjoy a break from the real world. While the real-world pandemic has changed the way Walt Disney World operates, the magic of Disney is still there. Yes, things are different. As I shared, I missed hugging the characters that make me feel young at heart. I really, really missed Happily Ever After. But there is enough of that typical Magic Kingdom experience that brought joy and a smile to my face. I got chills walking down Main Street USA and seeing the beautiful Cinderella Castle with her new paint job. I felt like a kid waving to Mickey and Pooh Bear. I loved the thrill of Big Thunder Mountain and Splash Mountain. I was welcomed home by countless Cast Members who were working hard for guests to have a great time. I enjoyed many treats that I had been missing like a Dole Whip and a Mickey Sandwich. Visiting Magic Kingdom, even with all the limitations and changes, was still a very magical day. Different yes, but still magical.
I recognize that a visit right now may not be for everyone. We feel that if you've visited many times, especially if you are mostly there to enjoy the attractions, that this is a fantastic time to visit. Low wait times because of low crowds is a huge draw. However, if you're planning your first visit, or that once-in-a-lifetime visit, we recommend waiting until more things come back like character greetings and especially the fireworks.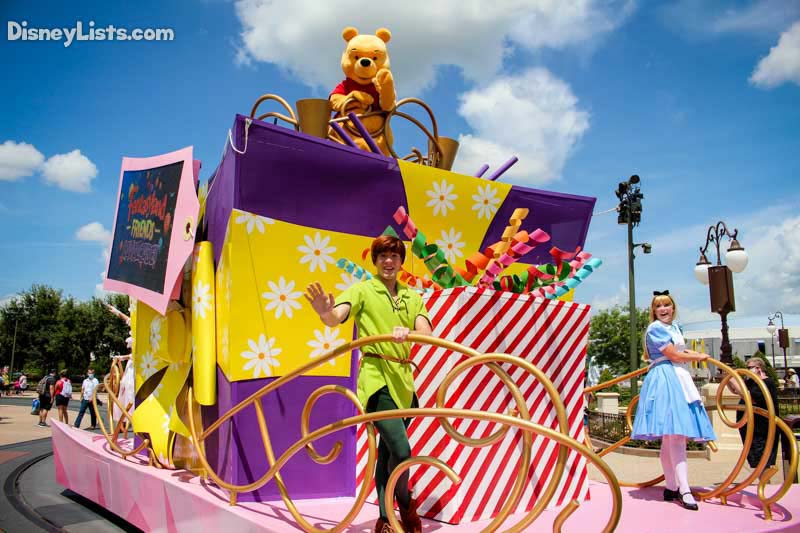 13 – 2021 and Beyond
Many wonder how long the phased reopening will last at Walt Disney World. Disney has not stated how long restrictions will be in place. CEO Bob Chapek did say that he expected face masks and physical distancing measures to be in place for the remainder of 2021 but expects the need for those measures will be gone in 2022. Disney recently announced details for the 50th Anniversary celebration that will last for 18 months. You should expect measures to still be in place when that kicks off on October 1, 2021. Finally, the park reservation system has recently been extended until January 14, 2023.
For a no obligation, FREE Quote on a Disney vacation package, please contact our travel partner Magical Vacation Planner at 407-442-0227 (407-442-0215 for Spanish). You can also request a FREE quote online by Clicking HERE.