Attractions at Walt Disney World are practically the main reason for venturing into each of the four major theme parks.  If you have questions about navigating the attractions, then you have definitely come to the right place.  Here are our top Q & A about Walt Disney World theme park attractions:
12 – Do I HAVE to have a FastPass+ in order to ride or see a show?
Editor's Note: During the phased reopening of Walt Disney World, FastPass+ is temporarily suspended.
No, FastPass+ isn't required to enjoy the attraction. The service actually helps to minimize the wait times that guests experience. You can start out by booking three FastPass+ selections per day with valid theme park admission. They can be booked 60 days in advance for resort guests and 30 days in advance for guests staying off property.
11 – What do I do if I am in a wheelchair?
Many of the attractions at Walt Disney World can accommodate wheelchair guests, especially if they can transfer. There are special queues and ramps to ensure that wheelchairs can get to the loading portion of the attraction.
10 – How do I book FastPass+ for an attraction?
To book them in advance, you do this via your My Disney Experience account. You need to ensure that you link your valid theme park admission to book them. On the day that you are visiting the park, you can visit a FastPass+ kiosk and scan your park ticket to make a selection and add them to the admission.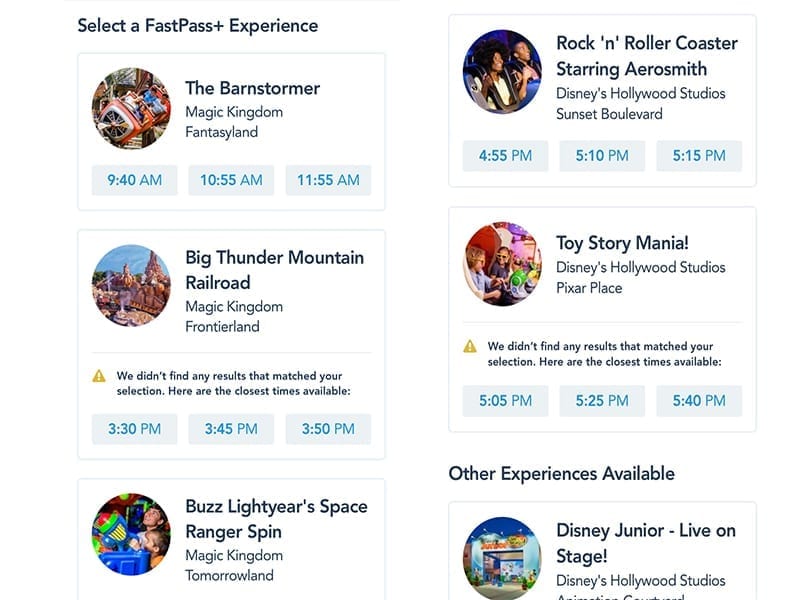 9 – Are there attractions that we will get wet on?
Yes. You can pretty much assume that if there is water on the attraction that you can get wet. Kali River Rapids and Splash Mountain almost always get guests wet!
8 – Are there rides that babies and small children can ride?
Absolutely. There are actually a ton of different attractions at each of the four major theme parks that are perfectly suitable for babies of all ages as well as smaller children. There are height requirements posted for each attraction; if there are no height requirements listed, then anyone can ride.
7 – How strict are the height requirements?
The height requirements are rigorous. Cast members will measure all guests that they feel may not meet the height requirements for the attraction. You shouldn't try to sneak through if your kiddo isn't tall enough since these height requirements are in place to ensure their safety. You wouldn't want to risk their safety to ride an attraction.
6 – Can children ride attractions alone?
Children that are under the age of 7 are not allowed to ride any attraction alone.  If there is a child under seven, there must be someone that is fourteen years of age or older in the party accompanying the child in order for them to ride.
5 – What is Rider Switch and how does it work?
Rider Switch is a feature of Disney attractions that allow guests with small children to trade-off so that they don't have to wait in the stand-by line twice. The first group of the party waits in the stand-by line, and then they get passes for the other members of the party to ride by entering through the FastPass+ line. It can be great if you don't have FastPass+ to use for a particular attraction.
4 – When do attractions close?
Different attractions have differing times. Many attractions stay open until the park closes. That means that as long as you get in line before the park closing time, then you will be able to ride. Disney won't turn away anyone that is already in line unless the ride should break down.
3 – What if I get there just after a show starts?
If you don't arrive before the start time for a show, then you could still get in to see the show. Many of the shows allow late seating with a section of the theater reserved for those guests. It is always a good idea to arrive before the showtime, but if you are late, don't necessarily let that turn you away.
2 – Are all attractions open during Extra Magic Hours?
Editor's Note: During the phased reopening of Walt Disney World, Extra Magic Hours are temporarily suspended.
No. There is only a subset of attractions that are open during Extra Magic Hours. The open attractions are typically selected based on popularity to provide value to resort guests. You can confirm with attractions are open at each park during Extra Magic Hours.
1 – Should I take the ride precautions seriously?
Yes! If the ride mentions concern for pre-existing conditions like pregnancy or heart problems, then you should definitely take those precautions seriously. These are to ensure your safety from the impacts of riding some of the attractions. These warnings aren't to be taken lightly or dismissed.
For a no obligation, FREE Quote on a Disney vacation package, please contact our travel partner Magical Vacation Planner at 407-442-0227 (407-442-0215 for Spanish). You can also request a FREE quote online by Clicking HERE.