Walt Disney World theme parks have now been for months after a four-month closure due to the COVID-19 pandemic. A visit to the theme parks may not be for everyone right now. You will need to decide when you're comfortable returning. For those guests visiting during the phased reopening, click here for our overview and what you need to know. In this article, I'll be focusing specifically on visiting EPCOT. Learn more below.
1 – Health & Safety Measures
Editor's Note: Disney has announced they will phase out temperature screenings beginning May 16, 2021.
When considering visiting Walt Disney World during the phased reopening and in our new reality, it's important to understand the new health and safety measure in place at the theme parks. As with other parks, you'll see health and safety signage in many locations that are hard to miss. There are hand-sanitizers and hand-washing stations for guests to use. There are markings on the ground to promote physical distancing where there could be a line or gathering of guests. In attraction queues where physical distancing is not possible, plastic barriers and screens have been put up. You'll also notice plenty of Cast Members cleaning high-traffic areas. Some attraction ride vehicles are filled at a lower capacity. Some, such as Soarin' Around the World, have plastic screens in place to separate groups. Disney cannot eliminate the risk of coronavirus, but they are doing everything they can to promote a safe environment, and we've heard nothing but praise for Disney on this point. Visiting the parks right now is a personal decision that you can make for your family but know that Disney is taking their role in this very seriously.
2 – You Need a Park Reservation
One of the most significant differences you'll notice when you return to the parks is that capacity is so much lower than what is considered "normal." Disney has created a new park reservation system that ensures that the parks will not be too crowded and to promote physical distancing. Because of this, you cannot simply just show up and get into the parks. You must obtain a park reservation with the new Disney Park Pass system. Disney Resort guests and regular theme park ticket holders generally have good availability options. Disney annual passholders have more limited availability. Learn more about making park reservations at the link below.
Click here for our guide to making park reservations with your Disney account.
3 – Face Coverings
All guests two years of age and older, and cast members, are required to wear an appropriate face covering while visiting the theme parks. Except when eating, drinking, and taking photos, (and doing that stationary-not walking around), they must be worn over the nose and mouth at all times.
We've seen Disney really step up in the face-covering department. They have modified their policy a few times to ensure guests and cast members are safe. There was concern about World Showcase and people just having a drink in their hand, walking around with no mask. Disney has a clear policy that you must be stationary while eating or drinking. You cannot walk around with your mask off while eating or drinking. Cast Members walk around World Showcase with signage reminding people to be stationary to eat or drink. I have seen plenty of Cast Members enforce the rule when they see someone not following the guidelines.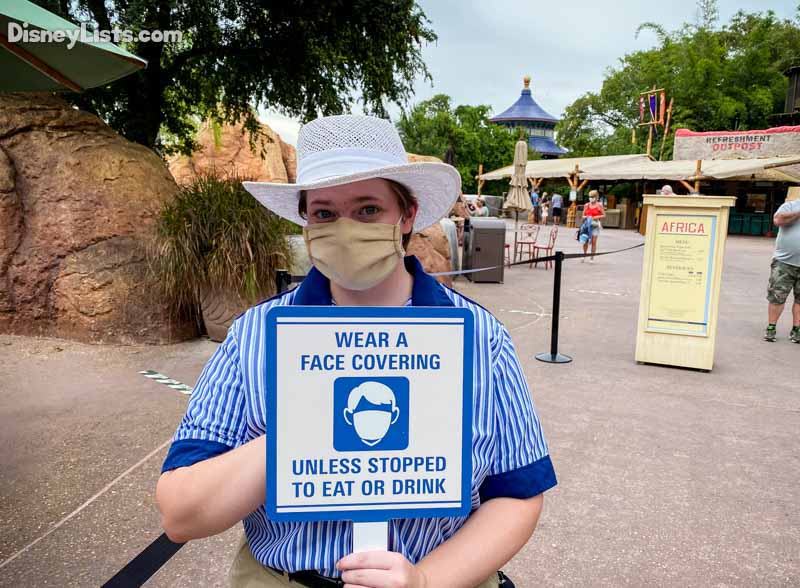 4 – Relaxation Stations
Like other parks, you'll find "Relaxation Stations," where guests can sit without their masks. These are spots in the parks where individuals are spread out with enough extra distance between guests that masks are not necessary.
Here are the three "Relaxation Stations" you'll find at EPCOT:
Inside Akershus Royal Banquet Hall (which is not operating). This is the only spot with air-conditioning.
Table and chairs are near Test Track.
Morocco Pavilion
5 – Characters & Entertainment
Traditional character greetings and parades are on hiatus during the phased reopening. At EPCOT, Disney has phased out the character cavalcade that went through World Showcase. Now you'll find characters greeting guests from afar.
Here are the characters that you can expect to find at EPCOT:
You'll also be able to see Pooh Bear and Joy (from Inside Out) over in the lawn near the Imagination Pavilion! They are quite adorable and will pose for socially distant selfies! Again, while there is no official schedule, I've noticed that they usually take turns and alternate coming out each hour. They also seem to come out about 10 minutes past the hour. When I saw Pooh Bear, it was around 11:10 am. On another day, Joy came out around 2:10 pm. I can't guarantee they will follow this schedule when you visit, but if you want to make sure you see them, these times are the best I can suggest.
Live performances have throughout World Showcase have been temporarily suspended since the Cultural Representatives have not yet returned to EPCOT. However, you can find the Voices of Liberty and Mariachi Cobre in the America Gardens Theatre. They perform multiple times throughout the afternoon.
6 – Open Attractions
Most attractions will be available at the park when visiting.
Here is the list of open attractions:
Awesome Planet
Canada Far and Wide
Disney & Pixar Short Film Festival
Friendship Lagoon Boats
Frozen Ever After
Gran Fiesta Tour Starring The Three Caballeros
Impressions de France
Journey Into Imagination with Figment
Kidcot (modified)
Living with the Land
Mission: SPACE
Reflections of China
Soarin' Around the World
Spaceship Earth
Test Track
The American Adventure
The Seas with Nemo & Friends
Walt Disney Imagineering presents the Epcot Experience
7 – Attraction Wait Times
As we mentioned earlier, because of the park's capacity limits, you'll find that wait times in the parks lower than a typical visit to Walt Disney World. However, the wait times for the attractions can vary widely. I've walked on to Soarin' Around the World and then also have seen wait times over an hour. Test Track and Frozen Ever After will also have longer wait times because of the ride vehicles' lower capacity limits. The best advice I can give you is to adjust your expectations on wait times. You will wait in line and it may be over an hour. No matter how long you wait, you'll still be able to ride multiple attractions throughout the day and enjoy your time at EPCOT.
8 – Dining
New health and safety measures are also in place at restaurants at EPCOT. These include enhanced cleaning procedures in seating, dining, and common areas, as well as changes to self-serve options. For instance, you can no longer get your beverages at Regal Eagle. While Disney has always promoted using Mobile Ordering, now they require it at most locations. They really want to minimize contact, and Mobile Ordering is a great way to do that. Also, for table-service restaurants, guests will need to use the new Mobile Dine Check-In.
9 – Overall Thoughts & Recommendations
As with the other parks, visiting EPCOT is still magical but different. The biggest area you'll notice a difference is in character greetings. The park usually hosts many meet and greets, many of them unique and exclusive to the park. While the character cavalcades are great to see, they are somewhat difficult to catch, and many of our favorites are missing. We do love the addition of Pooh Bear and Joy over at Imagination! We'd love to see those special character sightings beyond the phased reopening. We're especially missing the cultural representatives in World Showcase. Interactions with Cast Members in their pavilions are always unique, and many are not the same without them.
That being said, a visit right now is still enjoyable. While there are not as many attractions to enjoy at this park, you'll still have plenty of time to enjoy them throughout the day. When planning your vacation, you'll likely only need one day to visit the park. You should have plenty of time to get in everything you want.