When you walk through the entrance to Disney's Hollywood Studios, you'll be greeted by Hollywood Boulevard, reminiscent of the golden age of Hollywood. Beyond that, you have a decision to make as to where in the park you'd like to head. You can head left towards Echo Lake, straight ahead you can see the Chinese theater, but as you look to the right, Sunset Boulevard immediately draws your attention. Full of glitz, glamour, and thrills, there are many things to love as you walk around. As a tribute, here are 7 reasons we love Sunset Boulevard at Hollywood Studios.
7 – Hollywood Scoops
Editor's Note: During the phased reopening of Walt Disney World, the Disney Dining Plan is temporarily suspended. 
In the midst of the hot summer days, there's no better way to cool down than with some ice cream from Hollywood Scoops. With prices between $5 – $7, you can use your Disney Dining Plan snack credits for this wonderful snack. The menu includes a standard ice cream cone or cup but also features an ice cream sandwich between two fresh baked cookies, an old fashioned sundae with hot fudge, as well as a brownie sundae. Easily the most popular item on the menu is the Apple Crisp a la Mode – Cinnamon apple topped with vanilla ice cream, caramel sauce, and streusel.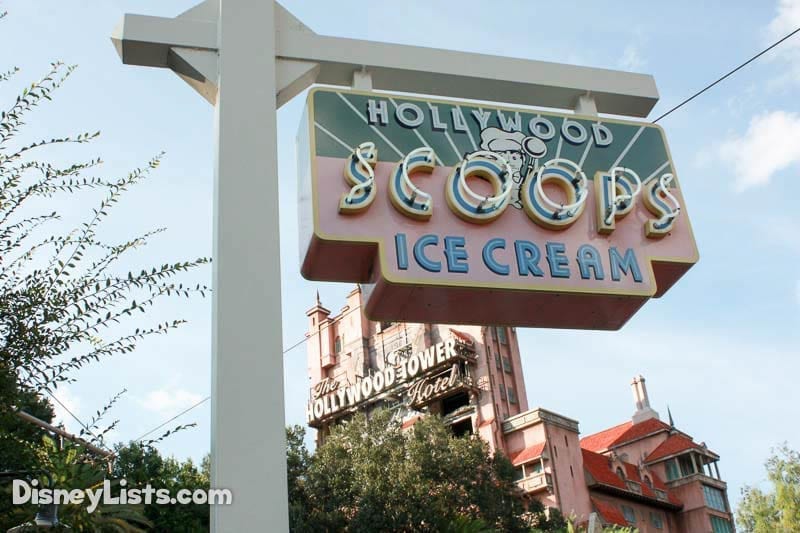 6 – Shopping
Each of the stores in Hollywood Studios looks like you're about to walk into a high-end boutique store and the shops along Sunset Boulevard are no exception. Beverly Sunset Boutique has a show-stopping selection of Pixar merchandise and pre-packaged, tasty treats. Trade pins at the Sunset Ranch Pins and Souvenirs or pick up the perfect clothing item at Once Upon a Time. Finish it off with Legends of Hollywood which features tons of apparel, toys, gifts, and games to add to your collections.
5 – Beauty and the Beast Live on Stage
Editor's Note: During the phased reopening of Walt Disney World, Beauty and the Beast is not operating. Unfortunately, the Beauty and the Beast cast are among the cast members who have been laid off. Disney retains the rights to call them back. We hope and expect at some point in the future when conditions permit they will be called back and the entertainment that is critical to making the parks magical will return. If you feel that the entertainment staff are a big part of making the magic happen, we encourage you to let Disney know how important the entertainers are to your experience. 
Marking the first time that a film and live show have premiered on the same day, Beauty and the Beast Live on Stage opened in 1991 and is still running strong. Inside the 1500-seat theatre, an abridged version of the story unfolds for audiences with the memorable songs and characters dazzling the crowd. With incredible theatrical effects, you can't help but get drawn into this classic Disney story.
4 – Fairfax Fare
Continuing with a food theme, Fairfax Fare is full of delicious food and plenty of seating for the whole family. If you have a craving for a Barbecued Pork, the sandwich here will make your mouth water. You can also try the 1/2 Chicken or 1/2 slab of Spareribs and feel equally satisfied. Most of the entrées come with baked beans and corn as well as offering a Banana Parfait or Vanilla Cake for dessert.
3 – Rock 'N Roller Coaster
As VIP guests of Aerosmith, you are heading from the recording studio to their concert in the luxury style of a super-stretch limousine. This coaster accelerates to 60 mph in mere seconds as you head directly into the first of three inversions (the only inversion coaster at Walt Disney World). Zooming past glowing road signs and even through the famous Hollywood sign, the coaster is accompanied by an Aerosmith soundtrack perfectly timed to the ride which makes it an incredibly immersive experience.
2 – Fantasmic
Editor's Note: During the phased reopening of Walt Disney World, Fanstasmic is not operating. 
For a fun story, tons of characters, water projections, and fireworks, Fantasmic is the show you're looking for. Taking place inside Mickey's dreams, we follow our favorite mouse as he journeys through stories and battles villains along the way.  This 30-minute show is an absolute must-do in Hollywood Studios since it features lots of classic Disney music performed by over 50 characters. With pyrotechnics, enormous puppets, laser lights, and projections all taking place on the mountainside, surrounded by 1 million gallons of water, it's hard to top this nighttime extravaganza.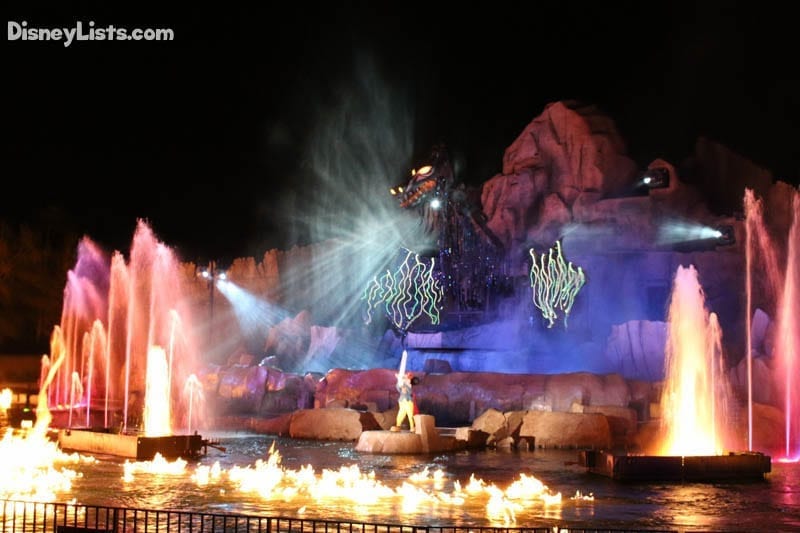 1 – Tower of Terror
The Hollywood Tower Hotel was in its prime in 1939 when a mysterious incident forced it to close.  Today, guests can see the hotel dominate the view as they look down Sunset Boulevard. Inside, you are welcomed by Rod Sterling to embark on a journey to the Twilight Zone. This is one the best examples of Disney storytelling as the visual effects on the ride help to immerse you in the spooky atmosphere all while making it an incredibly fun experience.
Riding the service elevator, you make your way up to the 13th floor before traveling forward through a series of sights and sounds from the opening of the Twilight Zone. Once through, you plummet downwards and launch upwards in a randomly generated sequence so no two rides are the same. It is easily one of the most exciting attractions on Disney Property.
For a no obligation, FREE Quote on a Disney vacation package, please contact our travel partner Magical Vacation Planner at 407-442-0227 (407-442-0215 for Spanish). You can also request a FREE quote online by Clicking HERE.