Since its opening in 1998, Animal Kingdom has been the one-stop park for all of your creature encounters. Filled with attractions, delicious dining, and lots of animals, there is so much to see and explore within the park. As a tribute to all the things Animal Kingdom has to offer, here's a list of everything Animal Kingdom, from A to Z.
A – Animals
You can't have Animal Kingdom without the Animals, and the park is filled to the brim with them. From the walking trails to the enormous Kilimanjaro Safaris, Disney has dedicated so much space to ensure the animals in the park are happy and healthy while giving guests an incredible opportunity to observe and, in some cases, interact with them.
B – Boneyard
The Boneyard is a great place for kids to play in Dinoland U.S.A. With rocks to climb, rope bridges to cross, and caves to explore, there's plenty to experience here. There are musical bones, interactive exhibits and even an archaeological dig where kids can excavate fossils from a Triceratops or Tyrannosaurus Rex
C – Conservation Station
At the heart of Animal Kingdom is Disney's desire to help promote conservation in nature. The Conservation Station is a place to learn about all the efforts taken to ensure the survival of the wildlife and how the handlers care for the animals in the park. It's also home to the Animation Experience.
D – Dinosaur
Dinosaur is a roaring thrill ride taking guests on a time rover back to the end of the Cretaceous period to snag an Iguanodon. Along the rough and perilous journey, they encounter a wide variety of dinosaurs from the docile Hadrosaur and Sauropod to the carnivorous Alioramus and Carnotaurus – it's a wild and incredibly fun ride.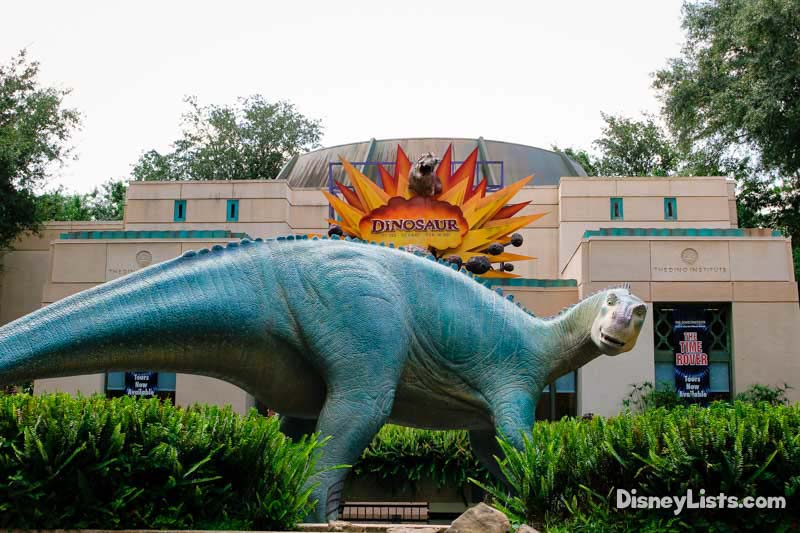 E – Expedition Everest
The legend of the Yeti in Mount Everest draws guests aboard a tea train where they journey up the steep mountain. Myth soon turns into reality as they discover the tracks broken in front of them, where they are then sent backward into the heart of the mountain to confront the iconic creature.
F – Flight of Passage
Avatar Flight of Passage, the newly opened land of Pandora – The World of Avatar, launches each guest on an exhilarating, wind-in-your-face experience on a winged mountain banshee over the awe-inspiring world of Pandora. Guests will actually feel the banshee breathe beneath them as they soar through the forest and past floating mountains. This simulation-type ride is thrilling, realistic, and very intense. Guests sit on seats similar to a motorcycle that face an enormous projection screen similar to Soarin'. The projection is 3D so expect to wear 3D glasses. There are also numerous 4D effects and scents that add to the realism. Most guests will find it the most amazing simulator ride they've ever experienced.
G – Goofy
Editor's Note: At this time, Goofy and Pluto are not available in Dinoland U.S.A. You'll see characters, including Goofy, come through each park in short cavalcades on Discovery River.
Goofy and his pal Pluto are available for Meet and Greets in Dinoland U.S.A., with a number of other characters to meet throughout the park. Many of Mickey's pals are ready to tackle the park as they are celebrating Donald's Dino-Bash.
H – Harambe Market
This quick-service restaurant offers walk-up windows featuring a variety of African dishes. The flavors are great, and it's a definite must-do for those who are looking to explore different cuisines in the park.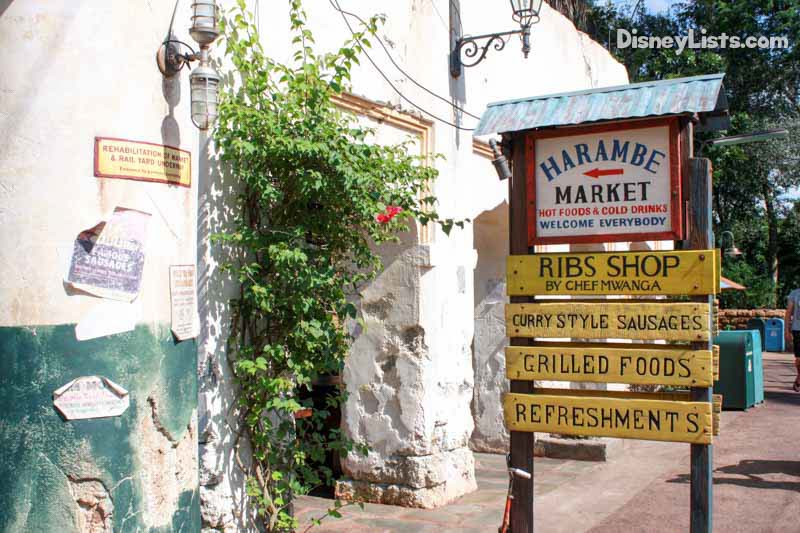 I – It's Tough To Be A Bug
Under the Tree of Life, this attraction teaches the importance of insects in our world as Flik from A Bug's Life introduces his friends (and challenges the angry Hopper). With 3D visuals and close interaction with the audience, expect a few surprises along the way.
J – Isle of Java
On the East side of Discovery Island, the Isle of Java is not only a quick spot to get your espresso or cappuccino fix, but also enjoy an iconic Elephant Ear pastry as a snack – it can be the perfect pick-me-up during the day.
K – Kali River Rapids
To combat the heat of the Florida Summers, there's no better way than to hop on a raft and enjoy Kali River Rapids, where the waters are choppy, and you can expect to get wet, if not soaked to the bone.
L – Lion King
The Festival of the Lion King is an indoor stage show with the audience split into four animal sections. Alongside favorite characters from the movie, performers dazzle the audience with acrobatics, song, and dance.
M – Maharajah Jungle Trek
This walking trail through Southeast Asia gives guests an up-close and personal look at some incredible animals. From the aviary and the fruit bat enclosure to the majestic Asian tigers, there's lots to see and plenty of photo-ops along the way.
N – Na' vi River Journey
On the family-friendly Na' vi River Journey, also in Pandora – The World of Avatar, guests travel down a sacred river deep into a bioluminescent rainforest. Aboard reed boats, they float past exotic glowing plants and Pandoran creatures into the midst of a musical Na' vi ceremony. The mystical journey culminates in an encounter with the breathtakingly realistic Na' vi Shaman of Songs who is deeply connected with Pandora's life force and sends positive energy into the forest through her music. This attraction is a very gentle ride that is appropriate for all guests. There are many cool effects to discover (make sure you look up as well as around). The unbelievable animatronic Na' vi Shaman is well worth the ride alone. The movements of this new generation of animatronics are amazingly fluid and lifelike. It's great to see the technology advance so much.
O – Oasis
Right past the entrance to the park, Oasis is a combination of paths filled with tropical gardens and exotic animal exhibits for you to get up close to some incredible creatures.
P – Pandora – The World of Avatar
The new land, the largest expansion in the history of Disney's Animal Kingdom, is based on Oscar-winning filmmaker James Cameron's record-breaking box-office hit, Avatar, which was released in 2009. The film was insanely popular, mostly due to Cameron's amazing special effects. The movie is a science fiction film about humans attempting to colonize on a habitable moon called Pandora. While living on Pandora sounds like a great opportunity for this cast of humans, they are met with resistance from the local tribe of Na' vi. Animal Kingdom's lush world of Pandora is set a generation after a great conflict, the Na' vi and humans are at peace, and the land is experiencing a rebirth. Pandora now welcomes Disney guests as eco-tourists. The land is an amazing spectacle of Disney Imagineering, creativity and story-telling. Visiting Pandora is an absolute must-do on your trip to Disney's Animal Kingdom.
Q – BBQ Sauce
BBQ Sauce can be found throughout the park, both in stores and restaurants. At the Yak & Yeti, Korean BBQ Sauce is a mainstay in a number of dishes offered, while the BBQ sauce used at Flame Tree Barbecue has become so popular that they have begun to bottle it and sell it to guests who would like to take those flavors home with them.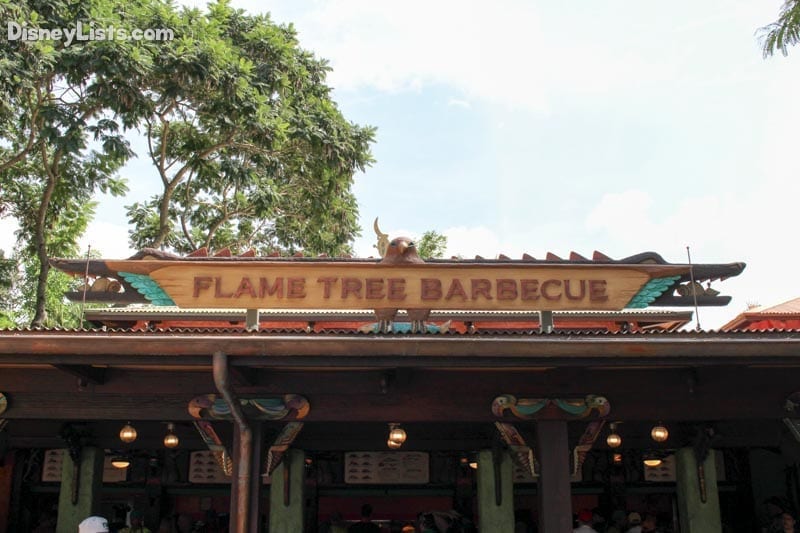 R – Restaurantosaurus
In Dinoland U.S.A., Restaurantosaurus combines whimsical prehistoric humor with delicious food for guests on the go. The Angus Bacon Burgers and other sandwiches are the perfect way for you to fuel up for the rest of your exploration of the park.
S – Satu'li Canteen
The artful storytelling on Pandora continues as guests stop for sustenance at the land's Satu'li Canteen (pronounced "Sa-too-lee"), a Quonset-hut-style building with a spacious dining area that pays tribute to the Na' vi and their culture with special décor. The menu at this fast-casual restaurant is inspired by the healthful bounty of Pandora – wholesome grains, fresh vegetables, and hearty proteins. This restaurant also features the new Mobile Order Pick Up option, which significantly reduces guests' wait to receive their food. The food at the Canteen is affordable, delicious, and very filling. The Canteen is now our go-to quick service location for Animal Kingdom. In our opinion, it is easily in the top three counter service options in the parks.
T – Tusker House
A character dining family-style meal, the Tusker House Restaurant combines a delicious spread of food with the atmosphere of an African outdoor market. Meet with characters in their safari outfits and enjoy this fun and exciting experience.
U – TamU TamU Refreshments
In the heart of the Harambe Village, Tamu Tamu offers desserts to satisfy your sweet tooth. It's also the only place where adults can enjoy a Pineapple Dole Whip combined with dark or coconut rum.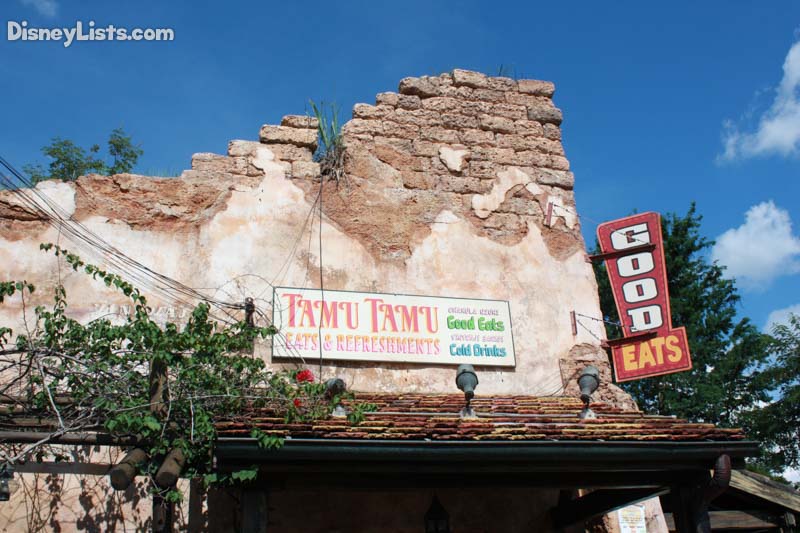 V – Valley of Mo'ara
When visiting Pandora – The World of Avatar, you're actually walking through the Valley of Mo' ara. Here you'll see the exotic plants that come to life-some with your help, a Na' vi-built drum circle, Navi totems, and other cultural items, and new Wilderness Explorer challenges and badges to collect. Make sure to visit the Valley at night, where it transforms with its bioluminescence beauty.
W – Wilderness Explorers
Joining the ranks of Russell and Dug from Up, guests can complete challenges and earn adventure badges throughout the park from activities like diagnosing a sea turtle's health issues or learning how to play an African drum pattern.
X – Wildlife eXpress train
In between the park and the Conservation Station, guests must travel aboard the Wildlife Express Train. Riders will get a glimpse behind the scenes along the 7-minute 1.2-mile journey.
Y – Yak & Yeti
As the flagship table service restaurant, the Yak & Yeti offers guests a menu of Pan-Asian dishes in a Nepalese-style atmosphere. From tempura shrimp to Kobe beef burgers, it's hard to go wrong with anything on the menu.
Z – Zuri's Sweets Shop
Zuri's is a one-stop-shop for all your snack needs in the park. There are plenty of snacks unique to Animal Kingdom, like the Giraffe Marshmallow Pop or the intricate Elephant Caramel Apple.
For a no obligation, FREE Quote on a Disney vacation package, please contact our travel partner Magical Vacation Planner at 407-442-0227 (407-442-0215 for Spanish). You can also request a FREE quote online by Clicking HERE.