Magic Kingdom Park is dressed up for fall and Halloween fun! I recently enjoyed the first day of the fall offerings and loved it! While we can't enjoy Mickey's Not So Scary Halloween Party this year, Disney has done a fantastic job offering guests alternative fun and spooky offerings at Magic Kingdom—all without guests paying for an extra party ticket! We're so excited that so much of what we love about Mickey's Not So Scary Halloween party is being offered to everyone every day! Learn more about the fall fun at Magic Kingdom below and the 9 reasons you'll want to visit this fall!
1 – Fall Disney Magic Returns to Walt Disney World
Now through October 31, when visiting Magic Kingdom, you'll be treated to some fantastic fall offerings. Walt Disney World Ambassador Marilyn West gives an overview of what you can expect below.
2 – You Can Wear a Costume!
For the first time ever, guests are able to wear their Halloween costumes during regular operating hours as the iconic theme park at Walt Disney World Resort celebrates the spooky season. We saw plenty of guests wearing costumes in the parks, while some simply wore themed t-shirts. It's a lot of fun to see guests dress up outside of the Halloween Party!
3 – Enjoy a Decorated Magic Kingdom
As you walk down Main Street, U.S.A., you'll see glowing pumpkin wreaths that inspire the Halloween spirit. You'll also see autumn wreaths at Main Street Station and along Main Street U.S.A. The decorations are such a great addition to the park and really help set the feeling of the fall fun celebrations. You will not see all of the "normal" Halloween decorations, such as the various pumpkin displays in front of Magic Kingdom Station and near the flagpole. Disney went simple this year and what they did put out is a nice touch. There were rumors and concerns that Magic Kingdom wasn't going to be decorated this year, and we are so, so happy that visiting Magic Kingdom this fall still feels almost normal!
4 – Enjoy Halloween-Themed Cavalcades
Four different Halloween-themed cavalcades travel down Main Street U.S.A. Here are the characters you'll be able to catch throughout the day.
Mickey Mouse, Minnie Mouse, Pluto, and pals dressed in Halloween costumes.
Disney Villains including the Queen of Hearts, Captain Hook, the Bowler Hat Guy, Maleficent, and the Evil Queen.
Jack Skellington, Sally, and Oogie Boogie.
Pooh Bear, Piglet, Tigger, and Eeyore in Halloween costumes riding in a horse-drawn trolley. Click here to see video of this cavalcade.
There is no official information given on when the cavalcades come out. Generally, speaking though, they usually come out one right after another, with the Pooh and friends in the trolley, mixed into the lineup. The cavalcades begin in Frontierland and follow the Festival of Fantasy parade route. If you want to also see Pooh and friends, you'll want to stick around the Hub or Main Street U.S.A. since the trolley only follows that route. Also, take note that Pooh and friends in the trolley (usually) only come out in the morning. In the afternoon, you'll find the Disney Princesses (in typical outfits) mixed into the line-up of Halloween-themed cavalcades.
5 – Other Character Around the Park
We also spotted some of the Country Bears in Frontierland. While I didn't see them during my visit, you may even spot Chip 'n' Dale in costume in Frontierland. Also, since Pooh and friends are in their trolley in the morning, we saw reports of them coming outside the Crystal Palace restaurant on the balcony to wave to guests in the late afternoon. Again, you'll never know where characters might pop up, but be sure to be on the lookout for them!
6 – Fall and Halloween Themed Treats
The park will celebrate the season with special food and drinks, including the famous pumpkin-spiced waffle sundae. Disney Chef Julia walks us through some of the fantastic offerings this year.
While Magic Kingdom is the only park that has fall decorations (that is true every year), each of the Walt Disney World theme parks welcome fall with popular specialty treats, such as Halloween cupcakes at EPCOT and Disney's Animal Kingdom, along with frozen apple cider at Disney's Hollywood Studios.
Click here for the 2020 Fall Fun Foodie Guide – Parks Edition for more information on the fall treats and where you can find them.
7 – Halloween-Themed Merchandise
Festive Halloween-themed merchandise will be available in select locations around the park. Featured items include a new spirit jersey, Loungefly backpack, and candy-swirl Minnie Mouse headband, along with a selection of apparel inspired by Disney Villains and more.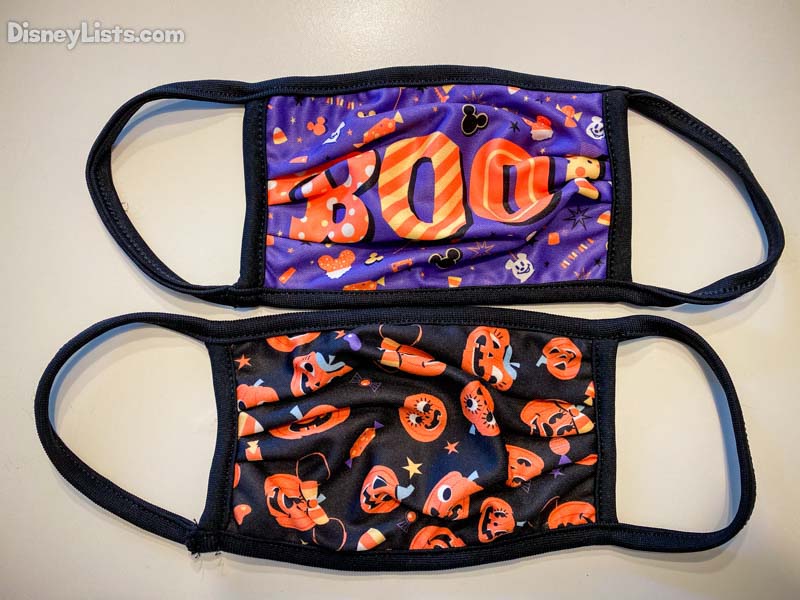 If you are looking for some Mickey/Halloween themed face coverings, Disney is now offering two designs. They have been redesigned from the first set of masks that came out this summer. These new coverings are larger and made of much better material, which makes wearing them in the heat much more bearable. They are $6 each (or you can buy four masks for $20). You'll find them all over the Walt Disney World Resort.
8 – Special Themed Photo Opportunities from Disney PhotoPass
Themed photo opportunities from Disney PhotoPass will be available at select locations throughout Magic Kingdom. While I didn't stop to take any photos (I was a sweaty mess), simply ask any Disney PhotoPass photographer if they have a Halloween shots available.
9 – A Great Time to Visit
While we certainly miss Mickey's Not So Scary Halloween Party this year, the fall offerings this year are such great additions to Magic Kingdom. From the decorations, to the Halloween-themed cavalcades, and the fall specialty treats, it's still a magical time to visit Magic Kingdom!
Are you thinking of visiting Magic Kingdom? Click here to read our guide to visiting Magic Kingdom during the phased reopening and what you need to know!
For a no obligation, FREE Quote on a Disney vacation package, please contact our travel partner Magical Vacation Planner at 407-442-0227 (407-442-0215 for Spanish). You can also request a FREE quote online by Clicking HERE.